A picture paints a thousand words.
By simply looking beyond antique photos that have withstood the wrath of time, one can learn stories more fascinating than what you usually find in history textbooks.
Below are some of the most interesting Pinoy vintage photos with intriguing backstories.
10. Magellan's Monument (1898)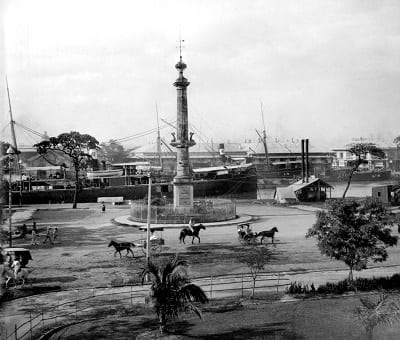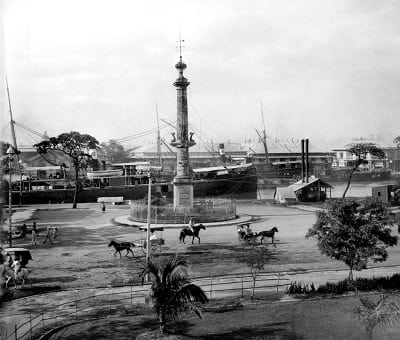 With an iconic presence comparable to New York's Statue of Liberty, Magellan's Monument became the foremost centerpiece of Paseo de Magallanes.
It was subsequently moved to the front of Aduana Bldg. during American Occupation and remained a tourist attraction until its untimely destruction in World War II.
Magellan's Monument impressed tourists and passersby with its marble pedestal and a column embellished with bronze anchors, laurel leaves, dolphins, and merlions. It also featured a spherical globe bearing the name "Magallanes" to commemorate the country's earliest conqueror.
Interesting fact: The monument's final resting place remains shrouded in mystery up to this day. There were stories claiming that the U.S. clean-up crew got rid of the rubble and threw all the remains to the Pasig River.
9. Bilibid Prison Music Band (1911)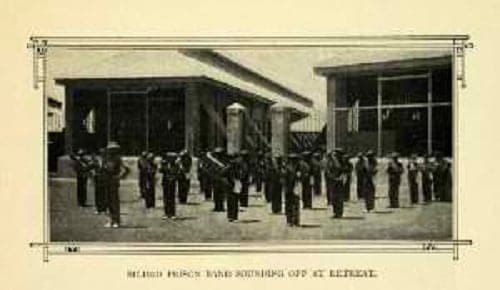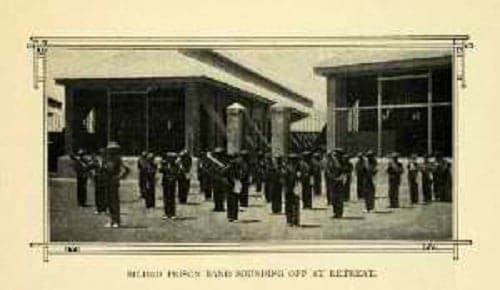 Isolated from the mainstream society, the prisoners in Bilibid were forced to put their creative prowess into good use. The Bilibid prison music band of 1911, for example, had their skills honed so they could masterfully offer their talents during special occasions.
Clad in classic striped uniforms, these convicts remind us of the modern-day Cebu dancing inmates whose Michael Jackson dance moves made them an instant YouTube sensation a couple of years ago.
Interesting fact: Now with a new name, the Bureau of Corrections Grand Orchestra and Chorale continues to impress relatives, media, and prison officials with their rendition of Broadway music and local love songs.
For Bureau of Corrections Director Oscar Calderon, activities like this are intended to reform the inmates and prepare them for release.
8. Death by Garrote (1901)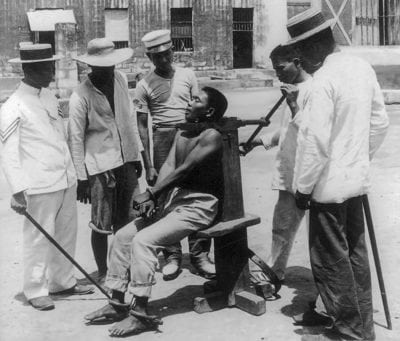 Described by historian Teodoro Agoncillo as "death by strangulation using an iron-collar," garrote vil became the prominent form of capital punishment when death by hanging was abolished in 1832.
The collar could be made from handheld chain, rope, fishing line or scarf although brass/iron collars were more common in the Philippines.
A typical garrote usually includes a small seating board, a moving back piece which crushes the upper spine, and a front hinge controlled by a large fourth-rate screw.
Interesting fact:   Prior to execution, the condemned was usually preceded by priests and soldiers for the final walk. A man in front carries a sacred banner which was not allowed to be touched by the convict–doing so would reduce his sentence to life imprisonment.
The executioners, on the other hand, were one of the highest-paid 'workers' in town—getting at least $16 in addition to a $20 monthly salary for every executed convict.
7. Ilongot Warrior (1900)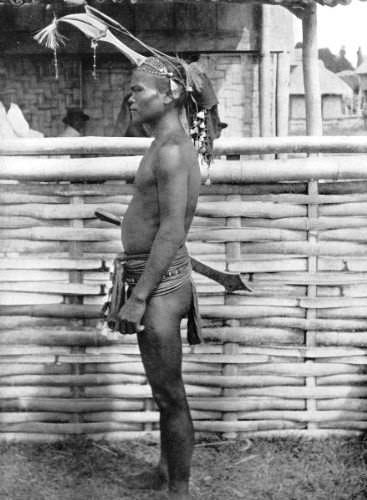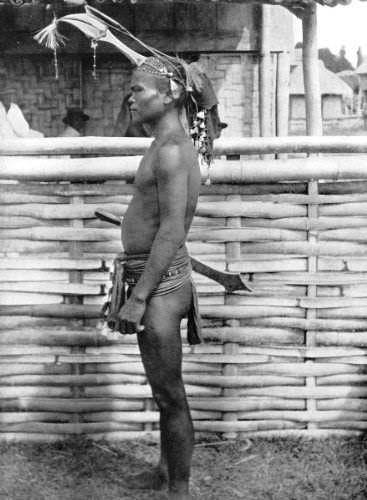 Ilongots are indigenous people with unique traditions shaped by long years of isolation. One can easily identify a male Ilongot just by looking for three features: belt, weapon, and headdress (see photo above).
Of the three, the headgear gets the most attention as its usually made from a severed beak of a hornbill (kalaw) with notches signifying the maturity or social status of the male Ilongot.
The sword, meanwhile, was made with outstanding craftsmanship and protected by a wooden scabbard.
Interesting fact: When President William McKinley issued the U.S. Benevolent Assimilation on Dec. 21, 1898, things took an ugly turn for some local tribes—Ilongots included.
Although described by Americans as an "altruistic" mission in acquiring the Philippines, the proclamation forced some of the Ilongots to abandon their traditions and get "civilized."
This photo shows the male Ilongot before and after the American Occupation.
6. The Cholera Squad (1900)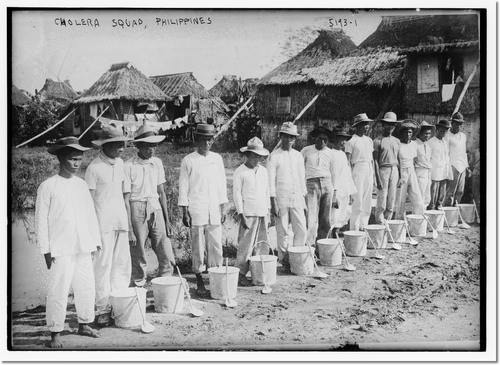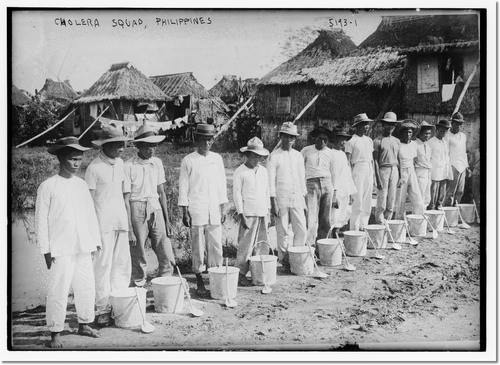 The year was 1902 and a Hongkong vessel just arrived in Manila port. A widespread cholera epidemic started soon after, prompting the government to mobilize military surgeons and the so-called cholera squad (see photo above).
Filipino historian Reynaldo Ileto calls this chaotic period as the "germ warfare" or an extension of Philippine-American War.
Almost 200,000 civilians died from cholera—a number that overshadowed the 34,000 casualties directly killed in the war.
Interesting fact: The cholera squad of the early 1900s was usually comprised of sanitary inspectors, physicians, and lime throwers.
The crew was equipped with cleaning and disinfecting instruments such as shovels, hoes, rakes, and brooms to stop further disease transmission via contaminated water.
5. Ifugaos in Wedding Dress (1900)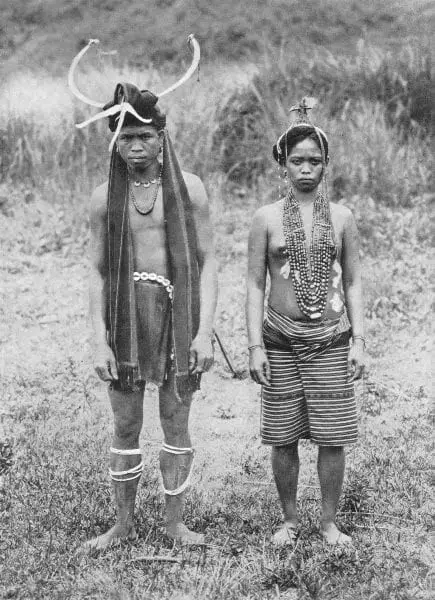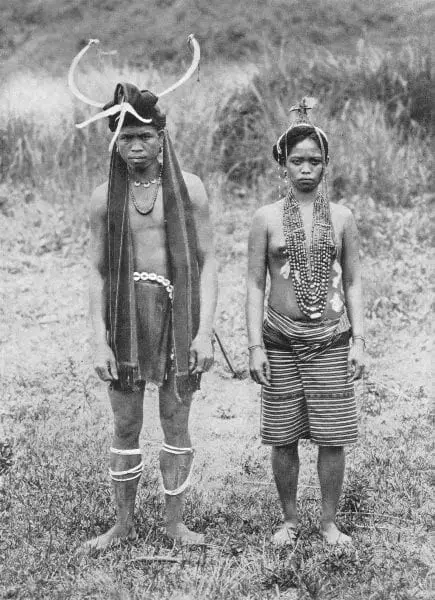 Ifugaos have remained true to their culture despite strong Western influences. In fact, marriage customs (tanig) have remained almost unchanged since the early 1900s.
Bountiful feasts, animal sacrifices, religious chants, and cultural dances are still evident in Ifugao wedding ceremonies, made even more colorful by the panoramic view of Banaue rice terraces in the backdrop.
Interesting fact: After engagement (moma), families of both the bride and groom would usually attend a social gathering known as "kiangan." During this event, a native Ifugao priest (mumbaki) offers a pig and checks the animal's bile to foresee impending events.
If the pig's bile is in good condition, the couple can live together and proceed with the formal wedding ceremony. Empty or abnormal bile, however, requires another animal offering.
Now, if the second pig still has defective bile, the marriage will be delayed for one year until the required animal sacrifices are offered.
4. Young Filipino Girl at Coney Island, N.Y. (1900s)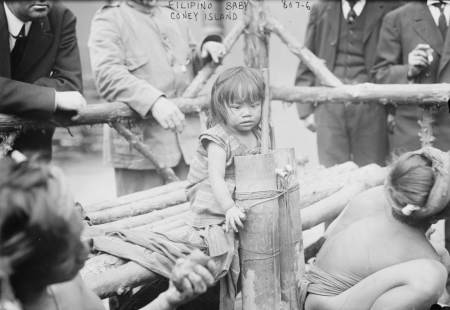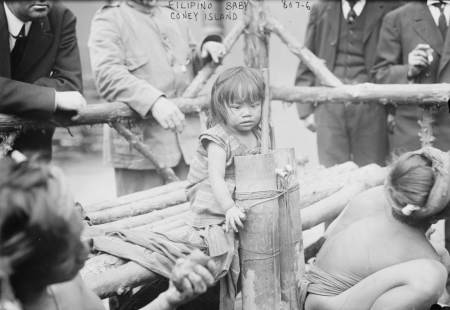 Freak shows of the early 1900s showcased human beings with qualities deserving a spot on Ripley's Believe It Or Not. And because Filipino indigenous groups were a rarity for the American audiences in that era, Bontocs of the Mountain Province easily found their ways to the notorious Coney Island Amusement Park.
Although the act can be considered offensive by today's standards, Bontocs amazed curious foreigners with their impressive skills in both blowing poison darts and making brass crafts. The photo of the child above symbolizes Filipino innocence suddenly spoiled by greedy opportunists.
Interesting fact: Philippines' involvement in Coney Island freak shows began in 1905 when Samuel W. Gumpertz, a successful Missouri showman, made side trips to the country. During his visits, he scoured villages and remote places to find the "most unusual, outlandish and grotesque of human beings."
He eventually found 212 gentle Bontocs alongside eleven-year-old Godino brothers, famous Filipino Siamese twin of the pre-war era.
3. "Prinsa de Paa" (1906)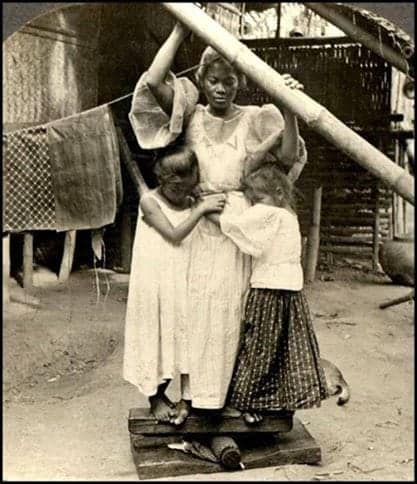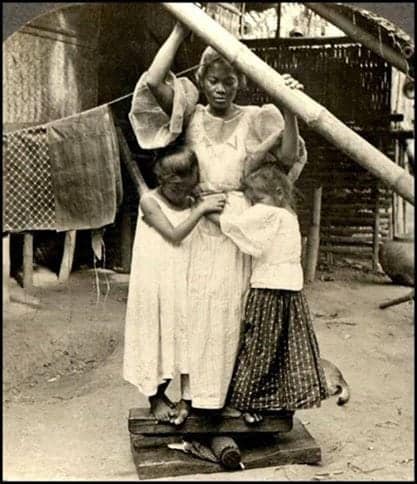 Filipinos didn't initially use the European charcoal flat-irons to press their baro and sayas. Instead, they went more traditional with crude equipment called "prinsa de paa," also known in other provinces as "prinsa de mano," "ligis," "pagligisan,"or "pagulong."
In stark contrast with today's sleek irons, "prinsa de paa" requires sheer force and sometimes—like in the photo above—combined energy of more than two people.
Interesting fact: Prinsa de paa was used primarily on heavily starched clothes or any other items without zippers or buttons. Wrapped to a wooden rolling pin, the clothes would then be pressed multiple times by stepping on a wooden crossbar above it.
Prinsa de paa paved the way for the more popular "prensa" which used the easier "charcoal" method of pressing clothes.
2. The Godino Twins (1928)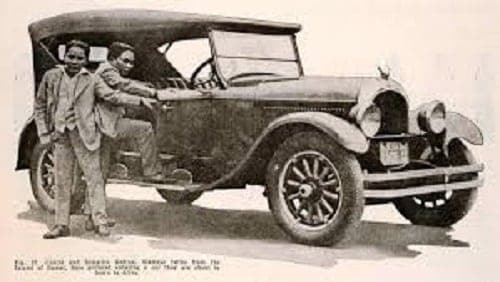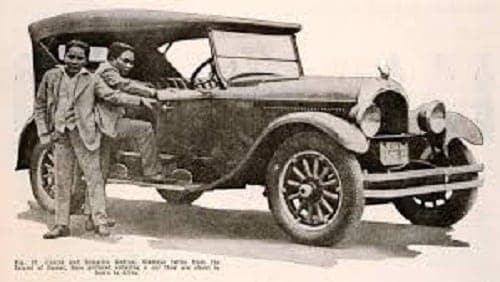 Born in 1908, Lucio and Simplicio Godino are twins joined at the pelvis by cartilage and skin. They were natives of the Samar province but came to New York as part of the infamous Coney Island Circus freak show.
The Godino brothers' fate suddenly took a turn when Teodoro Yangco, a Filipino resident commissioner in Washington, decided to pull the twins out of the circus and adopted them.
They then returned to the Philippines and became widely known as "The Yangco Twins" of Zambales.
Interesting fact: In 1929, the Godino twins got involved in a Manila road accident while driving an auto which their father gave to them (see photo in halftone print above).
According to a September 1929 issue of the Texas newspaper "Morning Avalanche," Lucio was driving the auto at a "rapid speed" and accidentally hit a carabao cart (injuring the driver). He was sentenced to jail for five days but Simplicio, who claimed that he was innocent, appealed to the case.
Since it was impossible to jail Lucio without jailing Simplicio, "the two boys got off."
1. Filipino Midgets (1914)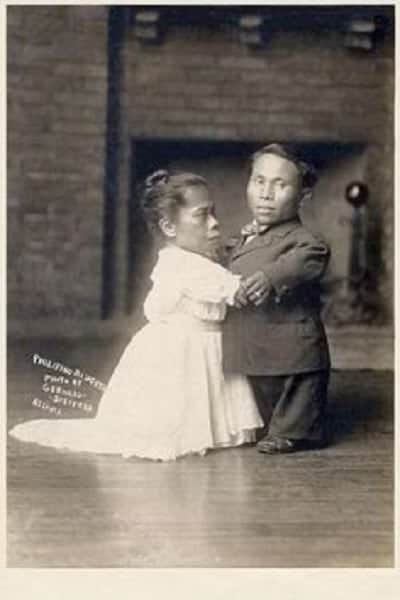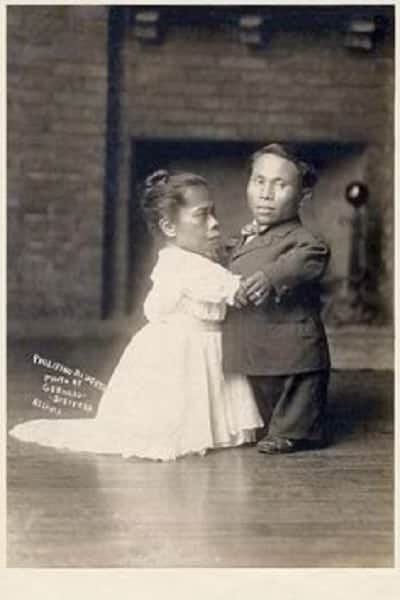 Long before "Dagul" graced our TV screens, the world was already fascinated by Juan and Martina de la Cruz–Filipino midgets who went on roadshows for the 1904 St. Louis World's Fair in Missouri.
Born to average sized Filipino parents, Juan (Age: 32 years old; Height: 24 inches) and Martina de la Cruz (Age: 36 years old; Height: 32 inches) were "the smallest living adults alive in the world" at the time of the Exposition.
They complemented their famous title with a dance routine and mastery of no less than five different languages: Tagalog, Visayan, English, Kapampangan, and Spanish.
Interesting fact: Despite his size, Juan de la Cruz was able to marry an average sized Filipina, the 21-year-old Gregoria Gabril. The couple was blessed with a baby girl named Marla who was of normal size. The baby died on March 15, 1907, in Daytona, Florida.