When the St. Louis World's Fair or the Louisiana Purchase Exposition opened on April 30, 1904, the Philippine Reservation was one of the most visited by fair goers for its controversial colonial exhibit of native Filipinos– Igorots, Negritos, Bagobos, Moros and Visayans.
Of the 1,100 Filipinos on display, one stood out as a media favorite,  becoming the most photographed and much-written-about celebrity of the fair—Antero Cabrera.
Also Read: When Filipino Underdogs Made History At A US President's Inauguration
Back in Bontoc, Antero was plain "Balonglong" to his family. An orphan adopted by Ilocanos surnamed Cabrera, he was about 12 years old when anthropologist Albert Ernest Jenks and his wife employed him—along with Bontoc boys Pitapit, Falikao, Bugli, Maklan, and Sitlanin—to work as interpreters for an ethnology project about the Igorots.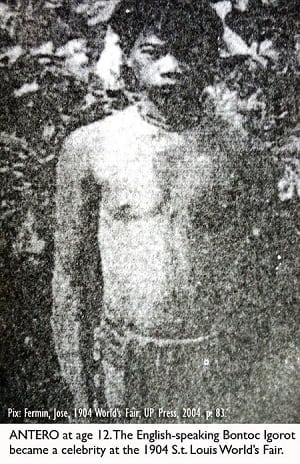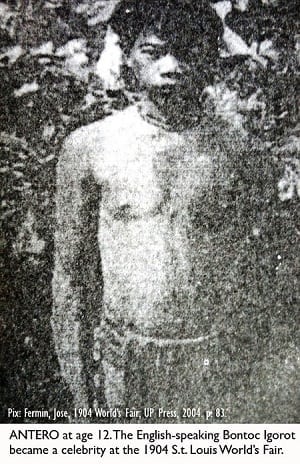 Also Read: From Mountain Boy to Governor: The Incredible Story of Pitapit
Having had contacts with Americans, the boys were quite fluent in English, and Antero was the most proficient of them all. In fact, he assisted the benevolent  Episcopalian missionary Rev. Walter Clayton Clapp in writing a Bontoc-English dictionary that saw print in 1908.
When Jenks was appointed to become the director of Philippine ethnology for the St. Louis' World's fair, he chose Antero as a member of the Igorot delegation. Another recruiter, Truman Hunt, also assigned him to find 40 other Igorots of specific ages to be part of the Igorot Village of the fair.
Also Read: The Haunting Story of Filipinos Locked in a 'Human Zoo'
And so at age 15, Antero found himself traveling to America in 1904, arriving in time for the fair's opening.
The only English-speaking Igorot in his group, Antero attended an American model school under Maria Pilar Zamora, a Philippine Normal College graduate.
He became a star pupil, and his remarkable intelligence left a mark on his employers. "Antero always stands straight and carries himself gracefully, so that he commands respect," she observed. "He has a way of getting along with the Igorot, and I never saw one of them question his little, authoritative way. When he is with the Igorot alone, he is just one of them, but when he is with us, he is the boss".
But the young Igorot boy's proudest moment was yet to come. In August 1904, a select group of Igorot chiefs was invited to the White House to meet President Theodore Roosevelt.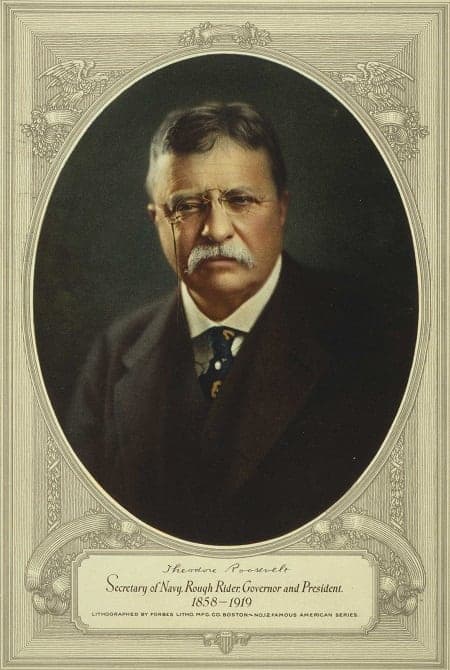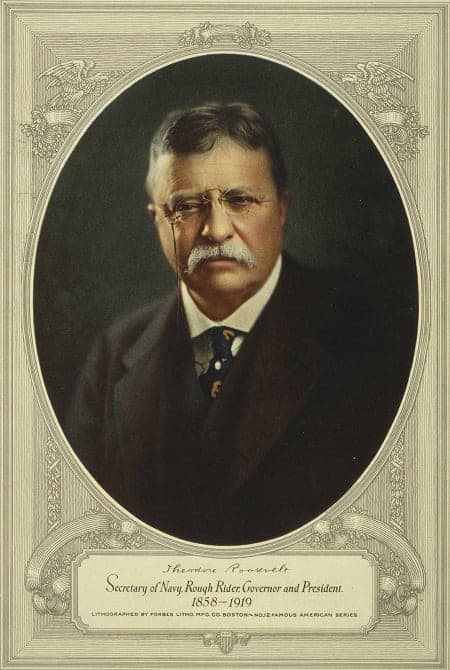 Antero acted as an interpreter for the Filipino delegation. He rendered an impromptu number, "My Country Tis of Thee," which he sang slowly and clearly. Upon being complimented, he replied with a smile and a "Sank Yoh!"
READ: The first Filipina to visit the White House
Antero enjoyed his time at the fair, and at the end of the exposition, he traveled with the Jenks to Wisconsin to meet his parents. He would return to the U.S. in 1905, with an American performing troupe organized by showman Richard Schneidewind.
Antero was at the 1905 Lewis and Clark Exhibition in Oregon and attended school in Los Angeles for a year. In 1906, he was in shows in Chicago and San Francisco.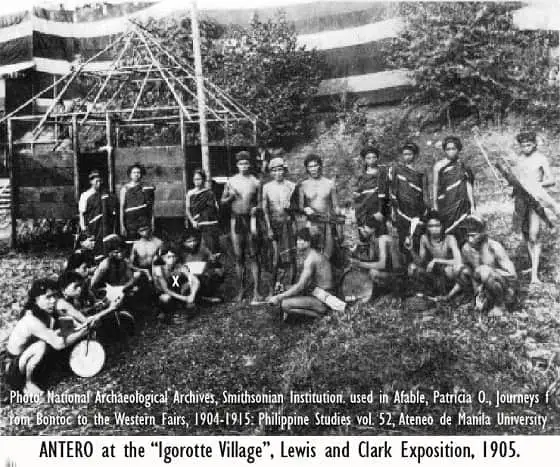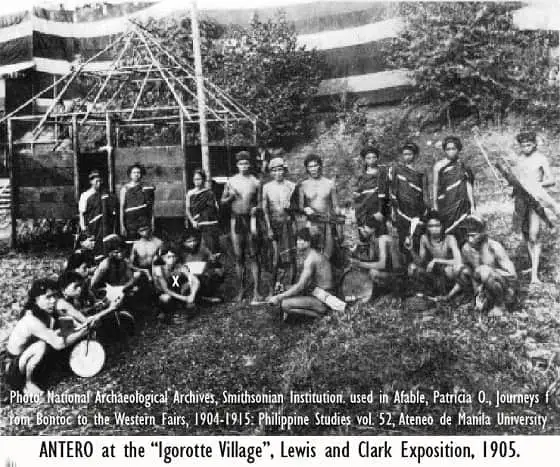 Antero signed up with Schneidewind again in 1907, and on his return to Chicago, he brought along his wife, Takhay (Cristina or Esting) Ulapan, who gave birth to their first child Sylvia (supposedly born in Pennsylvania). They would have 10 children in all—2 sons and 8 daughters.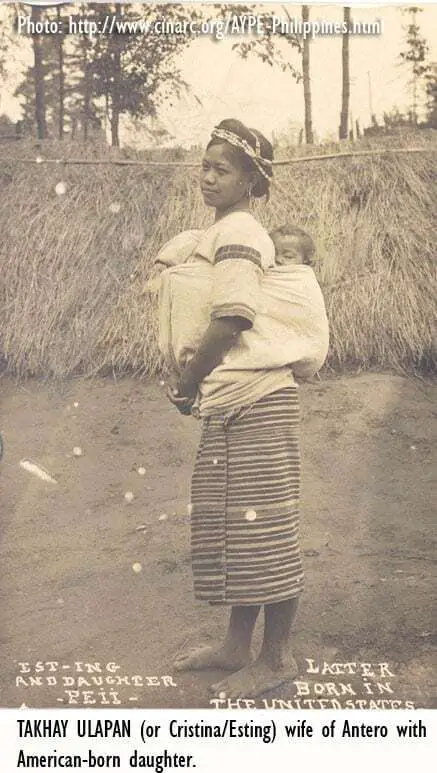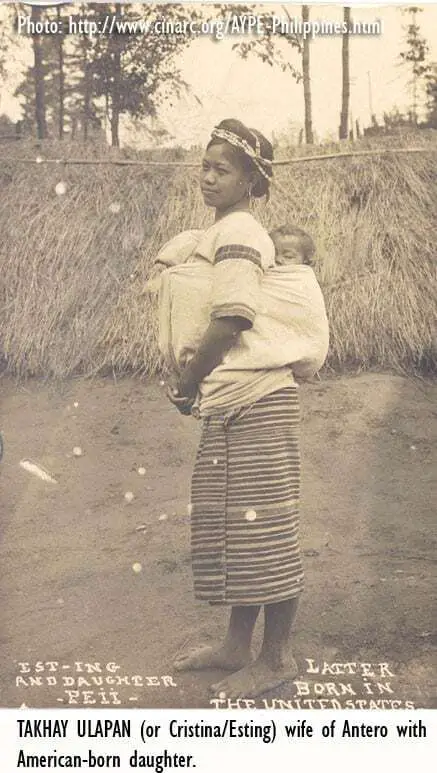 With his family, he joined the Alaska–Yukon–Pacific Exposition in Seattle in 1909, which promoted the development of the Pacific Northwest.
When the shows ended, Antero went back to Bontoc to continue his work as an interpreter and a farmer whose interest in global news never waned.
He helped American teachers in their promotion of education and he, himself, encouraged his own children to finish school.
Second daughter Maria married transport magnate Bado Dangwa, and when she died, Dangwa married Antero's younger daughter, Lola.
Also Read: 13 Amazing True Stories Behind Classic Filipino Brand Names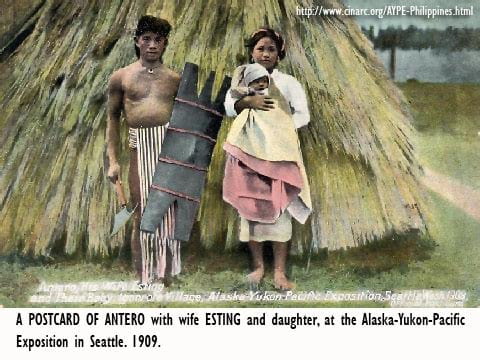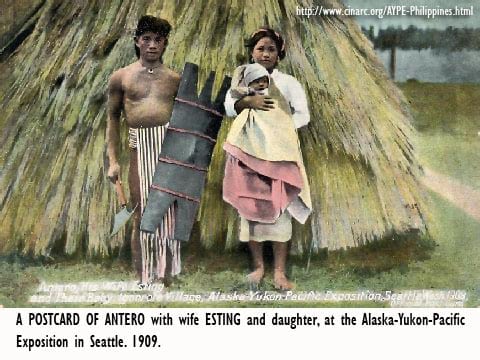 Antero, the English-speaking Igorot sensation of the 1904 World's Fair, died around 1940. Decades later, his granddaughter, Mia Antero Apolinar Abeya returned to St. Louis, Missouri to deliver a moving message about treating fellow human beings with fairness and respect, regardless of their background.
In the midst of discrimination and exploitation of his race, there was one remarkable Igorot boy who, with his exceptional grace, stood tall and triumphant in front of the world at the St. Louis World's Fair.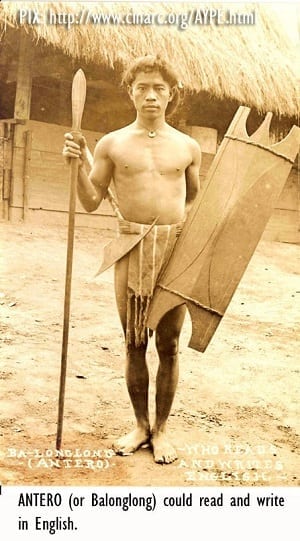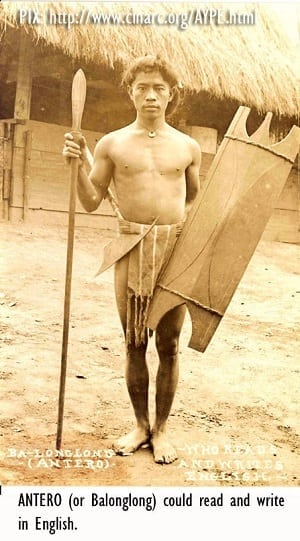 About the Author: Alex R. Castro is a retired advertising executive and is now a consultant and museum curator of the Center for Kapampangan Studies of Holy Angel University, Angeles City. He is the author of 2 local history books: "Scenes from a Bordertown & Other Views" and "Aro, Katimyas Da! A Memory Album of Titled Kapampangan Beauties 1908-2012", a National Book Award finalist. He is a 2014 Most Outstanding Kapampangan Awardee in the field of Arts. For comments on this article, contact him at [email protected]
References
Afable, Patricia O., Journeys from Bontoc to the Western Fairs, 1904-1915: The "Nikimalika" and their Interpreters. Philippine Studies vol. 52, no. 4 (2004), Ateneo de Manila University
Fermin, Jose D., 1904 World's Fair: The Filipino Experience. The University of the Philippines Press. 2004, pp. 7. 83
Pilapil, Virgilio R., Touring the Legacy of the 1904 St. Louis World's Fair, The House of the Isidoro Press. 2004. p.61
Sanjek, Roger, ed. Mutuality: Anthropology's Changing Terms of Engagement, University of Pennsylvania Press, 2015, p. 104.