Writing an impressive case study entails a comprehensive discussion of its "Areas of Consideration" section. Whether you're exploring cases in business, management, or marketing, this part will definitely challenge you to think a lot.
Save yourself from headaches and endless Google searches by following our definitive guide to writing the Areas of Consideration in a case study. 
Related: How To Write Significance of the Study (With Examples)
Table of Contents
What Is the Areas of Consideration in a Case Study?
This portion of your case study indicates the factors that have influenced the problem you are studying and must be considered to solve the case study's problem.
Basically, this section highlights relevant factors of the internal and external environment of your selected business or organization. The same factors will help you formulate a solution to your case study's problem. 
To make this section more detailed and structured, SWOT analysis is included. SWOT stands for the organization's/business' Strengths and Weaknesses (the internal variables) and Opportunities and Threats (the external variables).
What Is the Purpose of Areas of Consideration in Case Study?
Several factors affect a business or organization. Thus, it's difficult to assess which of these are significant in solving the case study's problem. Through this portion, we can list down all factors that must be considered to help us understand and analyze the situation. 
Suppose that your case study explores the sudden decline in profitability of a small clothing line in your locality. Through the "Areas of Consideration" section, you can highlight the factors that might have contributed to the decline in sales of the clothing line and assess which of these can be addressed to solve the problem.
Furthermore, this section gives context to your readers about the problem you're trying to solve. The factors that you'll list in this portion will help your reader to further understand your subject in terms of the internal and external environment where it operates.
How To Write Areas of Consideration in Case Study
Here are the steps in writing your case study's Areas of Consideration:
1. Write a brief background of your selected business/organization
Provide a short introduction for your case study's subject by answering these guide questions:
When was it established?
Where is it located?
Which industry does it belong to?
2. Highlight the facts related to the case you're studying
Think of significant facts that might have caused your case study's problem. 
Going back to our example about the clothing line, you can mention that the increasing number of competitors in the locality might be one of the reasons behind the sudden decline in the clothing line's profitability.
3. Prepare your SWOT analysis
Enumerate several factors that influence the operations of your selected business or organization. Intensive research of the subject is important to write your analysis well.
SWOT analysis has four components, namely:
Strengths
Weaknesses
Opportunities
Threats
Remember that Strengths and Weaknesses are internal to the organization. In other words, these factors are within their control. Meanwhile, Opportunities and Threats are external to the organization. This means that these factors are beyond their control.
How To Create Your SWOT Analysis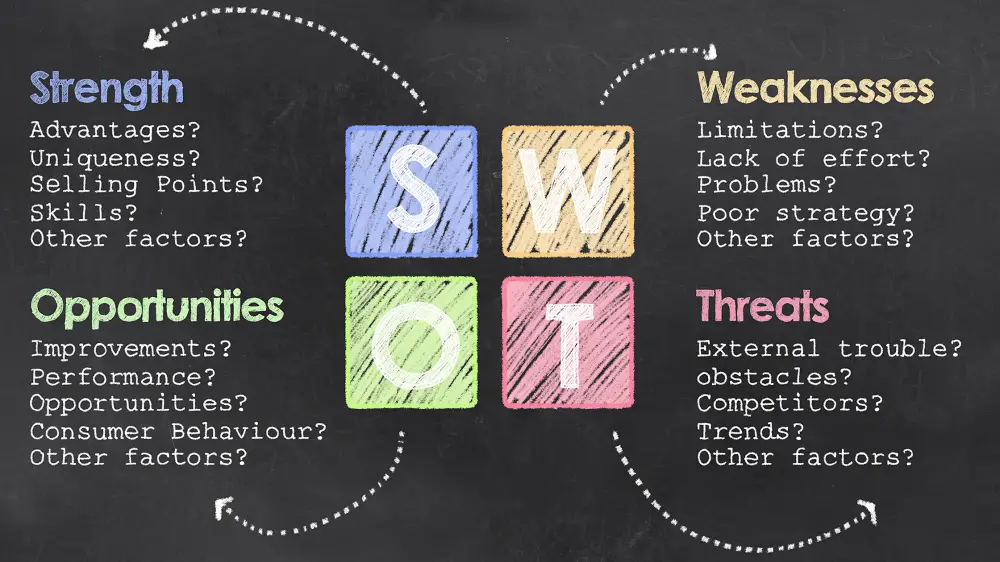 1. List all the factors in which your selected business/organization excels (Strengths)
Strengths1 pertain to the positive attributes of your subject that enable them to stand out in its respective industry. Here are some examples:
Well-known brand and logo
State-of-the-art technology
Experienced and versatile employees
Notice that these examples are "internal" to a firm. For instance, Well-known brand and logo are due to the firm's ideas and they can change it whenever they want.
2. List all the factors that hinder your selected business/organization's operations (Weaknesses)
Weaknesses are the factors that need improvement so that the firm can improve its operations. Here are some examples:
Outdated technology
Lack of business website and other online platforms
Insufficient number of employees
Listed examples above are "internal" to the firm which means that they can still do something to address these negative traits. For example, it's possible for the firm to replace outdated technology with a more modern and innovative one.
3. List possible external factors that can be beneficial for your selected business/organization (Opportunities)
These are the factors that the company can take advantage of although they're not within its control. For instance, getting lower tax rates is an opportunity for a firm since it reduces the compan's total expenses. However, this is not due to the firm's actions but from an external entity which is the government. 
Here are more examples:
Rising popularity of online shopping platforms
Cheaper technologies
Government's support to local firms
4. List possible external factors that are unfavorable to your selected business/organization (Threats)
These are negative factors that may hinder a firm's operations. Just like opportunities, Threats are beyond the company's control. Nevertheless, the company can still prepare for these factors to mitigate their harmful effects.
For instance, an increase in competitors in the firm's locality is a threat since it may lower their sales. Note that the firm cannot do anything to prevent the entry of new businesses in their locality but it can prepare for this phenomenon by employing new business strategies. 
Here are more examples:
Economic downturn or recession 
Increase in tax rates
Shift in consumers' preferences
Areas of Consideration in Case Study [Free Samples]
To guide you in writing your case study's Areas of Consideration section, we have provided two samples as shown below.
Sample 1
Topic: Exploring the decline in profitability of Blazehawk clothing line.
Blazehawk clothing line is one of the leading apparel providers in Manila. It started its operations in May 2012 and from thereon, created strong relationships with its loyal customers from different walks of life.
Changes in consumer trends and emergence of new marketing platforms since 2020 affected Blazehawk's market performance. Decline in total sales was observed which is mostly attributed to increasing market competition. 
To provide a comprehensive analysis of Blackhawks' internal and external environment affecting its profitability, SWOT analysis is provided below.
Strengths.
Strong brand identity.
Years of market experience.
Efficient and inexpensive production process.
Wide range of apparels suitable for different types of people.
Weaknesses.
Equipments are outdated and need repair.
Insufficient online presence in digital marketing platforms.
Insufficient budget for advertising.
Opportunities.
New fashion trends.
Use of online shopping platforms to reach more potential customers.
Threats.
Increasing cost of raw materials.
Newly established clothing lines.
Slow economic activity due to recession.
Sample 2
Topic: The popularity of subscription-based streaming services in the Philippines: The case for Netflix Inc. 
Founded in 1997, Netlix Inc. is an American streaming company that allows its subscribers to watch television shows and movies in the comforts of their homes through the internet. Since 2013, it has offered its own video contents exclusively for their subscribers2.
The entry of Netflix in the Philippines gradually changed the way Filipinos watch shows and movies from traditional free media platforms to streaming subscriptions. Eventually, the company gained massive popularity in the country especially during the height of the COVID-19 pandemic when Filipinos looked for new fascinating entertainment platforms.
To further understand the success of Netflix Inc. in the Philippines and provide an analytic framework for positive reception of subscription streaming services, SWOT analysis is presented below.
Strengths.
Well-established brand name and reputation.
Affordable subscription prices relative to its competitors.
Intuitive and user-friendly interface.
Provides wide variety of old and new TV shows and movies.
Continuous adaptation to subscribers' preference through reliable algorithm.
Weaknesses.
Foreign-centric content. 
Increasing subscription prices.
Lack of new subscription mode to entice new customers.
Opportunities.
Engage positive reception of viewers to its original content.
Create partnership with local filmmakers.
Expand library to cater local shows and movies.
Threats
Pirated contents circulated in different platforms.
Increasing popularity of competitors (Disney+, Amazon Prime, YouTube).
Tips and Warnings
Make it short. This section must not occupy too much space in your paper. Make it straightforward by listing only those factors that are relevant to the case you are studying. 
Be factual. Although the factors that you'll list in this section are based on what you've discerned, refrain from writing something that is too subjective. For instance, it's incorrect to tell that a small shop's weakness is poor marketing strategy just because you perceive their publicity materials are not engaging.
Substantiate what you've written using data. Although optional, statistical data makes your analysis more meaningful. For instance, writing "89% of the firm's  total employees have high satisfaction rating" is more notable than writing "a significant number of employees have high satisfaction rating".
You may add a PEST analysis. Some case studies' Areas of Consideration include PEST analysis to provide a more comprehensive situational analysis of the case.  PEST stands for Political Legal, Economical, Socio-cultural, and Technological factors. Basically, you have to list various factors in these aspects that you think might influence the case. 
Frequently Asked Questions
1. Should I use tables/diagrams in presenting my SWOT analysis?
It is not required to put your SWOT analysis in tabular or diagram form. Most case studies present this using paragraphs and just list the factors. However, there's no harm in using illustrations to make this section more organized. 
References
Kenton, W. (2021). Strength, Weakness, Opportunity, and Threat (SWOT) Analysis. Retrieved 15 March 2022, from https://www.investopedia.com/terms/s/swot.asp
Hosch, W. (2022). Netflix. Retrieved 15 March 2022, from https://www.britannica.com/topic/Netflix-Inc