Vintage photos are pieces of history that provide an honest depiction of our ancestor's life and times. If they only had Facebook profiles and advanced cameras back then, our history books are probably filled with vintage selfies by now.
Nonetheless, popular Facebook pages such as Ambeth Ocampo's and Pearl of the Orient: Discover Old Philippines prove that our past is rife with fascinating pictures that truly paint a thousand words. Here are just 10 of them:
10. "Coconut Kids" (late 19th century)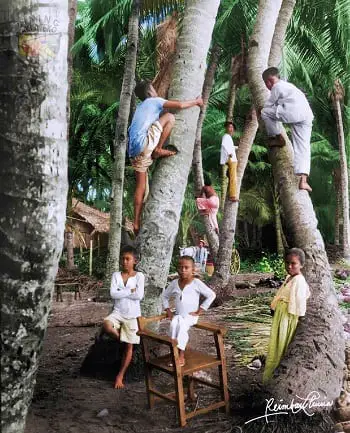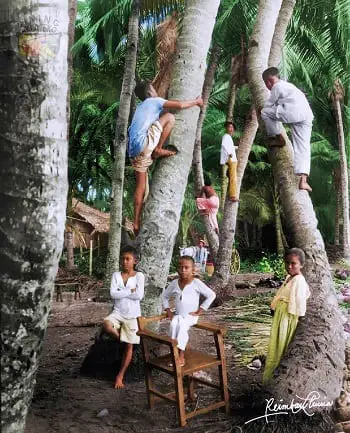 This fascinating colorized photo was originally shared by John Tewell through his Flickr account. Showing Cebuano children playing around the coconut trees, this photo was then colorized by Reimbau Lluvia to bring this forgotten moment back to life. [Image source]
9. "Visayan Harana" (1905)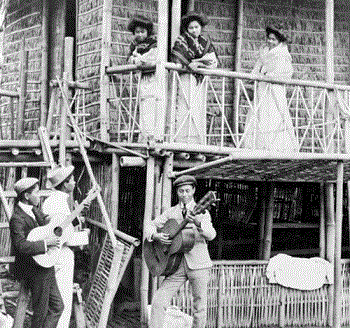 Harana was a traditional form of courtship in the Philippines. Through a kundiman song accompanied by guitar, a haranista was able to capture his woman's heart. That is if he had the vocal prowess to do so. Otherwise, he could ask help from his musician friends (see photo above) and turn harana into social event.
8. "Labanderos" (1910)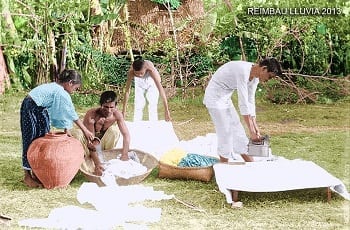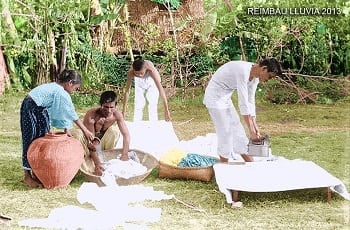 Washing clothes was a painstaking process back then. In fact, after washing the clothes in the riverbanks during the morning, women often go back by noon to bleach them. Fortunately, their men were always ready to lend them a hand. [Image source]
7. "Kwentuhan sa Tindahan" (circa 1900)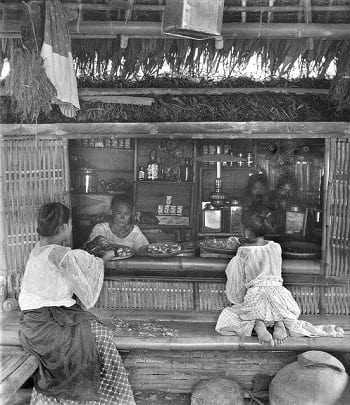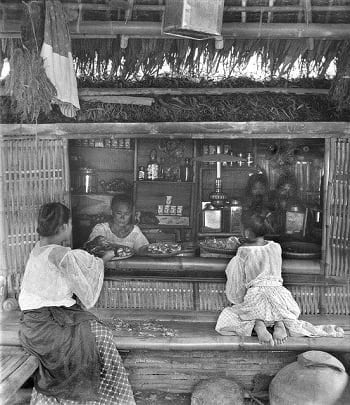 Capturing a simple moment of life back then, this photo features a classic sari-sari store that offered canned goods and dried fish placed in a traditional bilao. [Image source]
6. "Chinese ear cleaner" (19th century)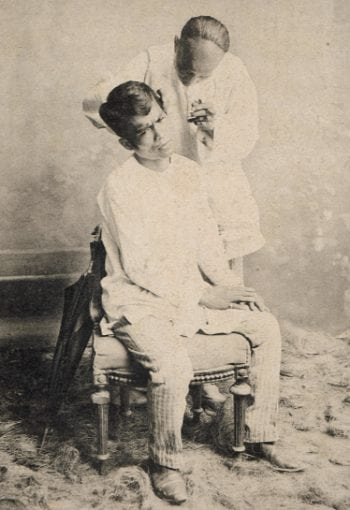 In the streets of Spanish Manila, Chinese men offering ear-cleaning services were a common sight. Interestingly, some of them peddled milk in jars while other street vendors sold phyton or sawa, a common anti-mice remedy back then.
5. "Kutuhan sa Tanghalian."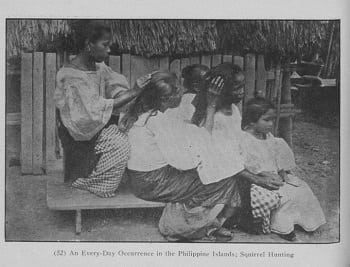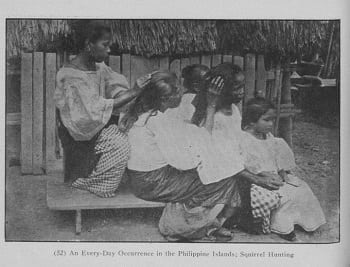 Today, head lice infestation is easily treated with medicated shampoo. Back in the day, however, women get rid of them through "head-lice hunting" done every afternoon. Filipina children were even threatened by their elders that if left unharmed, head lice would grow bigger and they would be flown away to some nearby mountain. [Image source]
4. "Double Wedding."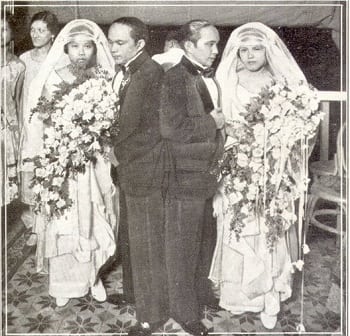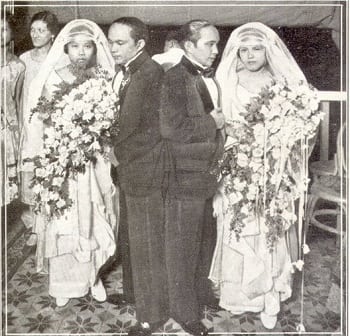 Born in 1908, twins Lucio and Simplicio Godino became part of a freak show before they were adopted by Teodoro Yangco. They were treated like celebrities in the pre-war Philippines, especially when they tied the knot with sisters Natividad and Victorina Matos. Learn more about their interesting story here. [Image source]
3. "Muscle Flexing."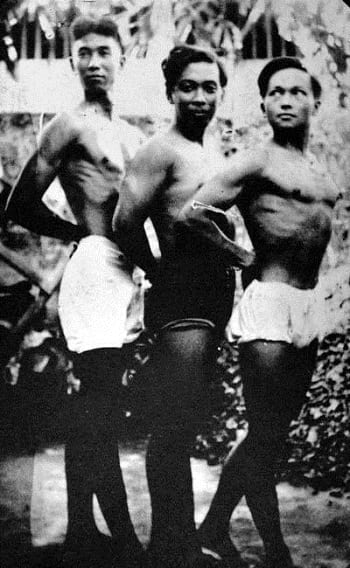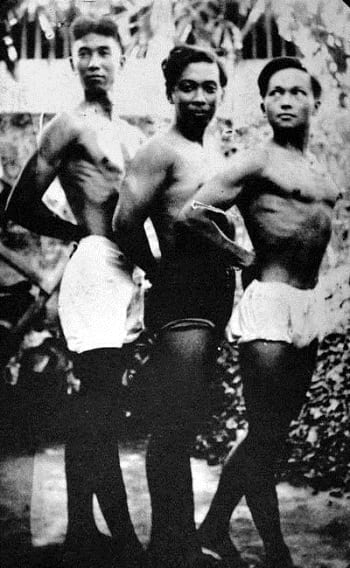 These men (above) were no ordinary men. Flexing their muscles a la Mr. Philippines are Guillermo Tolentino (center), National Artist for Sculpture,  along with his assistant Anastacio Caedo (third from left), the man who many believe was the real model behind the iconic UP Oblation. [Image source]
2. "Men On Boat."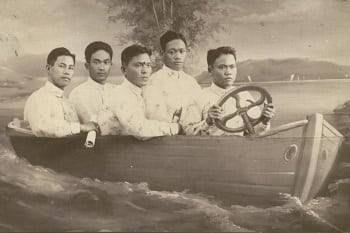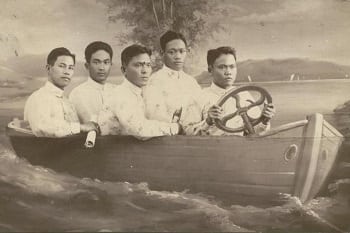 Thanks to Anyare? Facebook page, this vintage photo is only one of many that instantly became viral. It shows a group of pre-war Filipino–probably in their "wackiest" pose–riding a make-believe cardboard boat. Back then, it took ages before a picture is captured which probably explains why these guys didn't even bother to smile. [Image source]
1. "Diki Diki: Small But Terrible."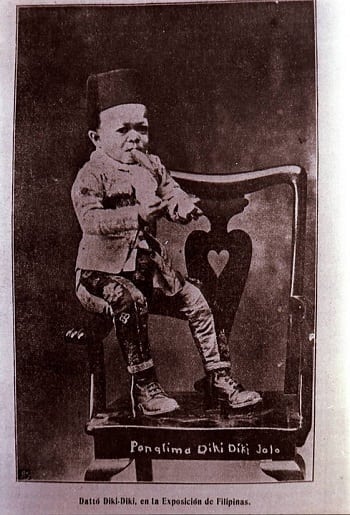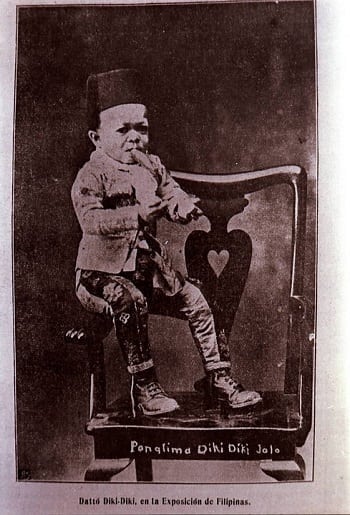 Taken from the fascinating  pre-war magazine El Renacimiento Filipino, this vintage photo shows Panglima Diki Diki, a small (dikidiki or rikiriki means "little" in Tausug) but powerful governor and military ruler from Jolo, Sulu.
Much of the stories about him were based partly on a legend. It is believed that Diki Diki married either a midget princess or his nurse who saved him from a fatal illness. Some even claimed he had several wives! [Image source]
Related Articles:
7 Creepiest Photos From Philippine History