For a Visitor visa (Subclass 600), you may undergo medical examinations if you answer "Yes" to any of the questions under health declarations. Otherwise, if you answer "No" to all questions, you may not undergo medical examinations (see screenshot below).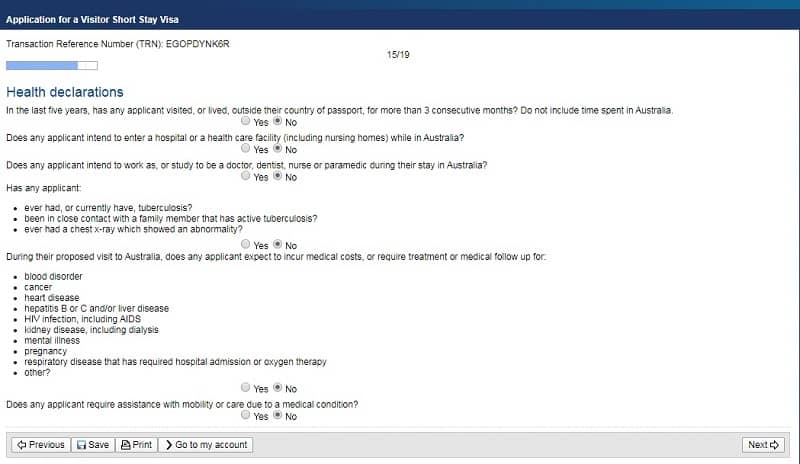 Specifically, you will undergo the following tests if you fall in any of the following situations:
Situations
Tests Required
You are from a country with a higher risk of TB and likely to enter a healthcare or hospital environment or
If you 
*ever had, or currently have tuberculosis?
*been in close contact with a family member that has active tuberculosis?
*Ever had a chest x-ray which showed an abnormality?
Chest x-ray examination (if aged 11 or over) and a medical examination
You are pregnant and intend to have the baby in Australia
Hepatitis B test
You intend to work as (or study to be) a doctor, dentist, nurse, or paramedic
*Chest x-ray
*Medical examinations
*HIV
*Hepatitis B and C tests
You are likely to work (or be a trainee) at an Australian childcare centre (including preschools and creches)
*Chest x-ray
*Medical examination
You are aged 75 years or older and applying for a Visitor visa (subclass 600)
Medical examination
An email will be sent to you by the Department of Home Affairs instructing you to arrange for a medical examination within the specified period.
The email will contain a letter specifying the type of examination you need to undertake and a HAP ID. You will then need to bring this letter to any of the following accredited panel physicians:
Nationwide Health Systems AUX Inc. with offices in Makati, Davao, Cebu, and Baguio
St. Luke's Medical Extension Clinic – Global City in Taguig
Address, clinic hours, telephone numbers and email addresses of these accredited panel physicians are here.
Check out this link to have a full understanding of the health requirements in your visa application.
Please note that your visa application will only be processed once you complete the medical examination requirements.
Go back to the main article: How to Apply for an Australian Tourist Visa: A Complete Guide for Filipino Tourists