Unlike Jose Rizal whom we Filipinos have venerated as the ideal Filipino hero, Emilio Aguinaldo's legacy can be described as mixed at best.
Although his numerous accomplishments cannot be denied, the same can also be said of the many controversies that have continued to hound his name up to this day.
While we won't argue if he truly was a scheming opportunist or not, we'll just list down some of the mistakes Aguinaldo made during his lifetime. If anything, his flaws show that he was just as human as the rest of us.
We have also included some additional interesting facts about Philippines' controversial first president.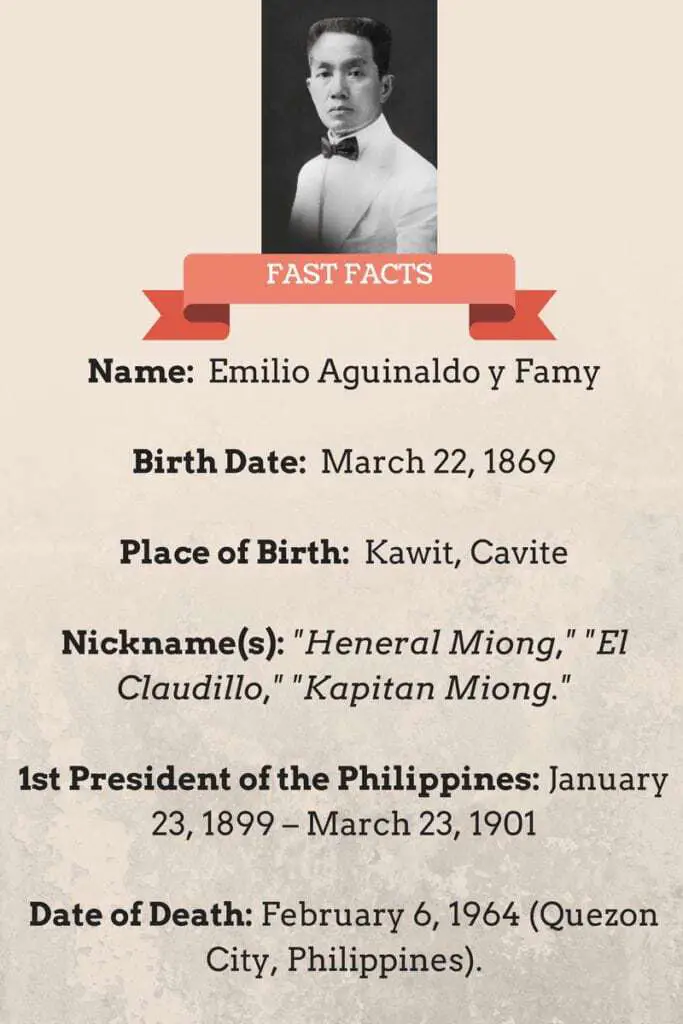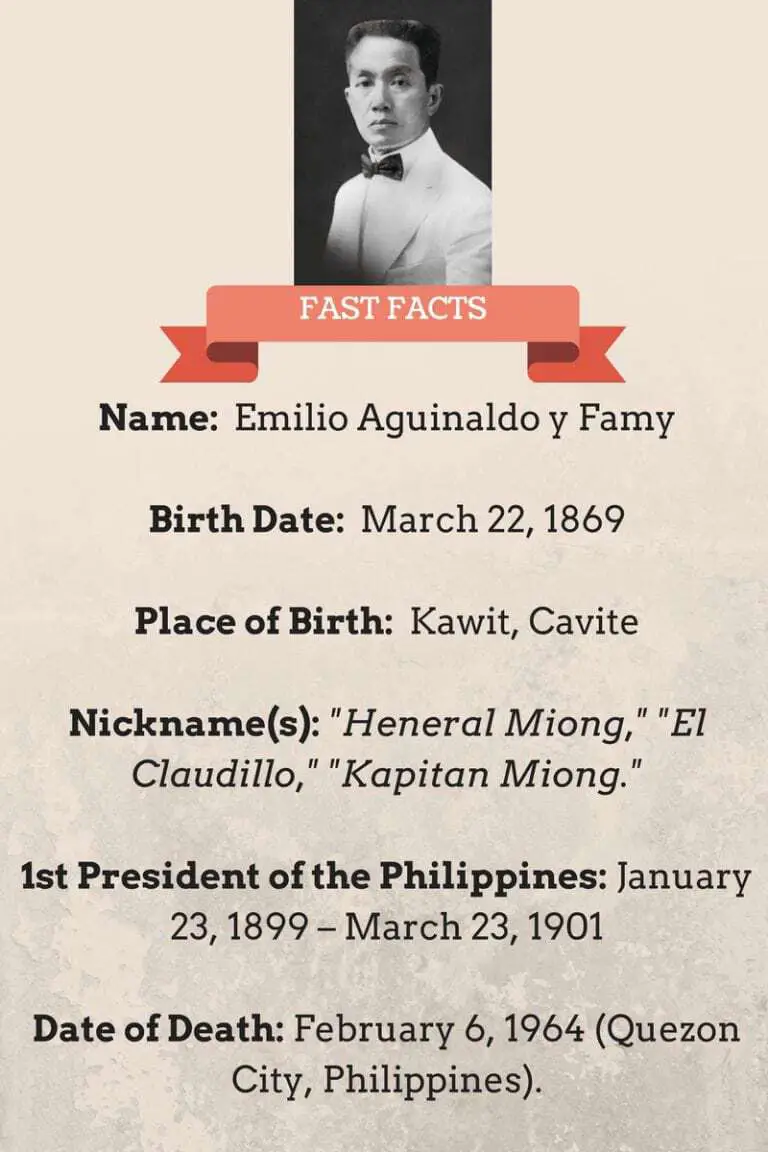 1. He could have saved Bonifacio's life but didn't.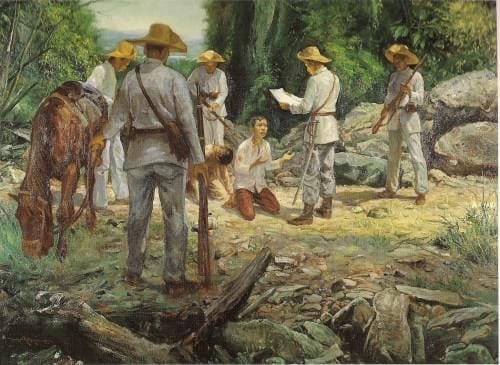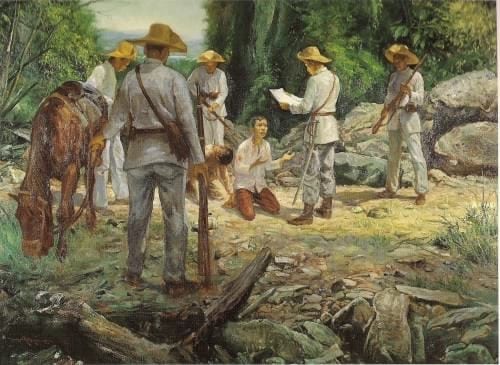 We won't go much into the convoluted details behind the bad blood between Emilio Aguinaldo and Andres Bonifacio. What we'd like to point out however, was that Aguinaldo had the power to stop his rival's execution.
To his credit, he initially did commute Bonifacio and his brother Procopio's death sentences to banishment. However, his War Council and associates persuaded him to carry out the execution. They claimed that to let Bonifacio alive would be to endanger Aguinaldo's life and the integrity of the revolution.
Also Read: 11 Little-Known Facts About Andres Bonifacio
Needless to say, the Bonifacio brothers were executed. If this terrible tragedy proves anything, it is that Aguinaldo had the power to save Bonifacio's life if he really wanted to.
2. He did not investigate the (alleged) rape of Bonifacio's wife.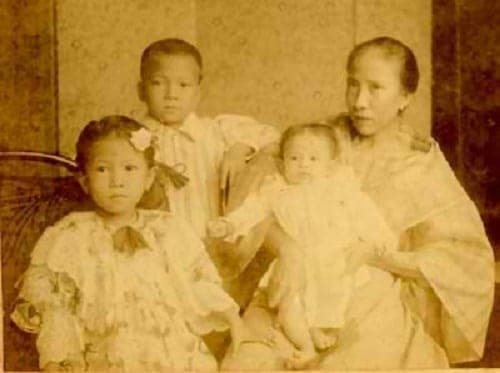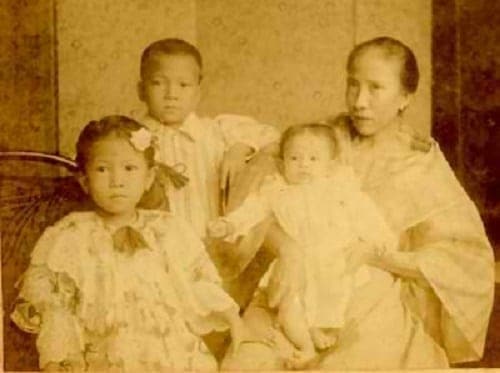 One of the lesser-known controversies surrounding the Aguinaldo-Bonifacio rivalry concerns that of the alleged rape of Gregoria de Jesus by Aguinaldo's men shortly after they captured her husband. Although de Jesus herself never categorically said she was raped, General Mariano Noriel (a member of the War Council and ironically one of those who voted for Bonifacio's execution) asked Aguinaldo to investigate the incident.
Unfortunately for de Jesus, Aguinaldo never investigated nor punished the offending officers. What's worse, this wouldn't be the last act of impunity that Aguinaldo would allow his men to get away with…
3. He let Luna's killers go unpunished.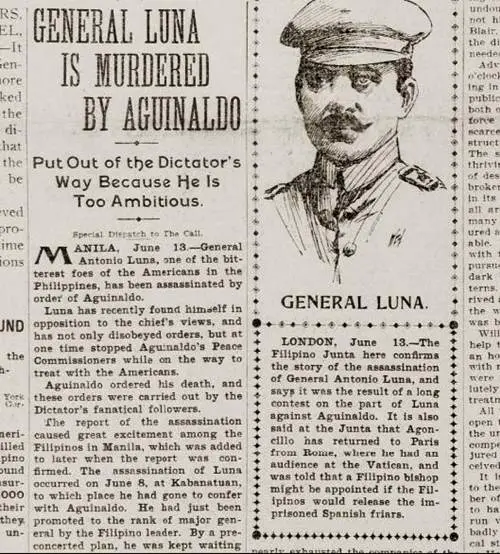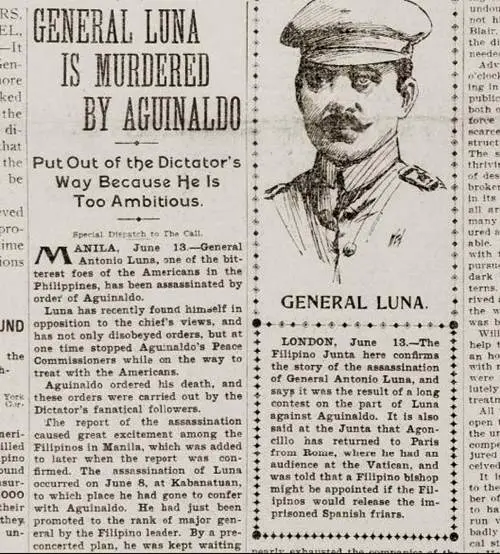 As with Bonifacio's execution, we won't discuss the controversy involving whether or not Aguinaldo ordered the death of Antonio Luna. Instead, we'll focus on the aftermath, specifically the fact that not one of Luna's killers was ever punished for the crime.
Also Read: Antonio Luna's Famous Last Word
Instead, a commission designated by Aguinaldo cleared the killers (and himself) from any culpability. The commission's report blamed Luna for openly insulting the guards and officers stationed to protect the president's house. Incidentally, Aguinaldo also had all Luna's men disarmed and his officers arrested, tortured, or even killed in order to suppress any revolts by the deceased general's troops.
4. He ignored Luna's advice for guerrilla warfare only to use it in the end.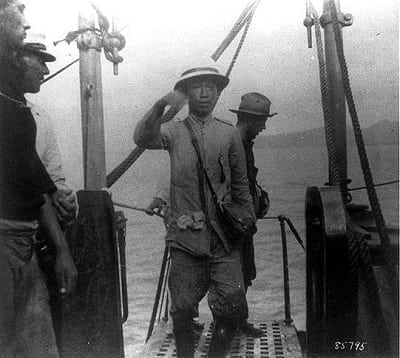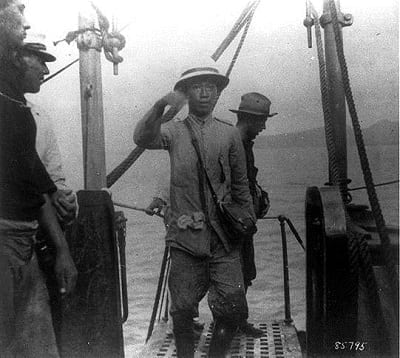 Two months before the Philippine-American War broke out, Antonio Luna had proposed turning the Philippine army into a guerrilla force because he knew that the Filipinos had no chance against the better-armed Americans in open set-piece battles. On the other hand, by resorting to protracted guerrilla warfare, he believed that the Filipinos could wear out the enemy long enough to convince the American public to recall their soldiers back home.
Also Read: 8 Reasons Why Apolinario Mabini Was More Badass Than You Think
Luna even enlisted the help of Apolinario Mabini to try and convince Aguinaldo; however, the latter rejected Luna's proposal because he thought that a sovereign nation should fight a conventional war. Four months later and just as Luna had predicted, the Americans annihilated countless Filipinos in conventional warfare, consequently forcing Aguinaldo to order his men to resort to guerrilla tactics.
5. He had a nascent dictatorial streak.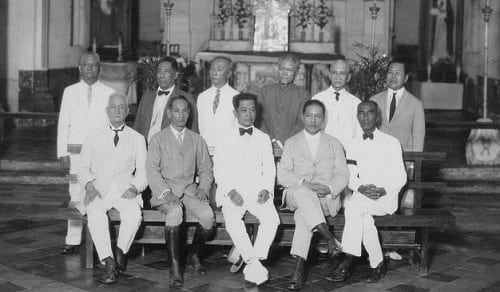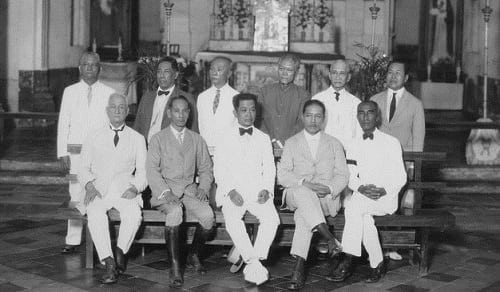 Although he never got to be dictator on the same level as Ferdinand Marcos if only because time was against him (his dictatorship lasted for only three weeks), Aguinaldo did possess the makings of a dictator—a characteristic recognized at the outset by his compatriots.
If anything, his personal appearance at the inauguration of the Malolos Constitution on January 21, 1899 would attest to his latent strongman and elitist streak. During the proceedings, Aguinaldo carried around an "ivory stick with a gold head and gold cord and tassels."
On the other hand, in his book "A Question of Heroes," National Artist for Literature Nick Joaquin describes Aguinaldo as a leader who lacks imagination. In Malolos, an American sneered that Aguinaldo was more concerned about "what cane to carry and what breastplate to wear." It's also possible, as Joaquin claims, that Aguinaldo "didn't fully grasp what was involved in the argument on whether he should wear the title of President or Dictator."
6. He engaged in political mudslinging against Manuel Quezon.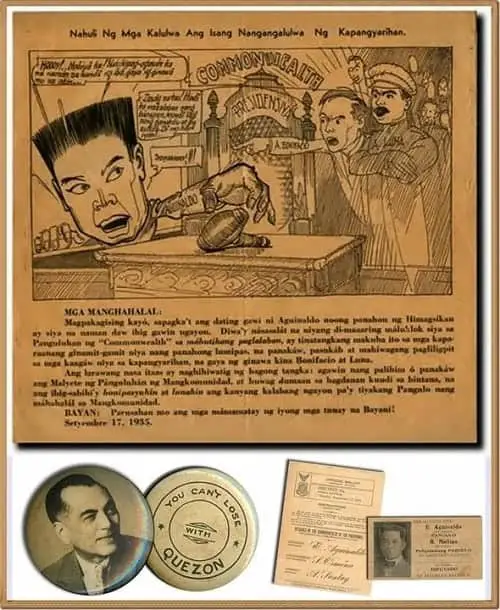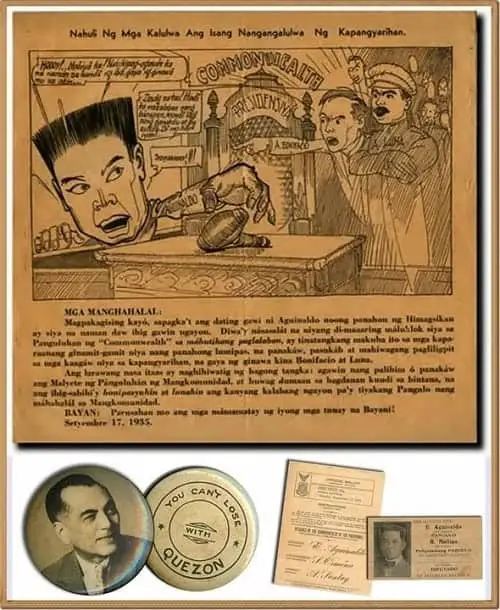 After Aguinaldo was captured and swore allegiance to the Americans, he retired from public life and concentrated mostly on the welfare of his veterans. However, sometime in the 1920s, he again found himself in the public spotlight after openly feuding with Manuel Quezon who had once served as his staff.
Their political rivalry became a regular staple for the newspapers. Aguinaldo expelled Quezon from the veterans' association he created, to which the latter sarcastically remarked he never belonged to the group in the first place. Quezon also pulled off his own dirty tricks against Aguinaldo. Besides reminding him about Bonifacio's and Luna's deaths, he also cut off his government pension.
Also Read: 15 Mesmerizing Facts About President Manuel Quezon
Aguinaldo protested the 1935 presidential election results which he believed was rigged in Quezon's favor; his supporters even planned to disrupt the inauguration and assassinate the winners although it was never carried out. In the end, the two men became good friends after a common close friend helped heal the rift between them.
7. He was the 'first' Japanese collaborator.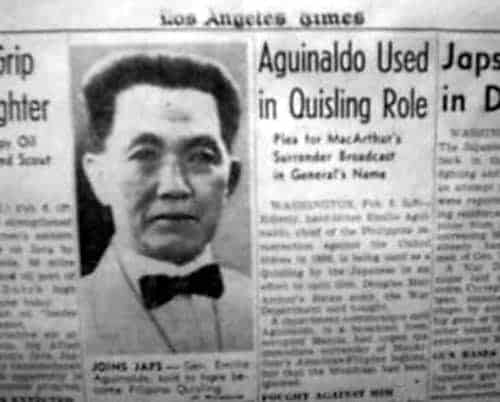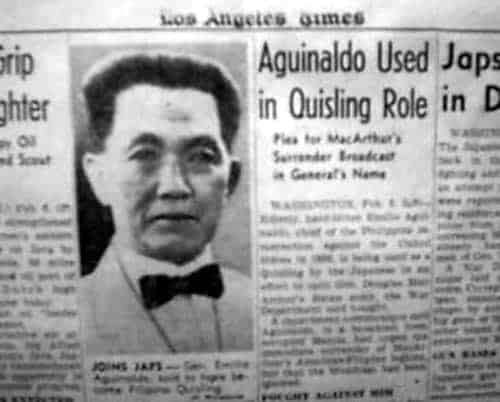 During World War II, Aguinaldo quickly cemented his reputation as the 'first Filipino Quisling' (traitor) after he called on General Douglas MacArthur (whose father he once fought) to surrender.
For the duration of the Japanese occupation, Aguinaldo made public appearances and speeches on behalf of the enemy. In fairness to him, he later claimed that he only collaborated with the Japanese because he didn't want his countrymen, especially the youth, to suffer or die needlessly.
Also Read: 11 Reasons Why Jose P. Laurel Was A  Total Badass
During his post-war trial, it was also revealed that the Japanese threatened to murder his entire family if he didn't cooperate, so maybe we do have to cut him some slack on this issue.
Other Interesting Facts:
8. Aguinaldo and Bonifacio almost had a duel.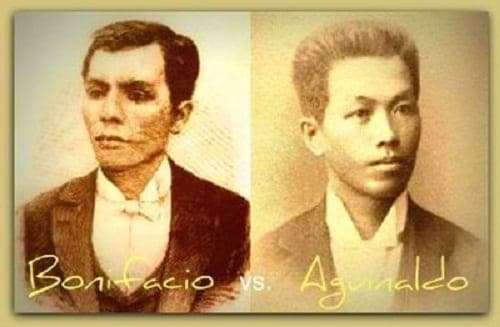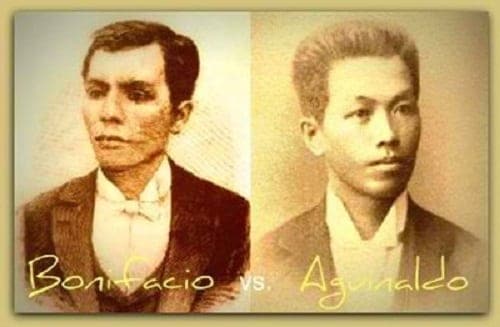 Did you know that Aguinaldo and Bonifacio almost killed each other in a duel?
Although the exact date is not known, the incident happened in San Francisco de Malabon. Aguinaldo and Bonifacio, along with their parties, met in the house of a Mrs. Epifania Potente ostensibly to heal the growing rift between the Magdalo and Magdiwang factions.
Also Read: Emilio Aguinaldo once killed an eighteen-foot crocodile
At some point, however, the discussion became heated, and both parties left the house to engage in a shouting match under a large tree. The confrontation nearly turned deadly when the men drew their pistols at each other. Fortunately, no blood was shed as General Santiago Alvarez managed to calm them down.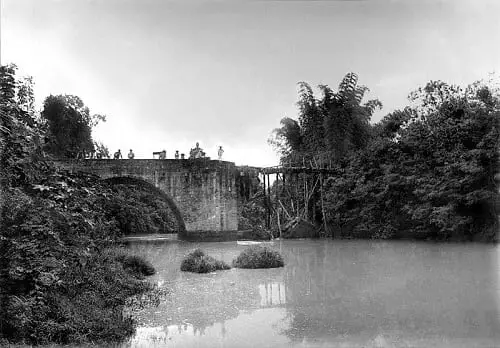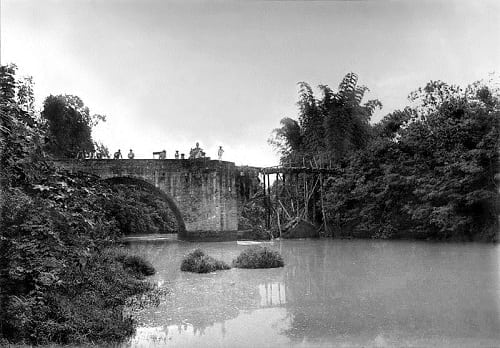 During this three-day battle, the fate of the Revolution hung on whether Aguinaldo and his men would win or lose.  After taking the town of Imus in a hard-fought fight with the Spanish, Aguinaldo expertly laid a trap for the 500 incoming Spanish soldiers led by General Ernest de Aguirre at the Bridge of Isabel II above Imus River.
The Spanish needed to cross the bridge which led all the way to the town. Aguinaldo destroyed one section of the bridge, concealed it, and then hid his men in strategic areas all over the river bank. Continue Reading: 8 Epic Battles in History Where Filipinos Kicked Ass
In 1931, silent film star Douglas Fairbanks was on a round-the-world tour aboard the S.S. Belgenland. The purpose was to film a comic travelogue he produced called "Around the World in 80 Minutes."
During his stopover in the Philippines, Fairbanks visited General Emilio Aguinaldo's home in Cavite where the latter would give a short speech in Spanish. Continue Reading: 12 Rare Pinoy Historical Videos You've Probably Never Seen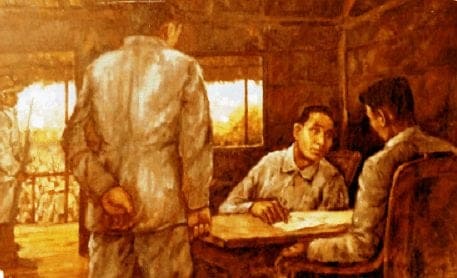 In the book The Development of Philippine Politics authored by Maximo Kalaw, Miong supposedly tendered his resignation as head of the government sometime in December 1898—a mere month before the formal establishment of the first Philippine Republic.
According to the book, even Aguinaldo's closest advisers did not know he had written and circulated his resignation letter titled "Requesting a Christmas Gift From My Filipino Brethren."
In the letter which he wrote in Tagalog, Aguinaldo cited "his acknowledged ignorance of matters of state" and the "favoritism, selfishness and bribery shown by other officials" as his two main reasons for stepping down. Continue Reading: The Day Aguinaldo Almost Resigned And Mabini Almost Became President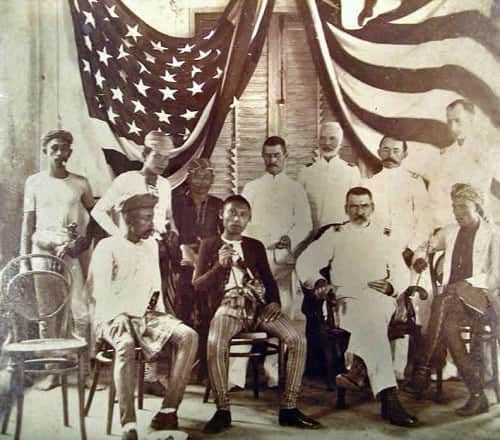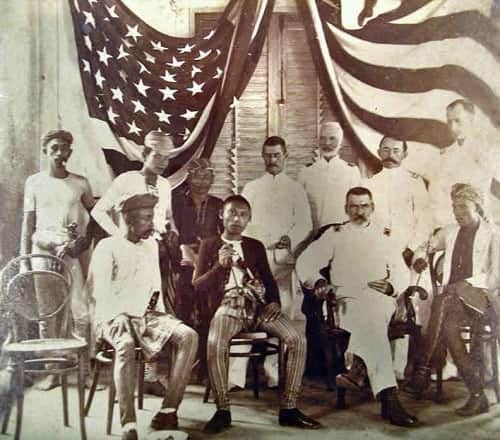 With the decades (centuries if one counts back to the Spanish era) of bloody conflict in Mindanao, we can only imagine what might have been had the alliance between the First Philippine Republic and the Sultanate of Sulu pushed through.
Back then, Emilio Aguinaldo—controversial as he was—had an even more controversial dream well ahead of his time: the creation of a federation that would include the Christianized Filipinos of the north and the Moros of the south. Continue Reading: Aguinaldo's Visionary Government That Never Was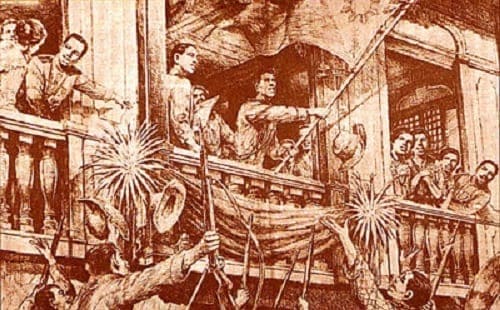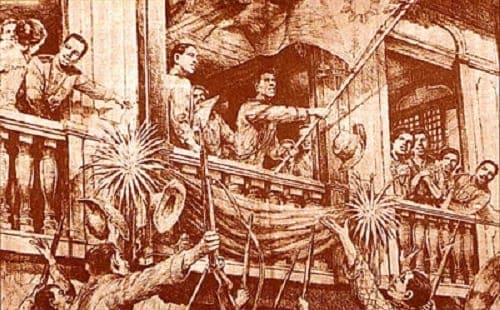 Actually, it was Jose Rizal's distant relative, a lawyer named Ambrosio Rianzares Bautista, who read the Act of the Declaration of Independence in the late afternoon in front of an open window. In fact, Aguinaldo added the balcony only sometime in 1919 to 1921.
Also, while it was Aguinaldo who unfurled the flag, it was Bautista who ended up waving it in front of a jubilant crowd. Continue Reading: 11 Things From Philippine History Everyone Pictures Incorrectly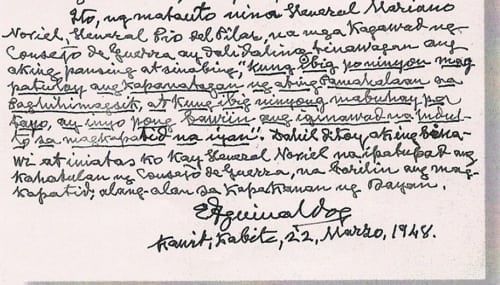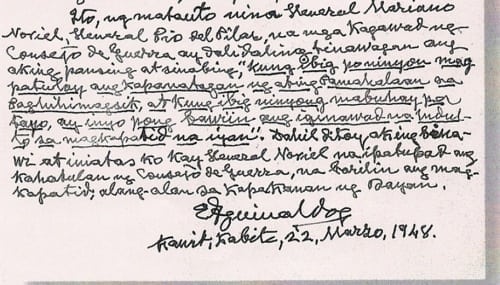 It will be surprising to know for some that while Aguinaldo denied having anything to do with Luna's murder until his dying day, he readily confessed to having ordered Bonifacio's execution.
On March 22, 1948 (the day before his birthday), Aguinaldo released a letter saying he was indeed the one who ordered the execution of Bonifacio and his brother Procopio (the letter was certified authentic by Teodoro Agoncillo and published in his book 'Revolt of the Masses'). Continue Reading: This Letter Reveals Who Really Killed Andres Bonifacio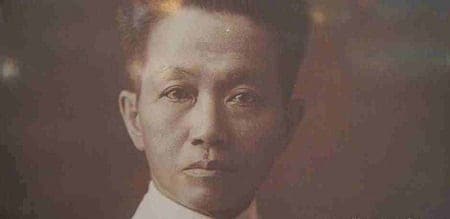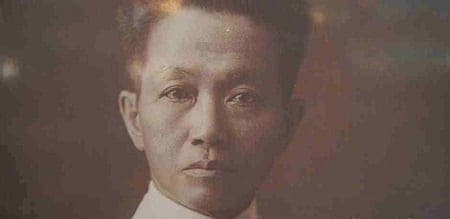 At the age of two, Aguinaldo contracted smallpox and nearly died from the disease. He was even given up for dead until he finally opened his eyes.
A year later, a three-year-old Aguinaldo nearly died from hundreds of ant bites after a young relative left him in a bamboo brush to escape Spanish forces out for revenge for the 1872 Cavite Mutiny. His uncle later discovered him lying helplessly on his back and screaming hoarsely, his body swollen from the ant bites. Continue Reading: 10 Near-Deaths That Almost Changed Philippine History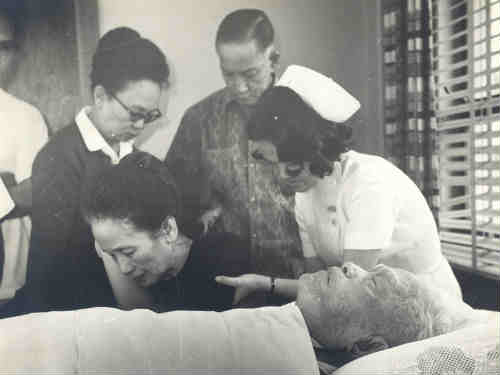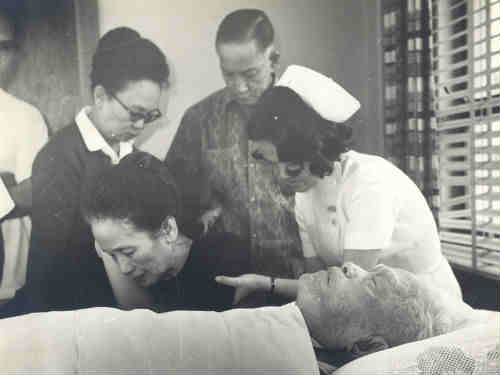 After his crucial roles in wars against Spanish and American invaders, Aguinaldo championed the rights of his fellow veterans by establishing the Veteranos de la Revolucion (Veterans of the Revolution) and helping them buy land on installment from the government. Aguinaldo died of coronary thrombosis on February 6, 1964. Continue Reading: 10 Haunting Last Pictures Taken in Philippine History
References
Brands, H. (1992). Bound to Empire : The United States and the Philippines. 1st ed. Oxford University Press, p.53.
Brands, H. (1992). Bound to Empire : The United States and the Philippines: The United States and the Philippines. 1st ed. Oxford University Press, p.44.
Corpuz, O. (2007). The Roots of the Filipino Nation. 1st ed. University of the Philippines Press, p.292.
De Viana, A. (n.d.). The I Stories: The Events in the Philippine Revolution and the Filipino-American War as told by Its Eyewitnesses and Participants. 1st ed. University of Santo Tomas Publishing House and Flipside Publishing.
Diario de Filipinas, (2012). Report: Bonifacio and Aguinaldo in Duel. [online] Available at: http://goo.gl/URETQs [Accessed 16 Sep. 2014].
Dumindin, A. (n.d.). Aguinaldo In Later Years: 1902-1964. [online] Philippine-American War, 1899-1902. Available at: http://goo.gl/Eim8Mu [Accessed 16 Sep. 2014].
Dumindin, A. (n.d.). June 5, 1899: Assassination of Gen. Antonio Luna. [online] Philippine-American War, 1899-1902. Available at: http://goo.gl/O9DlXM [Accessed 16 Sep. 2014].
Joaquin, N. (1977). A Question of Heroes. 1st ed. Filipinas Foundation, Inc.
Presidential Museum and Library, (2013). Transcript of the Trial of Andres Bonifacio. [online] Available at: http://goo.gl/GxRrP2 [Accessed 16 Sep. 2014].
Quezon III, M. (2006). Reconciliation. Philippine Daily Inquirer, [online] p.13. Available at: http://goo.gl/x7AWM8 [Accessed 16 Sep. 2014].