Do you remember Candy Crush?
There's something about the game that is too addictive to resist.
Perhaps it's the social media integration that has transformed the game into a million-dollar app phenomenon. Or maybe it's those delicious-looking candies that tickle every child within us. Either way, it just goes to prove that Filipinos' love for candies still prevails–both offline and online.
Take the classic Pinoy candies as an example. We may not encounter these sweet delights on a daily basis but the mere sight of them conjures memories of our innocent, carefree days.
Indulge in these six fascinating candy facts that will surely satisfy your sweet tooth:
6. Cotton candy, originally called "Fairy Floss," was invented by a dentist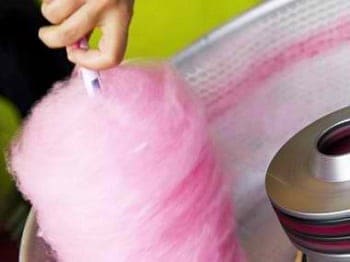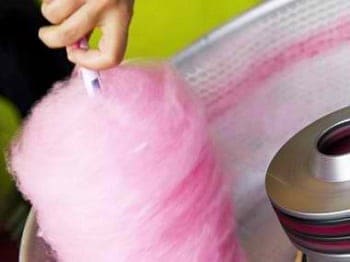 Image source: jayme.passiotive.com
School events or any trip to perya won't be complete without the fluffy sugary treat that is cotton candy. Originally named "fairy floss," cotton candy was invented by four men, one of whom was–of all people–a dentist.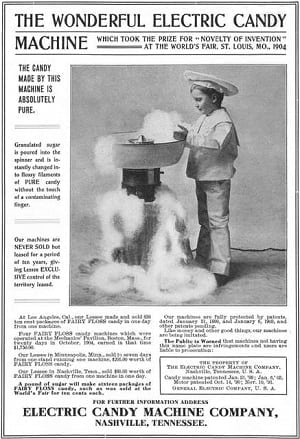 A vintage ad showing the first cotton candy machine (Source: Captain Geoffrey Spaulding on Flickr)
In the late 1890s, dentist William Morrison, along with candy maker John Wharton, was able to patent the very first electric cotton candy machine (shown above).
Using the centrifugal force, this machine was able to melt granulated sugar and transform it into flossy, delectable filaments of candy. Fairy floss was a huge hit during the 1904 World's Fair in St. Louis–selling 68,655 boxes for 25 cents each.
In 1972, an automatic candy machine was introduced, leading to a great increase in cotton candy production. Soon, fairy floss became simply known as "cotton candy."
5. From "Storck" to "Starr."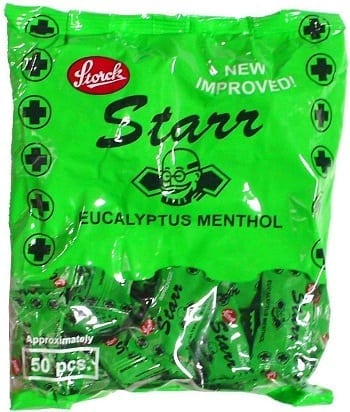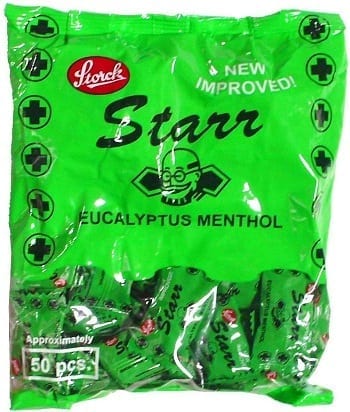 Image source: www.myorientalstore.com
In its heyday, Storck was the ultimate Pinoy menthol candy. It was a consistent best-seller for takatak boys and the breath freshener of choice for many cigarette smokers. The product was so popular that it was even exported to the US.
Judging by its tagline, "Storck, masarap kasama," the future seemed so bright for this classic Pinoy candy. Or so we thought.
In 1996, the Los Angeles Times exposed that Storck's candy wrappers reportedly contain "dangerously high levels of lead." Soon, Storck Products Incorporated (SPI), the manufacturer of the candy, took a downturn.
Jacinto Ng of Rebisco came to the rescue and bought 60% of the company. Storck would later be rechristened as Starr with almost identical packaging.
4. Yema probably came from construction leftovers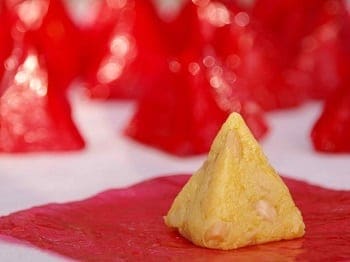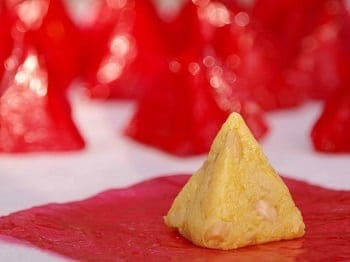 Image source: angsarap.net
 Yema is the Spanish word for "egg yolks." Therefore, it should come as no surprise that this confection is also widely popular in Spain, where it is also known as St. Teresa's candied egg yolks.
But where exactly did this sweet, milky candy come from?
Apart from factoids, there are no other sources that accurately explain its origin. It is believed that yema was a product of people's ingenuity and resourcefulness.
Back in the day, cement wasn't invented yet for building construction. As a result, people made their houses more durable with the use of lime combined with egg shells and egg whites.
Soon, gallons of egg yolks were left unused. To ensure they won't go into waste, people started to create egg-based recipes such as leche flan and, of course, yema. 
Today, yema can be prepared either as pyramid-shaped candies wrapped in colorful cellophane or as yema balls dipped in luscious caramel syrup.
3. Pastillas de leche and the dying art of "pabalat."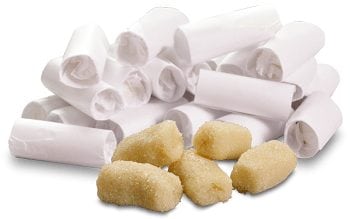 Image source: www.redribbonbakeshop.com.ph 
Pastillas de leche as we see them today are often enclosed in white paper wrappers. Apparently, they pale in comparison with the elaborate paper-cut designs unique of San Miguel, Bulacan, considered by many as the originating place of pastillas de leche.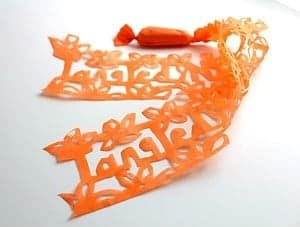 The tedious, intricate art of "pabalat". (Source: tanglednoodle.blogspot.com)

Inspired by Aztec arts and Mexico's papel picado ('perforated paper'), the pabalat is often used as decoration or table centerpiece. Those that are used to wrap pastillas de leche often end up as wedding gifts or pasalubong. 
Tedious and intricate, the art of making pabalat is now on the verge of extinction. The few who practice it are now in their 70s or 80s. But thanks to the efforts of pabalat masters like Aling Nene Ocampo, this dying art will hopefully remain alive and continue to showcase the town's rich folk culture.
2. Nips is the reverse form of the word "spin"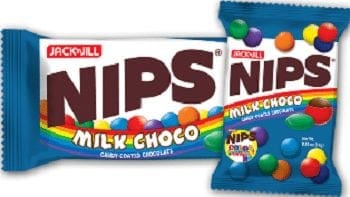 Image source: universalrobina.net  
Nips candy-coated chocolate is just one of the latest products that now carry the Jack 'n Jill brand name. Unknown to many, Nips is the anagram or the reverse form of the word "spin" which, in turn, describes the spinning process used to create these cute milk-chocolate candies.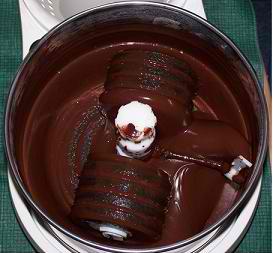 "Nips" is the reverse form of the word "spin." (Source: www.chocolatealchemy.com)
Nips is just one of the popular snacks and candies under Jack 'n Jill. As its name suggests, Jack 'n Jill came from the popular nursery rhyme. Owner John Gokongwei chose it  because "it had a nice ring to it, was easy to remember, and best of all, it was a name that kids would easily recognize."
1. L*A*L*A * Milk Chocolate was named after four different people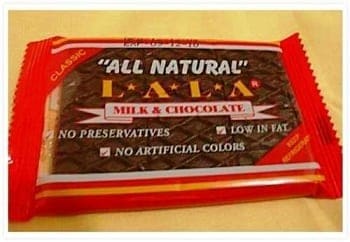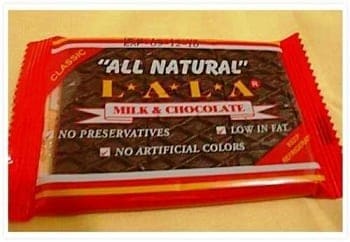 For over 4 decades, LALA milk chocolate has been a staple in many local sari-sari stores. Sweet but not too overpowering, this pastillas-meets-chocolate brand is loved by generations of Filipinos. And for those who love to hear rags-to-riches stories, the origin of LALA milk chocolate fits the bill.
In 1973, Bicolano couple Luvimin and Salvacion Belaro moved to Manila with their four children.
Poverty forced the family to transfer to Balagtas, Bulacan where Mr. Belaro had to work during the day and make camote candy with his family at night just to make ends meet.


Louie, Arlene, Leonisa and Arlete–the names behind L*A*L*A* Milk Chocolate.
The family later added cheese pastillas to their humble business. One day, Mr. Belaro accidentally made chocolate candy out of the pastillas mixture. To conserve resources, he decided to sell the chocolates and crossed his finger that customers would love it. It turned out to be a best-seller and the rest, as they say, is history.
The trademark L*A*L*A* came from the initials of the first four Belaro children namely Louie, Arlene, Leonisa and Arlete. Today, Gracepoint Enterprises (formerly LALA food products) control 70% market share of local chocolate candies and still enjoys success even without the help of TV advertisement!