Get ready to see never-before-seen graduation photos of outstanding Filipino personalities as they appear in their school yearbooks. Like all students, they seemed ready to take on the world, with their bright faces brimming with confidence and optimism. In a few years, they would go on to become icons and idols; trailblazers and leaders; movers and shakers who all have left their mark in Philippine society.
Also Read: The Oldest Known Photos of the Philippines Ever Taken
1. Dr. Mariano M. Alimurung (Co-Founder, Makati Medical Center)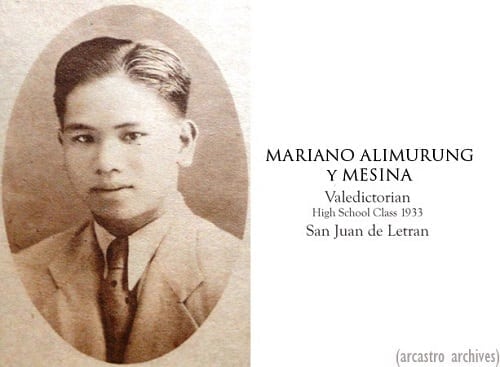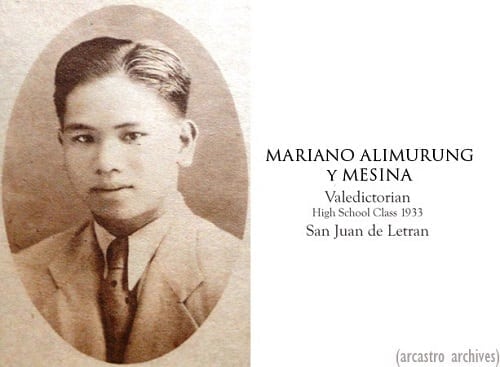 Student Life: Born on August 4, 1916, the future cardiologist went to St. Mary's Academy in Bacolor for his elementary schooling. He then moved to Letran High School in Manila where he graduated as Valedictorian. For his medical course, Alimurung enrolled as a scholar at the U.S.T. where he also became Corps Commander, handling a whole brigade and leading other fellow officers including Carlos Arguelles and Antonio Delgado.
Did you know? U.P. used to have a yearbook called the Philippinensian
Life After Graduation: He specialized in Cardiology and became renown in his field. In 1969, Alimurung became one of the founders of Makati's premiere hospital–Makati Medical Center—together with Dr. Constantino Manahan and Dr. Jose Fores. He sat as the chairman of the Dept. of Medicine, director of the Coronary Care Unit, and head of the Cardiology Section. Dr. Alimurung was also the first and only director of the Office of Medical Education.
2. Alfonso "Alfie" Anido (Movie Actor)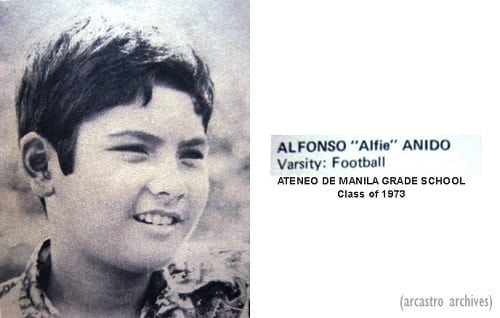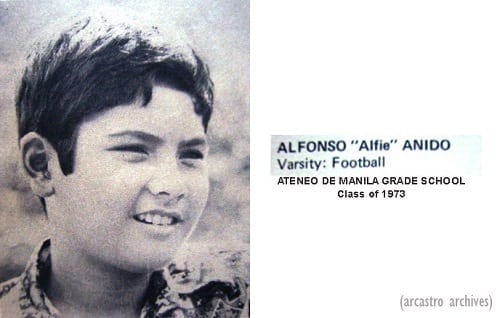 Student Life: As an Ateneo grade schooler, Anido (December 30, 1959 – December 30, 1981) was into sports, and qualified for the football varsity team. Thanks to his good looks, Anido, even in his younger years, was already a veteran advertising model, appearing in various print ads.
Also Read: Top 10 Pinoy Celebrities with Ridiculous Urban Legends
Life After Graduation: The handsome teen became a member of the Regal Babies, contract stars of Regal Films. His best-known role was in the classic "Temptation Island" (1980) with Dina Bonnevie. Anido's shooting death in their Bel-Air home, which happened after an incident at the birthday party of Katrina Ponce Enrile in Batangas, was reported as self-inflicted, but rumors persisted for years about the alleged Enrile involvement.
3. Feliciano "Sonny" Belmonte Jr. (House Speaker, Former Quezon City Mayor)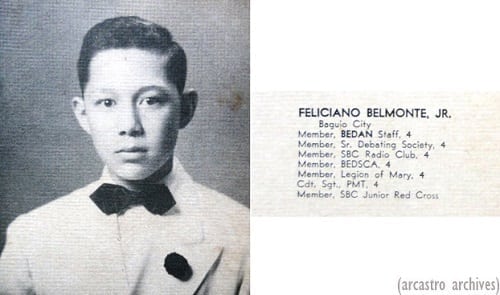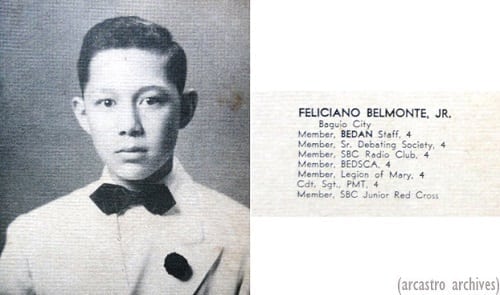 Student Life: Born on October 2, 1936 in Baguio City, Belmonte finished his grade school in the summer capital before moving to San Beda for his secondary education. He was a member of the Debating Society and also a staffer of his BEDAN yearbook. Belmonte then took up law at the Lyceum, and moonlit as a reporter for the Manila Chronicle.
Life After Graduation: Belmonte's political career began when he joined the staff of Pres. Macapagal, and later, was named by Pres. Cory Aquino to head the GSIS. Since then,  he's taken on different roles as a politician: mayor of Quezon City (2001-10), member of the House of Representative of the 4th district of Quezon City, and Speaker of the House of Representative (2010 to present).
4. Bishop Teodoro Bacani Jr. (Former Bishop of Novaliches)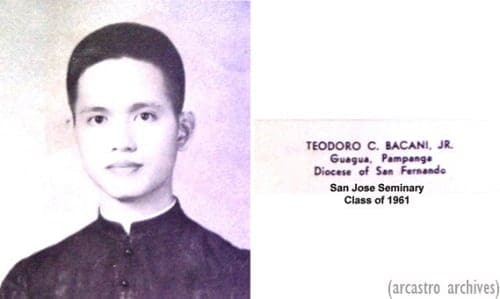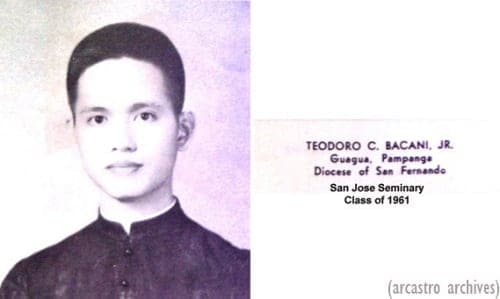 Student Life: The popular figure of the Philippine Catholic Church was born and raised in Bataan. At the San Jose Seminary, his batchmates included Angel Lagdameo (of Lucban, future Bishop), while graduating from high school that same year was writer-critic Nicanor Tiongson.
Life After Graduation: Bacani was assigned in Guagua, under the Diocese of San Fernando.  He was installed as a Bishop of Novaliches, and remained in the position for 31 years until his resignation. He was also a visible media figure, especially during the tumultuous People Power Revolution.
5. Eugenio "Geny" Lopez Jr. (Media Mogul)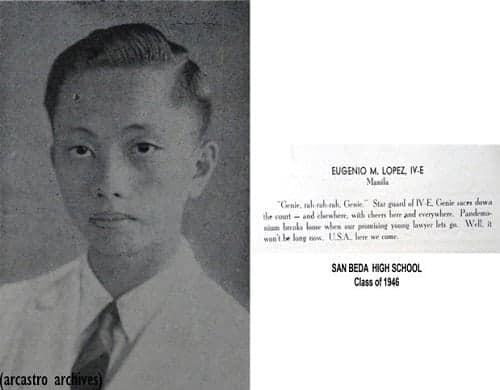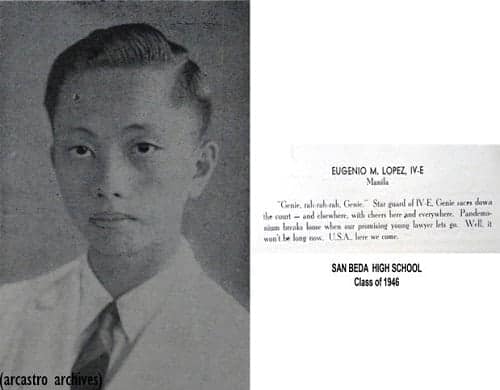 Student Life: Iloilo-born Geny "El Capitan" Lopez (November 4, 1928 – June 29, 1999) was the nephew of Fernando Lopez, Vice President to Marcos. After high school at the Ateneo, he attended the Virginia Military Institute for his Bachelor of Arts degree, followed by his MBA at Harvard Business School.
READ: Meet the face behind ABS-CBN's Voice-Over
Life After Graduation: In 1956, he acquired radio and television equipment which he used to expand ABS-CBN, owned by his father. He would lead the company as President, until 1972. During the Martial Law, he was detained with Sergio Osmeña Jr. and his businesses taken away from him. Geny and Serge managed to escape from their detention and when Marcos was deposed, he regained his media empire—ABS-CBN Broadcasting — and became its chairman emeritus until his death.
6. Ernesto Maceda (Philippine Senator)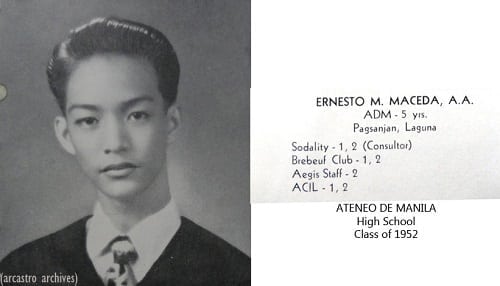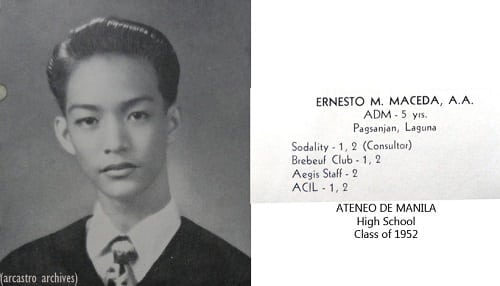 Student Life: Maceda finished his A.B. pre-law, Magna Cum Laude in 1952, and his Law degree (cum laude) in 1956. He finished his Masters in Harvard in 1957, with specialization in Taxation and International Law.
Related Article: 10 Interesting Trivia About Philippine Senators
Life After Graduation: In 1959, Maceda ran for a Manila council seat and emerged as its No. 1 councilor. He was elected for three terms and became a Senate President from 1996-98. "Mr. Expose," as he is called, is the only Filipino to have held 5 cabinet positions. Maceda was also appointed as Philippine Ambassador to the U.S.  He was married to Marichu Vera-Perez, whose family founded Sampaguita Pictures.
7. Juan Ponce Enrile (People Power Leader, Senate President, Former Secretary of Defense)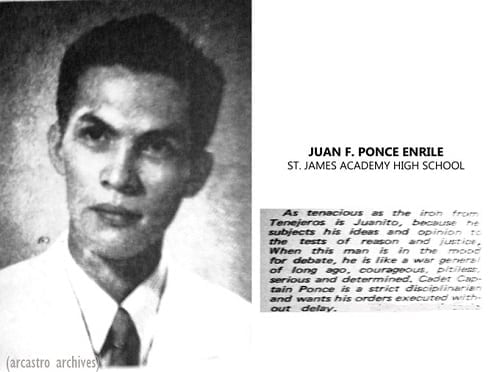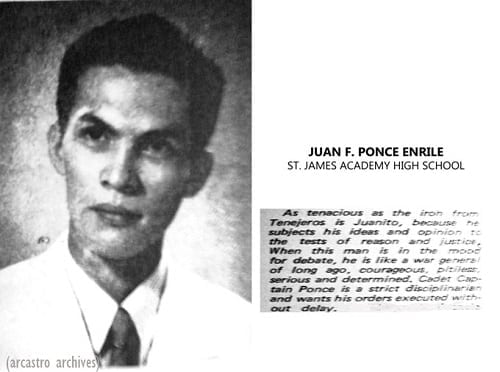 Student Life: Born out of wedlock, "Johnny" was the son of lawyer Alfonso Ponce Enrile and Petra Furagganan, a farmer's daughter. He only met his father in Manila, who sent him to school. After high school in Malabon, he took his Associate in Arts at the Ateneo (cum laude), then enrolled at the U.P.College of Law, which he finished in 1949 (also cum laude). He placed 11th at the 1953 Bar Exams.
QUIZ: Can You Answer These Tricky Pinoy Trivia Questions?
Life After Graduation: In Marcos' time,  Enrile was named first as Secretary of Justice, and then in 1970, Defense Minister. He, together with Gen. Fidel Ramos, helped oust Marcos in the 1986 bloodless revolution. A Philippine senator for 4 terms, he was also our 26th Senate President of the Philippines (2001-2003).
8. Carmen Rosales (Actress)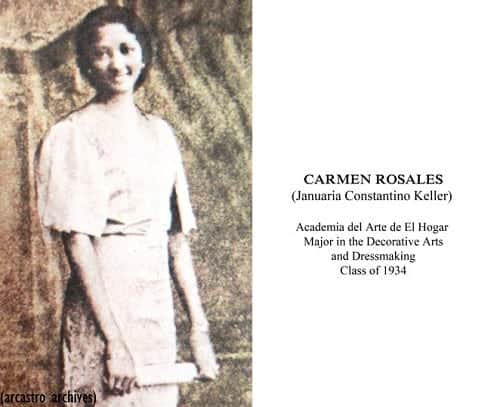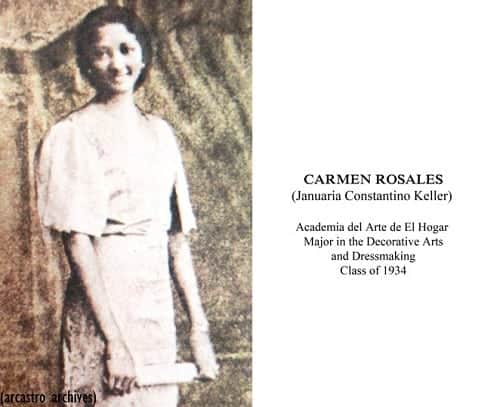 Student Life: Born Januaria Constantino Keller on March 3, 1917, the future Filipina actress completed her early education at the Magdalena Elementary School in Tondo and Arellano High. Next, she enrolled at the Academia del Arte de El Hogar managed by Caridad Maffei de Lobregat. She finished in 1934, majoring in the Decorative Arts and Dressmaking.
READ: The 10 Most Incredible Filipina Warriors of WWII
Life After Graduation: A skilled modista, Rosales taught briefly in her alma mater. In 1939, she was discovered for the movies and became a huge star with screen partner Rogelio dela Rosa—even more so after the War. She became the country's highest-paid actress, with a whopping Php45,000 talent fee for her 1949 film, Kampanang Ginto.
9. Teofisto "TG" Guingona III (Philippine Senator)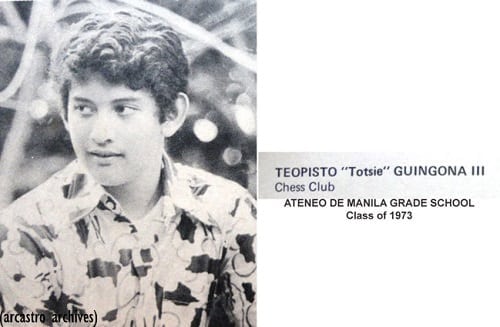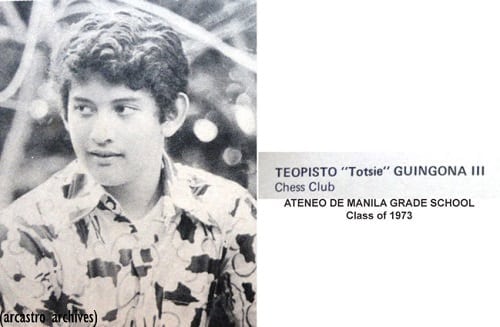 "TG" followed the footsteps of his father and grandfather, who were both elected senators in their time. His father, Teofisto Jr., rose to become the Vice President of the Philippines from 2001-2004. He, himself, ran for a senatorial slot under the Liberal Party and was elected  in 2010.
Guingona chairs Senate Committee on Accountability of Public Officers & Investigations (Blue Ribbon); Peace, Unification & Reconciliation and the Oversight Committee on Anti-Money Laundering.
10. Ferdinand Marcos (10th Philippine President)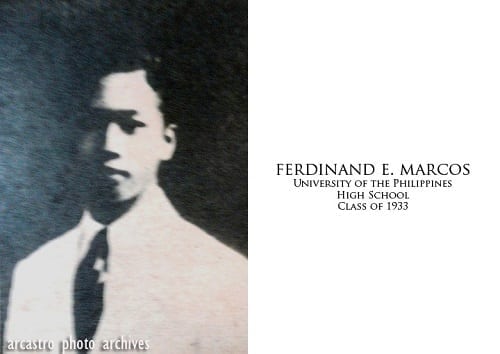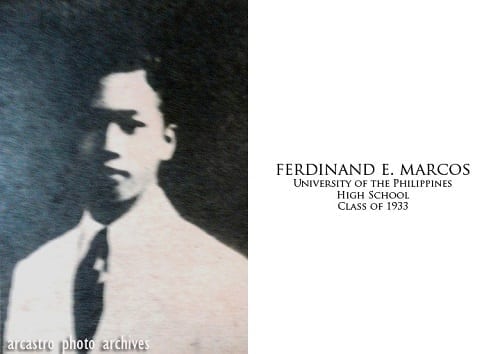 Student Life: Born in Sarrat, Ferdinand Marcos was educated in Manila, earning his high school diploma at age 15 in 1933 at the U.P. High School. His classmates included the class president, Sotero Laurel (future Ambassador to Japan), Roberto S. Benedicto (future crony and president of Philippine National Bank) and Col. Napoleon D. Valeriano (famed anti-Huk fighter). Called "Ferdi" by his classmates, he is remembered "for having a simple demeanor, interested in debates and discussions in which he outshone all."
Also Read: 18 Intriguing Facts You Might Not Know About Ferdinand Marcos
After high school, he took up law at the U.P., and excelled in both curricular and extra-curricular activities. He became a member of the university's swimming, boxing, and wrestling teams and also its  ROTC Unit. Graduating cum laude, Marcos topped the 1939 Bar Exams with an official grade of 92.35%
Life After Graduation: Marcos' political career began in 1949 when he was elected congressman of Ilocos Norte's 2nd district. He ran for the presidency in 1965 and prevailed over Macapagal. The long-serving Philippine President, Ferdinand Emmanuel Edralin Marcos established a regime that curtailed democracy, resulting in his ousting by People Power Revolution in 1986.
11. Benigno Simeon Aquino III (15th Philippine President)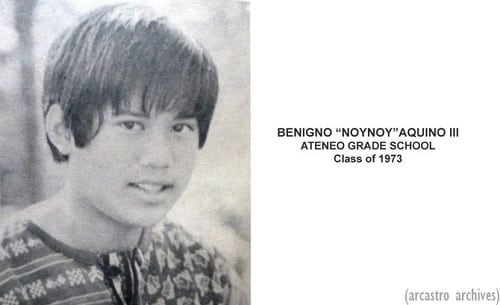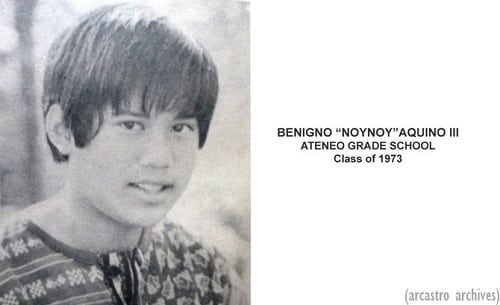 Student Life: Noynoy, the third youngest presidential-elect of the Philippines, is remembered for being a quiet, introverted boy who rarely joined extracurricular activities as a grade schooler. His famous batchmates included future senators Teofisto Guingona III, designer Pepito Albert, and movie star Alfie Anido. Aquino graduated with an Economics degree from the same school and had Gloria Macapagal-Arroyo—his Malacañang predecessor— as a professor.
READ: 12 Philippine Presidents Like You've Never Seen Them Before
Life After Graduation: After working in the private sector, Noynoy entered politics, and was elected as a congressman, representing Tarlac, then as a Senator in 2007. After his mother Cory Aquino's death in 2009, Noynoy heeded the people's call and joined the presidential race under the Liberal Party and won over bets like the popular Manny Villar and Gilbert Teodoro, an Aquino relative.