Cebuanos aren't the only ones who should be proud of Cebu.
One of the most highly-developed provinces in the country, Cebu has earned recognition here and abroad. In fact, Condé Nast Traveler Magazine named it the 7th best destination in the Indian Ocean-Asia region in 2007.
Its capital, Cebu City, is not lagging behind either.
Hailed as the "Queen City of the South," Cebu City is the trade and industry hub in the Visayas. It boasts of many attractions that will impress foreign and local tourists alike.
Related: How to Travel to Cebu: 30 of the Best Tourist Spots to Visit
But aside from their durable guitars and luscious dried mangoes, what else should we know about this province?
Here are 10 interesting things about Cebu you probably didn't know that will blow your mind:
1. Ancient Cebuanos used "genital jewelry."
Tantrism is a collective term used to describe various esoteric rituals and traditions which originated in India thousands of years ago. It believes in the principle that sexuality is a doorway to the divine and that the "highest transcendental ecstasy" can be achieved through sexual union.
Also Read: The Ancient Visayan Deities of Philippine Mythology
The earliest record of Tantrism in Southeast Asia came from I-Tsing, a Chinese Buddhist pilgrim who recorded Tantric practices in the Srivijaya Empire in 671 A.D.
The Philippines is believed to have been part of the Majapahit Empire's trading outposts. The said empire was ruled at that time by King Kertanagara who introduced a religion based on Tantric Shiva-Buddha mixture. For this reason, pre-Hispanic Filipinos, particularly Cebuanos,  are believed to have been influenced by Tantric practices that are common during that era.
In his diary written in the 1500s, Italian chronicler Antonio Pigafetta describes Cebuanos as having their "penis pierced from one side to the other near the head, with gold or tin bolt as large as a goose quill. In both ends of the same bolt, some have what resembles a spur, with points upon the ends; others are like the head of a cart nail…In the middle of the bolt is a hole, through which they urinate."
Pigafetta was also told that the women requested the use of these accessories, and without this genital paraphernalia, no sexual intercourse would occur.
Related: The bizarre, painful sexual practices of early Filipinos.
2. The Golden "Death Masks."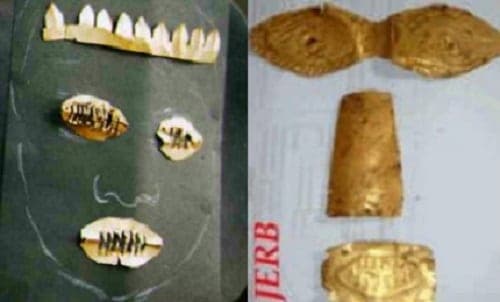 Discovered in 2008 during an excavation activity in Plaza Independencia, the gold death mask (see photo above) is only one evidence that ancient Cebuanos already had intricate culture and burial practices before the Spaniards arrived.
The said death mask was first described by the Jesuit Pedro Chirino in his Relaciones de las Islas Filipinas, published in Rome in 1600. During the ancient times, Cebuanos who could afford it honor their departed loved ones with masks made by pounding gold into thin sheets. They would make separate pieces to cover the eyes, nose, and the mouth.
Gold was believed to contain magical powers, and the use of the death mask was meant to protect the soul from evil forces. The death mask was only one of the things that pre-Hispanic Filipinos gave to the deceased as gifts. Just like the ancient Egyptians, they also buried their loved ones with items such as iron tools, ceramics, and other valuables to help them survive their journey in the afterlife.
The first gold death mask discovered in the Philippines was the Oton Gold Mask of Iloilo. Found in 1973 in the pre-Hispanic port settlement of Katagman, the Oton Gold Mask was declared a National Cultural Treasure (NCT).
3. Museo Sugbo was a former prison
Museo Sugbo, Cebu's official museum, was a former provincial jail known then as Cárcel de Cebú. Built during the 1870s, the prison was intended to house criminals from the whole Visayas district, which explains its large size when it was constructed.
Cárcel de Cebú has witnessed several pivotal events during its 135-year history. It once served as a prison for Katipuneros who were sentenced to death, a stable for horses during the American period, and again as a prison where guerillas were tortured by the Kempei-Tei (or Kempeitai) during the Japanese Occupation.
In the 1980s, the prison changed its name to Cebu Provincial Detention and Rehabilitation Center. It was converted into a museum in 2008 as part of the celebration of the 439th Cebu Provincial Charter Day.
4. Brgy. Hipodromo was a former racetrack for horses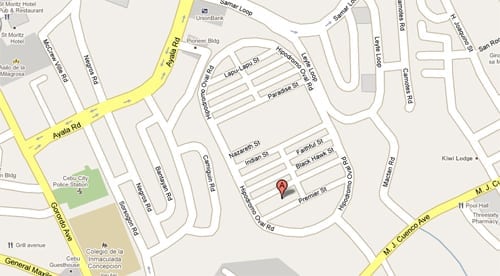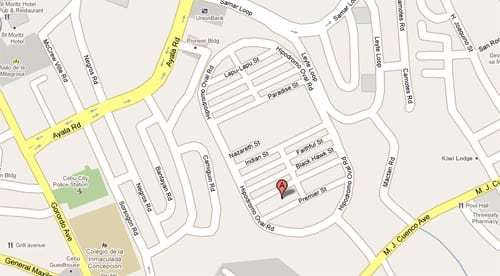 Known then as Hippodrome, this place was heaven for horse aficionados. Before the war, watching a horse race was part of the Cebuano lifestyle, and Hippodrome was the racetrack that started it all.
The starting point of the race was located near the entrance along M. J. Cuenco Avenue while the Pacific Foundry once housed the clubhouse where people watched and bet on horses.
Hippodrome closed down during WWII and reopened after the war only to find out that horse racing was no longer profitable. In the end, the business closed permanently.
When a huge fire hit Carreta and T. Padilla in the late 1950s, the mayor opened Hippodrome to serve as a relocation site. The place later became an official barangay and renamed Hipodromo.
5. Leon Kilat's supernatural powers
Pantaleon Villegas, also known as Leon Kilat, was not born in Cebu (he's originally from Bacong, Negros Oriental), but his heroism is not something that Cebuanos should forget.
Leon Kilat, then only 24 years old, led the Cebuano Katipuneros in attacking the Spaniards during the famous battle of "Tres de Abril" on April 3, 1898. They were able to drove the Spaniards away and control the province of Cebu for a few days.
But what makes Leon Kilat special?
The answer lies within his life story which almost borders on the supernatural and myth. After working in Cebu for a few years, Leon moved to Manila where he allegedly earned his "kalake" or supernatural powers. He wore talismans and was also known to be a "kublan" or someone who could repel bullets.
Some stories also suggest that Leon Kilat kept a mythical animal called sigbin. This creature allegedly gave him the power to quickly move from one place to another, say one day he's fighting in Cebu, the next day he'd find himself back to where he was born in Negros Oriental.
However, no legendary tale could match the tragedy of Leon's death. A few days after the battle, Leon was assassinated by Cebuanos led by his own aide, Apolinario Alcuitas. It is told that they let Leon drink a sleeping potion first before they removed his talismans and killed him as planned.
6. Vic Sotto's grandfather founded the first Cebuano newspaper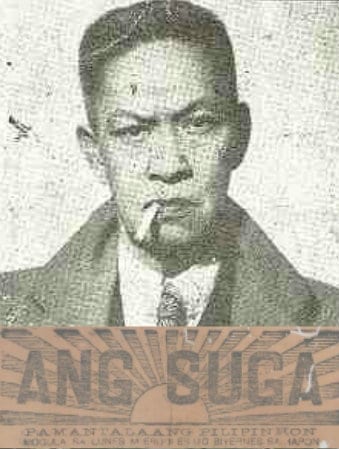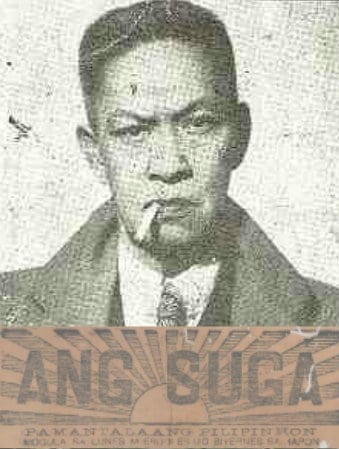 Also known as the "Father of Cebuano Journalism, Language, and Literature," the late Senator Vicente Yap Sotto founded the first-ever newspaper written in Cebuano in 1901.
The newspaper, which he would name "Ang Suga," served as an avenue for Cebuano writers to publish their works. Sotto's daughter, Dr. Suga Sotto Yuvienco, was named after this news magazine.
Aside from Ang Suga, Sotto also wrote "Ang Paghigugma sa Yutang Nataohan," "Maming," and "Elena," which was made into a play. Sotto was the author of Republic Act 53 or Press Freedom Law (known today as "Sotto Law") which was passed in 1946 to protect journalists from being forced to disclose their news sources.
Vicente Yap Sotto is the grandfather of famous actor Vic Sotto and Senator Vicente "Tito" Sotto III.
7. The "curse" of the Lapu-Lapu Monument
The monument in Lapu-Lapu City (formerly called Opon) looks harmless today, but it actually has an intriguing past which soon started a local urban legend.
In 1933, a resolution was passed for the construction of a Lapu-Lapu monument. The original statue (see photo above) shows the legendary chieftain holding a bow with an arrow pointing to the municipal hall.
After the construction was completed, Rito de la Serna, then chief executive of Opon, died. Soon, his two successors followed suit and died even before they completed their term. This tragic incident made several residents superstitious and it didn't take long before they started to blame the statue for the three deaths.
In 1938, Mariano S. Dimataga, then newly-elected executive of Opon, ordered the renovation of the statue. The bow and arrow were finally replaced by a pestle. Dimataga, on the other hand, remained Opon's chief executive for the next 32 years until his retirement in 1968.
8. Cebu animals that no longer exist
Although Cebu is a province rich in flora and fauna, there are some unfortunate creatures that Cebuanos failed to save from extinction. Examples of animals that have been wiped out are the Cebu warty pig and the Cebu hanging parrot.
Cebu warty pig (Sus cebifrons cebifrons) is a subspecies of Visayan warty pig. Its status was declared in 2000, and the extinction was mainly caused by habitat destruction, animal hunting, reduced crop-raiding, and hybridization.
Cebu hanging parrot (Loriculus philippensis chrysonotus), on the other hand, has been extinct since 1943 but the date of extinction was already set as early as 1906. These beautiful parrots, characterized by overall green with red foreheads, disappeared due to complete deforestation in the 19th century.
Related: Real-Life Angry Birds: 10 of the Most Endangered Birds in the Philippines
9. Malapascua Island in Cebu is the only place in the world where you can dive with the elusive thresher sharks
Malapascua (literally means "Bad Christmas" or "Bad Easter") is an island just off the northern tip of Cebu. It is a popular diving site because of its reputation as the only place in the world where you can regularly see thresher sharks before sunrise.
Thresher shark (Alopias pelagicus), is a type of mackerel shark that was named after its scythe-like tail. It can grow up to a length of 6 meters and are night creatures, which explains why divers don't often see them around the world.
In 1997, Dik De Boer visited a sunken island near Malapascua and discovered the elusive thresher shark. Turns out, the Monad Shoal serves as the sharks' cleaning station where they clean their gills and remove parasites from their skin.
Malapascua Island also offers stunning sights like wrecks. There are two wreck sites in the area: One is a WWII boat just 10 minutes from the main island, while the other is a passenger ferry just two hours away.
Related: How to Get to Kalanggaman Island in Leyte from Malapascua
10. Philippines' first tourist submarine is in Cebu
Built in 1989 in Antwerp, Belgium, the Cebu Yellow Submarine started its operations in 2012 after they received the certificate of accreditation from the Maritime Industry Authority (Marina). It can be found at Imperial Palace Waterpark Resort and Spa in Lapu-Lapu City.
The tourist submarine is 22.2 meters long and weighs 99 tons. Using an electro-hydraulic system battery, the submarine can travel up to a speed of five knots. It can accommodate up to 48 passengers at a time. Although it can go as deep as 100 meters, they currently put the limit to only 35 meters below the surface to ensure passengers' safety.
Unfortunately, the Cebu Yellow Submarine has been suspended twice: The first time was when it accidentally hit corals at Kontiki Wall, followed by another incident when it slammed a motorized boat off the coast of Brgy. Maribago in Lapu-Lapu City.
Update: The Cebu Yellow Submarine transferred to Boracay in 2016 and was subsequently renamed Boracay Submarine. 
Related: How to Travel to the Philippines: 50 Amazing Tourist Spots to Visit