She's fierce. She's feisty. She's Miriam Defensor-Santiago.
Known as the "Iron Lady of Asia" and popular among the youth for her memorable witticisms, Senator Miriam Defensor-Santiago has made Philippine politics even more colorful.
The lady senator won the Ramon Magsaysay Award for Government Service and the 1985 TOYM Award for Law, just to name a few. But apart from those numerous accolades and unforgettable moments in the Senate, what else should we know about her?
Here are 15 lesser-known facts you probably didn't know about Sen. Miriam Defensor-Santiago:
Also Read: How Miriam Santiago Proved She's Tougher Than Martial Law
1. She was a swimming champion.
During her high school days at the Iloilo Provincial National High School, Miriam was considered a "child prodigy".
She excelled in almost all areas, including swimming. In fact, she emerged as champion during a provincial swimming competition sponsored by the Red Cross. As a freshman, she was also a Spelling Bee champion and appointed as editor-in-chief of their high school paper, a position she held until graduation.
2. She loved going around in a bathing suit.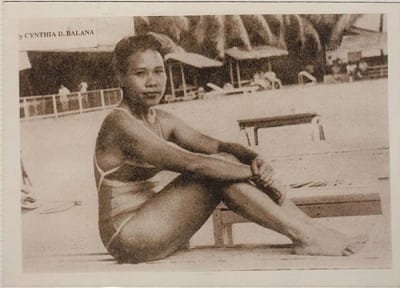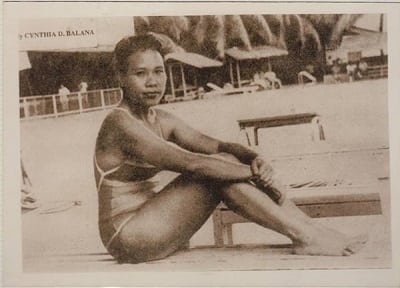 Yes, Miriam can also wear sexy swimsuits. The photo above was taken by the Philippine Daily Inquirer when she was still an immigration commissioner.
Asked about her infamous photo, Santiago said: "I love that bathing suit picture. It is the ideal tropical wear, really, then you can wear high heels."
3. She finished B.A. Political Science in UP Visayas in only three and a half years.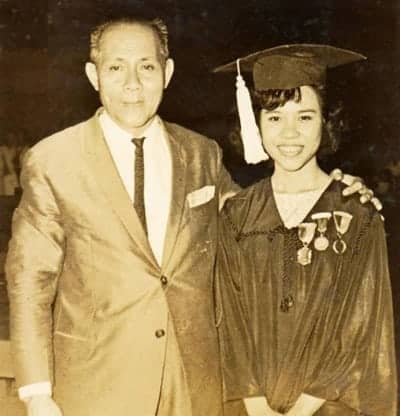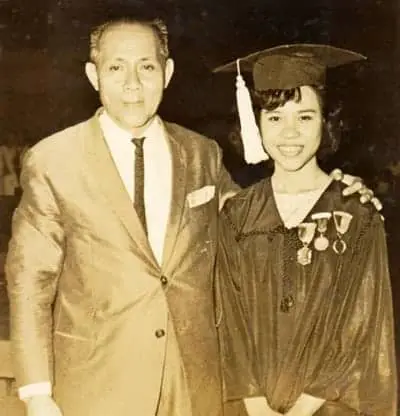 However, she decided to remain in the university for an additional semester and finished her course with an almost perfect grade of 1.1 (1.0 is considered the highest grade in the Philippines).
Also Read: 10 Interesting Trivia About Philippine Senators
And despite a three-month bout with illness, she graduated magna cum laude in 1965. In addition to this honor, she also received the Rotary Award for Most Outstanding Graduate.
4. She was a "super girl" at U.P. Diliman.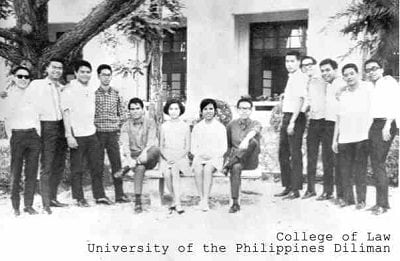 After earning her B.A. Political Science degree from UP Visayas, Miriam flew to Manila to take up Law at UP Diliman. During her stay in the institution, she once again made her presence known through her academic prowess.
She set a lot of records in the university including being the first female editor-in-chief of the student newspaper, the Philippine Collegian. This is a notable achievement because, for 50 years, only male students held that position.
Related Article: 17 Things You Didn't Know About Rodrigo Duterte
She also made history by earning the highest number of consecutive college scholarships in UP and becoming the first female student to win "Best Debater" in the annual debate between  UP Manila and UP Diliman law schools.
Miriam was also a two-time recipient of the Vinzons Achievement Award for excellence in student leadership. Due to her remarkable achievements, Miriam was chosen to become one of the U.P. Ten Outstanding Coeds and was described by Manila Chronicle magazine as "super girl at the state university."
READ: 30 Things You Didn't Know About the University of the Philippines
5. In the University of Michigan, Miriam earned the Master of Laws degree after only one year, and the Doctor of the Science of Jurisprudence degree after six months.
Miriam entered University of Michigan law school after winning the DeWitt Fellowship. She completed the first semester with a very high grade, a first time in the law school's history. For this reason, she was allowed to take a special program which enabled her to finish her Master of Laws and Doctor of the Science of Jurisprudence degrees after only one year and six months, respectively.
6. She almost died in a car crash.
On April 28, 1991, while Miriam was on her way to a speaking tour, a vehicle in the Tarlac highway smashed into her car. She sustained life-threatening injuries and had to be airlifted by helicopter from Tarlac to the Metropolitan Hospital in Manila.
Also Read: 10 Near-Deaths That Almost Changed Philippine History
Although the case remains unsolved, it is said that the accident was an assassination attempt. Miriam was the Agrarian Reform Secretary and running for the presidency when the incident occurred.
7. She was a "knowledge vulture."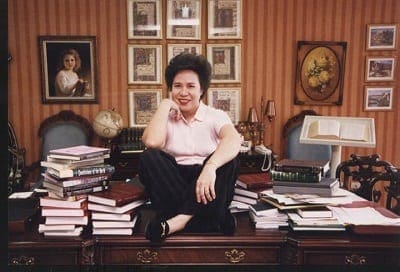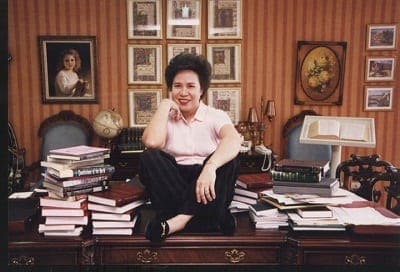 Even at a young age, Sen. Miriam already had a passion for knowledge. "Oh, I studied all the time," she said during an interview with the Philippine Star. "Let's just say I was a knowledge vulture. I loved learning things. I loved learning encyclopedias. I had a promise to read the encyclopedia from beginning to end, and I finished it."
Also Read: 51 Of The Most Memorable Political Quotes From Miriam Defensor-Santiago
She also has her own library where she keeps her collection of almost one million books, most of which she already read. Her favorites include historical novels by Leo Tolstoy and other Russian authors.
8. She wanted to be a nun.
The young Miriam envisioned herself serving inside the convent, partly because it was the "fad" at that time and she was also taught by nuns.
Also Read: 5 Most Badass Filipina Nuns in History
However, the dream was cut short when she realized her parents were having trouble making ends meet, and she had to support her younger siblings.
9. She never had crushes on boys.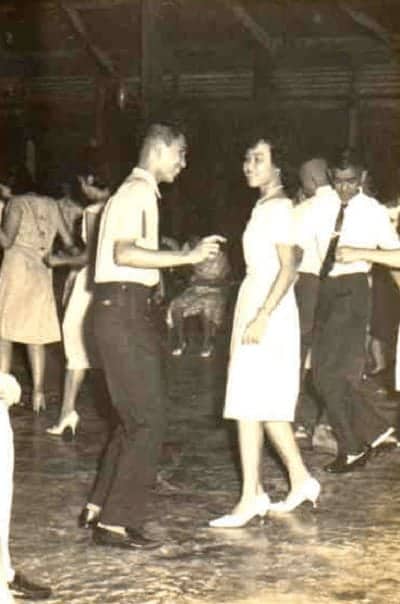 Growing up in a big family, Miriam learned to treat her boy classmates as her brothers. As a result, she never had crushes on boys. In fact, in the same interview with the Philippine Star, the lady senator said that she never had a crush on anybody or anything until she met her husband.
Also Read: 6 Badass Filipina Warriors You've Never Heard Of
"I really thought they were inanimate creatures," she quipped. "For me, young men were just pieces of furniture, you know. They were sitting there in class with me, and I was never conscious that they were males. Or that there were attractions to them (laughs). I can see that you are totally amazed, but I am amazed by myself, too. So, in effect, I was extremely naive."
10. She never used makeup because she had "flawless skin."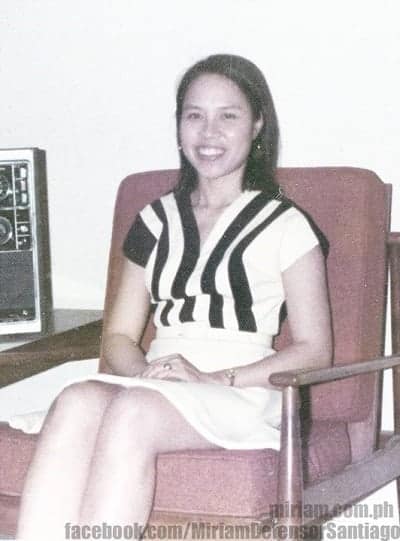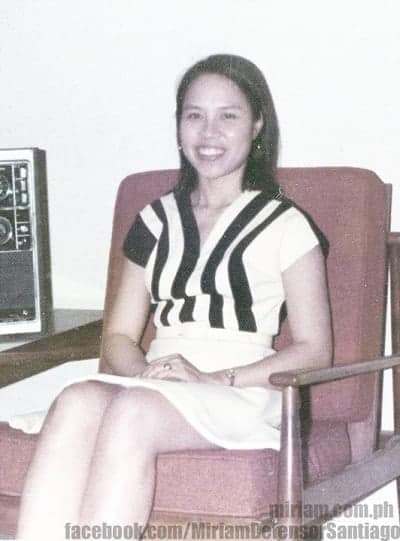 According to the lady senator, she never used makeup since she was a little girl because of her naturally "flawless skin" and "cherry pink lips." She didn't use any cosmetic product in high school and only washed her face a lot as part of her morning regimen.
11. She always wanted to be a writer, but ended up a lawyer because "they have a lot of relatives who are criminals."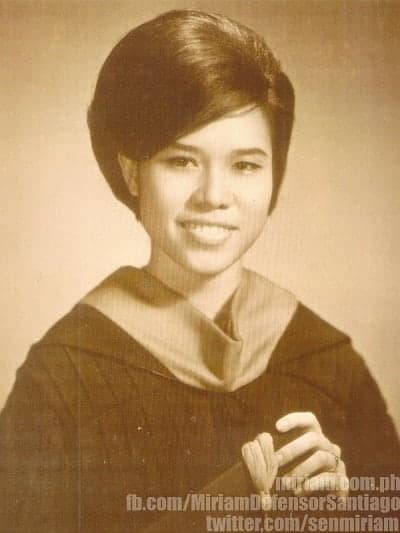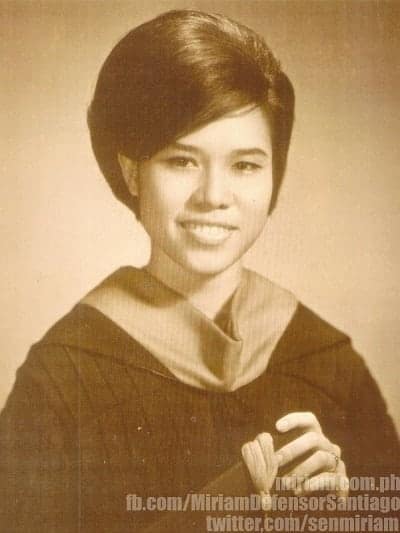 She wanted to take up literature in college, but later changed her mind when her father told her that she would only end up working as a professor.
"He asked if that was what I wanted," she said in an interview with the Philippine Star. "And we have a lot of relatives who are criminals, so you should be a lawyer. Many of my relatives were honor graduates but many of them were also cattle rustlers, or they were always murdering people or burning other people's houses (laughs). My father represented them all and acquitted most of them. That was the future laid out for me."
12. She used to play basketball with her husband when she was younger.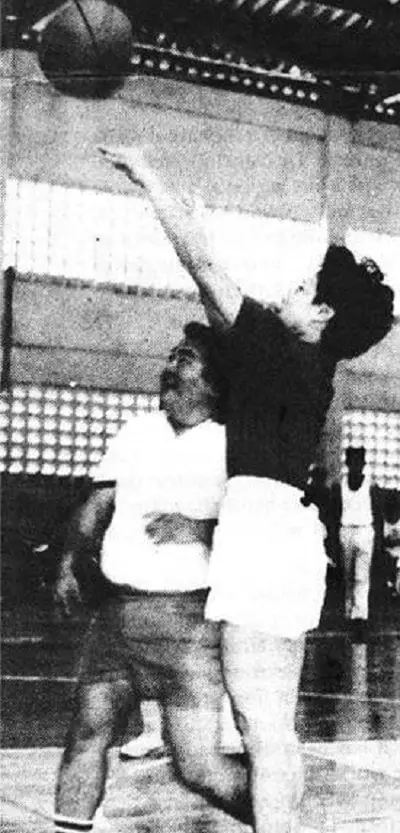 13. She almost flunked the 1969 Bar Exams.
According to the University of the Philippines Vanguards website, Miriam Defensor-Santiago only got an average of 78% in the Bar. Senator Juan Ponce Enrile, during one of his vicious attacks against Santiago, also claimed that the latter only got an average of 76%, with a very low grade of 56 in Ethics which is the easiest subject in the Bar exam.
Although she admitted that she almost flunked the bar exam, Santiago explained that she was in love when she took it and was also rebelling against her father who didn't allow her to go to Russia on a scholarship.
Two of her classmates in UP, on the other hand, landed in top spots of the Bar exam and were eventually hired by the best law firms. They are San Juan Representative Ronaldo Zamora and Senate President Franklin Drilon who landed first and third respectively.
14. Her son's death shook her faith.
The death of her son, Alexander Robert, in 2003 due to an apparent suicide made an incredible impact on the lady senator's faith.
She began to question the presence of evil, just as she began to question the presence of God. "I can't accept as an intellectual that prayer changes the mind of God," she said during an interview with veteran broadcaster Korina Sanchez. "Because if He's omnipotent, no amount of prayer can change his or her mind."
"I don't see God's handiwork in my life," she added. "Everything I got, I got by hard work and by praying to God. Maybe because the prayer didn't change the mind of God, but my mind."
15. She considers herself as Margaret Thatcher's protege.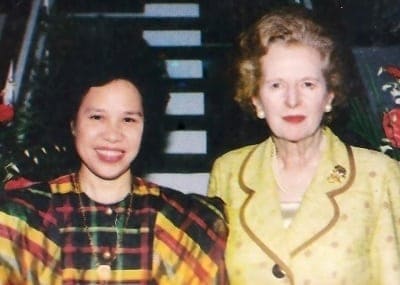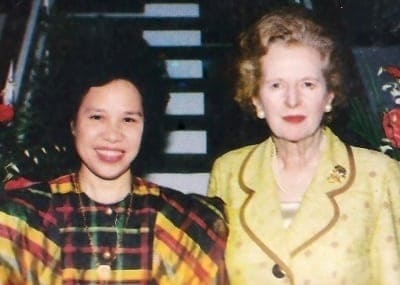 Aside from Marie Curie, Miriam also idolizes Margaret Thatcher, Britain's first female prime minister who died in 2013.
Also Read: Miriam as President Marcos' speechwriter
She met Thatcher in the Philippines while the latter was touring Asia. At that time, Miriam just lost in the presidential elections and Thatcher gave her "extraordinary sympathy and compassion." In fact, the late prime minister read her book, 'Cutting Edge,' and praised her for it.
Thatcher was dubbed "The Iron Lady" while the lady senator was called "The Iron Lady of Asia" by the Asia Magazine.
References
About. The Official Website of Senator Miriam Defensor-Santiago. Retrieved 4 May 2016, from http://goo.gl/vseSyY
ABS-CBN News,. (2013). Enrile says Miriam only got 56 in ethics. Retrieved from http://goo.gl/IdCYCJ
Macaraig, A. (2012). From law to life, Miriam sums it up with one-liners. Rappler. Retrieved 4 May 2016, from http://goo.gl/BxO28f
Manila Standard,. (1991). Miriam recovers, is back on the stump, p. 5. Retrieved from https://goo.gl/Ocx5TK
Miriam admits: I almost flunked the Bar. (2013). ABS-CBN News. Retrieved 4 May 2016, from http://goo.gl/n9Qy7U
Miriam Defensor-Santiago. Official Website of the UPROTC (University of the Philippines – Reserve Officers' Training Corps). Retrieved 4 May 2016, from http://goo.gl/z45pyc
Silvestre, J. (2012). Miriam Santiago on love, loss and her home. philSTAR.com. Retrieved 4 May 2016, from http://goo.gl/s6Qd8t