Kabayan, one of the municipalities of Benguet in the Cordillera Mountain Ranges, is home to a total of 200 man-made burial caves, 15 of which contain perfectly preserved human mummies.
The Kabayan burial caves are remnants of a colorful tradition and practices of the Ibaloi, a dominant indigenous group from the said municipality.
Mummifying process was based on social status
During the pre-Hispanic era, mummification was a rampant practice among the Ibaloi. The length and delicateness of mummification were determined by the dead person's social status.
The body was usually first treated with salt and herbs. It would then set under fire for up to two years, hence the name "fire mummies".
Once the body fluids completely dried up, the  mummy was "placed inside a pinewood coffin and laid to rest in a man-made cave or in niche dug-out from solid rock."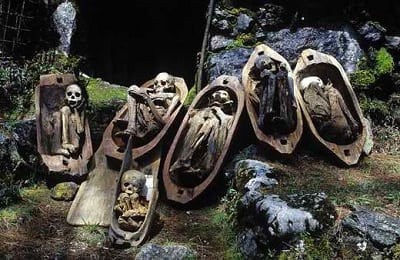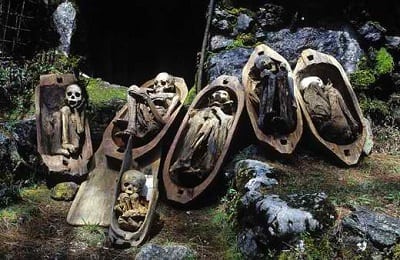 The "fire mummies" of Kabayan Burial Caves. (Source: www.niceworld.com)
Mummification was a traditional practice among the Ibaloi until the Spaniards entered the scene. When Christianity took over the whole mountain region in Benguet, practices of both mummification and cave burial were abandoned by the indigenous group.
A national cultural treasure
Through the proclamation of the Presidential Decree No. 374, the Kabayan burial caves officially became one of the country's national cultural treasures.
It is known that the Ibaloi of Benguet was the only ethnolinguistic group in the country that practiced mummification during ancient times. Although the Bontocs of the Mountain Province shared the same practices, these are believed to be the only extension from Kabayan, Benguet.