They broke records, set new sporting standards, achieved upset victories in the pool, in the ring, on the track, and in global playing fields. These are the not-so-known greatest moments in our sport's history that put to fore the Filipino athlete's ability to amaze the world with their feats of endurance, speed, and strength.
Also Read: 10 Greatest Filipino Athletes You've Never Heard Of
1. Rodolfo Tan Cardoso (Chess)

Claim to fame: The Chess Boy Wonder Who Became the First Asian International Master
Rodolfo Tan Cardoso learned to play chess at age 10 by watching a match in a barbershop in Alaminos, Pangasinan. At 18, he became the Pangasinan chess champion and went to Manila to compete in the 1st National Junior Chess Championship, which he topped.
In 1956, the chess boy wonder was a member of the 4-man Philippine team at the XII Moscow Chess Olympiad. To the amazement of the most elite woodpushers of the world, Cardoso placed second to Russia's famed David Bronstein, with an average of 76. 5 percent in 17 games in his first-ever international tournament. Cardoso gained worldwide notice and was described by Russian chess experts as having "fine, natural gifts."
The next year, Cardoso represented the Philippines in the World Junior Chess Tournament in Toronto and placed 5th, and was awarded the Norman Vincent Brilliancy trophy. In 1958, he was back at the Olympiad in Munich, where the Philippine team copped runner-up honors in the second consolation group finals.
The young chess wiz was named Chess Player of the Year for 3 consecutive years—1956, 1957, 1958—by the Philippine Sportswriters Association. It was his exceptional plays in Moscow that earned for Cardoso the International Chess Master, given by the Federacion International de Echecs (FIDE), the first Asian to gain that honor. Cardoso remained active in the sports for over 3 decades, especially when Eugene Torre rose to become the 1st Asian Grandmaster, which rekindled interest in the sports.
2. Josephine de la Viña (Athletics)

Claim to fame: The Country's Greatest Thrower With A Still-Unbroken 44-Year-Old Discus Record.
Born on April 20, 1946, the country's greatest discus thrower was the eldest child of American-Mexican Norman and Carolina de la Viña of Cebu.
Her first sport was softball, which she played as a student of Labangon Elementary School. But her affair with the Grecian discus began when she enrolled at the Cebu Institute of Technology High School. Her natural flair for athletics—specifically the throwing events of discus, javelin and shot put—caught the eye of Deans Amancio Alcordo and Vicente Tigas, who put her on scholarship.
The hefty thrower, who would grow to an intimidating height of 6 feet, earned a Bronze at her first ever international competition–the 1st Asian Track and Field Championship in Tokyo–with a heave of 37.39 meters. An Olympian at age 18, she would improve her throw to 42.27 meters at the Tokyo Games in 1964. De la Viña got even better when she joined the 1965 National Open Championships in Manila, registering a remarkable 48.38 meters.
The next year, De La Viña was the proud flag bearer at the 5th Asian Games in Bangkok. Competing against favored Japanese amazons, "Big Jo" held her own and threw the discus to an Asian record-shattering 47.58 meters (156 ft. 1 ¼ inches)—which was not even her best throw–to give the Philippines its first Gold. She had been averaging 162 feet in practices, which would have been enough to place her among the top 6 in the world Olympics.
The civil engineering student would go on to participate in two more Olympic quests in Mexico (1968) and Munich (1972).  It was while training in the U.S. that Big Jo set a personal best and a new record that would—to this day—remain unsurpassed.  On October 7, 1971, at an athletics meet in Bakersfield, U.S.A., she threw the discus to an astounding 54.71 meters (184.37 feet). No other Filipina thrower has come near to this record; in fact, the second-best throw also belongs to De La Viña at 53.92 meters, achieved during the qualifying rounds of the Munich Olympics.
For perspective, Dorie Cortejo's 45.26 effort at the Kuala Lumpur Games is over 9 meters behind De La Viña's best. "Big Jo" passed away on November 4, 2011, leaving behind an unbroken record that is expected to endure for many more years, a reminder of our golden moments in world athletics.
3. Rodrigo Del Rosario (Weightlifting)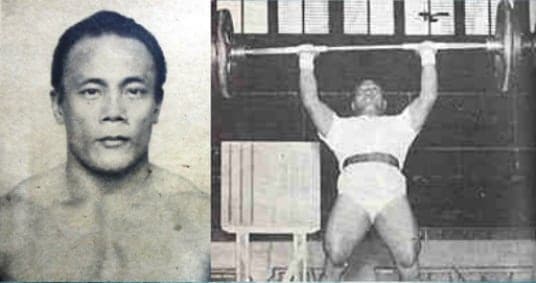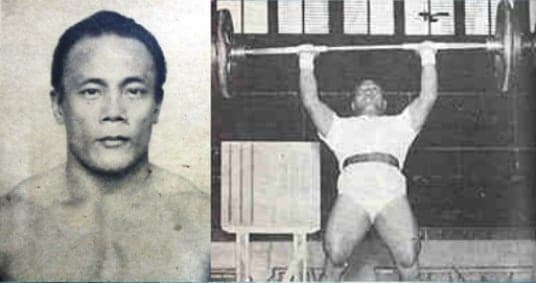 Claim to fame: The Lifter Who Set An Olympic Mark.
Rodrigo Del Rosario was a 3-time Olympian from Zambales, starting with the 1948 London Olympics where he placed 5th.
At the 1952 Helsinki Olympics, he came closest to winning a weightlifting medal when 110 lbs. Rodrigo del Rosario placed fourth in his featherweight division. He pressed 231 ¼ lbs. which was declared an Olympic Mark, surpassing the previous record of Jafar Salmasi. This also equaled that year's world mark. His combined lifts totaled 699 ½ lbs. (203 ¾ lbs. in the snatch, and 264 ½ lbs. in the jerk), good for fourth place.
Del Rosario may have lost the Bronze by a whisker, but the record he set for the press lift remains the first and only Olympic record set by a Filipino, which caught the attention of international lifters.
After his competitive years were over, Del Rosario became a trainer of young weightlifters and was the coach of the 1968 Philippine Weightlifting Team to the Mexico Olympics. A nephew who was in that team would eventually win a world title — Salvador Del Rosario.
4. Hedy Garcia (Swimming)

Claim to fame: The Teener Who Swam Across the Laguna Lake
The day after Christmas in 1965, a long-distance swimming competition was organized by the Nonino Swimming Club of Laguna, involving crossing the Laguna Lake–a distance of about 18 kilometers.
The local challenge was reminiscent of the English Channel swim contest where athletes swam across the Channel unaided by an escort. The event attracted 22 participants—from former Olympians to a 10-year-old boy swimmer.
First to make it to the finish line after five hours and five minutes was Loreto Garcia, a UAAP swimmer from Far Eastern University. But what caught the crowd's attention was the second placer—15-year-old high school girl,  Hedvig "Hedy" Garcia, who timed in at 5 hours, 40 minutes and 8 seconds, way ahead of former Olympians Bana Sailani, who failed to finish, and Rolando Landrito.
Hedy, who stands only 5 feet 2.5 inches tall, was an amateur swimmer from FEU. She later joined the Philippine Swimming Team that competed in the Mexico Olympics 3 years later. The talented swimmer swam in four events: 100 m. free (7th in her heat), 200 m. breaststroke (4th), and both the 200 m. (3rd)  and 400 m. individual medley (7th).
5. Lolita Lagrosas (Athletics)

Claim to fame: The Philippines' All-Around Jumping Queen
Before Elma Muros, no other female athlete was as accomplished as Lolita R. Lagrosas whose track career spanned over two decades, involving three sports disciplines—High Jump, Broad Jump (now Long Jump) and Pentathlon.
Born in Naawan, Misamis Oriental on August 24, 1938, her versatile athletic skills in provincial meets—she was an excellent jumper, hurdler, sprinter, and thrower– paved the way for her relocation to Manila, where Far Eastern University gave her a scholarship.
The five foot four and a half Lagrosas earned three medals in her favorite High Jump at the 1958 Tokyo Asiad (Silver), 1966 Bangkok (Silver) and 1970 Bangkok (Bronze). Also in the 1966 and 1970 Bangkok Asiads, she won a pair of Bronzes in Pentathlon. At the Taipei Dual Meet in 1965, she copped 3 Gold Medals in her 3 events.
Lagrosas was also a two-time Olympian, having competed in the jumping and pentathlon events at the 1964 Tokyo and 1968 Mexico Olympics.  He personal bests: High Jump – 1.69 (1966); Long Jump– 5.71 (1970); Pentathlon – 4131 (1968). After retiring from the sports, Lagrosas became a track and field coach for De La Salle.
6. Gertrudes Lozada (Swimming)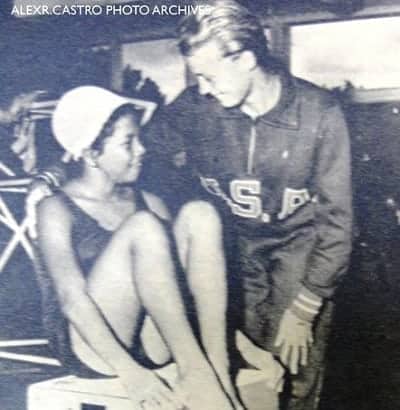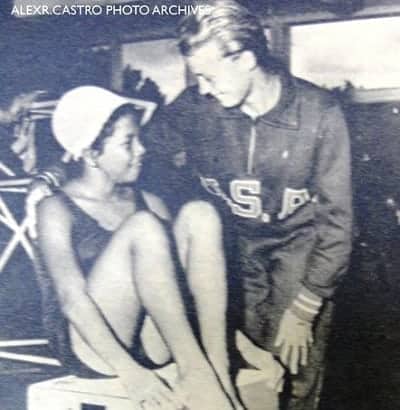 Claim to fame: The Baby of the 1956 Melbourne Olympics
Gertrudes or "Tuding" Lozada, born in 1943, came from the famous swimming Lozada family which originated swim schools in the country. Two other sisters, Corazon and Tessie, would become world-class swimmers like her. But it was Tuding who was first to display her skill in the pool, winning races early in various age meets in the country.
Soon, she was beating adults at sprints and middle-distance swimming races. Tuding surprised everyone when she was named as a member of the Philippine swimming team for the 1956 Melbourne Olympiad—she was just 13.
When the Philippine Team landed in Melbourne, Tuding became a media sensation. Newsmen covering the world's premier sporting event called the young teener, "Baby of the Olympics."  She was widely photographed and even athletes from other countries sought out the Filipina swimming prodigy to make her acquaintance. Tuding competed in two events—the 100-meter freestyle where she placed last in her heat, and in the 400-meter free, where she placed 6th.
Two years later, just 15 years old, Tuding competed at the 1958 Asian Games and won a Silver in her favorite 400-meter free, with a time of 5:16.3 mins. She teamed up with her sister, Corazon Lozada, Victoria Cagayat and veteran Haydee Coloso-Espino and got the Gold in the 4×100 m. freestyle event.
Tuding and her sisters would win medals again at the 1962 Asian Games in Indonesia—Silver in the 4×100 meter freestyle (4:43.8 mins, set with sister Corazon, Connie Paredes, and Haydee Coloso-Espino) and Bronze in the 4×100 individual medley (shared with sister Tessie, Dolores Agustin, and Haydee Coloso-Espino) behind Indonesia and Japan.
Tuding, the youngest Philippine Olympian in history (Akiko Thompson was almost 14 when she competed in her first Olympics in Seoul), retired from competitive swimming shortly in the 1970s, and today, she runs a swimming school bearing her name.
7. The Saloma Brothers (Boxing)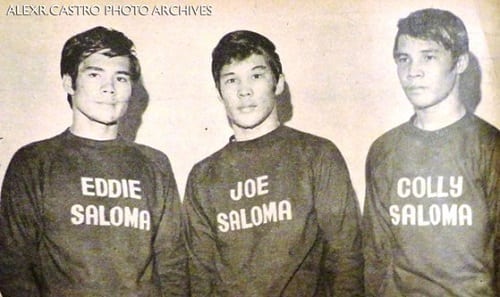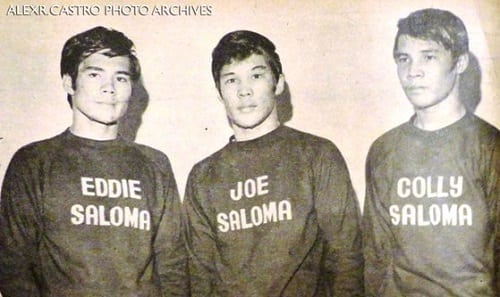 Claim to fame: The Slugging Brothers of the Boxing Ring
On August 9, 1970, three boxers debuted together at the Araneta Coliseum and created a buzz with their awesome performances in the ring. But more amazing was the fact that the three were real-life brothers.
The Saloma brothers came from a large family of 10 children from Iloilo. Bantamweight Eddie–who was 24 in 1970–was only 16 when he started boxing professionally in Iloilo, Davao, and Cotabato. He never stopped schooling even while he boxed, and became a bookkeeper after finishing his Commerce degree.
READ: 8 Thrilling Facts You Didn't Know About 'Thrilla in Manila'
Joe, 20, an electrical engineering student, was a featherweight and was known for his powerful "atomic punch," which gave him a record of 28 wins, 1 loss, at his peak. Youngest  Colley, just 18 and fresh from high school, was a "Class C" Philippine amateur flyweight champion with an unbeaten record of 20 fights.
In April 1971, the brothers were billed in a boxing card at the Rizal Memorial Coliseum and scored triple victories against their opponents. Through the 70s, the Salomas were names to reckoned with, fighting in Guam, Korea, and the U.S. Joe had his last bout in 1973, while Eddie and Colley continued their international quests until 1977.
8. Bana Sailani (Swimming)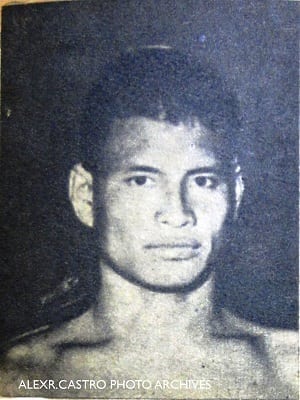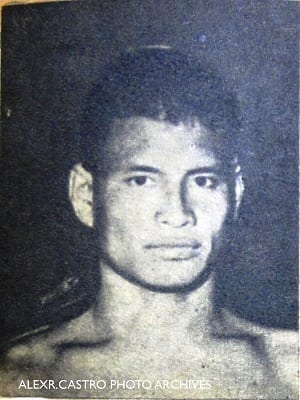 Claim to fame: The First Filipino to Swim 400-Meter Freestyle Under 5 Minutes.
The two-time Olympian Bana Sailani was born in Siasi, Sulu in 1937, to a family of fisherfolks and pearl divers. His mother inadvertently introduced him to swimming by throwing him into the water, where the young Bana stroke his way out of the deep. Soon, he was swimming expertly and started joining and winning local meets.
The twelve-year-old talent caught the attention of former Olympian Sambiao Bassanung, who, in 1949, took him to Manila to see if he could be trained to be a competitive swimmer. For the next few years, the Rizal Memorial Stadium became Sailani's home where he underwent daily training—mornings and afternoons.
His training paid off, for in 1953,  Sailani broke the national 1,500-meter freestyle record by 5 seconds, erasing the time set by Bassanung himself in 1950.
That same year in December, Sailani swam the 400-meter free against his nemesis, Agapito Lozada, and made history by becoming the first Filipino swimmer to swim the distance under 5 minutes. In fact, he did the feat twice—during his heat and during the final round which he won over Lozada by over 2 meters. For his achievement, he was named 1953 "Athlete of the Year" by the Philippine Sportswriters Association (PSA), a tribute repeated in 1958.
Also Read: The Amazing Bajau Who Can Dive Underwater for Up to 5 minutes – With NO Oxygen Tank!
Just 17 when he joined the Philippine team at his first-ever outing at the 1954 Asian Games, Sailani won a Bronze with a time of 4:48.8 mins., bettering his former record by almost 6 seconds. He would win 5 Bronzes in 2 more Asian Games editions (1958, 1962). The young Muslim athlete proudly represented the country in two Olympics—1956 Melbourne and 1960 Rome. He held 3 national records in 1960: 400-, 800- and 1,500-meter freestyle. In between competitions, Sailani went to U.S.T. to try finishing his high school, but he never got to finish his schooling.
In 1963, he made two significant moves: he got married in Catholic rites and joined the Philippine Air Force. He and his wife Aurora had 4 children: Jacqueline, James, Jason and Jane, all professionals today. Sailani retired from the PAF in 1992 after years of training swimmer athletes. He went on to become a swimming coach in Manila schools like the Ateneo Grade School and was a long-time swim instructor at the Makati Sports Club until he was well into his mid-60s.
The athlete, nicknamed as "buwaya" for his sleek, swimming style or endearingly called "Bapá Banana,"  is regarded as the most outstanding middle-to-long distance swimmer of post-war Philippines and a role model to a generation of Muslim swimmers.
9. Sebastian Ugarte (Football)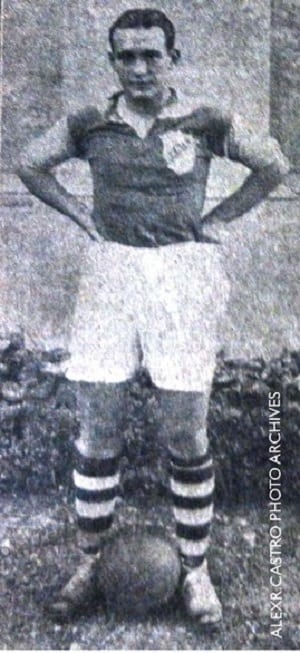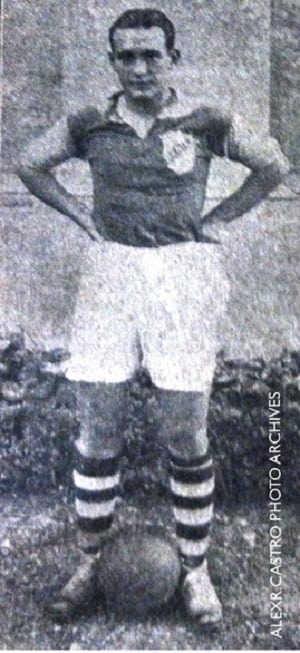 Claim to fame: The Legend Who Gave His Name to Makati's Historic Football Field
Before the Azkals, there was the talented Sebastian Ugarte, a high school teen who played both in the basketball and football teams of La Salle in 1925. By age 15, Ugarte was playing in the big leagues like the Circulo Recreativo, Club Filipino, Casino Español, and Santo Tomas Eleven.  At 16, he was invited to join the Philippine Olympics team, which he later joined.
Ugarte excelled in the sport and for 14 consecutive years, he was named collegiate soccer champion of the Philippines. His most thrilling game was when, as a member of All-Manila Football, he played against the formidable Javanese "Hercules" Team. The Manila team floundered in the first and second half and trailed their foes 3-1. But his superb playing enabled the team to score successive points, winning the match 4-3.
Ugarte continued to play after graduating in 1927 through the '30s. He then dabbled in sportswriting for 4 publications. When the Ayala Triangle Gardens was developed from the 42-hectare Nielson Airport in 1971, part of the land was transformed into the football field known as Ugarte Field, named in his honor. In the 1980s, Ugarte Field became part of of our People Power history by becoming the site of regular protests against the Marcos dictatorship.
10. The Von Giese Sisters (Swimming)

Claim to fame: The Sensational Swimming Sisters of the Philippines
The most successful family of swimmers in Philippine sports history has got to be the Von Giese sisters of Manila. Jocelyn, Sandra, Sylvia, and Sonia Von Giese all made it to the national team that competed abroad, and all won medals of different colors. Of German-Filipino parentage, the four were nieces of famous actress Paraluman (Sigrid Von Giese,  in real life) which was played up in media every time they competed.
At the second Asian Games held in 1954 in Manila, Sonia Von Giese copped a team Silver in the 4×100 m. freestyle, while Sandra won Bronze in her specialty, the 100 m. butterfly (1:37.5) to complete a rare 1-2-3 finish for the Philippines (Haydee Coloso and Norma Lim won Gold and Silver respectively).


In the next 1958 Asian Games, Jocelyn and Sandra were part of the Philippine 4×100 medley relay team that struck Gold in Tokyo, who, with Victoria Cagayat and Haydee Coloso-Espino timed in at 5:22.2 minutes after Japan's disqualification. Sandra pocketed an individual Silver in the 100 m. butterfly at 1:17.9 mins. Not to be outdone, sister Sylvia von Giese won a Bronze in the 100 m. backstroke, with a time of 1:20 mins.
Sandra and Sonia's swimming times qualified them for the Olympics and in 1960, they went to Rome to compete in their events. The five-footer Sandra placed 5th in her heat, in the 100 m. butterfly, while Jocelyn placed 7th in the 100 m. backstroke.
There have been many swimming siblings in Philippine history like the Lozadas, Kiunisalas, Borjas, and Papas, but none as celebrated in their time as the beautiful Von Giese sisters.
11. Arianne Cerdeña (Bowling)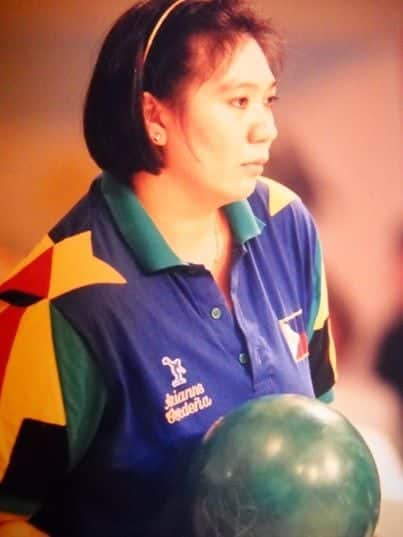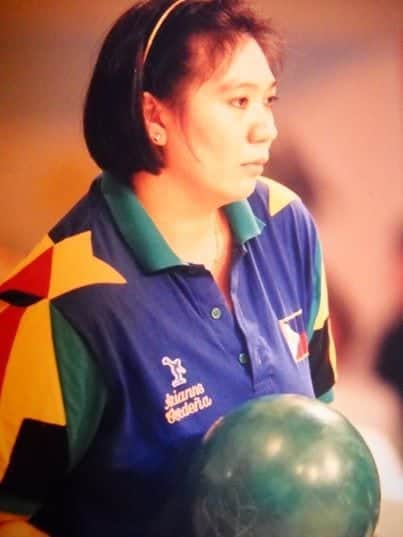 Claim to fame: The Philippines' Only Olympic Gold Medallist in a Demonstration Sport
World Bowling Champion Arianne Cerdeña will always be remembered as the first and only Filipino Olympic gold medallist, an incredible feat she achieved at the 1988 Seoul Olympics in the demonstration sports of Bowling.
She had an ominous start when, in 1983, she won Silver in Trios with Bong Coo and Lita dela Rosa at the Fédération Internationale des Quilleurs (FIQ) World Championship in Caracas, Venezuela.
When bowling was introduced as an exhibition sport at the 1988 Olympics, Cerdeña was fielded as part of the Philippine team. Asians were expected to perform well in this discipline, and Cerdeña proved that by starting out on top of the stepladder after topping the women's round-robin, trailed by Finland's Annikki Maattola and Japan's Atsuko Asai.
After beating Maattola, she got beaten by the Japanese kegler, forcing a rematch. Cerdeña took charge in the last game, out pinning her opponent, 249-211. For that feat, Cerdeña was elected as "1988 Female Bowler of the Year" by the World Bowling Writers.
After her celebrated Olympic triumph, Cerdeña captured two Silvers at the 1989 World Games in West Germany, in singles and mixed doubles with Jorge Fernandez. She next won the 1993 Bowling World Cup Brent Peterson Country Award with Paeng Nepomuceno in Johannesburg, South Africa and placed 3rd in the singles event.
At the Asian Games, Cerdeña was also part of the Gold Medal team of 5 (with Bong Coo, Catalina Solis, Cecilia Gaffud and Rebecca Watanabe) and shared the doubles Bronze medal with Bong Coo.
12. Akiko Thomson (Swimming)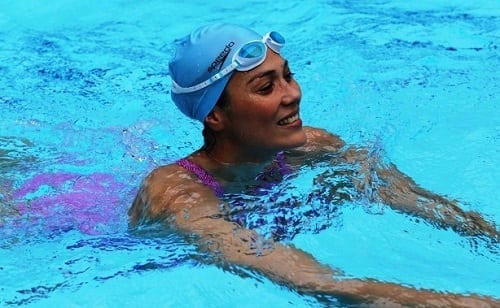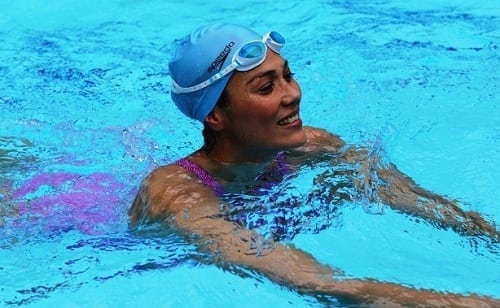 Claim to fame: The First Filipina to Break the 1-Minute Barrier for 100 meters
 The legendary Dawn Fraser of Australia was the first woman in the world to swim the 100-meter freestyle in under 1 minute—in 58.9 seconds to be exact, achieved in October 1962. It would take 26 years before a Filipina could claim the same feat, in the person of Gillian Akiko Thomson.
The daughter of American Marshall Thomson and Japanese Hiroko Nakamura, Thomson's swimming career began at age 6, handily winning age group meets. At age 12, she became a naturalized Filipina through an act of Congress.
Thomson made her first Olympic outing in 1988 when she swam in four events in Korea ( 50 m. and 100 m. free, 100&200 m. back). She raced in the 3rd heat and finished first with a time of 59.41 seconds in the 100-meter freestyle. She would improve that time to 59. 02 secs.  at the next 1992 Barcelona Olympics, and would swim 4 more events at the 1994 Atlanta Games.
The bemedalled Thomson has also won 7 Gold Medals and a Silver in several editions of the SEA Games. Thomson is married to Samuel Guevara with whom she has a son. She is currently a commissioner for the Philippine Sports Commission and runs a swimming school.
13. Erwin Evangelista (Basketball)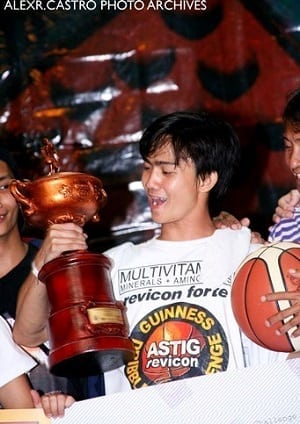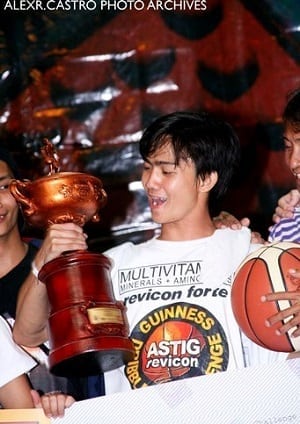 Claim to fame: Marathon Dribbling World Record Holder
The first Filipino to break a Guinness sports record is Erwin Evangelista, 21, from Manila, who, on October 30, 2006, set a new record by dribbling a basketball for 45 hours, 22 minutes, eclipsing the time set by Kenyan national player Joseph Odhiambo by over 18 hours.
Related Article: Meet The Legendary Filipino Basketball Team Who Defeated China in Asian Olympics
Over a hundred participants began dribbling on October 28 at the Pasay City Sports Complex and two days after, only Evangelista (#58)  remained standing–and dribbling. His record-breaking time was officially recognized by the Guinness Book of World Records later in the year.
BONUS: Frisco Concepcion, The Man Who Beat Pancho Villa

Pancho Villa was our first boxing world champion, and he would remain the only Filipino to hold a world title (1923 flyweight) until 1960. But not many people know that Villa's record was marred by one defeat—in the hands of Frisco Concepcion, one-time flyweight champion of the Orient.
Also Read: The Shocking Death of Pancho Villa
Born on August 21, 1901, in San Felipe, Zambales to Lorenzo Concepcion and Enana Labrador, Frisco was a 16-year-old farm boy when American businessman Ed Gallaher took him under his wings and trained him in boxing. Before long, Frisco developed a knock-out punch that floored established boxers like Kid Jamito, Joe Suzara (from whom he wrested the Oriental flyweight crown in a 20-round fight)  and Pete Sarmiento, who went on to fight in the U.S.
In April 1921, 20-year-old Frisco squared off with Pancho Villa—then the reigning flyweight champion of Manila—in an 8-round contest in Olongapo, Zambales. Pancho's manager, Paquito Villa, was against the fight as he felt there were more worthy contenders for his ward. Pancho Villa went on to fight Frisco without his manager's knowledge, and for that, he received a trouncing from Frisco, winning only 2 rounds against Frisco's 6. Frisco, however, had to take a week's rest to recover from the heavy body punches that he received from his opponent. As for Villa, he never fought Frisco again.
READ: Meet Rustico Torrecampo, The Man Who Beat Manny Pacquiao
After Frisco retired from boxing, he became a photographer. His manager, Gallaher, had operated a portrait studio on the side, which influenced Frisco to make a career shift when his fighting days were over.
About the Author: Alex R. Castro is a retired advertising executive and is now a consultant and museum curator of the Center for Kapampangan Studies of Holy Angel University, Angeles City. He is the author of 2 local history books: "Scenes from a Bordertown & Other Views" and "Aro, Katimyas Da! A Memory Album of Titled Kapampangan Beauties 1908-2012", a National Book Award finalist. He is a 2014 Most Outstanding Kapampangan Awardee in the field of Arts. For comments on this article, contact him at [email protected]
References
(1970). Sunday Times Magazine, 23.
A Swim Across Laguna Lake. (1966). Sunday Times Magazine, 24-27.
Caliwag, F. (1960). The Conqueror of Pancho Villa. Sunday Times Magazine.
Hernandez, W. (1955). Post-War Sports. Progress, 65.
New Champions, New Faces in the Hectic World of Sports. (1956). Progress, 228.
Official Website of Asian Bowling Federation,. Flashback: Seoul Olympics 1988. Retrieved 20 October 2015, from http://goo.gl/t6N3a3
Philippine Daily Inquirer,. (2006). 1 For the Books: Manilan Sets World Dribbling Record.
Quintana, B. (1967). A Most Charming Champion. Sunday Times Magazine, 20-23.
Quirino, J. (1963). Chess Champ in a Stalemate. Sunday Times Magazine, 4.
Slugging Salomas. (1970). Sunday Times Magazine, 35.
Speedo,. (2014). Akiko Thomson-Guevara Gets Speedo Fit. Retrieved 20 October 2015, from http://goo.gl/T1P3m8
Ugarte, S. (1929). My Most Thriling Game. Graphic Magazine, 18.