Brilliant, feisty and with a tongue that could set forests on fire, Miriam Defensor-Santiago is undoubtedly one of the most colorful characters to have ever graced the country's political landscape.
Just how much badass-ness she has can be seen in the way she handled herself as a trial judge during the Marcos administration—and despite being an admirer of the later strongman (she once worked as Marcos' speechwriter and was amazed by his intellect), Santiago made it perfectly clear she answered to no one except to Lady Justice during her time as a trial judge.
In a time when even the Supreme Court was hesitant to decide on any issue which would ruffle Marcos' feathers and would often invoke the "political question" doctrine to beg off from making such decisions, Santiago had no qualms about making a ruling unfavorable to the regime.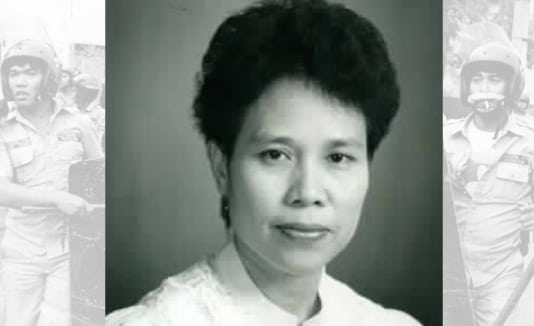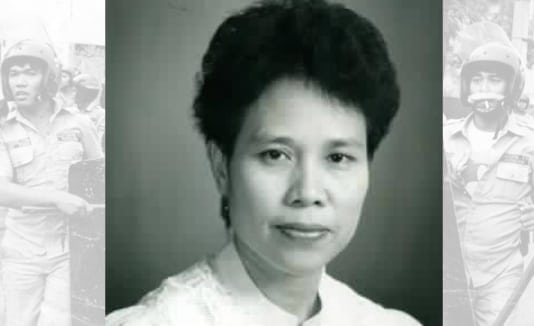 In 1985, in what arguably marked the first judicial ruling against an order by the Marcos administration, Santiago—then a regional trial judge in Quezon City—allowed several protesters which included Lino Brocka, Benjamin Cervantes and students from the University of the Philippines (UP) and Ateneo de Manila University being held under a Preventive Detention Action Order to post bail.
Originally, the order allowed state authorities to hold detainees indefinitely without the benefit of bail but Santiago—determined to maintain her independence—conducted marathon hearings on their case. During that time, she had to endure several death threats and intimidation by the authorities as she scrupulously studied whether "in a martial law situation, can a mere regional trial jury overrule the president of the republic?"
Also Read: 15 Surprising Things You Didn't Know About Miriam Defensor-Santiago
As fate would have it, Santiago allowed Brocka, Cervantes and the students to post bail on the ground martial law cannot cancel the constitutional rights of citizens, a decision later upheld by the Supreme Court in 1990.
Following her ruling, Santiago became a celebrity overnight—an incident she relished because "it represented an opportunity for me to demonstrate that the judicial system was working, that it was intellectually honest."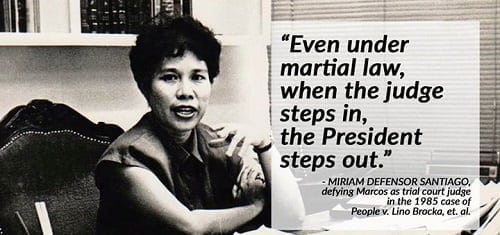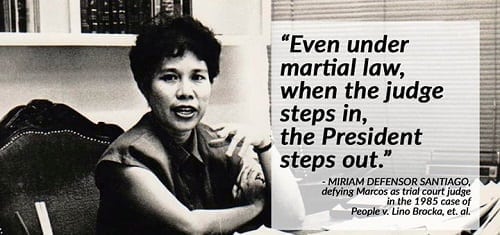 Aside from stubbornly maintaining her independence, Santiago also became known as one of the most efficient judges the country had ever seen. Assuming her post, she implemented a "no postponement" policy and rapidly disposed cases at an average of 50 a month.
READ: 51 Of The Most Memorable Political Quotes From Miriam Defensor-Santiago
By the time she was through, Santiago had won a myriad of awards for judicial excellence—a remarkable feat considering she was the youngest and the only trial judge to have received her post in Metro Manila directly without first serving in the provinces.
References
Manila Standard,. (1990). Miriam hails ruling on rallyists, p. 13. Retrieved from https://goo.gl/NPcVBE
The Kahimyang Project,. (2013). Today in Philippine history, June 15, 1945, Miriam Defensor Santiago was born in the city of Iloilo. Retrieved 16 October 2015, from http://goo.gl/UohYhc