Our childhood is a fantasy land we always want to go back to: it's carefree and offers simple things that make us smile.
From traditional group games to wholesome TV shows, there are a lot of things from our childhood that we truly miss. Several years (and several pounds) later, we still can't fathom how things have drastically changed since then.
Also Read: Top 10 Favorite Snacks that Bring Back Our Childhood
And speaking of TV shows, what most of us really miss are those educational programs that entertained and stimulated our minds at the same time. Here are 13 of the most nostalgic Pinoy kid-oriented TV shows ever:
1. Uncle Bob's Lucky 7 Club.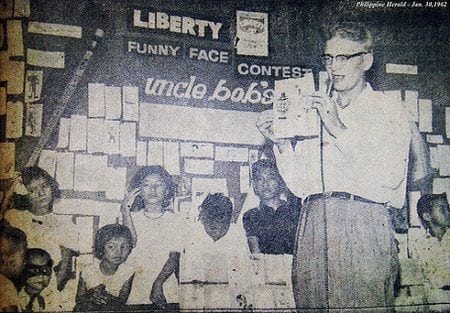 For those who grew up in the 60's and 70's, it's hard to forget Uncle Bob's Lucky 7 Club. This early children's show was created by Robert "Uncle Bob" Stewart, an American war correspondent-turned-TV personality who was also the founding father of the Republic Broadcasting System (now GMA Network).
Trivia: The first Filipino to appear on television
Kids as young as 4 were free to join Uncle Bob's club, and each was given a Lucky 7 membership card with a "secret code" in the back. Those at home, on the other hand, would write letters to Uncle Bob which the kind host gladly read on air, much to the joy of the kids.
The show, which spanned three decades (1961-1992), is also best remembered for the lively puppets named Spanky and Pancho, as well as the latest toy models endorsed by Uncle Bob himself. From the late 80's up to its final years, the show was hosted by Uncle Bob's son.
In 2006, Uncle Bob died in his home in Phoenix, Arizona.
2. Kaluskos Musmos.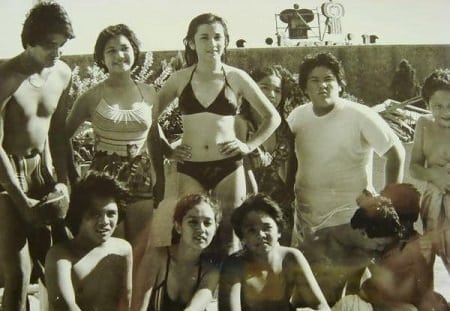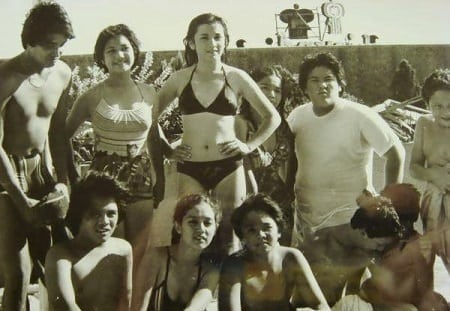 Kaluskos Musmos was a popular kid-oriented comedy show in the 80's which saw the beginning of Maricel Soriano's showbiz career. Produced by Imee Marcos and directed by Johnny Manahan, this show is the progenitor of Batibot, Ang TV, and even today's Goin' Bulilit. 
Among its notable cast were Maricel Soriano (as Jaclyn Pusit), Maila Gumila (as Mercedes de Brazo), Dranreb Belleza, Herbert Bautista, Chichay, Bert "Tawa" Marcelo and Gary Lising.
3. Kuskos Balungos.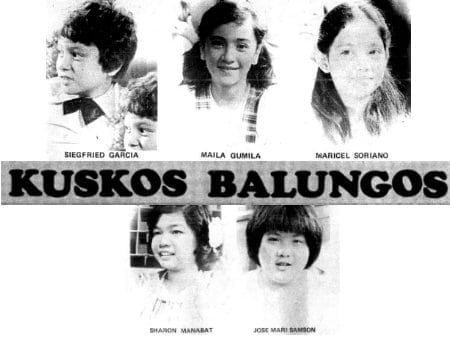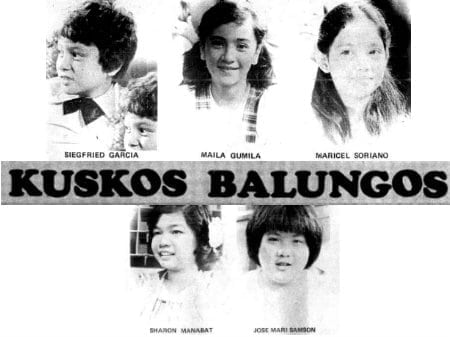 Another Johnny Manahan-directed TV show catering to the young audience, Kuskos Balungos taught important values such as cooperation, discipline, creativity, and nationalism. It was produced by Kitchie Benedicto and had in its team of talented writers Raffy Oyales, Doming Landicho, Rowie Morales, and Ed Morales.
The cast includes some of the memorable stars who graduated from Kaluskos Musmos: Herbert Bautista (Napoleon Guidote), Maricel Soriano (Abigail Cruz), Maila Gumila (Evangeline Cortez), Siegfried Garcia (Francis Placido), and Sharon Manabat (Amalia Macatangay).
4. Kulit Bulilit.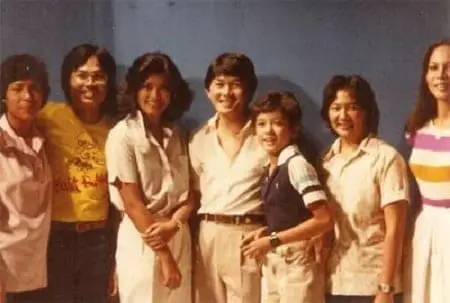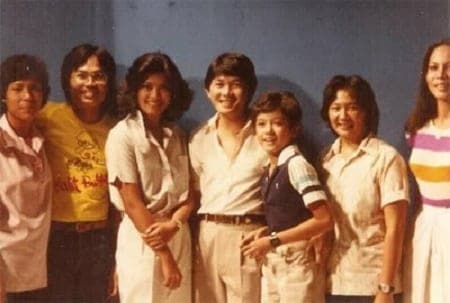 Aired in the early 80's, Kulit Bulilit was one of the first Philippine TV shows which popularized the "edutainment" (education + entertainment) trend.
The show was a children's variety show which also featured a quiz bee portion where young elementary students from different schools would engage in a battle of wits. Like Kaluskos Musmos, Kulit Bulilit was also produced by Imee Marcos.
5. Batibot.
Batibot is the most popular and the longest-running all-Filipino children's TV show in the Philippines. Its name originated from an old Tagalog word which means "small but strong."
As soon as the Children's Television Workshop (CTW) issued a license for a Philippine version of Sesame Street in 1984, a local program was aired with the name Sesame! The show initially used both English and Filipino as the media of communication, but eventually used the latter when the show evolved into Batibot, a program produced through a partnership between CTW and Philippine Children's Television Foundation, Inc. (PCTVF).
Also Read: 10 Most Influential Filipinos Who Never Lived
Using a variety of teaching methods ranging from animation and muppets to story-telling and playing of original Filipino music, Batibot was able to teach generations of pre-school children different values in life and the appreciation of their culture and heritage. Through the show, Filipino kids were also introduced to some of the most memorable characters including Kiko Matsing (the Pinoy "Oscar the Grouch") and Pong Pagong (the Pinoy "Big Bird").
Batibot was revived in 2010 by TV5. Unfortunately, both Pong Pagong and Kiko Matsing are no longer in the Batibot family since both characters are exclusively owned by CTW (whose partnership with PCTVF already ended in 1989).
6. ATBP. (Awit, Titik, at Bilang na Pambata).
You might remember ATBP. (pronounced as "At iba pa") as the show where you first saw the young Piolo Pascual as Kuya Miguel. 
However, it became unforgettable for more reasons: from catchy songs that taught us how to read and count to fascinating characters such as Bb. Karunungan and Kapitan Bilang, it's no wonder why ATBP. almost gave Batibot a run for its money.
7. Ang TV.
Kids of the 90's best remember Ang TV for its popular catchphrases such as "4:30 na..Ang TV na!" and "Nge!" (supposed to be uttered after a joke).
The show is a youth-oriented variety show composed of a group of kids and pre-teens. Some of its notable alumni grew up to become some of today's hottest and respected stars: Paolo Contis, Camille Pratts, Angelica Panganiban, Sarah Geronimo, and Jolina Magdangal among others.
READ: Top 10 Pinoy Celebrities with Ridiculous Urban Legends
Johnny Manahan was one of the show's creators. Incidentally, the format of Ang TV was inspired by the 70's kiddie gag show Kaluskos Musmos, of which Manahan was the director. In 1996, Star Cinema released a film entitled "Ang TV Movie: The Adarna Adventure" starring the show's cast.
8. 5 and Up.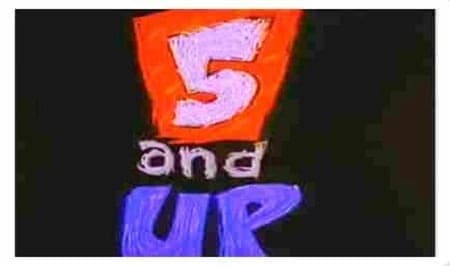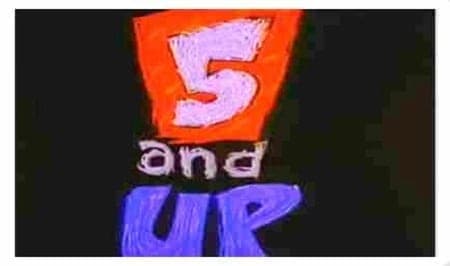 Who would've thought that an idea of an eight-year-old boy would soon launch a breakthrough TV program that was 5 and Up?
Zak Yuson loved to watch The Probe Team, an investigative program produced and hosted by her aunt, journalist Che Che Lazaro. When he came up with an idea of a similar show with kids as the reporters, Probe Productions, Inc. (PPI) decided to put that into a test. The episode, hosted by Zak himself along with other two kid reporters, turned out to be a huge hit. Soon, 5 and Up was born.
From 1992 until its unfortunate cancellation in 2002, 5 and Up became a tele-magazine program featuring mini-documentaries reported by its young hosts, ranging from kids to pre-teens. The show, which racked up local and international awards, also became a springboard of today's popular TV personalities like Atom Araullo, Chyna Ortaleza, Maxene Magalona and Rayver Cruz.
9. Sineskwela.
Sineskwela ("School on Air") is arguably the epitome of an "edutainment" show. Through dramatization, animation and simple visual effects, it has made Filipino kids realize that science is indeed an exciting subject to learn.
Produced by ABS-CBN Foundation, Sineskwela had its format based on school curriculum of Grade 2 to 6 students, thereby gaining support from Department of Education (DepEd) which then made it mandatory to show an episode of Sineskwela to each grade level at least once a week.
Sineskwela also introduced kids to some of the most unforgettable science-inspired characters on TV: Agatom, Anatom, Palikpik, Kulitsap, Ugatpuno, Kuya Bok, and Ate Winnie.
Also Read: Then And Now – The Cast of "Sineskwela"
In 2003, Sineskwela received the prestigious Prix de Jeunesse (Youth Prize) award at the 20th Television Science Programme Festival in France for its episodes which tackled pollution and the deterioration of Pasig River.
10. Bayani.
It was Bayani that first sparked my interest for Philippine history and the notable icons who made our freedom possible.
Kids of the 90's will always remember Ana and Noli, the two main characters who, with the help of Lola (or Lolo in some episodes), would travel back in time to meet Filipino heroes like Jose Rizal, Andres Bonifacio, Gabriela Silang, Teresa Magbanua, and Melchora Aquino among others.
Also Read: 5 Awesome Philippine Heroes Who Are Not Filipinos
Through simple dramatization, Bayani was able to teach young Filipino students the importance of nationalism and how men and women from the past had struggled to achieve our freedom.
11. Hiraya Manawari.
Hiraya Manawari 
(which literally means
"sana ay matupad"
) is a fairy tale series of ABS-CBN specially made for kids.
The show took teaching good moral values into a whole new level: from magical journeys to real-world scenarios, each episode of the show teaches kids lessons about honesty, humility, courage, love, respect, and other important values/virtues.
Other Nostalgic Pinoy Kid-Oriented TV Shows:
Chikiting Patrol.
A weekly program that taught social values and responsibility to Filipino kids, Chikiting Patrol occupies a distinct place in the history of local children's programming. In 2002, it was among the 16 Philippine TV shows that were given citations by the Philippine Movie Press Club for their longevity.
Produced by Nadea Sarte, Chikiting Patrol was aired weekly for 30 minutes in ABS-CBN from 1988 to 1990, before it transferred to GMA. During this time, it was recognized as the Best Children's TV Program by the Catholic Mass Media Awards. After it stopped airing in GMA in 2002, the program took a 2-year hiatus. It then made a final move to ABC 5 where it stayed from 2004 up to its end in 2006.
Also Read: 20 Traditional Filipino Toys That Will Make You Nostalgic
Penpen de Sarapen.
Penpen de Sarapen is a children's show which introduced us to Islaw Kalabaw. Aired in Radio Philippines Network (RPN 9) from 1987 to 2001, the show was a game, entertainment, and story-telling shows rolled into one, teaching Filipino kids good moral values.
Its stage was set in the ground floor of Farmer's Plaza in Cubao. The hosts include Connie Angeles, Fred Moore delos Santos, Camille Velasco, and Caselyn Francisco (now an international theater actress).