Last Updated on
Despite being a geographically small nation, the Philippines has proven itself time and again that it's not afraid to square off against bigger and more powerful countries.
In a proverbial David versus Goliath battle, the nation found itself at the forefront of a verbal battle against the communist superpower during the 15th Session of the United Nations (UN) General Assembly held at UN headquarters in 1960.
Taking up the cudgels for the Philippine side was the late Senator and nationalist Lorenzo Sumulong—son of the revolutionary Juan Sumulong—who was then head of the Filipino UN contingent. Meanwhile, his opponent on the other side of the ring was no other than Nikita Krushchev, the Premier of the Union of Soviet Socialist Republics (USSR).
Also Read: The Filipino Pirates Who Terrorized China in 1174 AD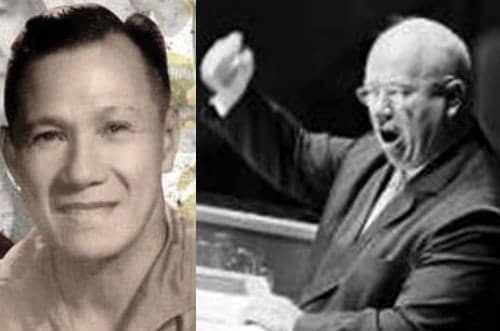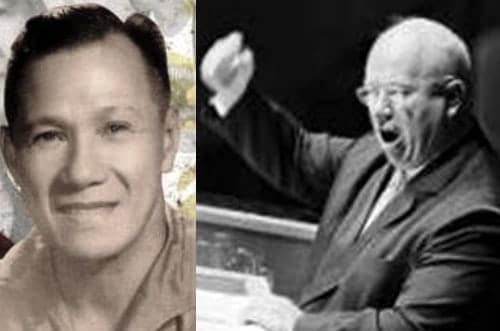 Krushchev—although not a homicidal maniac compared to his predecessor Josef Stalin—was openly bombastic and boorish, having publicly dressed down US President John F. Kennedy and then-Vice President Richard Nixon on several occasions during his time as USSR chief. In promoting communism, Krushchev hated capitalism with a passion and often described it as an ideological disease that would lead to the downfall to communism.
READ: Marcos' Martial Law was communism's biggest recruiter
Interestingly enough, Sumulong and Krushchev initially found themselves on the same side of the fence following the latter's call at the UN Assembly for the Western powers to grant their colonies independence.
Noticing the irony of Krushchev's statement since several Eastern European states were also practically under the control of the Soviet Union, Sumulong took to the podium and said while he was all for de-colonization, the Soviet leader should also back up his words by setting the Soviet satellite states free.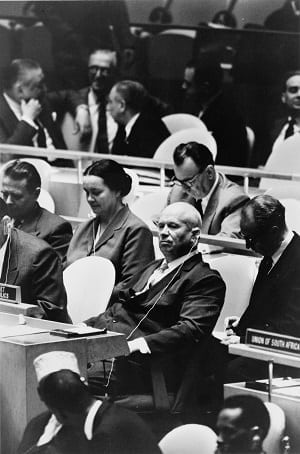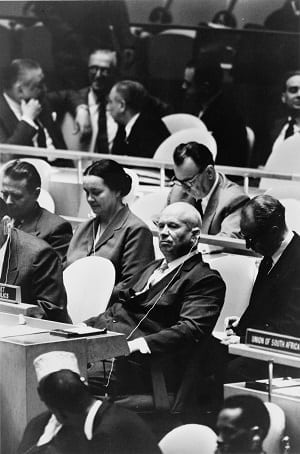 Hearing Sumulong's statement, an angry Krushchev demanded his turn at the podium. Meeting his Filipino opponent face-to-face, the Soviet leader wildly gesticulated for him to step aside before beginning a long rant which consisted of calling Sumulong a stooge and a lackey of the imperialists.
Recommended Article: 10 Most Infamous Traitors in Philippine History
When Assembly President Frederick Boland allowed Sumulong to come up to the podium to speak again on his case, Krushchev became even more irate and gestured for Boland to recognize him on a point of order. Due to the Filipino's earlier remarks and Boland's failure to acknowledge him, Krushchev was said to have taken out his shoe in anger and banged it on his desk—an event that would be known as the infamous "Shoe-banging Incident."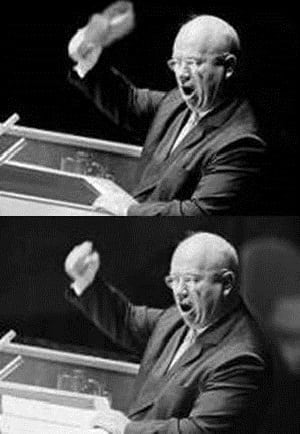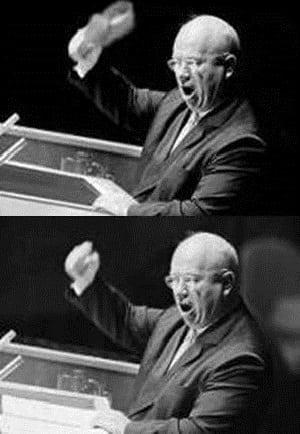 Eventually, the forum became chaotic as other members of the Eastern bloc voiced out their disapproval of Sumulong's statements, prompting a frustrated Boland to cut the meeting short by banging his gavel so hard its head was sent flying.
In the end, no authentic picture of Krushchev's meltdown was ever taken (although there is a doctored photo of him holding a shoe).
According to his long-time interpreter and granddaughter who confirmed the occurrence though, Krushchev initially took off his shoes before the incident because they were tightly-fitted. In his attempt to catch Boland's attention later on, Krushchev dropped his watch while angrily banging his desk and found a new weapon while picking it up—his shoe.
The rest as they say, is history.

References
BBC News,. 1960: Khrushchev anger erupts at UN. Retrieved 16 August 2015, from http://goo.gl/U9Psx2
Khrushchev, N. (2000). The case of Khrushchev's shoe. New Statesman. Retrieved from http://goo.gl/7NFMip
Khrushchev, N., & Khrushchev, S. (2007). Memoirs of Nikita Khrushchev, Volume 3 (p. 892). Penn State Press.
Cold War Southeast Asia by Malcolm H. Murfett
American Umpire by Elizabeth Cobbs Hoffman