The amount of your monthly amortization or salary deduction will be based on three factors:
Loan amount.
Your preferred loan repayment period.
Your preferred fixed pricing period.
The loan amount is the amount of housing loan you can borrow that has been approved by Pag IBIG.
The loan period or loan repayment period, on the other hand, is the number of years that you'll be paying for the monthly amortization.
Although the maximum loan period is 30 years, Pag IBIG recommends choosing an optimum period of 10 years or shorter to avoid paying higher interest.
Should you choose the 30-year maximum loan period to pay off your housing loan, keep in mind that the first 10 years will be basically spent paying off the interests alone.
The fixed pricing period, meanwhile, dictates how long a fixed interest rate will take effect.
For example, if you choose a one-year fixed pricing period, the interest rate will be set to 5.750% for the first year. After the one-year period, this interest rate will be repriced and can be higher or lower during the following years depending on the existing economic factors.
Learn more: What is a fixed pricing period?
The table below shows the interest rates based on your chosen fixed pricing period (effective January to December 2021)
| | |
| --- | --- |
| Fixed Pricing Period | Interest Rate |
| 1 year | 5.750% |
| 3 years | 6.250% |
| 5 years | 6.500% |
| 10 years | 7.250% |
| 15 years | 7.875% |
| 20 years | 8.500% |
| 25 years | 9.125% |
| 30 years | 9.875% |
To get an estimate of how much monthly amortization you'll be paying for your housing loan, you can use the Pag IBIG Fund Housing Loan Affordability Calculator. It's at the bottom right corner of the linked page.
Provide the requested information like desired loan amount as well as your preferred repayment period and fixed pricing period. It will automatically compute it for you after entering the required information.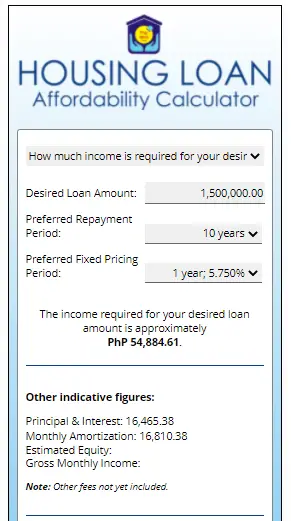 Let's say your approved housing loan is Php 1.5 million (see screenshot above).
Since you want to pay fewer interests, you opt for the optimum loan period of 10 years.
For the fixed pricing period, you choose 1 year, meaning you'll pay for the fixed interest rate of 5.750% during the first year while interest rates for the following years will be subject to fluctuations.
Based on Pag IBIG's calculator (which, by the way, only provides estimates), the monthly amortization that will be deducted from your salary is Php 16,810.38 and your required monthly income should be at least Php 54,884.61.
Go back to the main article: How to Apply for Pag-IBIG Housing Loan: An Ultimate Guide