While it's impossible to compete with Pizza Hut, the market for mouth-watering pizza with Filipino flavor still welcomes innovative ideas.
If you want to start a pizza business in the Philippines, the same principles apply: find a target market, a good location, and effective marketing strategies. But because this niche is already saturated, you need to think of ways to make your product stand out.
To help you start your dream pizza business in the Philippines on the right foot, we're sharing the basic tips and strategies all beginners ought to know.
Go back to the main article: Best Small Business Ideas in the Philippines with High Profit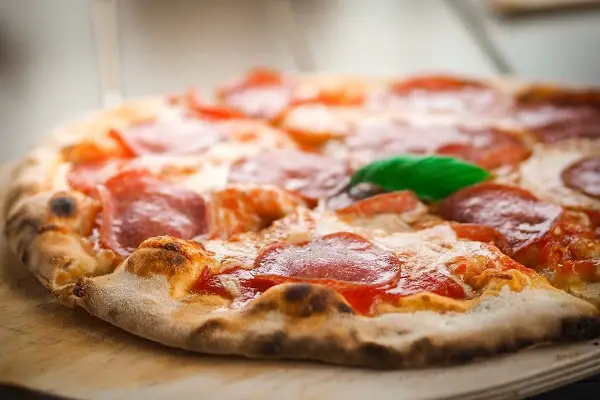 Ideal for: Pizza lovers, pizza chefs, and people with experience working in pizzerias.
Capital: Starts at Php 50,000
Pros:
The boxed pizzas are ready to heat by the time they reach the store/food cart.
Relatively easier to market since Filipinos are already familiar with the product.
Popular among students and office workers who prefer to eat prepared foods like pizza.
Cons:
The market for pizza is a little bit saturated.
Requires knowledge or training in pizza-making.
How to start a pizza business in the Philippines
Step 1: Learn about pizza-making by either enrolling in a culinary trades schools or getting hands-on experience in a pizzeria.
Step 2: Study the market and your competition. Through market research, you can get insights into how pizza businesses are run, how they profit, and ways you can improve your product to make it different from the rest.
Step 3: Write a pizza business plan which covers the essentials of a pizza business including the following:
Type of pizza business you're planning to open (pizza delivery business, stationary or mobile pizza food cart?)
Target market (e.g., office workers, students, or mothers in malls who often buy a box of pizza for their families).
Capital/start-up costs.
Pizza-making supplies, their cost, and where you will get them.
Projected revenue.
Complementary foods/side dishes you will be offering along with the pizza.
Marketing/advertising.
Other important things you need to invest in like the oven and the vehicle that you will use to transport or sell your pizzas.
Step 4: Brainstorm ideas to make your pizza brand different from the competition.
Since there's a cutthroat competition in the pizza market, you have to use your creative juices to come up with a product that really stands out.
Lot's A Pizza captured a huge chunk of the market because of their affordable pizzas that please the Filipino taste buds.
A relatively new brand, Big Guy's Pizza, offers giant 36-inch pizza pies that can feed 20 people. The reception has been good, proving that creativity is all it takes to penetrate any saturated market.
Step 5: Decide whether to go solo or get a franchise.
Independent pizza business owners have full control over their brand and every single aspect of the business. This means that if they fail, the business fails with them.
The downside of getting a franchise of popular local pizza brands is the relatively higher start-up cost. The cheapest pizza franchise offered by Pizza Delite costs Php 39,000 which only covers the franchise fee.
3M Pizza which started in 1969 offers a food cart package worth Php 295,000 plus a franchise fee of Php 170,000.
However, the franchised brand already have a track record of success and franchisors will be able to provide assistance when you need it.
Take note that if you get into a franchise, you'll be tied to a contract which means you have no freedom to choose your suppliers and have no control over some of the most important aspects of your business.
Step 6: Hire employees who will operate your pizza stall or food cart.
Step 7: Choose a good location. As with any other type of business, you need to pick a location with a high volume of foot traffic, preferably near shopping malls or schools where you can find the bulk of your target market.
Step 7: Launch your pizza business. Make it sustainable by investing in the quality of your products, customer service, and effective marketing strategies.