Pork Barrel. It used to be a buzzword only a few Filipinos care about. But thanks to Janeth Lim-Napoles and the shocking 10-billion PDAF scandal, pork barrel finally came to public awareness.
And as furious Pinoys prepare for the historic "Million People March", let's delve into the controversy once and for all.
What really is a pork barrel? Where did it originate? And how in the world did it end up in the hands of crooked, self-serving politicians? 
To enlighten ourselves, it pays to look back in history. Here are five lesser-known facts you ought to know about pork barrel:
1. Pork barrel has its roots in a degrading pre-Civil War tradition. First popularized by journalist E.K. Hale in 1865, "pork barrel" is based on the practice of handing down a barrel of salted pork to the black slaves. The desperate servants would then compete among themselves, much to the delight of the landowners and their guests.
Turns out, "pork barrel" has always been used in a derogatory sense.
2. Pork barrel was first introduced in the Philippines in 1922. By the time Cory Aquino became president in 1986, it was renamed "Countrywide Development Fund" or CDF.
Initially, CDF was distributed in a lump sum but due to protests among legislators, the General Appropriations Act (GAA) was later adopted. Soon, each Congressman and Senator received their equal share of 12.5 and 18 million pesos, respectively.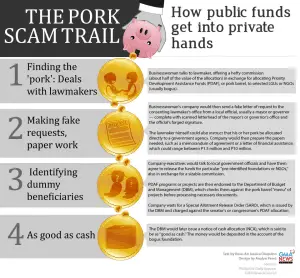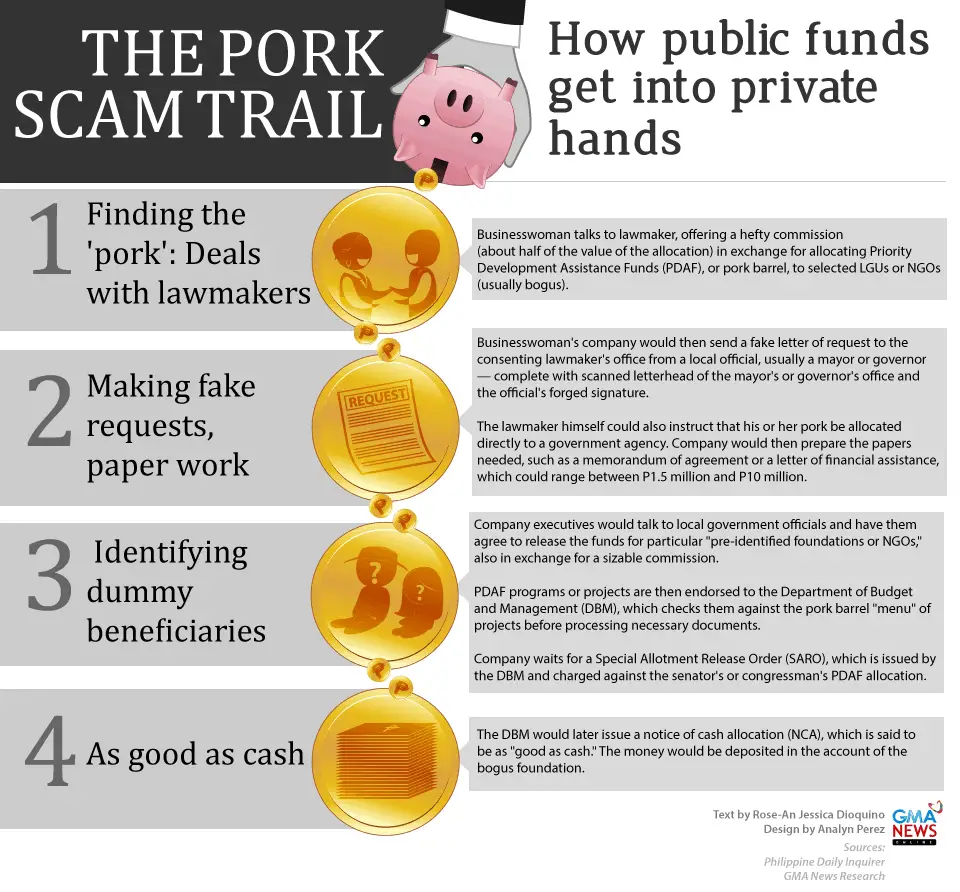 See full size: http://goo.gl/GPoH75
3. During his presidential campaign, Joseph Estrada pledged to abolish the pork barrel. Sadly, the actor-turned-president didn't live up to his promises.
Instead of discarding PDAF, he even added his own version: the Lingap para sa Mahirap. Members of the Congress soon took part of the latest development. In fact, they gained two-thirds control of the fund to support their "soft projects" such as rural waterworks, medical assistance, livelihood development, among others.
4. From the time CDF was introduced in 1990 up to the recent years, COA has never released a post-audit report claiming any abuse or misuse of the public funds by the members of the Congress. In other words, they assumed that PDAF has been properly distributed to appropriate government agencies. Or so they thought.
5. Contrary to popular belief, Congressmen and Senators neither handle the pork barrel funds nor implement the projects within their discretion.
Their task, according to the Constitution, is to only identify specific projects and designate the beneficiaries. Once the open public bidding has been done, the implementing government agencies will then receive the funds. How it could end up mishandled by the likes of Napoles and other unscrupulous lawmakers is left to our imagination.
Featured image courtesy of http://wonkette.com