There are two types of bridges in the world: one that you won't mind stepping into, and another one that would make you think what on earth pushed you to cross it in the first place.
Indeed, unusual bridges are loved by thrill-seekers. However, there are scary-looking bridges in the Philippines that are too irresistible you won't mind including them on your bucket list.
Also Read: 8 Hidden Paradises in the Philippines That Will Take Your Breath Away
Here are 6 terrifyingly beautiful bridges in the Philippines you'll have to see to believe:
1. Tigbao Hanging Bridge (Bohol).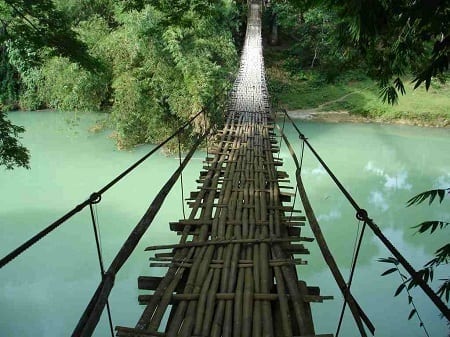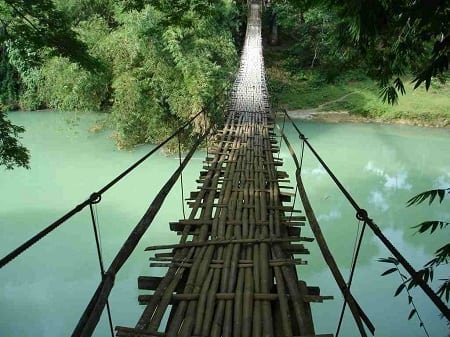 Hanging 25 meters (82 feet) above the Loboc River, the Tigbao Hanging Bridge in Bohol was originally built to facilitate the travel of the locals between two barangays. But thanks to its unique characteristics, the bridge soon became one of Bohol's top tourist attractions.
Trivia: The Baclayon Church in Bohol was built using coral stones and egg white!
At first glance, the bridge's bamboo top layer seems to render it too weak for any tourist to cross. However, the bridge is more than meets the eye: it's actually made of metal and the bamboo layer was added later on to give the bridge its signature "scary look." It also sways back and forth as people walk on it, making it an ideal place for all Indiana Jones wannabes.
Fast Facts:
In November 2014, Tigbao Hanging Bridge was hailed by CNN as one of the 13 most spectacular footbridges in the world. It shares the honor with Switzerland's Peak Walk (world's first pedestrian suspension bridge connecting two mountain peaks), Russia's SkyBridge (world's longest footbridge), Nepal's Hanging Bridge of Ghasa, and Northern Ireland's Carrick-a-Rede Rope Bridge.
At the other side of the twin bridges, you'll see various souvenir shops selling sweet delicacies such as kalamay sa bao. You'll also meet Felipe Tacogdoy, Bohol's very own "Buko King" who can peel off as much as 5 coconuts in just 2 minutes using his strong teeth.
2. Tibag-Sabang Bridge (Baler, Aurora).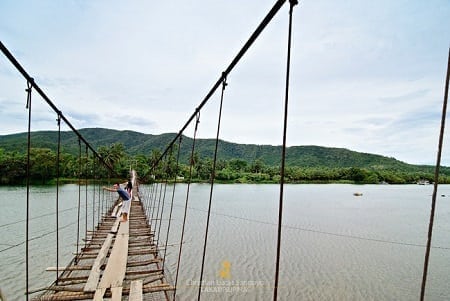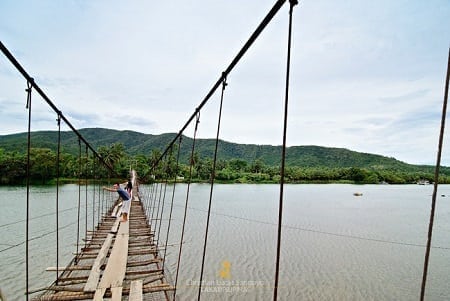 With railings that are too far apart and thin metal mesh covering its narrow floor, this hanging bridge is really not for the faint of heart. Located at Barangay Zabali in Baler, Aurora, this bridge traverses the Tibag-Sabang River, hence the name.
By just looking at it, you'd think twice before crossing this bridge. For instance, Christian Lucas Sangoyo of LAKAD Pilipinas described the Baler Hanging Bridge as "the longest freaking hanging bridge I'd ever seen." It even caused him to suffer vertigo, the reason why he decided to turn back after reaching the middle part.
If you're brave enough to cross this bridge, take note that it is only supported by steel cables with very wide gaps in between, while the floor is covered with thin metal mesh and some wood planks. Talking about the bridge that will literally take your breath away.
Did you know? On April 28, 1949, while on their way to Baler for the inauguration of the Quezon Memorial Hospital, Aurora Quezon and 11 other people were gunned down by some 200 armed men.
3. Hanging Bridge in Licuan-Baay (Abra).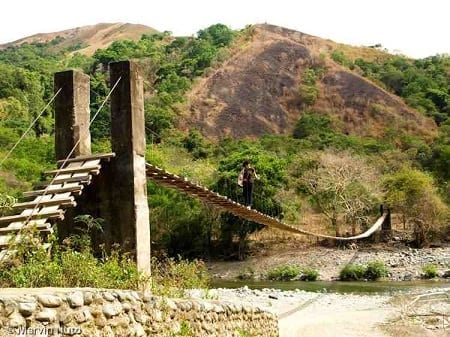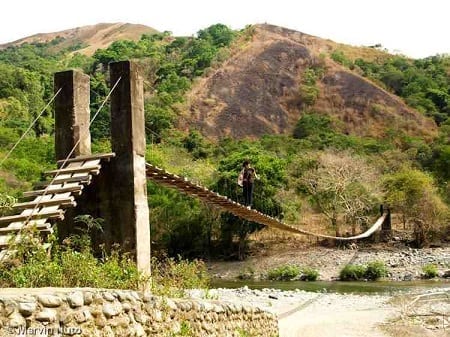 This hanging footbridge in Licuan-Baay connects people to Lacub Road in Abra. Both Licuan-Baay and Lacub are fifth-class municipalities in the said province.
Also Read: 14 Bizarre And Fascinating Festivals You Can Find In The Philippines
It is said that the bridge was once broken, with several planks of it missing. However, it didn't stop the local boys from crossing it, the same way the locals of Licuan-Baay were not discouraged to fight against small-scale mining that has been invading the region.
4. Hanging Bridge near Bontoc (Mountain Province).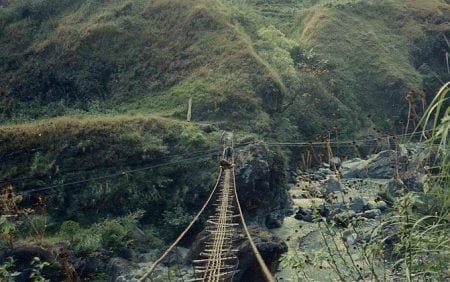 This insane hanging bridge can be found near Bontoc, a second-class municipality which is also the capital of Mountain Province.
READ: 8 Incredible Rare Recordings From Philippine History
Traveling from Banaue to Sagada via Bontoc will give you a breathtaking view of the rice terraces. There is also a hanging bridge right in the Bontoc town center, with the amazing rice terraces as the backdrop.
5. Hanging Bridge in Sitio Asin (Benguet).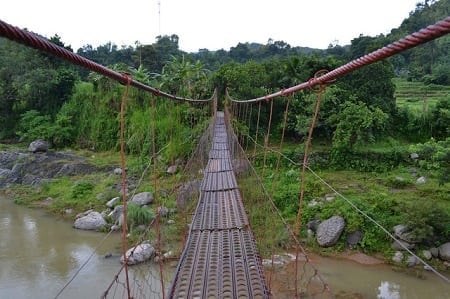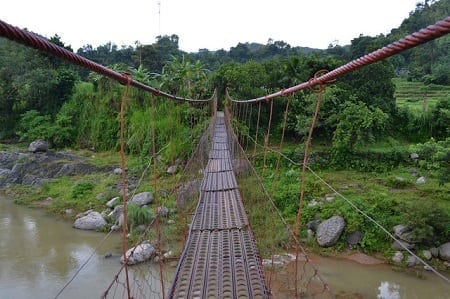 This old hanging bridge is only one of the bridges surrounding Sitio Asin, Brgy. Nangalisan in the town of Tuba in Benguet. The place is famous for its hot springs in which various resorts have been built around.
Tuba, on the other hand, is one of the oldest and original towns of Cordilleras, and has also been dubbed as the "Gateway to Baguio" for the town is traversed by three major highways leading to the summer capital.
Recommended Article: Unusual Cemetery – The Hanging Coffins of Sagada
As you can see above, the hanging bridge is overlooking a river and a lush vegetation. It is a crude bridge suspended by steel cables. Its floor or walkway, on the other hand, is made up of perforated metal sheets that became popular during WWII–a proof that the bridge is, indeed, old. You better hold on tight though as the bridge will easily sway as you walk your way to the other end.
6. Agas-Agas Bridge (Southern Leyte).
Towering at 84 meters and officially the highest bridge in the Philippines, Agas-Agas Bridge is every acrophobic's worst nightmare.
The bridge, which traverses a deep ravine in the town of Sogod, was built during the Arroyo administration. The P1.24-billion superstructure was funded by the Japan International Cooperation Agency (Jica) as part of the Philippine-Japan Friendship Highway Rehabilitation Project.
Trivia: Aluling Bridge in Ilocos Sur took 35 years to complete!
Spanning 350 meters in length, the Agas-Agas Bridge is located in Barangay Kahupian near Tacloban City and Maasin City the province of Leyte. It recently hit the headlines after the protective covers of its two columns were reportedly threatened by heavy rains and landslides within the past 12 months.
As a protective measure, the DPWH has set aside P46.63 million to ensure the stability of the structure. The project is set to start during the first quarter of 2015.
Agas-Agas Bridge used to welcome tourists and adventure-seekers with its cable car, bungee jumping, zip line, and other extreme sports activities (all of which are no longer operating as of this writing).
References
Esplanada, J. (2015). Highest bridge in PH in danger of collapsing. Inquirer.net. Retrieved 17 February 2015, from http://goo.gl/gDfPbO
Hinson, T. (2014). 13 of the world's most spectacular footbridges. CNN. Retrieved 17 February 2015, from http://goo.gl/3bcDef
Sangoyo, C. (2011). Hanging on for Dear Life at Baler's Tibag-Sabang Bridge. LAKAD Pilipinas. Retrieved 17 February 2015, from http://goo.gl/4idSu6