Most of the local horror movies today don't live up to their promises. But back in the days when CGI was non-existent, the likes of Undin and Halimaw sa Banga kept us sleepless for weeks. 
We remember them not just because they are part of our childhood but also because horror flicks tend to be more memorable.
To celebrate the best years of Pinoy horror, we are bringing back some of the most hair-raising creaturesthat made us piss in our pants.
10. Taong Putik.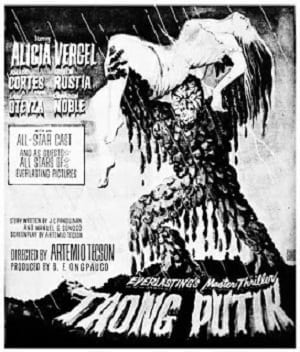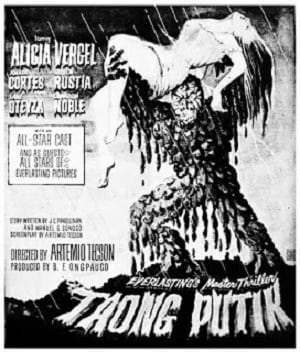 As seen on: "Taong Putik" (1956) starring Alicia Vergel, Amado Cortez, and Ruben Rustia.
Scariest asset: A devilish stare and thick, slimy mud continuously dripping from its body.
Hair-raising details: Taong Putik (Mud Man) came from an era when "atomic monster" movies were such a craze. At that time, atomic bombs were either exploded or tested and people didn't give a damn about its consequences. Soon, a string of atomic-inspired sci-fi flicks such as Taong Putik came to terrorize people's imagination. Reminiscent of Batman's classic villain, Magma, Taong Putik looks like a kumunoy monster ready to take another victim deep into a muddy death. [Image source: Video48]
9. The LRT Monster.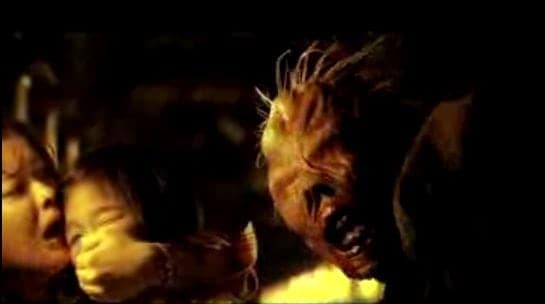 As seen on: Shake, Rattle, and Roll 8 – "LRT' Episode (2006) starring Manilyn Reynes, Kimpee de Leon and Eugene Domingo.
Scariest asset: Hideous eyeless face, sharp sense of smell to track down victims and insatiable appetite for the human heart.
Hair-raising details: Driven by its strong affinity to the fresh human heart, this nameless monster killed stranded LRT passengers one by one. Spine-chilling chasing scenes and gory moments gave justice to the LRT monster's freakish look. And to give us a nostalgic feel, SSR queen Manilyn Reynes led the cast along with her former onscreen sweetheart Kimpee de Leon. Despite minor flaws, the LRT monster succeeds in making people scream and reminding us to keep our hearts away from harm (literally!) [Image source: board.dailyflix.net]
Related: How to Commute Through LRT: An Ultimate Guide to Manila's LRT 1 & 2 Stations
8. Balawis.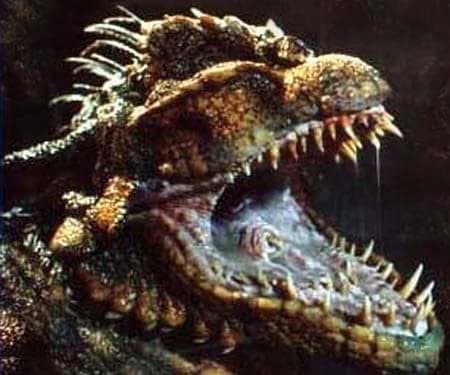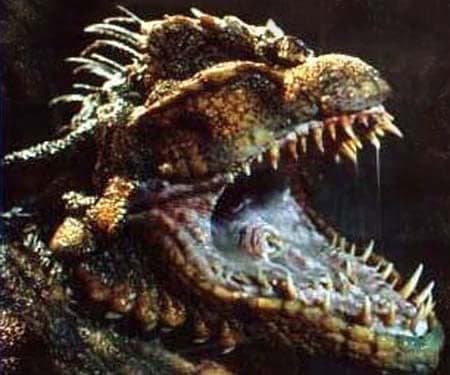 As seen on: "Balawis" (1996) starring Dan Fernandez, Joanne Quintas and Jaime Fabregas.
Scariest asset: Monstrous size and razor-sharp teeth.
Hair-raising details: "Balawis" is a Tagalog word for a rebel. But this terrifying 90's monster was far scarier than any ill-conscience Abu-Sayyaf. Thanks to bored humans who disturbed its habitat, Balawis started a bloody killing spree. As it lurked in the dark, this super-sized reptile gets to choose its next victim. How it viciously rips the human body apart can make even the toughest guy tremble.  Add to that the almost-realistic special effects and Balawis can easily be your worst nightmare.
7. Impaktita.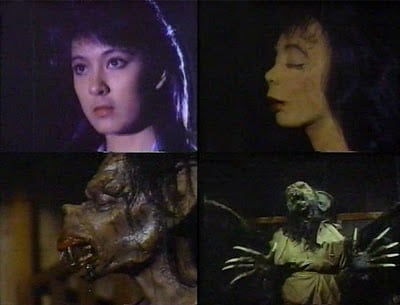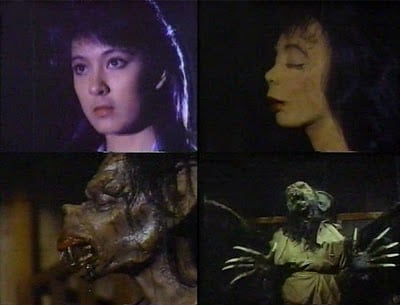 As seen on: "Impaktita" (1989) starring Gloria Romero, Jean Garcia, Richard Gomez, and Aga Mulach.
Scariest asset: Creepy face, bat-like wings, ability to slice the body in half, ultra-sharp teeth and long killer nails.
Hair-raising details: Gloria Romero and Jean Garcia were a mother-daughter tandem in this 1989 hit. But not in a cheesy kind of way. Cruelty runs in their blood and they can easily transform into an ugly, blood-sucking manananggal once provoked. Impaktita proved once and for all that great storyline can always turn simple prosthetic into a memorable horror icon. [Image source: http://todosabongga.blogspot.com]
6. The Killer "Pridyider."
As seen on: Shake, Rattle, and Roll – "Pridyider" Episode (1984) starring Janice de Belen, Charito Solis, and William Martinez.
Scariest asset: A demonic power to lure and torture women to death.
Hair-raising details: An old refrigerator turned female killer? Absurd as it may sound but Ishmael Bernal made a horror classic out of a simple kitchen appliance. The haunted "pridyider" lures attractive young women and kill them by repeatedly slamming its door. Terrifying scenes were filled with darkness, convincing acting from lead stars, and eerie sound effects. It was so scary that several people who watched it didn't come near old ice boxes for weeks.
5. Manananggal.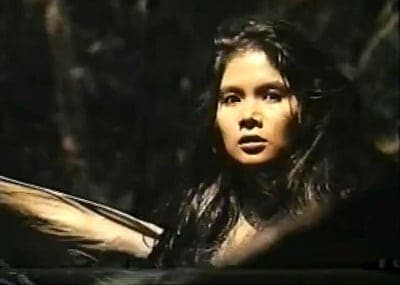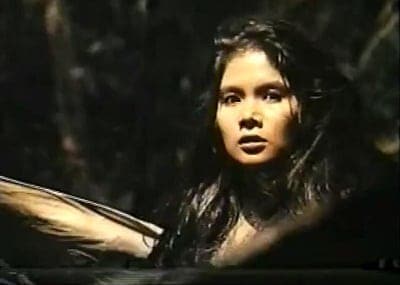 As seen on: Shake, Rattle, and Roll – "Manananggal" Episode (1984) starring Herbert Bautista, Irma Alegre, and Mary Walters.
Scariest asset: Killer looks by day and killer appetite by night.
Hair-raising details: This SSR episode gave us the classic portrayal of a manananggal we're all familiar with: A recluse woman who uses a special oil to transform into a bloodsucking creature by night. You got to love the moment when Irma Alegre (aka manananggal) slices her body in half to look for the next unlucky victim. Great lighting techniques made every scene even more terrifying. People were able to identify with Herbert Bautista whose role as the vampire-killer won him an MMFF Best Actor trophy. [Image source: sapphirehour.blogspot.com]
4. Barrio Aswang.
As seen on: Shake, Rattle, and Roll 2 – "Aswang" Episode (1990) starring Manilyn Reynes, Ana Roces, Aljon Jimenez, and Richard Gomez.
Scariest asset: Crazy, hungry aswang (lots of them!)
Hair-raising details: Imagine yourself getting invited to a town feast only to end up knowing you're the main course. Terrifying, isn't it? But that's exactly what panic-stricken Manilyn Reynes made us feel in one of SSR's all-time best episodes. Remember the "switching scene" between Ana Roces and Manilyn? How about those humongous fangs that made Vangie Labalan and the rest of the "vampire town" even scarier? Just goes to show that even a simple barkada outing can turn into a haunting nightmare.
3. Tiyanak
As seen on: Tiyanak (1988) starring Janice de Belen, Ramon Christopher, and Lotlot de Leon.
Scariest asset: Evil and ferocious beast trapped in a baby's body.
Hair-raising details: Directed by the legendary Peque Gallaga, Tiyanak is where the popular term "Anak ni Janice" came from. It tells the story of an innocent-looking baby that could transform into an evil force in just a snap. It's so powerful it can break your neck and suck out all your blood in one sitting. But when it is in human form, Tiyanak is an adorable baby you would never think of killing. And that's what makes it Pinoy horror's ultimate king of deception.
2. Undin.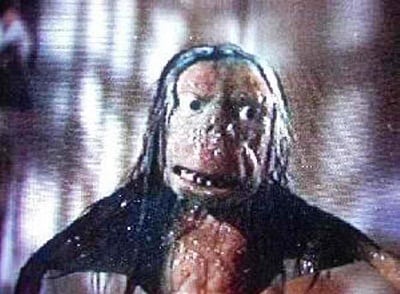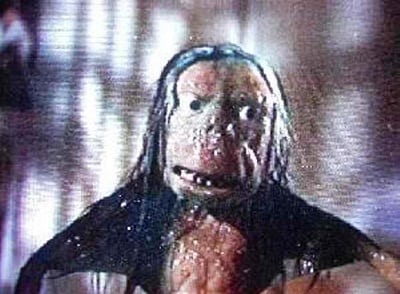 As seen on: Shake, Rattle, and Roll 3 – "Nanay" Episode (1991) starring Manilyn Reynes, Ai Ai de las Alas and Joey Marquez.
Scariest asset: Slimy, moldy body and an ability to spew corrosive acid to whoever she wants to kill.
Hair-raising details: Loosely based on a European sea nymph, Undin is the ultimate scary monster of the '90s. Enraged by vacationers who stole her eggs, Undin went on a killing spree. She hid on toilet bowls and threw acid towards the perpetrators, killing them one by one. The rampage didn't stop until Manilyn came to the rescue and surrender the eggs to its moody owner. As it turned out, Undin only did what she did because of maternal instinct.
1. Halimaw sa Banga.
As seen on: Halimaw (1986) starring Liza Lorena, Gina Pareno and Michael de Mesa.
Scariest asset: Ghastly look and killer instinct.
Hair-raising details: The Mother of all Pinoy monsters, Halimaw sa Banga have changed the way we look at antique jars. Portrayed by Maritess Gutierrez, Halimaw sa Banga traumatized a lot of Pinoy kids the way Freddie Krueger did to American audience.
The monster was actually an ancient witch who was killed, cursed and trapped inside the large jar a long time ago. From then on, every curious people who look down inside the jar gets served as the monster's dinner. Halimaw sa Banga is actually an episode of the two-part Halimaw film which won 3rd Best Picture award at MMFF. But thanks to its authentic scare tactics, this pale monster made it to Pinoy horror's hall of fame (at least according to its trembling fans).
Featured image courtesy of pinoymoviewiki.blogspot.com