In 2010, young Pinoy chef Angelito Araneta Jr. made it to Guinness World Records after creating the most expensive sushi ever. Laced with African diamonds and edible gold leaf, his unusual creations have given Angelito tons of publicity and the title 'Karat Chef' to boot.
"Karat Chef" Breaks World Records
Gold means affluence and prosperity.
But for 22-year old Angelito Araneta Jr., gold is a perfect ornament for any type of art – Japanese cuisine included. On June 28, 2010, Angelito put an odd twist to ordinary seafood-topped nigiri sushi.
Apart from the traditional Japanese preparation, Angelito made his masterpiece extra special by garnishing it with no less than 24 carats of thin gold sheets and 0.20 carat of African diamonds.
The five pieces of sushi cost $1,978.15 or a whopping 91,800 Philippine pesos – officially making it the most expensive sushi ever made. Guinness World Records recognized this feat and included Angelito among its roster of Filipino world record holders.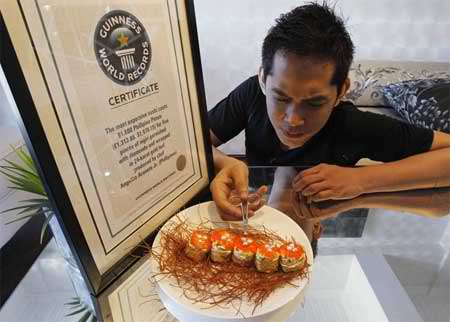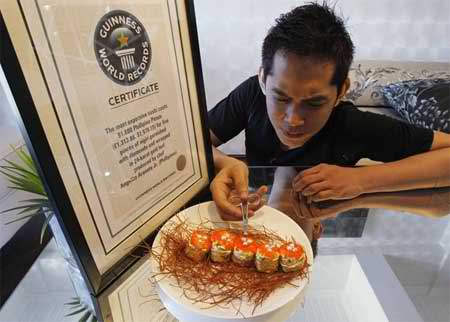 But the "Karat Chef"—as he is now called—never stopped there. To celebrate his world record, Angelito impressed everyone with another set of sparkling, scrumptious sushi.
In 2012, he wrapped five pieces of sushi with 24-carat gold leaf and garnished each with a 0.25-carat diamond and three Mikimoto pearls.
Perhaps you're wondering who is in the right mind—and budget—will actually buy this premium sushi. Believe it or not, Angelito says that his expensive creations are actually purchased for wedding proposals and courtship purposes.
To Eat or Not To Eat: Is Gold Sushi Really Edible?
The mere idea of gold flowing past one's throat can make some people cringe. But for "Karat Chef" and the rest of "gold" lovers, foods embellished with gold leaf are completely edible—as long as the gold is proven edible in the first place.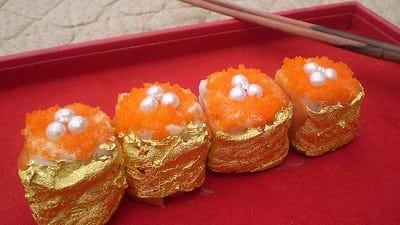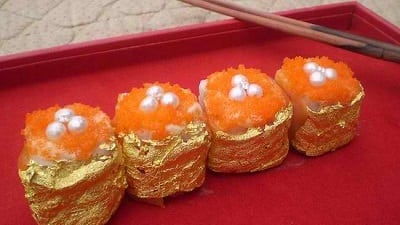 As a general rule of the thumb, the higher the value of gold is, the more it becomes edible. In other words, buy only gold with between 22 and 24 carats if you want your food to be safe to eat.
Gold—especially gold leaf—are considered "biologically inert" so they basically pass through your digestive tract without being absorbed. Generally described as tasteless, gold leaf is widely used to decorate truffles, alcoholic drinks, sushi, candies, among others.
Other Creations
Angelito doesn't limit his skills to making gold-laced sushi. In fact, he also adds gold cocktail (costs 6,000 pesos) and golden roast beef among his list of specialties.
He also made rabbit-shaped rice cakes covered with gold and small pieces of diamonds. This sweet delicacy costs $2,700 and mainly used by Filipino-Chinese businessmen as good luck charms for the Year of the Rabbit.