Along with boxing, cockfighting, and basketball, watching beauty contests is arguably one of the nation's favorite pastimes.
And the joy of glorifying beauty doesn't end on TV. From Ms. Gay to Ms. Senior Citizen, there are just so many ways Filipinos appreciate beauty.
Also Read: 6 Astonishing Facts About Ms. Universe and the Philippines
But how can we explain this obsession?
Perhaps it's the country's impressive Ms. Universe victory these past few years. Or maybe we believe that winning international beauty pageants also means putting our country's name on the map. Either way, our fascination for beauty queens is something worth exploring.
In the meantime, let's walk down memory lane and learn some of the most fascinating but lesser-known facts about Pinay beauty queens.
7. The First Igorot Beauty Queen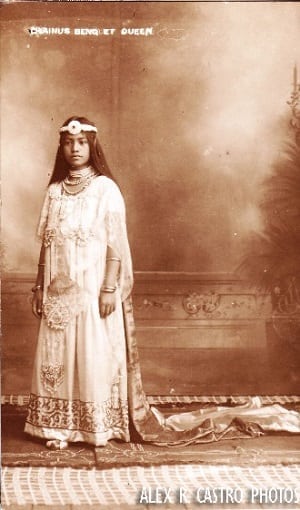 The most famous beauty from the northern highlands who caused a sensation in Manila was born Eveline Chainus Guirey in 1902 in Gumatdang, Itogon. She was the eldest of 10 children of Guirey, a well-to-do Benguet baknang (country squire) and Dakalay, an Igorot who went by her Christian name, Flora Pacalso.
Like all young Christianized native girls, Chainus was schooled by missionaries at the Bua Public School near Baguio. In 1915, a Benguet Carnival was planned to promote the advancements made by the mountain region and to coincide with the great national fair in the country's capital—the Manila Carnival. At just age 13, Chainus was selected to reign as the Benguet Queen, the youngest beauty ever in the history of the Philippine carnival.
Continue Reading: The Short And Tragic Life of The First Igorot Beauty Queen
6. The First Miss Philippines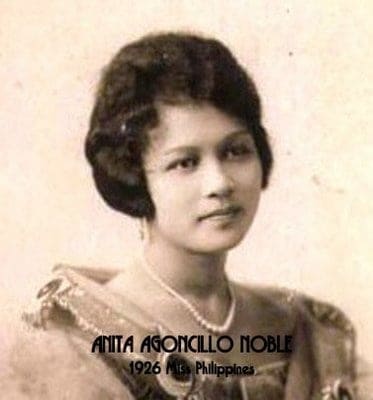 In 1964, bank teller-turned-beauty queen Ma. Myrna Elizabeth Sese Panlilio became the first Binibining Pilipinas in history.
It was a great milestone but technically, the first Miss Philippines was crowned way back in 1926.
Anita Agoncillo Noble, a 20-year-old student from Lemery, Batangas, became a beauty queen when the title "Miss Philippines" was first introduced. It's interesting to note that Anita also came from a historically significant family.
Her mother, Maria Agoncillo, was a relative of Felipe Agoncillo, Maria (Emilio Aguinaldo's second wife) and Marcela, one of the people who made the first Philippine flag.
Also Read: 29 Things You'll Never See in Manila Again
5. The Beauty Queen Senator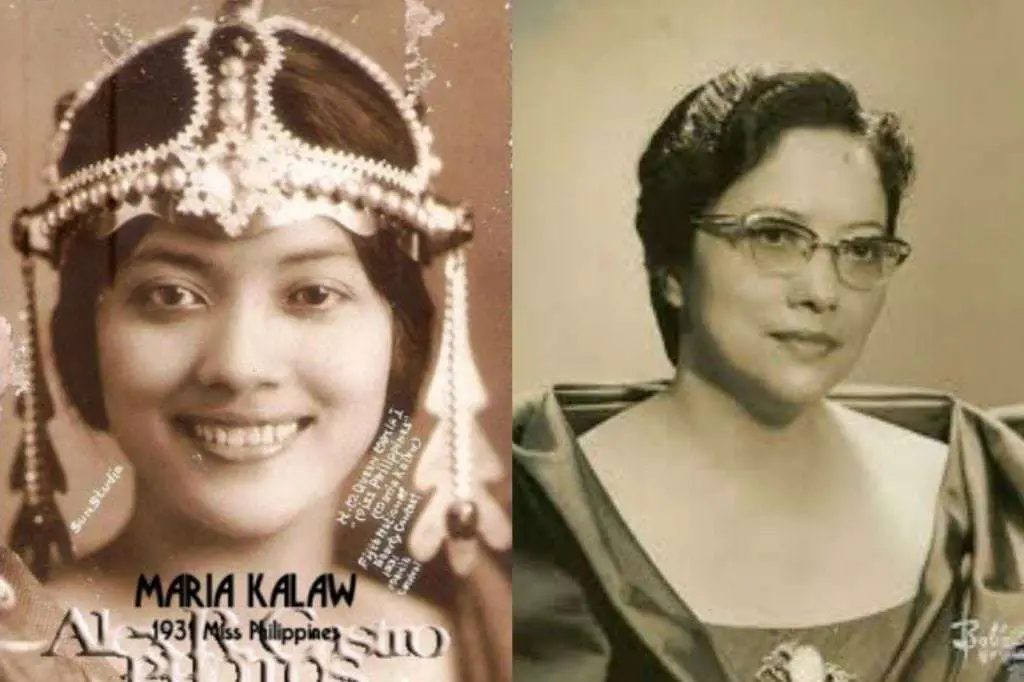 Known as the "original sweetheart of the Philippine Senate," Maria Kalaw Katigbak first entered politics in 1961. But unknown to many, Maria was also a former beauty queen.
At a tender age of 19, Maria was crowned Manila Carnival Queen in 1931. The said event was part of an annual festivity organized to celebrate U.S.-Philippine relations.
Even at a young age, Maria already proved that she was the quintessential "beauty and brains." She was a high school valedictorian at Philippine Women's University and a magna cum laude for her Doctor of Philosophy degree (Social Sciences) at University of Santo Tomas.
Also Read: 15 Surprising Things You Didn't Know About Miriam Defensor-Santiago
4. Second Time's a Charm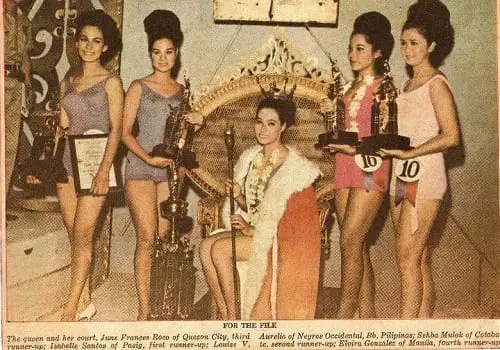 Long before Janine Tugonon and Pia Wurtzbach, Elvira Gonzales already started the trend of attempting to win the beauty pageant crown several times.
Gonzales was the first Binibining Pilipinas candidate who joined the contest twice: in 1964 and 1965. Unfortunately, Elvira only ended up a runner-up in both attempts.
Luckily, she passed on the torch to her daughter Charlene Gonzales, who eventually seized the Binibining Pilipinas-Universe crown in 1994, making them the first mother-and-daughter tandem to ever compete in the same beauty pageant.
Recommended Article: The Inspiring Wartime Story Of A Filipina Who Died Saving Her Son
3. The "falling" Beauty Queen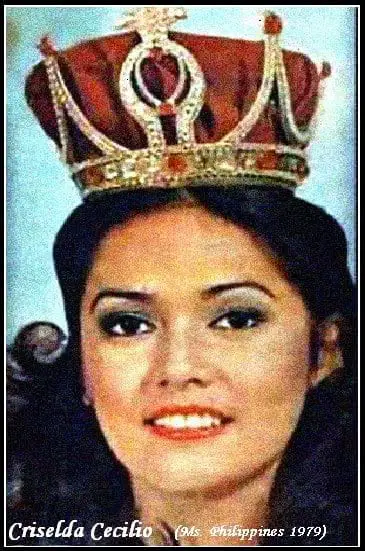 Shortly after Maritza Sayalero of Venezuela was crowned Miss Universe in 1979, dozens of other contestants, as well as members of the press, rushed towards the stage to congratulate her.
Due to overloading, a part of the catwalk collapsed, causing injuries to 20 contestants. Criselda Cecilio of the Philippines suffered bruises from the accident alongside Tahire Dermitan of Turkey and Carla Franco of Costa Rica, among others.
2. The Pinay Beauty Queen who Turned Down Ms. World Crown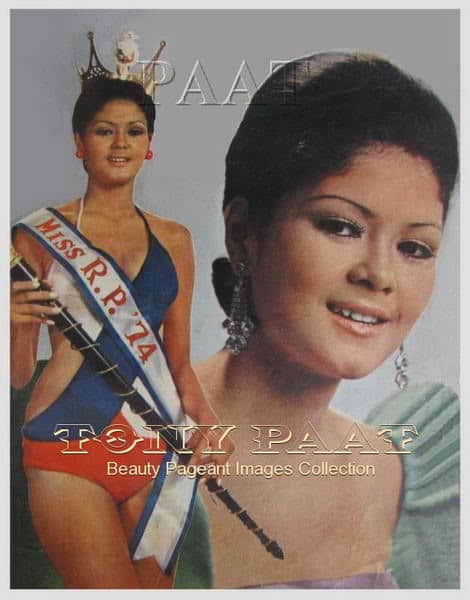 Evangeline Pascual would have been the first Asian to win Miss World in 1979 had she not refused to accept the crown. However, she had all the right reasons for letting it go.
Held at London's Royal Albert Hall, the 1973 Miss World pageant ended up in a tie between Evangeline and Miss USA Marjorie Wallace. The latter eventually won but dethroned months later for failing to fulfill her responsibilities.
Evangeline was then offered to take over the crown but refused to do so. Subsequent interviews revealed that she turned it down because she thought the competition was unfair to Asian candidates.
Besides, she would also not get the same prize that Wallace won had she accepted the offer.
1. Behind Every First Crown Was a Filipino Husband
Remember Virgilio Hilario? Turns out, he was not the only Filipino who captured the heart of an international beauty queen.
In fact, aside from Hilario (who married the first Miss Universe titlist Armi Helena Kuusela in 1953), there were also Jorge Araneta and Jose Faustino.
Araneta was married to no less than Stella Marquez Zawadski, a stunning Colombian who became the first Miss International in 1962.
Faustino, on the other hand, brought to the altar Angela Filmer, a Malaysian beauty who was crowned as the first Miss Asia in 1965. The said pageant was sponsored by the Philippine Cycling Association, the reason why it was not recognized as the first Miss Asia-Pacific Quest which started in 1968.
Selected References
Castro, A. (2009). Miss Philippines of the Manila Carnival, ANITA AGONCILLO NOBLE. Manila Carnivals 1908-39. Retrieved 23 November 2016, from https://goo.gl/dynFcd
Pinay beauty queen na tumanggi sa korona. (2009). GMA News Online. Retrieved 23 November 2016, from https://goo.gl/Rc2oRu
TVW Special Projects Department. (2009). Wa TV History. Retrieved 23 November 2016, from https://goo.gl/45LVb9