If you're a certified foodie who wants to build a business around your culinary passion, a catering business in the Philippines can be a good starting point–minus the huge startup capital.
Curious how to actually start a catering business in the Philippines from scratch? This quick guide is for you!
Go back to the main article: Best Small Business Ideas in the Philippines with High Profit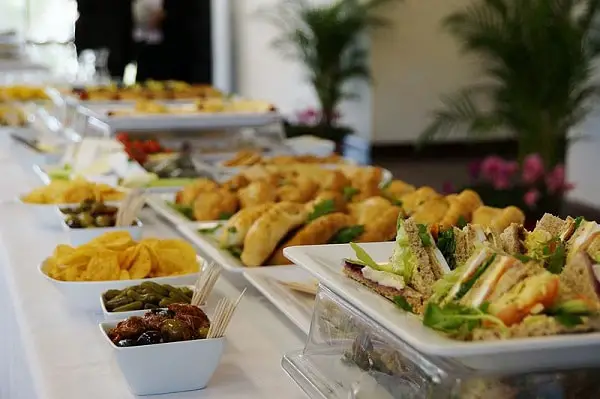 Ideal for: Restaurant owners, waiters, and anyone with passion and experience in food service.
Capital: Php 20,000 to Php 50,000 and above.
Pros: With a small capital, you can start a catering business in your own kitchen to save on rental fees.
Cons: Labor-intensive especially during the initial stages when you still can't afford to hire your own staff.
Table of Contents
How To Start a Catering Business in the Philippines: 7 Steps.
1. Make Sure Your Culinary Skills Are Up to Snuff
According to Daniel Jacinto, chairman of the Food Caterers Association of the Philippines (FCAP), the type of training you need will highly depend on the type of market you want to serve.
For high-end or niche catering that serves dishes atypical of the Filipino menu, you need to enroll in a specialty cooking class especially if you don't have prior experience.
If you're already familiar with the dishes you're going to serve, and your target market is more on the lower-end, you can get by even without formal training. A good recipe book and online research may be enough to upgrade your recipes.
2. Register Your Business
Register your business and secure permits from the Bureau of Internal Revenue (BIR) and the Department of Trade and Industry (DTI).
Related: How to Register a Business in the Philippines: The Ultimate Guide
3. Write Your Catering Business Plan
You don't have to crank out 20 pages of boring facts like you would for a business with high capital. A catering business plan is simply a document that will serve as your compass that will help you navigate this industry.
Don't forget to include the following information in your business plan:
a. Type of catering business (Will your serve packed lunches or specialize in wedding receptions?).
b. Target market (How many people can you serve at a time and where can you find them?).
c. Menu packages for different occasions.
d. Catering equipment you need, depending on the menu and the nature of the celebration.
e. Car/vehicle/transportation to help you deliver your stuff to and from your client's reception venue.
f. Chairs and tables (Will you rent or buy your own?).
g. Suppliers.
h. Marketing/advertising to help spread the word about your catering business.
4. Start Small
A catering business won't become profitable overnight. The first few months will be a struggle as you slowly build your client base. However, it is from your first few customers where the referrals will come from that's why you need to leave a good first impression.
Since your catering business isn't yet established, start by opening a small eatery or carinderia where people can try your food. From there, you can offer your services to close friends or relatives who will be celebrating baptismal, birthdays, weddings, and other celebrations that require good food.
5. Know the best practices to keep the cleanliness and safety of the food you serve
When you have a catering business, the food you serve is your greatest marketing weapon. You want to leave a good first impression to get new and repeat clients.
Make sure the foods you serve are of the highest quality in terms of taste and sanitation. You simply can't afford to mishandle them.
The type of food preparation will depend on the whether the venue is inside the caterer's establishment (on-premise) or in the client's preferred venue (off-premise).
On-premise catering means you can cook the dishes a few hours before the guests arrive. You're not as time-pressured because the kitchen and the venue are in the same location.
Off-premise catering, on the other hand, requires the food to be pre-cooked because transporting it to the venue will eat up a lot of time.
6. Hire Your Catering Staff
If you're just getting your feet wet in the catering business, hiring up to five people should be enough to get you started. The catering staff may include the chef, servers, event planner, supervisor, driver, busboy, and dishwasher.
Again, this is only possible once you can afford to get extra help. Otherwise, you can do everything on your own or with the help of an assistant.
You can start by selling packed lunches in schools/offices or having your own food delivery service. This way, you can establish a good client base.
Remember, the first few people whom you'll serve are critical because they will help promote your business through word of mouth.
7. Create Your Own Style 
To stand out in the catering business, you should establish your own style and brand of cooking. Even simple Filipino dishes can be transformed into gastronomic delights through creativity.
Whether it's innovative on-the-spot-cooking or something else, maintain consistency in everything you do so people will remember your business and refer it to their friends.
Tips and Warnings
Focusing on serving high-quality food all the time.
Be customer-oriented. Go the extra mile for all your clients. Their satisfaction is what will keep your catering business in the Philippines alive. More referrals through word of mouth only mean one thing: You're doing it right!
Prepare to make sacrifices. You can only start to relax once you have a staff to manage the bulk of your business. But until then, you'll experience sleepless nights and less time with your family as you slowly build the business from the ground up.
Get used to wearing different hats. As the business owner, you'll not just find and train the right people, but also function as an accountant, secretary, bill collector, and marketing representative.
Constantly upgrade your catering equipment, facilities, and strategies. Take customer feedback seriously; it's a goldmine of opportunities to make your business better.
Succeeding in the catering business in the Philippines takes more than outstanding cooking skills. You also need, among others, a great people skill which will allow you to book more clients and keep a long-term relationship with them.
Invest in your people. A catering business in the Philippines that constantly loses its employees is a recipe for disaster. The more you pay and treat them well, the more they'll love their jobs. At the end of the day, having happy employees means less time spent on hiring and training new people.