Last Updated on 07/05/2021 by FilipiKnow
DTI business registration may be the easiest of the four-part business registration process. But it doesn't mean it's the least important.
Your business name is the unique identifier that will separate your sole proprietorship from other businesses. If you want to take advantage of your unique business name and use it as your trade name as well, you need to know that DTI business name registration precedes the more complicated process of trademark registration.
In other words, you can't own a trademark unless you register it with DTI first.
In this simplified guide, you will learn how easy it is now to register your business name with DTI from the comfort of your own home.
What is a business name?
According to the Department of Trade and Industry (DTI), a business name is the name you give to your enterprise that is different from your birth name and shall be used in any transaction connected to your business.
This business name will appear on any written or printed receipts, written or printed evidence of business transaction, or any sign or billboard announcing the business.
In order to be registered with DTI, your business name must have a:
Dominant Name: This is the main portion of your business name and is usually composed of a word, group of words, or a mixture of numbers and letters.
Business Name Descriptor: This describes the nature of your business and gives people an idea of what kind of product or service you're selling.
For example, in the business name Stone Press Content Writing Services, the Stone Press is the dominant portion while the Content Writing Serives is the descriptor that gives a clue to what the business is all about.
Is business name different from trade name?
Yes. Whereas the business name is your business's legal name that will appear on all business and government paperwork, its trade name is what the public will see through your marketing and sales activities.
Think of the business name as your birth name while the trade name as your nickname. The trade name is what you want the public to remember and is the focus of all your branding efforts. The name Kodak, for example, is a trade name while the business behind this globally recognized brand is known legally for its business name, the Eastman Kodak Company.
Another familiar example of a trade name is McDonald's. In the Philippines, the master franchise of this multinational fast food giant is held by a company with a registered business name, Golden Arches Development Corporation.
The process of driving off imitators is also different depending on what name you're dealing with. The DTI permit only gives you permission to use the exact business name you registered, and prevents it from being copied by others. However, it won't protect your trade name, logo, product names, and other identifying marks related to your business from copycats. In this case, you need to secure a trademark for each of them from the Intellectual Property Office of the Philippines (IPOPHIL)1.
For this reason, it's important to remember that DTI business name registration should be completed before the trademark registration. This way, the trademark for your trade name or any product name, logo, or mark will be registered under your legal business name. The IPOPHIL will also require all the details of your business name registration with DTI before you can be qualified for trademark registration.
Why do I need to register my business name with DTI?
The main reason why business owners register with the DTI is that they want to use a business name other than their true given name. As per the Business Name Law (Act No. 3883)2, nobody is allowed to use any name for a business other than his/her true name unless the said business name is registered with the DTI first.
So instead of using your default business name which is your birth name (e.g., Dolly Dela Cruz), you can give your enterprise a business-sounding name like "Aling Dolly's Online Shop" by applying for a business name registration with DTI.
The added benefit of registering with the DTI is that no other business can use your business name. Again, this protection doesn't cover your trademarks which you should register with the Intellectual Property Office of the Philippines.
Take note, however, that the business name registration with DTI only allows you to use the name when conducting a business. To start operating the same business, you also need to secure a business permit and other related documents discussed in this business registration guide.
Who can apply for DTI business registration?
Generally, any person running a sole proprietorship who is at least 18 years old can apply for a DTI business permit.
Foreign nationals who wish to engage in business here in the Philippines must present/upload a Certificate of Authority to Engage in Business in the Philippines during the application.
Meanwhile, if the business is a partnership or a corporation (including one-person corporation), business name registration is done with the Securities and Exchange Commission (SEC). DTI business registration is also not necessary if you're a freelancer or a professional who earns money by providing services to clients.
What are the DTI business registration requirements?
For online applications, there are no requirements to be presented. But for walk-in applications, you need to present a valid government ID.
How much is the DTI business name registration?
The registration fee depends on the territorial scope you picked.
The territorial scope determines where you could establish a branch and/or a sales office. So if you picked 'Barangay', you can only establish an office in your barangay while for 'National', you could create a branch or a sales office anywhere in the Philippines.
The following list shows the corresponding fees for each territorial scope:
Barangay: Php 230
City/Municipality: Php 530
Regional: Php 1,030
National: Php 2,030
*All amounts are inclusive of the 30-peso documentary stamp tax
What are the guidelines for choosing a business name?
The Department of Trade and Industry (DTI) requires that the business name: 
must describe the nature of your business;
consists of any alphabets, numbers, and/or punctuation marks in English or Filipino;
not a term or word or group of words that connote activities or norms that are unlawful, immoral, scandalous or contrary to propriety (e.g. Boobs Massage & Spa);
not a name, words, terms or expressions used to designate or distinguish, or suggestive of quality, of any class of goods, articles, merchandise, products or services;
not those that are registered as trade names, trademarks, or business names by any government agency authorized to register names or trademarks;
not a name that is inimical to the security of the State;
not composed purely of generic word or words (e.g. The Drugstore, Health Care Clinic);
not a name which by law or regulation is restricted or cannot be appropriated (e.g. Red Cross, Red Crescent, ISIS);
not officially used by the government in its non-proprietary functions (e.g. NBI Private Investigation Services, PNP Security Agency);
not a name or abbreviation of any nation, intergovernmental or international organization unless authorized by a competent authority of that nation, inter-government, and international organization;
not ordered or declared by administrative agencies/bodies or regular courts not to be registered;
not a name of other persons; and
not deceptive, misleading, or misrepresenting the nature of the business ("GOLD Construction Services" where the nature of business is recruitment).
How to Apply for DTI Business Registration: A Step-by-Step Guide.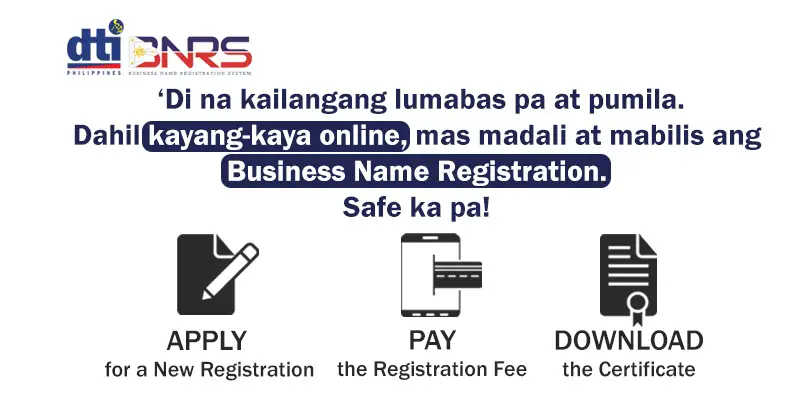 Thanks to the newly-launched BNRS Next Gen, sole proprietors can now use an online portal to submit their business name applications, pay the fees, and download the Certificate of Business Name Registration without leaving their homes.
By eliminating bureaucratic red tape, this online portal has encouraged a lot of sole proprietors to register their businesses. By the end of 2020 alone, a total of 88,000 online businesses registered3 not in spite of but because of the pandemic that prompted DTI to strengthen its online registration system.
To register your business name4 online with DTI, you must follow these steps: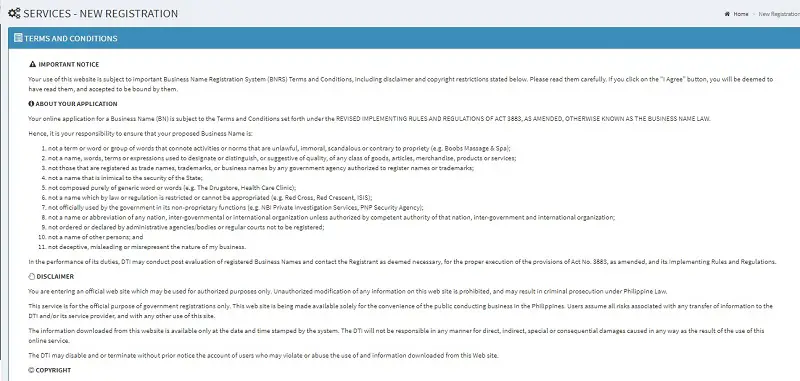 Read the Terms and Conditions then click "I Agree".
2. Accomplish the 'Owner's Information' form and click 'Next'.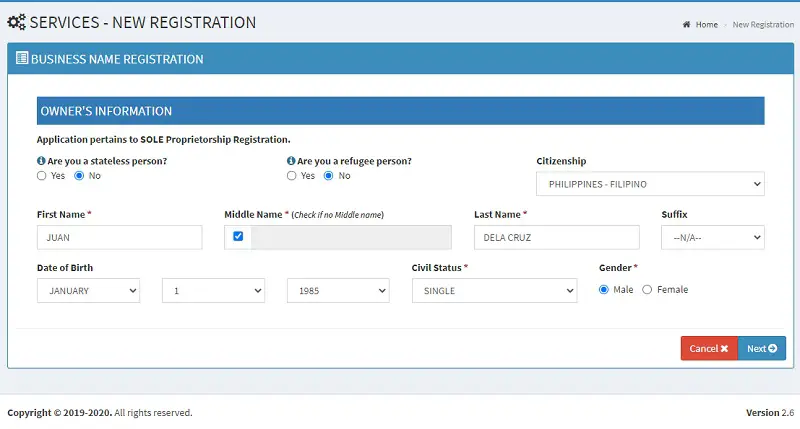 Note: Applications filed by non-Philippine nationals, recognized refugees, and stateless persons shall be processed only upon submission of the applicable supporting documentary requirements at any DTI Office and payment of applicable fees.
3. Click 'Proceed' after the pop-up.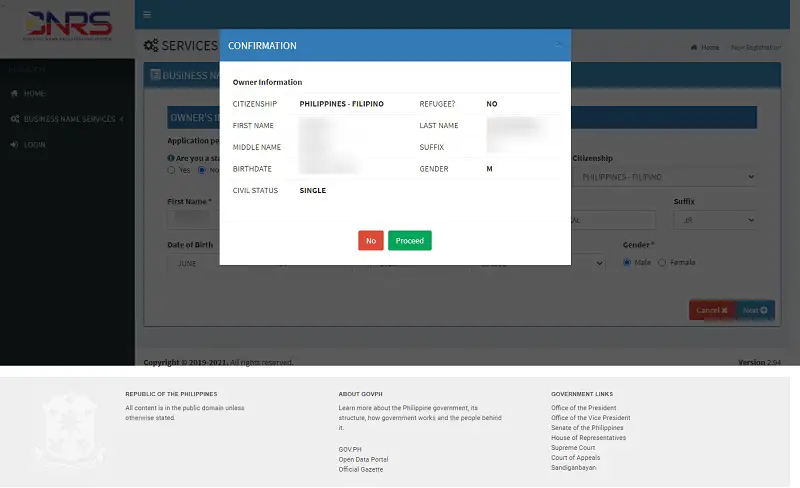 4. Identify the business scope.

The business scope determines where your business can operate. 
Choosing 'National' allows you to establish branches, stores, and offices anywhere in the Philippines. But if you are home-based (e.g. online sellers and freelancers) and do not plan to set up physical stores soon, it is advisable to only pick 'Barangay' since it is cheaper.
5. Select a 'Dominant Name'.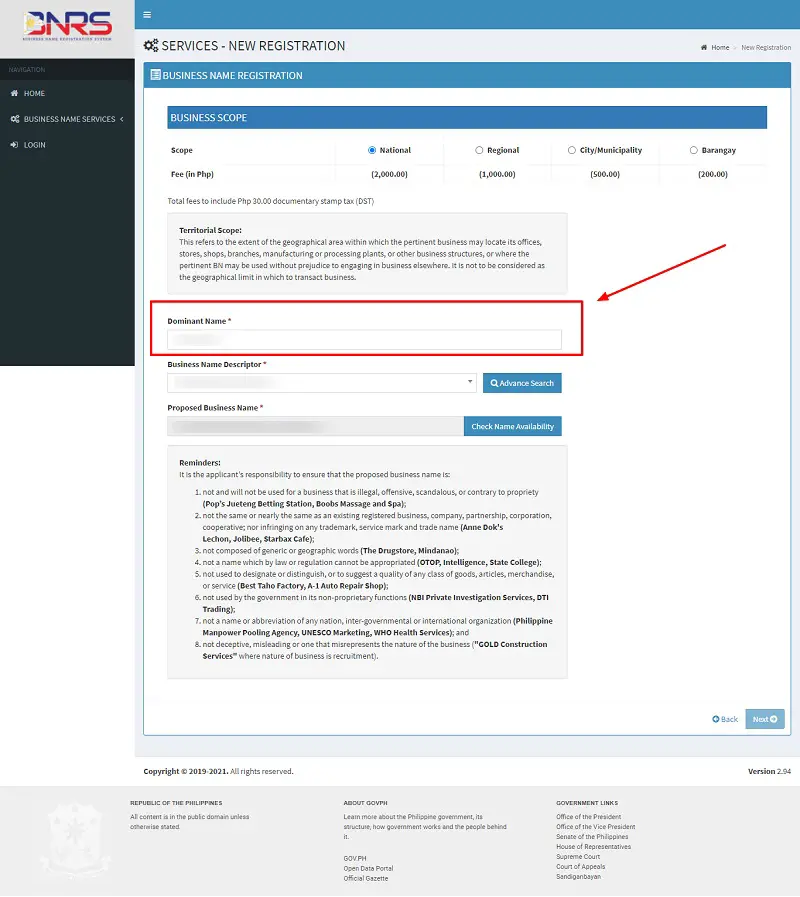 Dominant Name is the name you'd like for your business (e.g. Aling Nena's).
6. Select a Business Descriptor.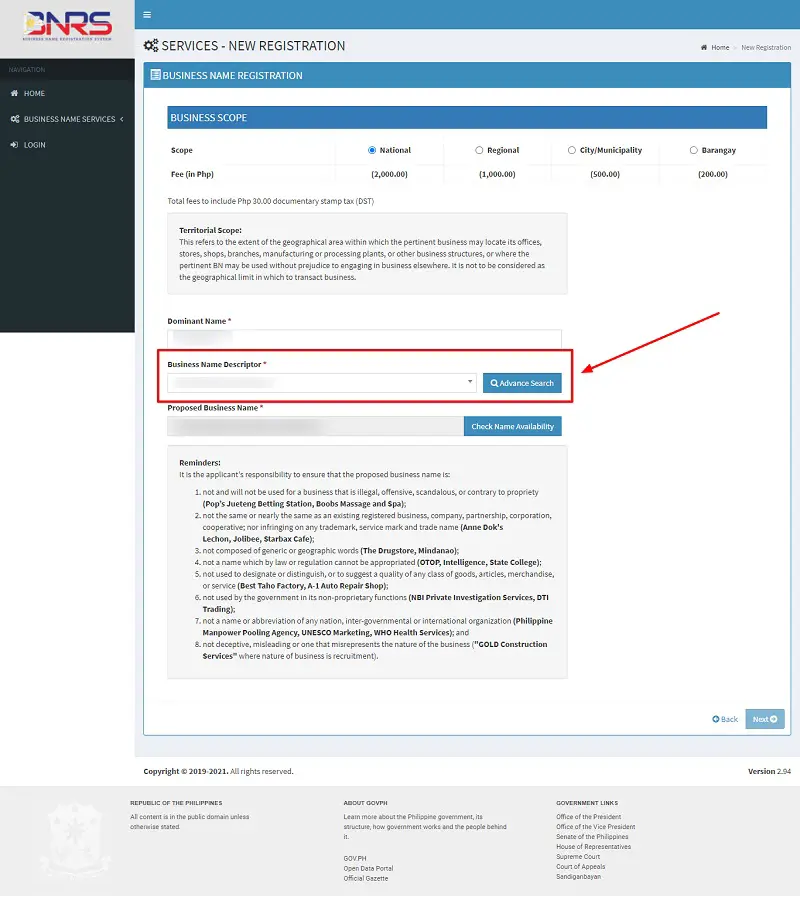 This allows immediate recognition of what your business is doing (e.g. Online Shop).
7. Check Name Availability.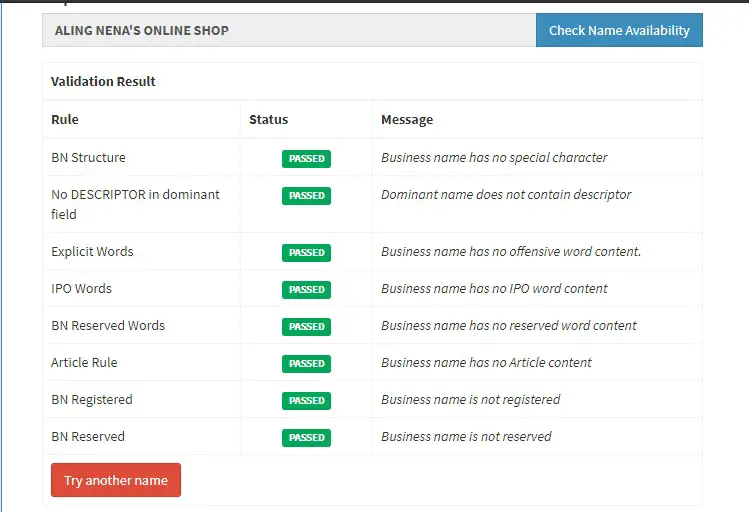 This allows the applicant to determine if the business name is viable. 
Note: Sometimes it is buggy and shows "Result not yet processed. Please click the check name availability button." If this happens, just click the validate button again.
8. Confirm Details and you will be assigned a reference code.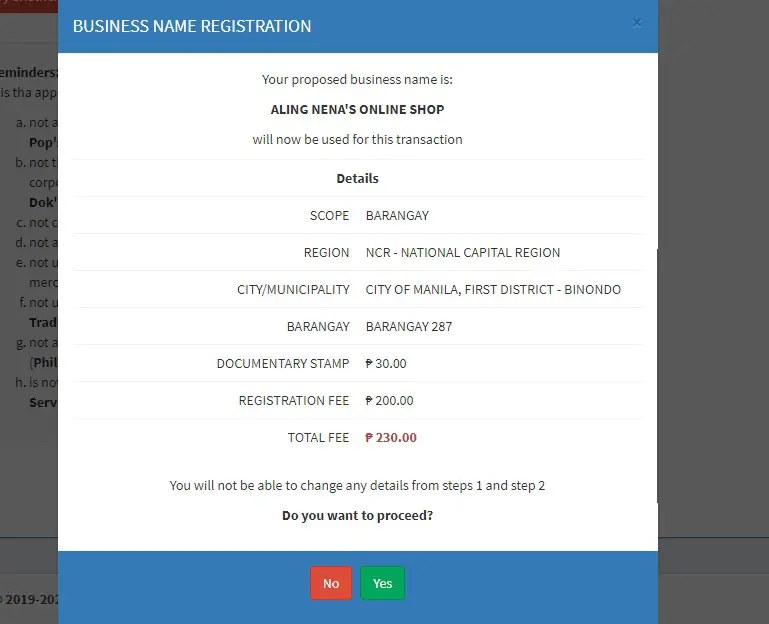 9. Fill-out Business Details.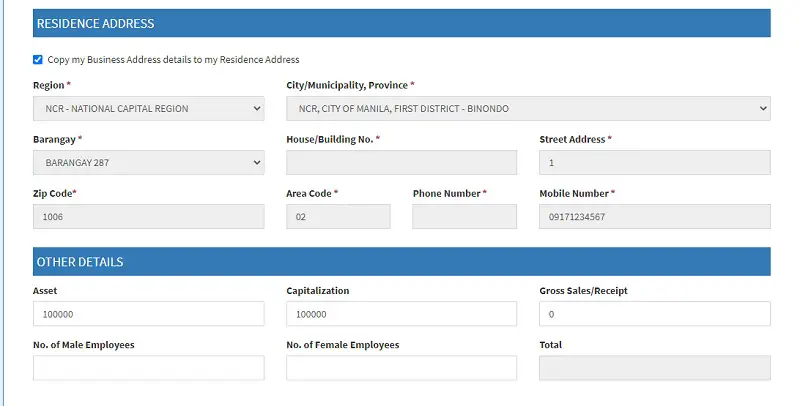 Assets are all properties owned by the business while capitalization refers to the amount of cash you are investing in the company. 
10. Review all details and make sure that there are no typographical errors or false information.
11. Confirm Details.

12. Pay the registration and transaction fees.
This must be done within 7 days of application, otherwise, the reservation of the business name shall be revoked.
It is recommended that you pay using either GCash or PayMaya since the payment is made in real-time and will be immediately processed by the DTI. 
13. Receive and Print the DTI Certificate.
You will receive the certificates and permits once the payment has been processed. You must print the documents in colored ink.
14. Download the certificates at 'Transaction Inquiry'.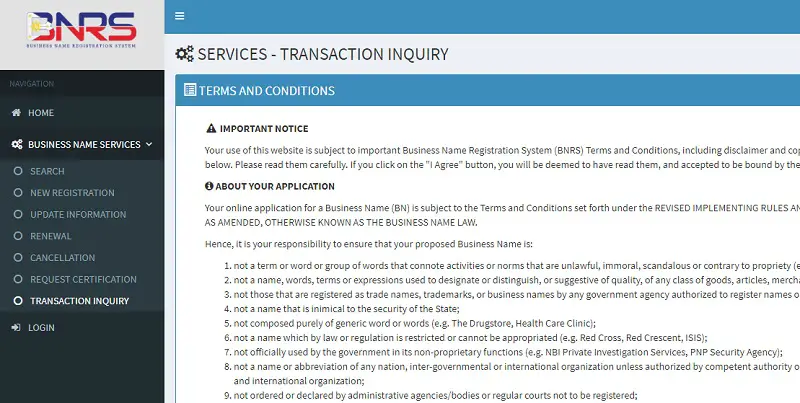 You may download your certificate by typing in your Reference Code found in Transaction Inquiry. 
A verification code will be sent to the email address you provided in your registration. Use the verification code to access the Transaction Summary. From there, you can access your certificate in Downloadable Contents.
Frequently Asked Questions.
1. After printing the certificate, do I need to go to the DTI office for authentication?
No. Upon receipt of the certificates and permits, you may immediately use the same for other business transactions e.g. BIR Registration and Business Permit Registration. 
2. I'm a freelancer/online seller, do I still need to register my business? 
Yes. As long as you are regularly earning from a source that is not under an employer-employee relationship, you should register your business.
However, if you're professional providing services to your clients, you may skip this step and proceed to the BIR Registration and subsequently secure a business permit. 
3. How can I check if a company name is available in DTI?
You can check the availability of a business name here.
Note that you should also include the descriptor in the search box (i.e. Captain Barbell Online Shop).
4. Aside from the DTI business registration, what else should I secure to start my business correctly?
Please refer to this article for a more in-depth business registration process.
References.