Last Updated on 09/11/2020 by FilipiKnow
SEC business name registration is a mandatory requirement for entrepreneurs who will start a corporation or partnership business. If you're a sole proprietor/self-employed individual, this guide is not for you; go to our DTI registration guide instead.
This article shows a step-by-step guide to SEC online registration that will help you register your company name without all the hassles.
Go back to the main article: How to Register a Business in the Philippines: The Ultimate Guide
For one person corporations.
1. Fill out letter consent, cover sheet, and the articles of incorporation.
Free downloadable templates/forms:
2. Notarize the documents.
3. Apply for a corporate name using the application form provided in the link.
Corporate names are used by corporations when transacting with other persons and businesses. 
4. Pay the necessary fees indicated in the payment assessment form.
Filing Fees
Research Fees
Name Reservation
 Documentary Stamp Tax on registration
Documentary Stamp Tax on the original issuance of shares
5. Submit the following manually to the SEC Branch of choice within 30 days of payment.
 Articles of Incorporation;
Letter consent of the nominee;
 TIN of stockholder;
Cover Sheet.
6. Claim certificate of incorporation.
7. Appoint Nominee, Treasurer, and Secretary within 15 days of receipt of the certificate of incorporation. 
For domestic stock corporations (Regular Lane).
2. Select transaction type "Register New Company".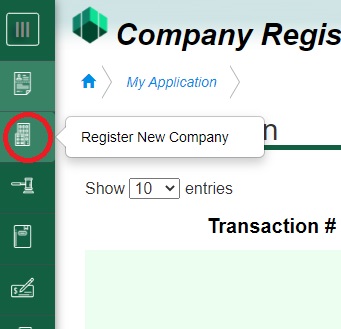 3. Accept Terms and Conditions.

4. Define Company Type.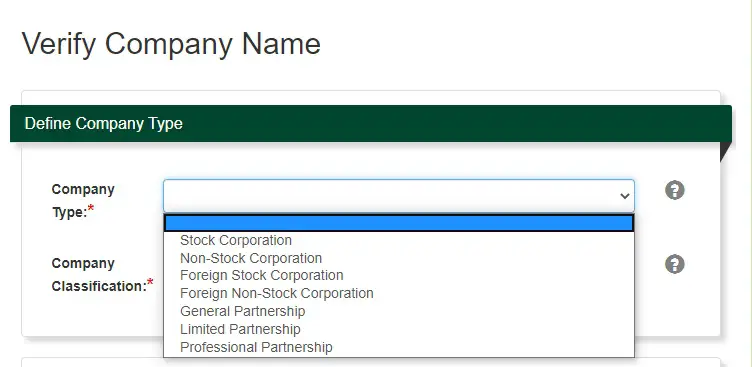 Definition of terms:
Stock Corporation – This is the most common form of corporation. This just means that the ownership of its shareholders are represented by stock certificates. 
Non-Stock Corporation – This is a form of a corporation that does not issue stock certificates to its owners. 
Foreign Corporation – This form of corporation is created in a foreign country which intends to do business in the Philippines. 
General Partnership – This is a type of partnership which allows its creditors to go after the personal assets of the partners. 
Limited Partnership – This is a type of partnership which protects the assets of its limited partners. The creditors of this kind of partnership can only sell the personal assets of the general partner. 
5. Select Company Classification.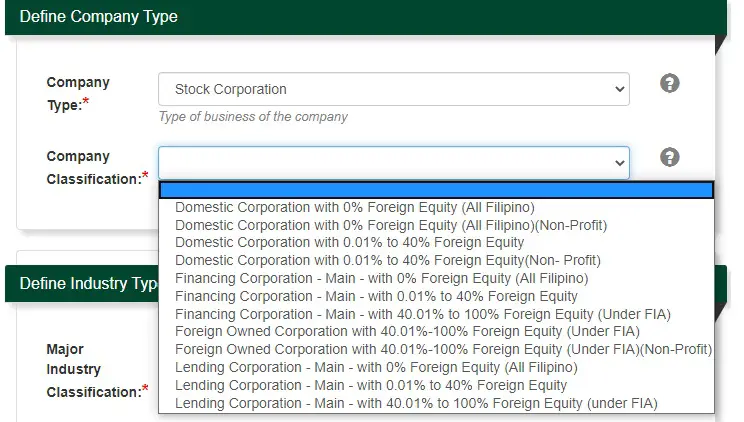 This basically determines if your corporation/partnership is required to have a secondary license and special permits. Financing, lending, and foreign owned corporations require additional documents to be submitted to the SEC. 
6. Define Industry Type – This will depend on your business model.

7. Reserve Company Name.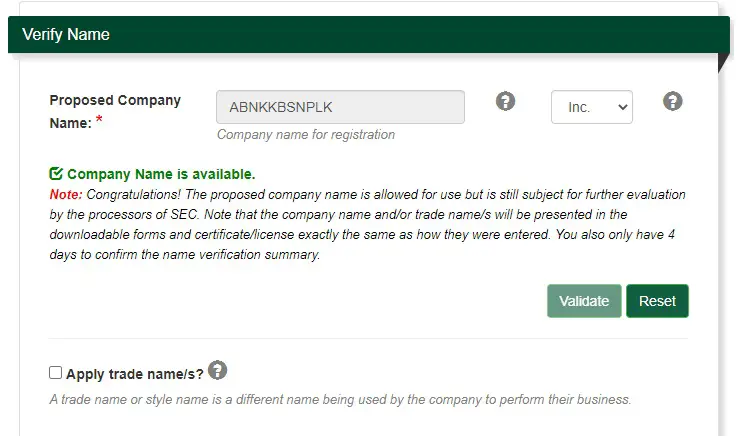 8. Select SEC Main Office for LEAP, otherwise select SEC Branch Near you.
9. Confirm Verification Summary.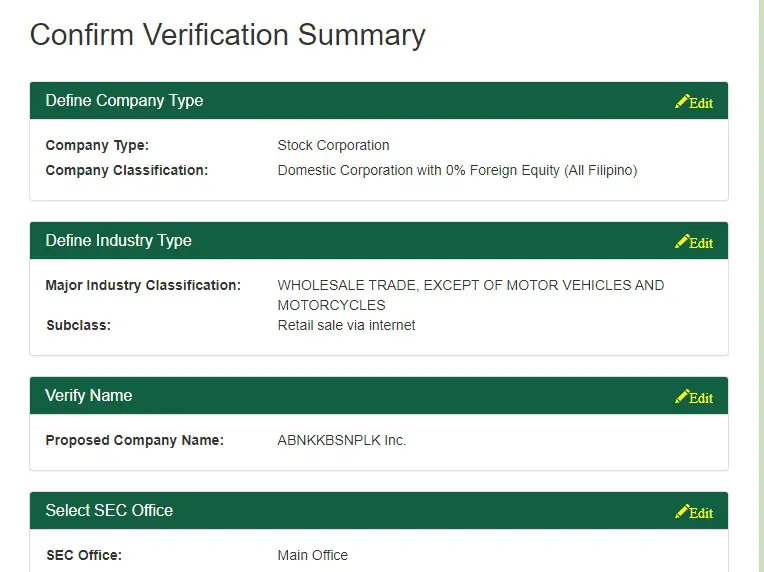 10. Add Company Information.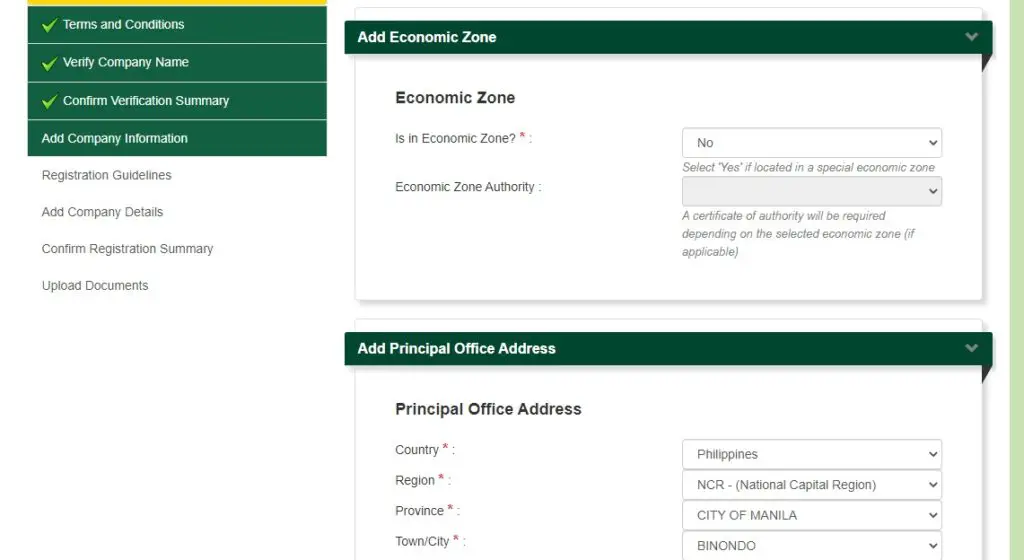 If you are a regular corporation/partnership, chances are you are not in an economic zone. 
11. Read the registration guidelines and proceed.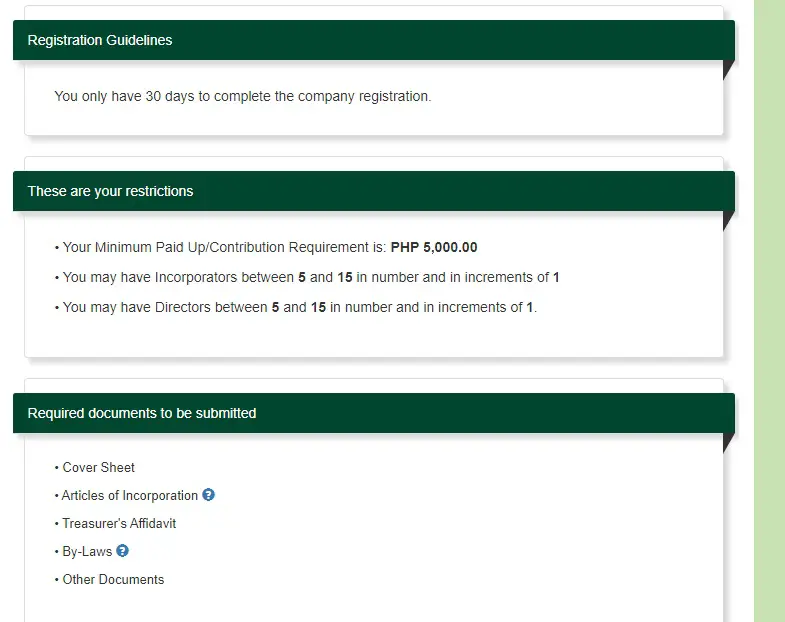 All documents shall be provided by the system
12. Select purpose.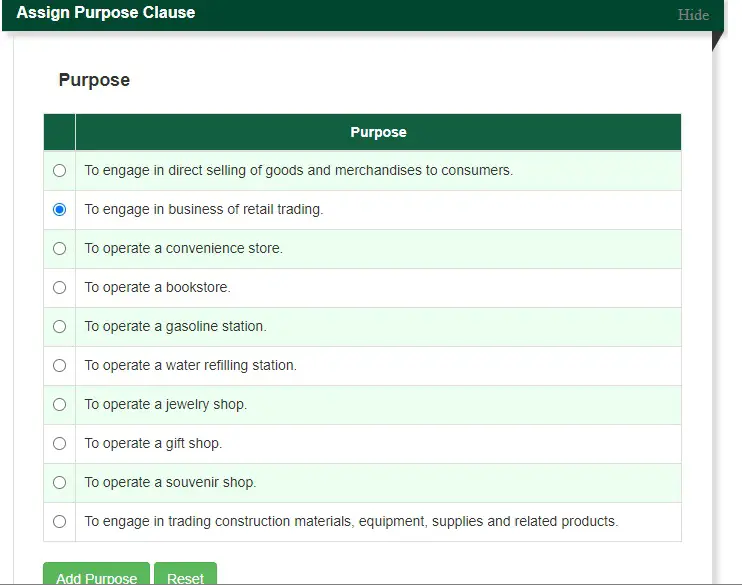 If you do not see your company's business purpose, you may select add purpose and edit it yourself
13. Edit Capital Structure.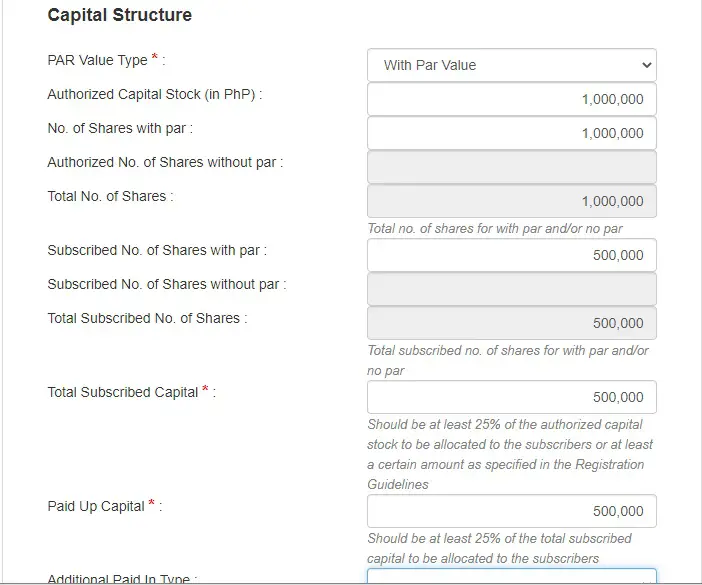 Definition of terms:
Par Value – This states the value of each share of stock
Authorized capital – This represents the maximum number of shares a corporation can issue. This may be increased by amending the articles of incorporation. 
Subscribed with Par – This is the amount of subscribed shares (shares that are not yet paid but are reserved for a person) that have par value.  
Total subscribed capital – This represents the total number of shares that have been subscribed. It is required that at least 25% of the authorized capital is subscribed. 
Paid up capital – This represents the amount paid by subscribers.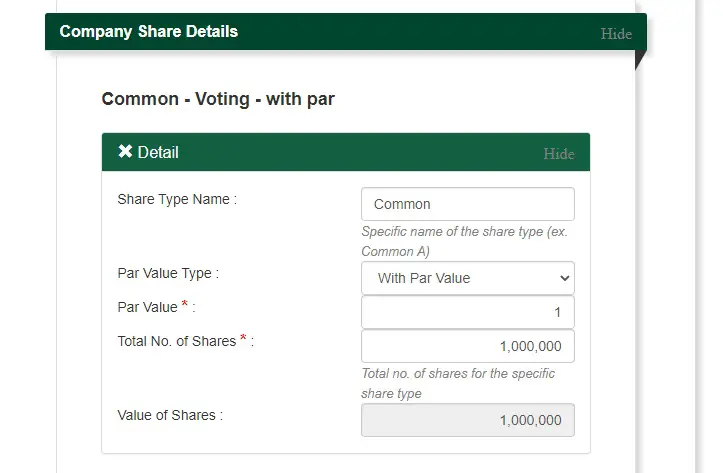 This allows the incorporators to classify the authorized capital and limit the number of 'decision makers' in the corporation. 
Voting vs. Non-Voting Shares – as the name implies, voting shares have the ability to change company policies and influence decision making while non voting shares are merely there to collect dividends. 
15. Define Payment Terms.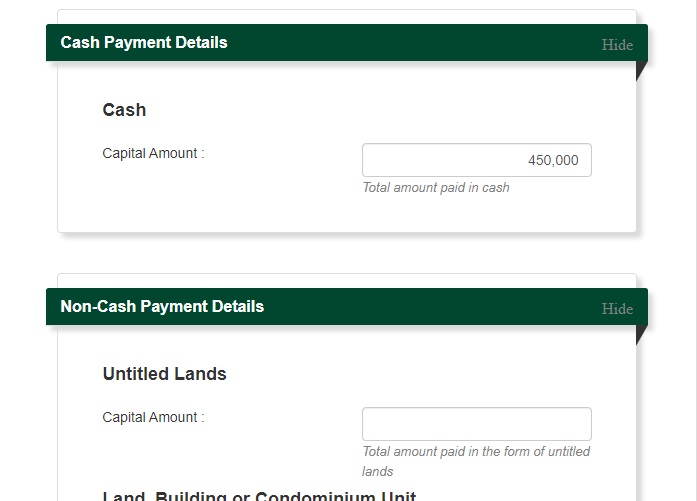 This discusses how the subscribed capital will be paid.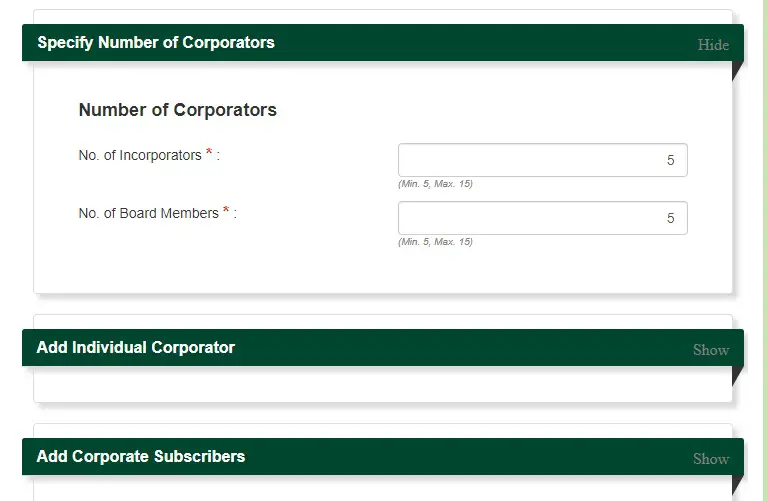 Definition of terms:
Incorporators – These are the pioneers or the founders in charge of setting up the corporation
Board members – These are shareholders that handles most of the decision making of the corporation
Officers – These are individuals that are elected to handle the day to day operations of the corporation and other legal matters. 
Subscribers – These are entities that reserved their right to own a stock of the corporation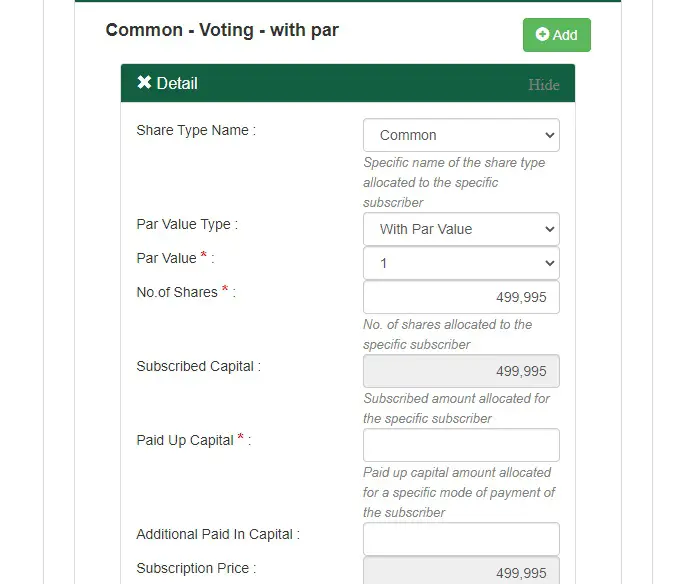 It is advisable to equally distribute subscribed shares per incorporator.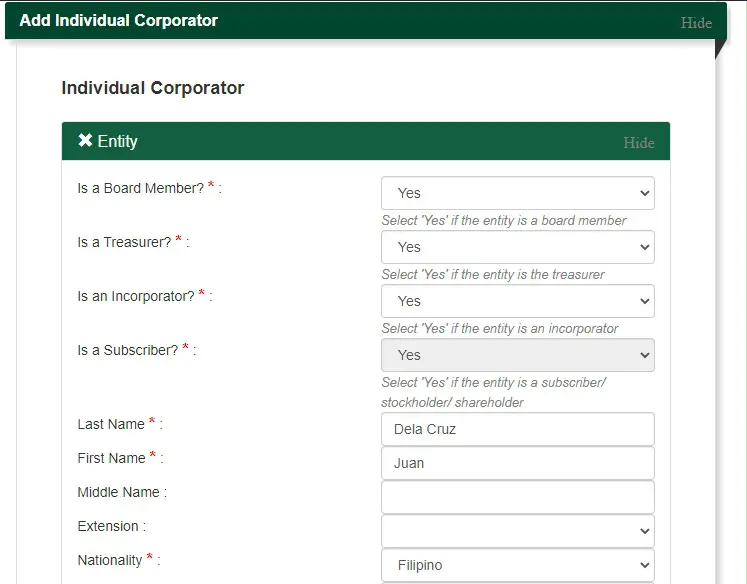 18. Add contact person in case the SEC wants to communicate with the corporation.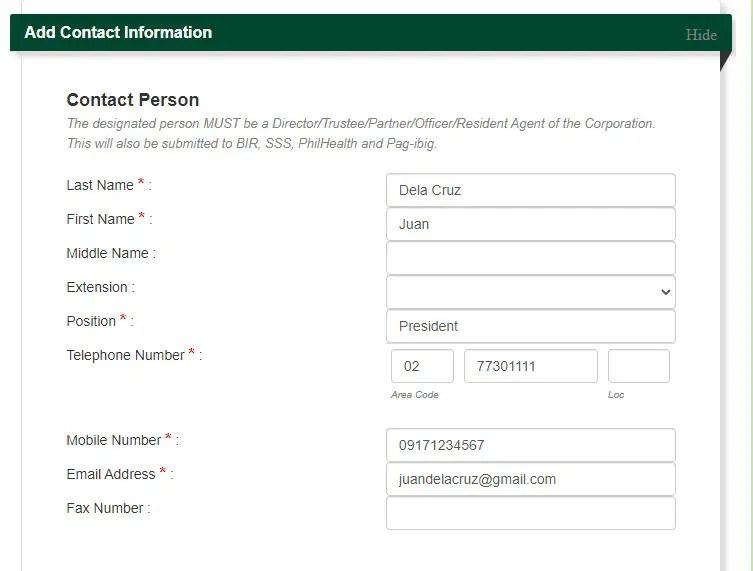 19. Add Business Activity.

20. Add by-laws.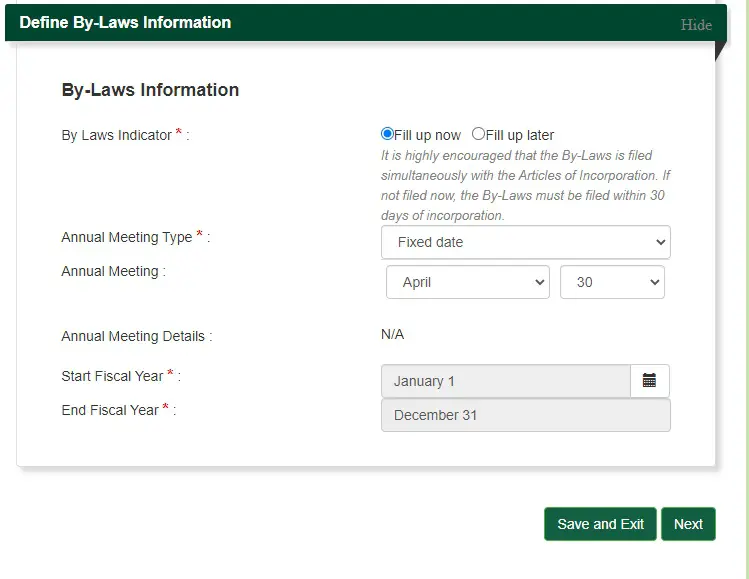 The components of which depends on the incorporators.
21. Confirm Registration Details.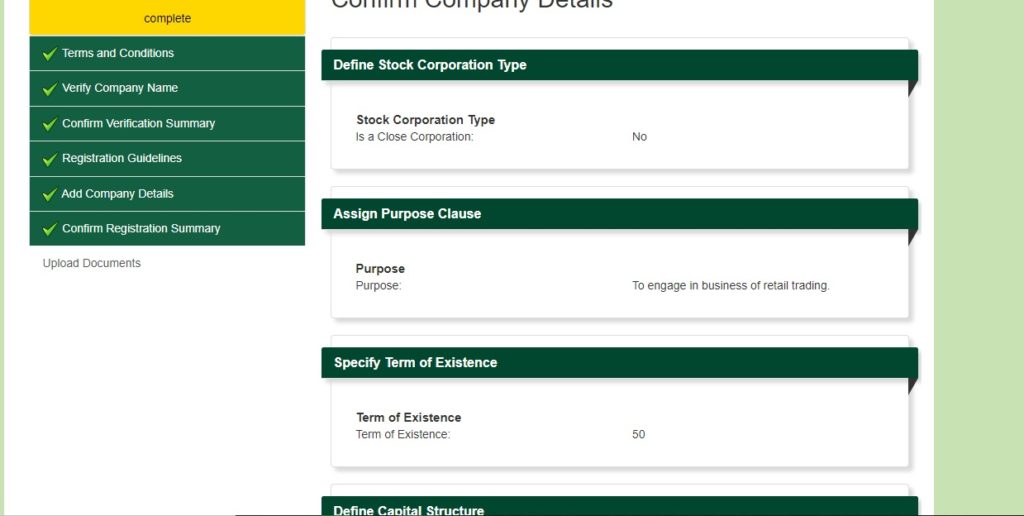 22. Download the documents and double check information.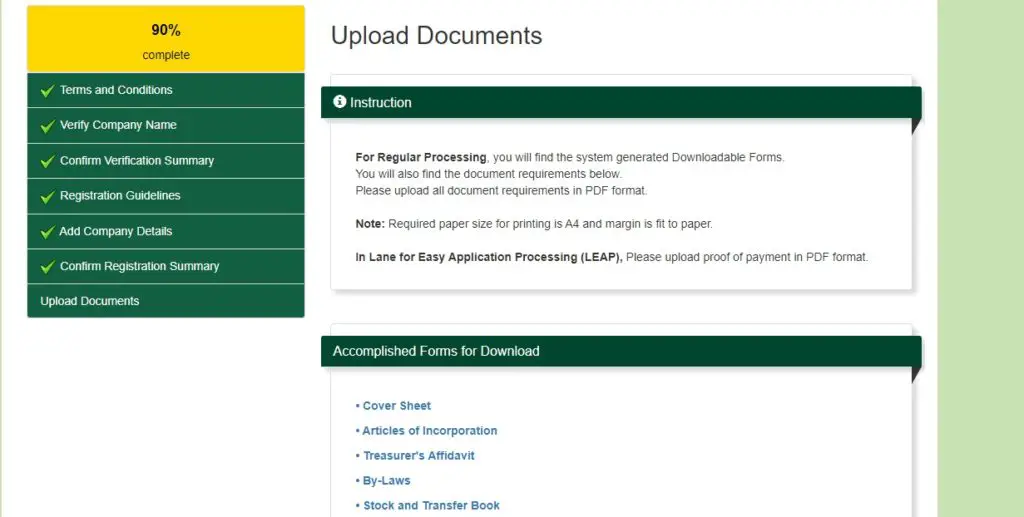 23. Upload the same documents.
24. Claim Certificate of Incorporation.
For partnerships.
The process of creating a partnership is similar to that of a corporation. The differences are:
The minimum amount of contribution for partnerships is Php 3,000;
The minimum number of organizing owners is 2 while corporations require at least 5 incorporators;
An industrial partner is allowed to not contribute anything to the creation of the partnership while incorporators are required to have at least 1 share.
Frequently Asked Questions.
1. How can I avail the 1-day SEC processing?
Lane for Express Application Processing (L.E.A.P) applications are only available for incorporators that submitted hard copies at the SEC Head Office located at PICC. 
2. How do I appeal my corporate name?
The option to appeal the proposed SEC Company name is available using the CRS. All you need is to upload your letter of appeal and you will be notified by email whether or not your appeal has been granted.
 You may use this template for your letter.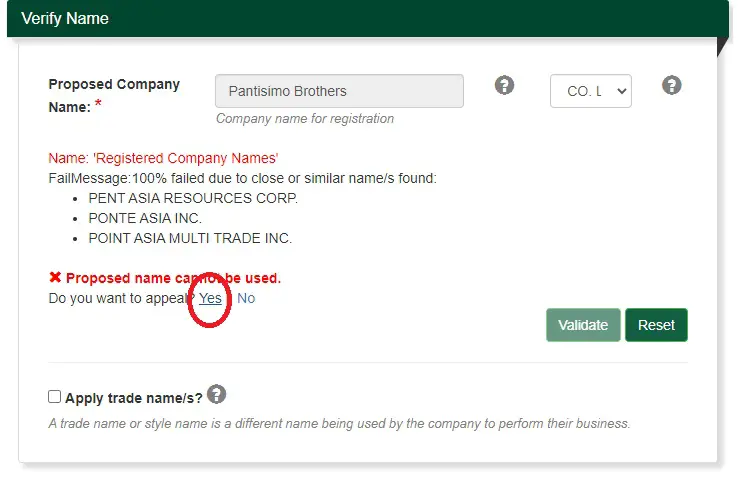 Related Article: How to Start a Business in the Philippines: The Complete 15-Step Guide