Last Updated on 12/29/2020 by FilipiKnow
Tired of going to the nearest payment center every month just to pay your bills and government contributions? Why not learn how to use GCash instead?
Touted as a convenient "mobile wallet" and a good alternative to debit cards, GCash enables you to do almost any transaction with just a few taps on your mobile phone.
But is this mobile payment innovation really as good as it's cracked up to be? Learn how to use GCash and discover what the experience is like–from initial registration to your first-ever cashless transaction.
Related Article: How to Load GCash: Different Ways to Fund Your Mobile Wallet
What is GCash?
In simple terms, GCash is mobile money or "e-money" that allows you to pay bills, send or receive money, buy load, shop online, book movie tickets, and more with the use of your smartphone.
Through a "mobile wallet," you get to do all these transactions anytime and anywhere without the need to withdraw money. Compare that to carrying cash in your pocket which has a higher risk of getting lost or stolen.
GCash also ensures its users that going cashless through their platform is safe as they are licensed and regulated by the Bangko Sentral ng Pilipinas (BSP)1. 
How to Use GCash in 4 Easy Steps.
1. Register for a GCash account.
If you don't have an account with GCash yet, it's time to create one so you can start using its services.
Registration can be done in four ways: through the GCash website, GCash mobile app, Globe *143# SIM menu, and Facebook messenger.
a. GCash Registration via the GCash website.
If you prefer to use a laptop or desktop, proceed to the GCash registration page and follow the instructions below:
Click "Register" on the landing page.
Click "Proceed to GCash Registration" to start the transaction.
Enter your mobile number. Take note that GCash is now open to all networks, not just Globe and TM subscribers. Click "Next" to proceed to the next page.
Provide the 6-digit authentication code sent to your mobile number for verification purposes. Click "Submit Code" to complete the process.
Fill out the GCash Registration form with your personal details which include your full name, birthday, home address, and email address. Click "Submit" to proceed to the next page.
Set your 4-digit mobile PIN or MPIN. For security reasons, avoid choosing your birth date or other number combinations that are easy to guess (e.g., 1234, 1111, etc.)
Once the registration is complete, you'll be directed to a page with a QR code. Scan the QR code with your mobile phone to download the GCash app. If you're lucky, you might receive freebies upon logging in.
After logging in to the GCash app with your mobile number and MPIN, you can now cash in and start using GCash.
b. GCash Registration via the GCash app.
For quicker registration, you can also download the official GCash app and do the following:
Open the GCash mobile app.
Provide your mobile number. Again, GCash is open to all networks, not just Globe and TM. Click "Next."
Enter the 6-digit authentication code sent to your mobile phone. Click "Submit Code."
Read and accept the Terms and Conditions. Fill in the information requested in the GCash Registration form like your name, birthday, address, and email address.
Set your 4-digit mobile PIN or MPIN which you'll use in all your future GCash transactions.
c. GCash Registration via the *143# Menu.
You can also register through text for free by following the steps below:
Dial *143# on your mobile phone.
Enter the number that corresponds to "GCash." Click "Send."
Enter the number that corresponds to "Register." Click "Send."
Provide your 4-digit MPIN and your personal information such as name, birth year, and address.
Expect to receive a text message confirming that your registration is successful.
d. GCash Registration via Messenger.
For those who regularly use Messenger, you can also register for GCash through this app.
Search for @gcashofficial.
Click "Start an Account."
Enter your mobile number (any network) and click "Continue."
Read and accept the Terms and Conditions.
Expect a message confirming that your GCash account is ready.
Tap "Create PIN." Set your 4-digit mobile pin. Enter it twice.
Wait for a confirmation message that your GCash PIN has been generated.
2. Verify your GCash account.
Before you can enjoy the full services of GCash, you need to have your account verified first.
Account verification or "Know Your Customer" (KYC) is the process of validating the identity of people who use money services like GCash. It is a one-time validation procedure required by the Bangko Sentral ng Pilipinas (BSP) to ensure that you're a genuine GCash user.
There are three levels of verification:
Basic – allows you to use GCash without verification but the services available to you are extremely limited.
Partially/Semi Verified – is what you earn when you fill out a form at http://fb.com/gcashverify. With this level, you can have access to more GCash services like Send Money and Cash-Out.
Fully Verified – enables you to have access to all the GCash services such as sending money, cashing out, receiving international remittances, using GCredit, cashing in (through PayPal, debit cards, or banks), buying items with your GCash MasterCard, etc.
In addition to getting access to all GCash services, fully verified users also get the following benefits:
Higher GCash wallet fund limit of Php 100,000 (or Php 500,000 if you link your BPI/Unionbank account or any locally-issued, Mastercard/Visa-enabled debit card to your GCash wallet)
Maximum spend limit of Php 100,000 for American Express Virtual Pay.
Higher daily load purchase limit of up to Php 100,000.
Payment of bills amounting to up to Php 100,000.
How to verify your GCash account.
Step 1: Prepare 1 valid ID.
According to the GCash website, the following are the valid IDs accepted for verification purposes:
Barangay Certification
Government Service Insurance System (GSIS) e-Card
Overseas Workers Welfare Administration (OWWA) ID
Voter's ID
Overseas Filipino Worker (OFW) ID
Seaman's Book
Alien Certification of Registration/Immigrant Certificate of Registration
Department of Social Welfare and Development (DSWD) Certification
Integrated Bar of the Philippines ID
Maritime Industry Authority (MARINA) ID (Reference: BSP memorandum no. 2016-019)
Company IDs issued by private entities or institutions registered with or supervised or regulated either by Bangko Sentral ng Pilipinas (BSP), Securities and Exchange Commission (SEC) or Insurance Commission (IC)
School ID with photo (for students who are beneficiaries of remittances/Cash-In or phone-to-phone (P2P) transactions who are not yet of legal age)
Government Office and Government-Owned and Controlled Corporation (GOCC) ID (e.g., Armed Forces of the Philippines (AFP) ID)
Home Development Mutual Fund (HDMF) ID
Certification from the National Council for the Welfare of Disabled Persons (NCWDP)
There are two ways to fully verify your account–via the GCash app or through one of the various GCash partner outlets.
GCash account verification via the GCash app.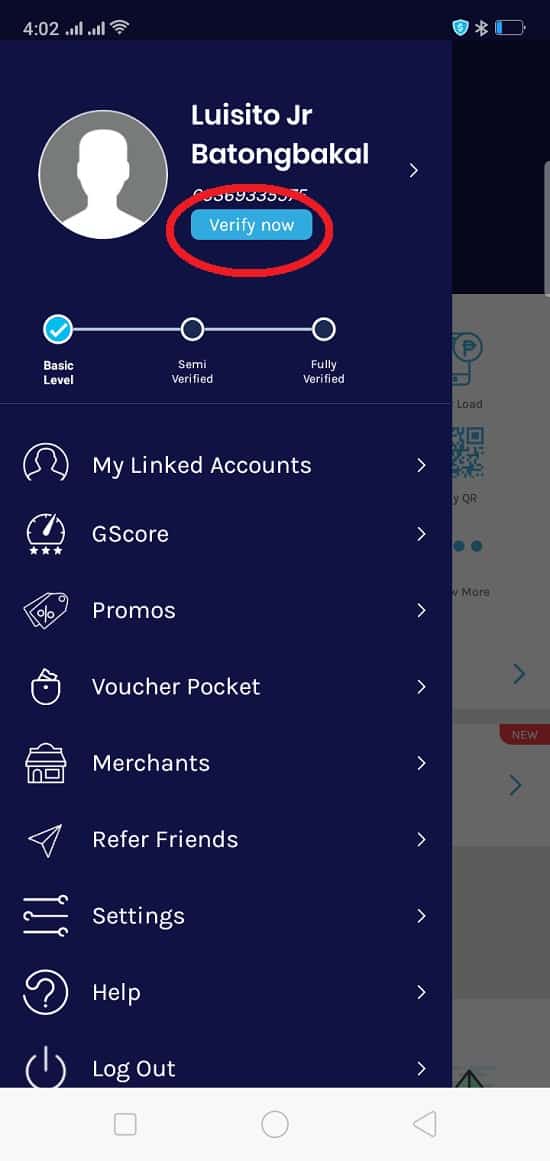 Log in to your GCash app.
Go to the menu on the sidebar and click the "Verify now" button below your full name and mobile number.
Choose between full verification or semi verification. Should you choose the latter, you can have access to some of the GCash services for only a year. I recommend that you select full verification to enjoy using all GCash features.
Select the valid ID you have on hand (see the previous section for a complete list of valid IDs accepted for GCash verification). Take a photo of your ID, making sure that it's within the camera frame.
Have your photo taken. Before taking a selfie, ensure that you're in a well-lit room and your face is positioned within the frame.
Provide any missing information in the partially filled registration form. Click 'Next' to review all the information provided. Once everything is complete, tick the box to accept the Terms and Conditions. Finally, click "Confirm."
Wait for 30 minutes for your application to be reviewed. You'll receive a text message confirming that your GCash account has been fully verified.
GCash account verification via a Partner GCash Outlet.
Go to the nearest Globe store or any GCash partner outlet like Villarica Pawnshop and Tambunting Pawnshop.
Fill out and submit the GCash form for account verification.
Have your photo taken.
Wait for a confirmation message via text that your account has been verified and that you've been included in the KYC database.
3. Load your GCash wallet.
A newly registered and fully verified GCash account has a monthly wallet limit of Php 100,000 each for cash-in/incoming and cash-out/outgoing transactions.
In other words, you can spend as much as Php 100,000 worth of incoming transactions (e.g., cash-in, receive money, etc.) and Php 100,000 worth of outgoing transactions (e.g., cash-out/withdraw, online purchases, etc.).
The monthly wallet limit of the incoming transaction is different and separate from that of the outgoing transaction; it's not combined as the earlier version of this guide erroneously assumed.
Therefore, if you already spent Php 1,000 to buy items online (outgoing), the remaining amount that you can send this month is now only Php 99,000. On the other hand, after cashing-in Php 10,000 (incoming), the remaining amount you can cash-in before you exceed your monthly cash-in limit would be Php 90,000.
Update: In June 2020, GCash has revealed that users can increase their GCash wallet limit from Php 100,000 to Php 500,0002 by linking their bank account (BPI or Unionbank) or any locally-issued, Mastercard/Visa-enabled debit card to their fully-verified GCash wallets. To link your bank account or debit card to your GCash wallet, simply open your GCash app, go to Settings, and tap on My Linked Accounts. Select BPI, Unionbank, or My Bank Cards and fill out the required information. You should receive a text message instantly or up to seven days confirming that your wallet limit has increased.

Take note that each transaction, regardless if it's successful or not, will be counted. 
I learned this the hard way when I tried to deposit Php 20,000 to GSave which is considered as a cash-out transaction. Not knowing that I already exceeded my deposit limit, I tried to deposit the money several times thinking it was just a technical problem. As it turned out, each failed attempt meant another Php 20,000 deducted from my monthly cash-out limit. In the end, I wasn't able to cash out anything during the remaining days of that month because I already used up my limit!
There are various options to top up or load your GCash account. You can do it either through mobile payment facilities available in the GCash app or by going to any GCash Partner Outlets (GPOs) like Globe Stores, SM Business Center, Villarica Pawnshop, and 7-Eleven Cliqq Kiosks, just to name a few.
For more information on how to load your GCash wallet,  please go to this link. 
4. Start using GCash for your desired transaction.
With a GCash app installed on your smartphone, you can proceed with your desired transaction in just a few taps.
To start using GCash, launch the mobile app and log in with your 4-digit GCash MPIN. On the dashboard, click the icon corresponding to the service you want to use. For every transaction you make, you'll receive a confirmation message via text from 2882.
Aside from the app, you can also access GCash services by dialing *143# on your mobile phone and selecting the numbers corresponding to GCash and its services of your choice.
For online services/purchases that require a debit card and don't have GCash on their list of payment options, you can still use your GCash fund by linking your account to one or more of the following:
GCash Mastercard
American Express Virtual Pay
PayPal
BPI Account
Any of your existing debit cards
To link your GCash wallet to any of the online payment solutions above, tap the menu and choose "My Linked Account" from the sidebar.
Here's a summary of the things you can do with GCash:
a. Make purchases online or on-ground.
As long as the online store or shopping site has GCash as one of its payment options, you can simply check out your purchased items and pay directly using your available GCash funds.
You can pay with GCash for shopping at or using the services of:
Lazada
Zalora
Netflix
Spotify
For those without GCash as a payment option, you can also pay using a GCash Mastercard, GCash American Express Virtual Pay card, or PayPal linked to your GCash account.
The GCash American Express is a virtual debit card ideally used for paying items purchased from U.S. stores. It also comes with the free U.S. address courtesy of My Shopping Box that you can use for all your shipping needs.
If you prefer to shop on the ground, there are also partner merchants that accept GCash. Simply look for a little signage that says "GCash Accepted Here" at the entrance door or near the cashier. You can also check out this list to learn whether the store of your choice accepts GCash payments or not.
To pay your items with GCash, launch the app on your smartphone, scan the QR code at the counter, and type in the amount of money you're going to pay. For each transaction you make using the GCash QR, you'll get to enjoy 10% cashback.
b. Pay bills.
With GCash, you can pay almost any bills without leaving your home.
To pay bills, log in to the GCash app and tap "Pay Bills." Select the Biller that you want to settle the bills with. Enter the requested information and proceed with the transaction.
You can also tap the heart sign beside the name of the biller to add it to your "Favorites." You can then easily access "My Saved Billers" each time you pay your bills in the future, saving you time in the process.
Here's a list of bills you can pay through GCash:
Electric utilities (e.g., Meralco)
Water utilities (e.g., Manila Water, Maynilad, etc.)
Cable/Internet (e.g. SkyCable)
Telecoms (including hour Globe AT HOME and Globe Postpaid bills)
Credit Cards (e.g., BDO Mastercard or Visa credit card, BPI Credit Card, etc.)
Loans (e.g., Home Credit)
Government (e.g., NBI Clearance, BIR, DFA passport appointment, Pag IBIG, SSS contribution, etc.)
Insurance (e.g., Cocolife, Manulife, Philamlife, etc.)
Transportation (e.g. AirAsia and Cebu Pacific)
Real Estate (e.g. Camella Homes, Crown Asia, DMCI Homes, etc.)
Healthcare (e.g., Medicard)
Schools (e.g. Adamson, Miriam College, UE, etc.)
Others (access your GCash app for more info).
c. Buy load.
GCash app can also be used to load up any mobile number from any network, be it Globe, TM, or Smart.
With this feature, you won't need to go to the nearest convenience store to buy a call and text card anymore. You can even turn your GCash app into a mobile loading business, too!
Here's how to load any mobile number straight from your smartphone:
Log in to your GCash app.
Tap on "Buy Load."
Enter the mobile number you want to load up or tap on the phonebook icon and select the desired number from your list of contacts. Click "Next."
Enter a value or choose from any of the denominations provided.
Tap "Confirm" to complete the transaction.
If you have zero GCash wallet balance but can't cash in yet, you can also avail of the "Borrow Load" feature. To access this, simply tap the same "Buy Load" icon on your GCash app dashboard.
You're allowed to borrow Php 10 or Php 20 worth of regular load. You can also choose from the different load combos with a maximum amount of Php 20.
Once you get the load, make sure to cash-in as soon as possible to pay back the loan. You must pay the amount you owe two days after the "Borrow Load" transaction was completed.
d. Send or transfer money.
As long as you have money in your GCash wallet, you can send or transfer any amount to anyone anywhere.
You can transfer money to another GCash user in three ways:
Express Send – if you want to instantly send money to another GCash user without any transaction fees.
SnapMoney – for those who prefer to customize the way they deliver their GCash money. With this feature, you can send GCash to your loved ones along with an attached video, photo, or a voice recording.
Send Ang Pao – a convenient way to send Ang Pao in the form of GCash to anyone during the Chinese New Year.
Meanwhile, if the receiver doesn't have a GCash account yet, you can also send money to any of the GCash partner banks.
Simply tap the "Send to Bank" option, choose the name of the bank, and enter the desired amount along with the receiver's account name and number.
Tap "Send Money" to complete the transaction.
Related Article: How to Choose a Bank: An Ultimate Guide to the Top Banks in the Philippines
e. Withdraw money.
"Cash-out" is the process of withdrawing your GCash and converting it into physical money.
You do this when you've earned enough GCash in your wallet and you want to take out a portion of it and either spend or save it in a bank account. Whatever your reason, you can withdraw the money in three ways:
ATM Withdrawal – if you have a GCash Mastercard, you can cash-out your money by going to any Bancnet or Mastercard ATM.
BPI Savings Account – if you're a BPI savings account holder, you can easily transfer your GCash to your bank account by dialing *119# on your phone.
Over-the-Counter – for those with neither a bank account nor a GCash Mastercard, proceed to any GCash Partner Outlet to withdraw your money. These include pawnshops such as Villarica, Tambunting, RD Pawnshop, and Palawan Pawnshop; Puregold Supermarket; and payment facilities such as Bayad Center and Expresspay.
f. Use credit.
GCash can also work as a credit card when you run out of money and need to pay for something urgently. With GCredit, you can use GCash for purchases even if you have zero balance and simply pay for it later.
However, GCredit will only work if you have an updated/verified email address as well as a high GScore.
The GScore is a trust score tied to your GCredit and is based on the number of your GCash transactions. Basically, the more often you use GCash to buy load, pay bills, and make purchases, the higher your GScore will be.
With a high GScore, you can earn a credit limit that starts with Php 1,000 which can increase to up to Php 30,000.
READ: How to use GCredit in GCash: A Quick Guide
Tips and Warnings.
The MPIN or Mobile Personal Identification Number is a four-digit passcode that you will use in all your GCash transactions–from initial registration to every time you access the GCash app. This is the single most important information tied to your GCash account so make sure you don't pick a number combination that is very easy to guess. Moreover, never share your MPIN to anyone and delete all messages containing it.
There's no minimum balance required to keep your GCash account active. The maximum balance, on the other hand, varies depending on your level of verification. Non-verified GCash users get a maximum monthly wallet limit of only Php 40,000 while fully verified users have up to Php 500,000 monthly wallet limit.
Again, remember that the wallet limit doesn't cover the combined incoming and outgoing transactions (e.g., cash-in, bills payment, bank transfer, cash-out, etc.) that you'll do every month. For fully verified users, for example, there's a Php 100,000 monthly limit for cash-in/incoming transactions and a separate Php 100,000 for cash-out/outgoing transactions. So if you've already sent Php 100,000 (outgoing) this month, you can still use GCash for cash-in and other incoming transactions but not to send money since you've already used up your monthly outgoing limit.
Since June 2020, GCash has increased its wallet limit from Php 100,000 to Php 500,000 for users who would link their BPI, Unionbank, or any locally-issued, Mastercard/Visa-enabled debit card to their GCash wallets. Take note that this upgrade doesn't apply to GCash wallets that have been linked to GCash Mastercard, Paypal, and American Express Virtual Pay card.
Although GCash funds/balance don't expire, it is recommended that you keep your account active by using GCash in your online or offline transactions. Otherwise, leaving your account inactive for over 6 months may ultimately lead to either account closure or automatic deduction of your funds to cover the dormancy fee.
Keep yourself updated with the latest advisory to avoid using GCash during a system upgrade. You'll usually receive a text message or an update via the GCash Facebook page ahead of time, informing you that there will be service downtimes on selected dates. When GCash is upgrading its systems, all its services are temporarily disabled so it's important to know when and how long it will happen.
Avoid leaving a big amount of money on your GCash app if you're a first-time user who never tried mobile wallets before. Start by cashing-in smaller amounts, say Php 10,000 to pay bills, and then commit to higher value transactions as you become more familiar with the GCash app and its services. Aside from the absence of extra layers of security like one-time passwords (OTP), there's always that risk of making mistakes when you're using GCash for the very first time.
Use a stable Internet for seamless GCash transactions. Also, try to avoid using GCash, or any financial transactions for that matter, whenever you're connected to public wi-fi.
Don't pay attention to phishing emails containing links that, when clicked, will enable the scammer to gain access to your GCash account. Most of these email messages go straight to your SPAM folder but there are few that escape the net and wreak havoc on users. Avoid them like a plague.
You can use GCash abroad to send money to the Philippines but you need a roaming SIM for it to work.
As of this writing, you can't use GCash to load a retailer SIM. GCash can only be used to purchase or borrow regular load.
GCash has a feature called GCash Forest where you can convert your accumulated Green Energy Points into a real tree to be planted in Ipo Watershed. You can earn these points by walking to work and completing GCash transactions that reduce your carbon footprint (e.g., paying bills online instead of driving to a bank that uses a lot of paper to print out receipts). Thanks to this initiative, GCash, in partnership with DENR and WWF, will be able to plant its first 365,000 native trees in Ipo Watershed in 20213. So use GCash regularly and you'll be able to support the re-forestation of Metro Manila's leading water source.
Frequently Asked Questions.
References.
GCash Terms and Conditions. (2020). Retrieved 7 July 2020, from https://www.gcash.com/terms-and-conditions/20190402/
Mercurio, R. (2020). GCash hikes wallet limit. Retrieved 7 July 2020, from https://www.philstar.com/business/2020/06/27/2023811/gcash-hikes-wallet-limit
Miraflor, M. (2020). GCash funds massive re-forestation of Ipo Watershed. Retrieved 29 December 2020, from https://mb.com.ph/2020/12/11/gcash-funds-massive-re-forestation-of-ipo-watershed/