Aside from utility bills, you can also pay your SSS contributions through GCash, a technology that basically turns your mobile phone into a mobile wallet.
If you don't have a GCash account yet, follow this guide to register and then load it with your desired amount which in this case is the total contributions you want to remit to SSS.
Once you're ready, you can now choose from the two options below to pay your SSS contributions with just a few taps on your mobile phone:
Option 1: Pay SSS Contributions Through the GCash App.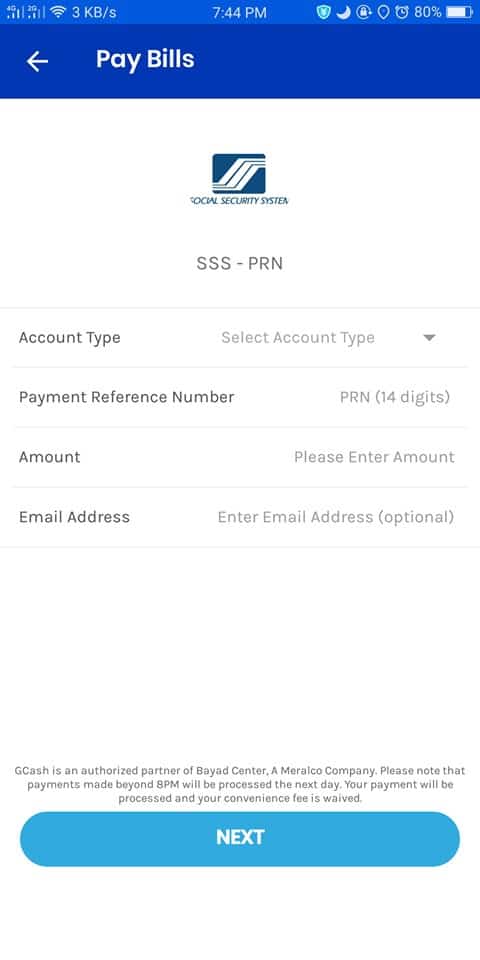 Get a Payment Reference Number (PRN). This is a unique set of numbers that is only valid for one payment transaction so you need to obtain a new one every time you pay your contribution. 
Open your GCash app. Select the 'Pay Bills' option.
From the list of bills payment categories, select 'Government'.
From the list of Government agencies, select 'SSS-PRN'.
Fill out the online transaction form and provide the following details: Account Type, Payment Reference Number, Amount, and your email address.
Click 'Next' and complete the transaction.
Review the details and confirm the transaction.
You'll receive an SMS and email notification that the transaction has been completed. Since you've paid with a PRN, the payment will be instantly posted to your account. You can confirm it by logging in to your online SSS account. If you don't have one yet, follow these instructions to register. 
Option 2: Pay SSS Contributions Through the Globe *143# Menu.
A lot of users complain about getting an error message when paying directly through the GCash app.
If you're experiencing the same or if you want another easy way to pay your contributions through GCash, you may try calling *143# instead.
Follow the instructions below:
Dial and call *143# on your mobile phone
Type the number that corresponds to "GCash" and then click Send
Type the number that corresponds to "Pay Bills" and then click Send
You'll be asked how you prefer to select the biller. Choose "By Category"
When asked to enter biller category, choose the number that corresponds to "More"
Choose the number that corresponds to "Government" from the list of biller categories. Click Send
If there's no SSS from the list of billers, select "More"
Type the number that corresponds to "SSS – PRN" and then hit Send
For Account Type, choose "PRN"
Enter your 14-digit PRN and then click Send
Enter the amount
After GCash validates your PRN, enter your 4-digit MPIN to complete the transaction
You'll receive a text message to confirm that the payment has been completed. Access your online SSS account to verify that your contributions have been remitted. Take note, however, that payments made after 8 PM will be processed the next day
I tried to pay my SSS contributions via GCash but got an error message that says: "i-PRN is not found on Masterfile". What should I do?
It's possible that there's a file mismatch, meaning the PRN you've provided is incomplete or you've mistyped it. When this happens, ensure that GCash hasn't deducted any amount from your account. Then, re-check your PRN and ensure you type it correctly the second time around.
Should you encounter the same error message again, or if GCash deducted the money even if the SSS payment didn't push through, please call the GCash hotline at 2882 to get troubleshooting assistance.
Go back to the main article: How to Use GCash in the Philippines: An Ultimate Guide