Last Updated on 09/16/2021 by FilipiKnow
This SSS contribution payment guide applies only to employers and individually paying members (self-employed, voluntary, non-working spouse, and land-based OFWs in countries without bilateral labor agreement).
If you're an employed member who pays SSS contributions via salary deduction, please reach out to your company HR if you have any inquiries.
Go back to the main article: SSS Contribution Table (with Detailed Computations and Explanations)
How many years should I pay SSS contributions?
SSS members will continue to pay their SSS contributions until they file their final benefit claim which is for either total disability or retirement. 
If you've already reached the retirement years, you can stop paying for SSS contributions and apply for either optional retirement (recommended if you're at least 60 years old and unemployed) or technical retirement (for seniors aged 65 or older, regardless if they're still working or not).
If you're a voluntary member with at least 120 posted monthly contributions, you can choose to continue paying contributions until you reach the age of 65 for the purpose of increasing your retirement benefits. On the other hand, if you're a voluntary member who has reached the age of 65 or above with less than 120 monthly contributions, you can continue paying SSS until you reach the minimum requirement to qualify for a monthly retirement pension.
How to Pay SSS Contribution in 3 Steps.
1. Get a Payment Reference Number (PRN).
The PRN is a unique number generated and used by each SSS member when paying a contribution. You need to generate this number each time you make a payment so your contributions will be posted in your account in real-time. Click here to learn different ways to get a payment reference number or PRN. 
2. Present or provide your PRN when paying a contribution.
Once you get your PRN, download and print your Statement of Account (SOA). Present your printed SOA when paying your contribution.
Can't print your SOA? Just take a screenshot of your PRN on your phone and show it to the cashier. Your payment will still be processed even without the printout, as long as you present your PRN.
Some payment channels like SM Bills Payment require those paying without a printed PRN to fill out three copies of the Contributions Payment Return (Form RS-5) and indicate their PRN there. Cashiers hand over RS-5 forms to those without printed PRN.
Employers don't have to submit the Contribution Collection List (Form R-3) in a printout or soft copy in USB.
What is the SSS contribution payment deadline?
Always pay your contribution on or before the due date (found on your SOA along with your PRN) to avoid missing a payment. If the due date falls on a weekend or holiday, you can pay on the next working day.
Since 2018, the SSS has revised the contribution payment deadlines several times, as its systems adjust to the RTPC implementation. Follow the SSS Facebook page and adjust the page setting such that its posts appear first in your news feed. This way, you're immediately updated on any revised payment deadline.
Also, take note of the payment frequency (monthly, quarterly, and/or annually) based on your membership type, so you can budget your money and organize your schedule accordingly.
To date, the table below shows the latest contribution payment deadlines being imposed since 2018.
Membership Type

Payment Deadline

Regular employers (monthly payment only)
End of the month immediately following the applicable month
Household employers (monthly/quarterly payment)
End of the month immediately following the applicable month or quarter, as the case may be
Self-employed, voluntary, and non-working spouse members (monthly/quarterly payment)
Refer to the SSS' latest revised deadline for these membership types.
OFWs (monthly/quarterly/annual payment)
Contributions for January to December: December 31 of the same year

Contributions for October to December: January 31 of the succeeding year
Here are examples to help you further understand what the deadlines mean:
Regular employers and employees:

Contribution for July 2019 can be paid until August 31, 2019.

Household employers and kasambahays:

Contribution for July 2019 can be paid until October 31, 2019.

OFWs:

Contribution for any month in 2019 can be paid any time within the year. For October to December 2019, the contribution can still be paid until January 31, 2020.
Where can I pay my SSS contribution?
Pay your contribution either to an SSS office or any of its RTPC-compliant collecting partners in the Philippines or abroad.
a. SSS tellering counters.
Visit an SSS branch with tellering systems for your contribution payment. Not all SSS branches accept payments, as only 94 branches out of 279 in the Philippines have automated tellering counters that process contribution remittances.
b. SSS-accredited payment channels.
i. Banks.
Asia United Bank (AUB)

Bank of Commerce

BPI (for account holders only)

Philippine Business Bank

PNB Savings Bank (for individually paying members only)

Wealth Development Bank, Inc.

Security Bank (for account holders only)

Union Bank of the Philippines
ii. Non-banks.
Bayad Center and its authorized tie-ups

Coins.ph (accepts payments from the self-employed, voluntary, non-working spouse, and OFW members only)

ECPay (except for 7-Eleven branches) 

Moneygment

SM Bills Payment counters at The SM Store, SM Supermarket, SM Hypermarket, and Savemore branches
iii. Payment channels for OFWs.
AUB

Bank of Commerce

iRemit

Pinoy Express (located in Australia, Brunei, Hong Kong, Palau, and UAE)

Sky Freight (located in Jeddah, Saudi Arabia; Doha, Qatar; and Buena Park, California)

Ventaja
c. SSS mobile app.
You can also use the SSS mobile app not only to generate PRN but also to pay your contributions right away. SSS mobile app accepts payments via the following methods:
Credit Card/Debit Card
BPI
Payment via BPI is the latest addition to the list. So, if you have a BPI account, you can choose it as a payment method and pay your contributions quickly without juggling different apps.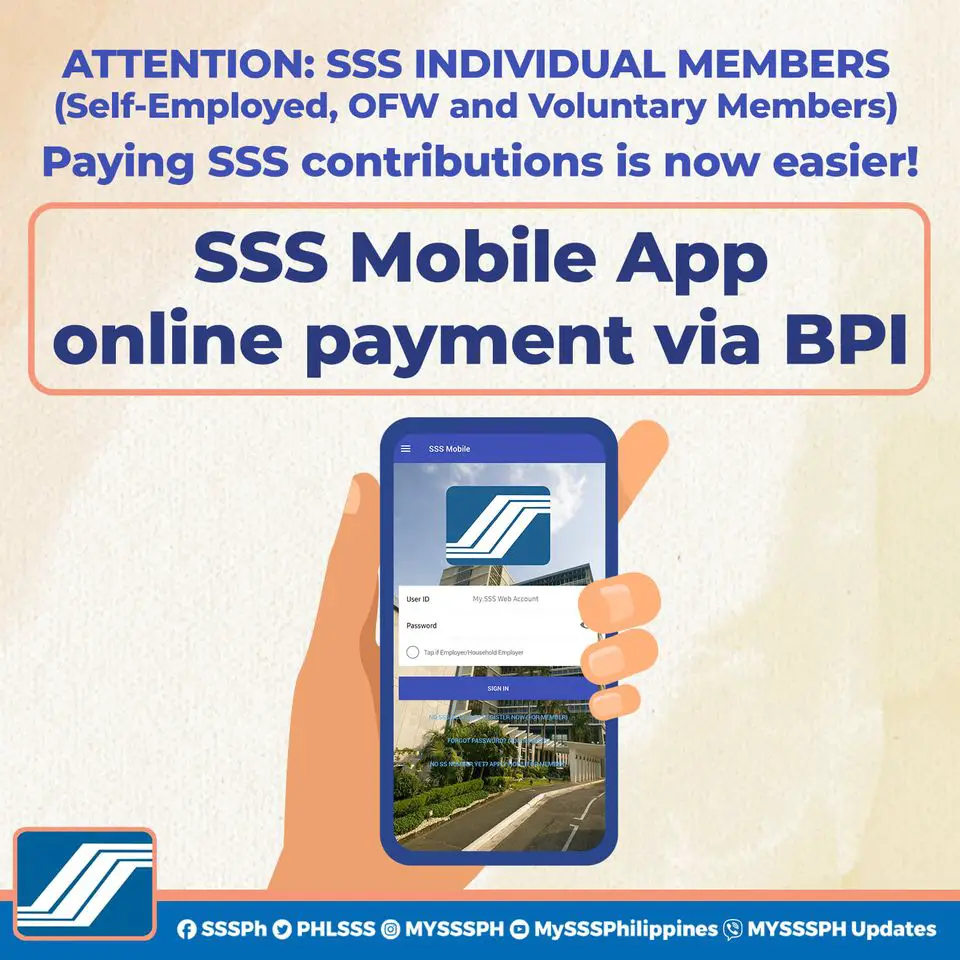 To pay your SSS contributions via BPI using the SSS mobile app, simply login to the app with your user ID and password. Generate PRN by selecting your membership type, applicable period, and the amount of your monthly contribution.
Once the PRN is generated, select "Pay" beside it and then choose "BPI" as your payment method of choice. Allow SSS to access your BPI account by entering your login credentials. Then, select your BPI account to complete your contribution payment.
Enter the One-Time PIN (OTP) sent to the mobile number you registered with BPI. Wait for a pop-up message telling you that the payment has been processed successfully.
BPI charges a convenience fee of Php 15 to complete this transaction.
3. Wait for your payment confirmation.
After making your payment, wait for a text notification from the SSS about the posting of contribution.
If you've paid via BPI on the SSS mobile app, it will take up to 24 hours for the payment to be posted on your account.
Manage your expectations, though. Even if the SSS promises "instant" posting through the RTPC program, payments may still be posted late. Some members experience getting their payments posted only after several weeks up to a month.
Go back to the main article: How to Compute Your SSS Contribution: An Ultimate Guide
Frequently Asked Questions.