Last Updated on 09/04/2020 by FilipiKnow

Paying your monthly SSS contributions

on time and regularly is imperative if you want to have access to SSS benefits and loans when you need them.
With a variety of payment channels available to accept your payments, you no longer have any excuse to skip paying your contributions. But in order for you to make a payment, and for each payment to be posted in real-time, you need to obtain a payment reference number or PRN first.
This guide will teach you easy ways to get PRN number online so you can make your monthly SSS contributions

on time and without any hassle.
What is PRN (Payment Reference Number)?
The PRN is a unique number generated and used by each SSS member when paying a contribution. It's different from the Common Reference Number (CRN) and SSS number

.
Since January 16, 2018, the SSS has been requiring a PRN for each contribution payment, as part of its Real-Time Processing of Contributions (RTPC) program. Under the RTPC program, contributions paid using a PRN are instantly posted to an SSS member's contribution record.
Immediate posting of contribution payments allows members to avail of SSS benefits and loans without delay.
Is PRN really required when paying SSS contributions?
Yes, the PRN is required for the instant posting of your monthly contribution. A payment without PRN is refused at SSS-accredited payment channels.
According to the SSS, however, payments without PRN are accepted at SSS tellering counters only under any of these conditions:
Members with limited Internet access and who have not generated any PRN before. When paying without PRN, they'll be asked to provide their mobile number for updating their SSS records and automatic sending of PRNs through text for their next payments.
When SSS eCenters are offline and PRN can't be generated
Delinquent employers paying late contributions
Employers and individual members settling contribution underpayments
Employers whose case requires submission of the collection list
Should I get a new PRN each time I pay a contribution?
Yes, you must generate or request a new PRN each time you pay a contribution. The PRN can be used only once because it expires five days after the due date.
If you've generated a PRN for this month but failed to pay it, you'll have to get a new PRN for your next payment.
How to Get a PRN Number for SSS: 7 Ways.
Choose from several online and offline PRN generation methods based on which works best for you.
1. Text and email message from SSS.
This is the most convenient way to get a PRN. If the contact details in your SSS records are updated, no need to do anything. If you're currently a voluntary, self-employed, non-working spouse, or OFW member, the SSS will send you a PRN every quarter through your registered mobile number and email address.
2. My.SSS portal.
Using the My.SSS portal is the only way for employers to get a PRN, as it enables them to review and modify their Electronic Collection List (e-CL) online.
But first, you need to register your SSS account online

. Once you have your My.SSS account, follow these steps to generate your PRN:
Voluntary and individually paying OFW members may also get a PRN through their My.SSS account.
a. For employers.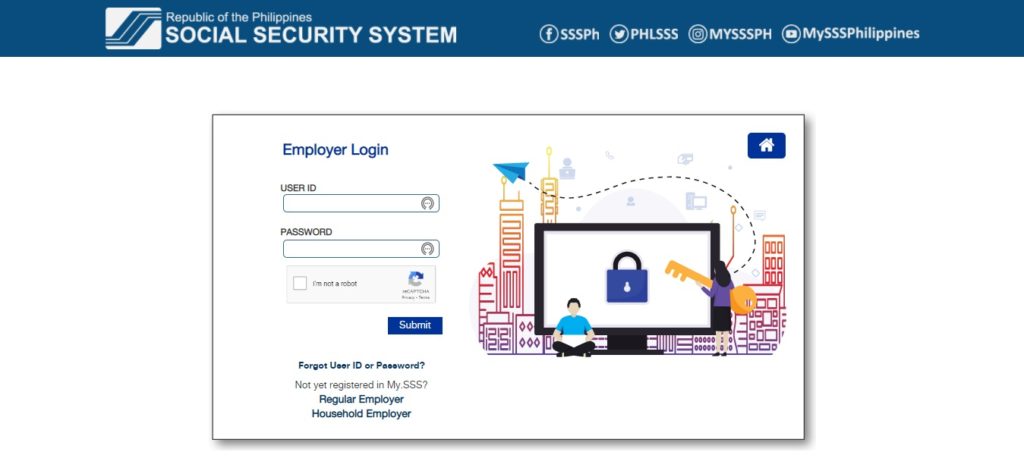 Visit the My.SSS portal.
From the three portals available, select 'Employer'.
Under the Employer Login tab, enter your user ID and password. Click the Submit button to log in.
Click the Payment Reference Number (PRN) link on the menu.
Review and edit your e-CL.
Click the Generate PRN button.
b. For voluntary members and individually paying OFWs.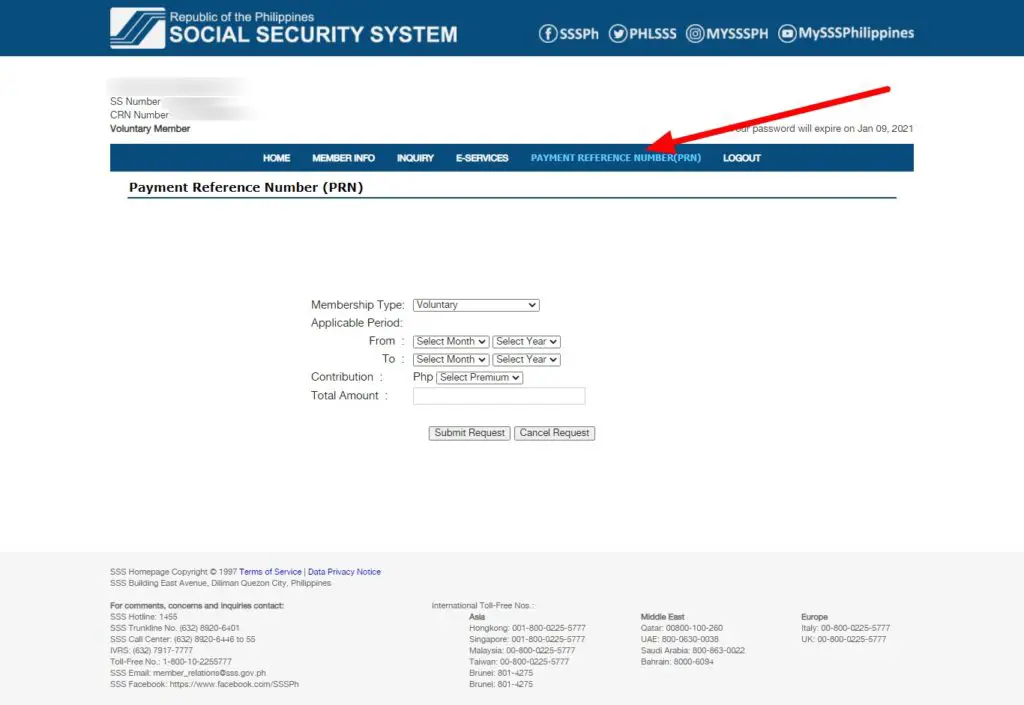 Visit the My.SSS portal.
From the three portals available, select 'Member'.
Under the Member Login tab, log in to your online account by entering your user ID and password then clicking the Submit button. In case you've lost or forgotten your SSS user ID, password, or both, click this link to learn how to reset your account.
Hover your cursor over the 'Payment Reference Number (PRN)' on the menu.
Click 'Generate PRN'.
Click the 'Generate PRN' button.
Choose your membership type (Voluntary/OFW).
Choose the applicable period (month/s and year when you're paying the contribution for).
Choose your monthly contribution from the Select Premium drop-down menu. The total amount (based on your chosen Applicable Period x Monthly Contribution) will be automatically displayed after picking an amount.
Click the Submit Request button.
Review your contribution payment details.
Click the OK button to confirm that the information is correct.
You'll see your generated PRN along with the due date and other payment details. Click the Print Statement of Account (SOA) button to download and print your PRN.
3. SSS mobile app.
Getting a PRN on-the-go is easy using the SSS mobile app. Just download the app on your smartphone (It's compatible with the latest versions of Android and iOS) and sign in using your My.SSS account log-in credentials.
If you don't have an SSS online account yet, you can register on the app itself.
Here's how to generate a PRN through the SSS mobile app:
Enter your My.SSS account user ID and password. Tap the Sign In button to log in.
On the home screen, tap the Generate PRN/SOA icon.
Tap the Generate button.
Choose your membership type (Voluntary/OFW).
Choose the applicable period (month/s and year when you're paying the contribution for).
Choose the contribution amount.
Tap the Submit button.
Your Statement of Account (SOA) containing your PRN and contribution details will appear on the screen. You may download it as a PDF file for printing or take a screenshot of it.
4. TextSSS service.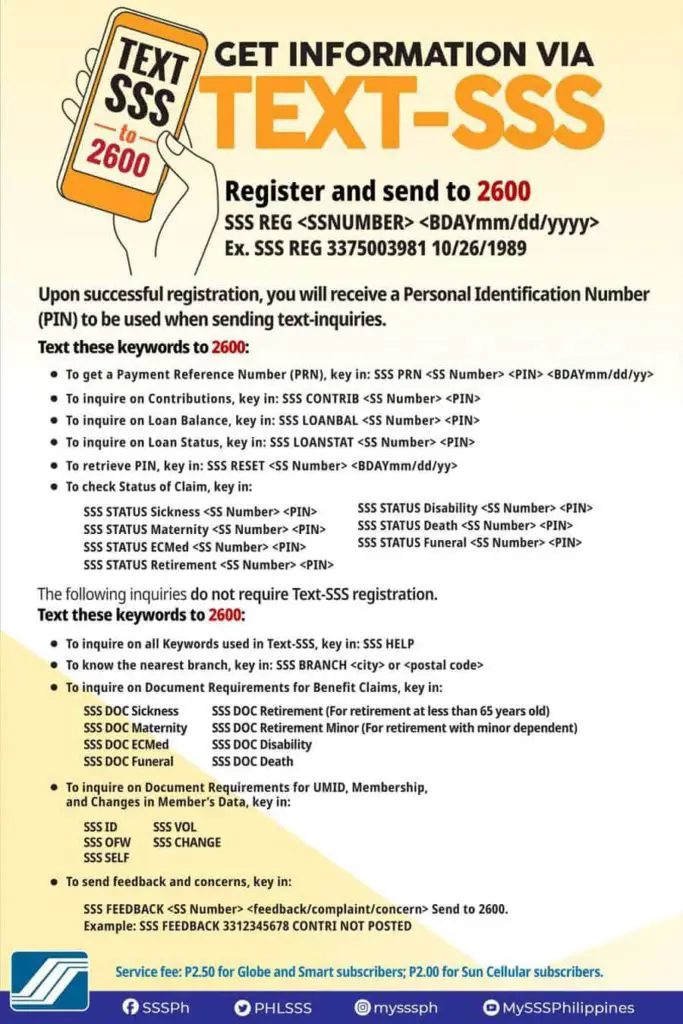 For those without Internet access, the TextSSS facility allows getting a PRN through SMS.
A service fee is charged for every text message sent: Php 2.50 for Globe and Smart subscribers and Php 2 for Sun Cellular subscribers.
To register for the TextSSS service, text SSS REG <10-digit SSS number

><Birthdate in MM/DD/YYYY format> to 2600.
Example: SSS REG 3418736855 10/08/1985
You'll then receive a reply confirming your successful registration along with a four-digit PIN. Keep a copy of your PIN—you'll use it each time you transact through TextSSS.
Once you receive your PIN, get your PRN by texting SSS PRN <10-digit SSS number

><PIN><Birthdate in MM/DD/YYYY format> to 2600.
Example: SSS PRN 3418736855 1234 10/08/1985
Afterward, you'll receive a reply with your PRN.
5. SSS PRN Helpline.
You may also contact the PRN Helpline to get a PRN through phone call or email:
Of those two options to reach the PRN Helpline, the [email protected] is more responsive. But it may take several days for an agent to respond to your PRN request.
6. PRN inquiry facility of SSS collecting partners.
When you pay SSS contribution in an accredited payment channel, you may try inquiring for a PRN. However, the PRN inquiry facility is available only in select SSS collecting partners.
7. SSS tellering counter or eCenter.
If none of the PRN generation methods above has worked, your last resort is to visit the nearest SSS branch.
Approach the tellering counter (if the branch has one) to request a PRN. Present your UMID card or SSS ID

. If you don't have one, give the teller your birthdate.
Or go directly to the eCenter where a computer is set up for members to get their PRN before paying the contribution. A personnel will assist you to quickly generate a PRN from the machine.