Last Updated on 08/17/2021 by FilipiKnow
The UMID card is one of the valid IDs in the Philippines that are easiest to get.
While that may be hard to believe, securing this ID is actually simple (The only hard part is waiting for it). You just have to know how to do it right.
This is exactly what this guide is for—providing all the information you need for a successful, hassle-free UMID card application.
READ: How to Compute and Check Your SSS Contribution Online: An Ultimate Guide
At a Glance: Latest UMID News and Updates.
As of this writing, the UMID card application remains temporarily suspended until further notice1 due to the ongoing pandemic.
Although SSS isn't accepting new UMID applicants, SSS members who applied for UMID card before the temporary suspension in 2020 can still claim their cards. In fact, SSS branches under the modified enhanced community quarantine (MECQ) allow walk-in transactions2 for the scheduled pickup of newly released UMID cards.
What is UMID?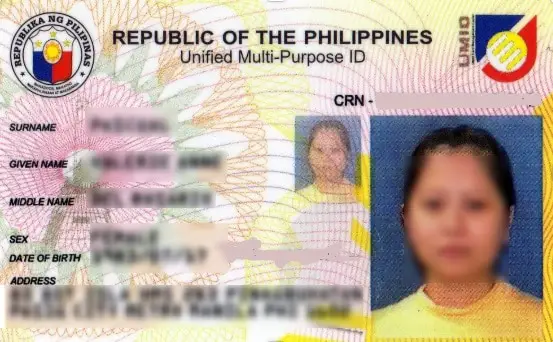 UMID stands for Unified Multi-Purpose ID, the single identification card for all members of the Social Security System (SSS), Government Service Insurance System (GSIS), Home Development Mutual Fund (HDMF or Pag-IBIG Fund), and Philippine Health Insurance Corporation (PhilHealth).
It proves your lifetime membership and facilitates transactions with these government agencies.
The UMID card uses contactless smart chip technology that stores the cardholder's biometric data (facial image, signature, and fingerprints). It also has security features that prevent the card from being reproduced and used for fraud.
READ: Is UMID and SSS ID The Same?
What is it used for?
The UMID card is accepted as a valid ID by government offices, banks, and other entities in the Philippines.
More than a proof of identity, this ID card is also used to withdraw GSIS or SSS benefits and loans from ATMs.
SSS members can use their UMID to view contributions, loan status and balance, and other SSS information at any SSS kiosk.
Who can apply for UMID?
1. SSS members.
Getting a UMID card from the SSS for the first time? You must meet the following conditions:
At least one-month posted SSS contribution*

Valid date of coverage** 

Active SSS number status (not inactive or canceled)

Never been issued an SSS ID or UMID card

For kasambahays without posted contribution: Permanent SSS membership status and employer's proof of contribution payment (

SSS Form R5

) made at the teller section of an SSS branch
*To check your posted SSS contributions, use the TextSSS service.
Here's how:
Register by sending a text message to 2600 in this format: SSS REG (Example: SSS REG 3375009813 10/26/1979). You'll receive a PIN for your next inquiries to the SSS.

Get information on your contribution by sending another text message in this format: SSS CONTRIB (Example: SSS CONTRIB 3375009813 1026).
**Your date of coverage refers to the month and year when you started as a paying SSS member (not the date when you got your SSS number).
It's when your first employer reported you as a new employee to SSS, or when you paid your first valid contribution as a self-employed, non-working spouse, or OFW member.
Check if you have a valid date of coverage by accessing the SSS Member Portal (You need to register for an SSS account online). Click "My Information" > "Other Information" and then find the month and year next to "Coverage Date." You can also view whether your SSS number is active, inactive, or canceled.
If you don't have a date of coverage, it means you weren't properly registered before, and you can't apply for UMID and SSS benefits. Contact your first employer to request a copy of the Employment Report form (SSS R1-A form) where your name is listed. Submit it to the nearest SSS branch and request the staff to enter your date of coverage.
2. GSIS members.
All active GSIS members and pensioners are required to secure a UMID-compliant eCard from any GSIS office.
3. PhilHealth members.
Indigent Filipinos3 and other PhilHealth members who are not covered by either SSS or GSIS can get a UMID card from PhilHealth.
What are the requirements for the UMID card application?
1. For SSS members.
a. Accomplished UMID Card Application Form.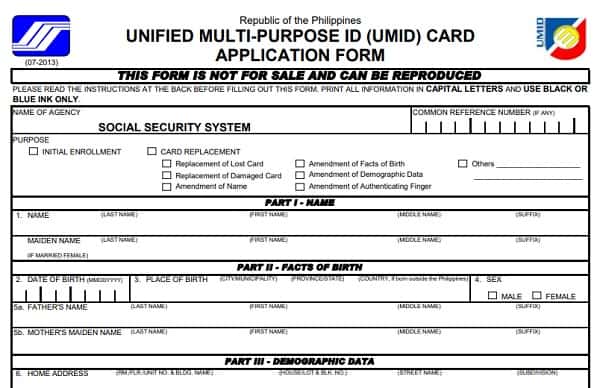 Use CAPITAL LETTERS and black or blue ink.

Avoid erasures and corrections.

Put a checkmark on any applicable box.

Put "N/A" or "Not Applicable" if the required information is not applicable.

The SSS number, name, date of birth, and sex on the application form must match the member's information in the SSS database.

Leave the Common Reference Number field blank if this is your first time to apply for UMID.

Provide at least one contact detail (email address, landline number, or mobile number) which the SSS will use to notify you of your UMID card application status.
b. Valid IDs.
Present the original or certified true copy of any of the following primary IDs:
If you don't have any primary ID, present two secondary IDs bearing your correct name, with at least one showing your correct birthdate.
Check here for the list of valid IDs accepted by the SSS.
2. For GSIS members.
a. Accomplished GSIS UMID-eCard Enrollment Form.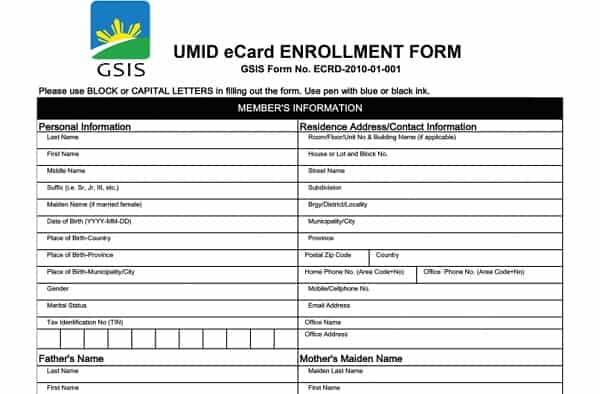 Use CAPITAL LETTERS and black or blue ink.

Indicate your preferred bank (either UnionBank or Land Bank) for withdrawing your GSIS benefits and loans.
b. Valid government-issued IDs.
Present the original and photocopy of your GSIS eCard or passport.
If you have neither of the two, submit two of the following IDs (with at least one photo-bearing ID) instead:
4Ps ID

AFP Beneficiary ID

AFPSLAI ID

Barangay ID

Driver's license

Employee's ID / Office ID

Firearms License

IBP ID

Pag-IBIG ID

PVAO ID

PWD ID

School ID

Solo Parent ID

Voter's ID
How to Apply for UMID if You're an SSS Member: 5 Steps.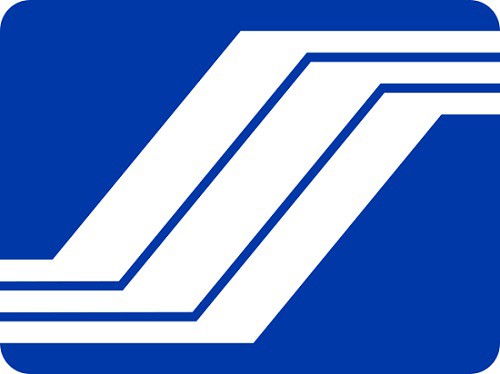 Go to an SSS branch with a UMID enrollment facility.


Not all SSS branches accommodate UMID applications. So before you apply, check first the list of branches4 that can process UMID enrollment (Use the Ctrl+F command to find the branch nearest you).

Once you get to the SSS office, you'll either fall in line or get a queue number. Wait for your turn or your number to be flashed on the screen display.

Submit the UMID requirements.


The SSS staff will verify your documents and validate your information with the SSS database.

Have your biometrics taken.


Go to the ID and Biometric capture booth where your photo, fingerprints, and digital signature will be taken.

The personnel will let you view on a computer screen how your actual UMID looks like. Double-check your personal details, especially your name, birth date, and address. Tell the staff if you spot an error to have it corrected immediately.

After you've confirmed that your info is correct, you'll be issued an acknowledgment stub and advised about the estimated delivery time of your UMID card.

Wait for your UMID card delivery.


Usually, it takes about eight days for SSS to verify, print, and package the UMID card. It's then sent to the Philippine Postal Corporation (PHLPost) for mailing.

Delivery takes five to seven working days within Metro Manila, seven to 10 working days outside Metro Manila, and 10 to 20 working days in remote provinces.

All in all, you can expect to receive your UMID card within 30 days from your application date. However, some SSS branches may give longer delivery times at two to four months.

Activate your UMID card.


As soon as you receive your UMID card, activate it using the SSS kiosk at the nearest SSS branch.

There are actually two types of UMID cards issued to SSS members: the regular UMID card and the one with an ATM functionality, meaning you can use it to withdraw approved cash benefits like SSS unemployment benefits should you apply for one.

If you have the regular UMID card already, you can go to the nearest SSS branch and have it converted into the UMID-ATM card.

To facilitate the release of loans and benefits to their members, the SSS has partnered with several prominent banks for their UMID-ATM program5. One of them is the UnionBank of the Philippines (UBP) which has deployed several kiosks in select SSS branches where members can activate their UMID-ATM cards.

After activation, members can then easily withdraw their benefit and loan proceeds from any Bancnet ATM nationwide or Visa-branded ATMs for international transactions.
How to Apply for UMID if You're a GSIS Member: 6 Steps.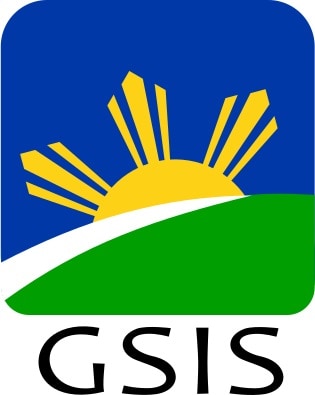 1. Go to any GSIS branch.
GSIS offices are open on Mondays to Fridays, from 8 A.M. to 5 P.M. You can come during your lunch break, as GSIS has a No Noon Break policy.
When you get to the GSIS branch, get a queue number at the eServices Unit or Information Center.
2. Submit the UMID requirements.
When your number is called, submit your accomplished UMID form and photocopies of your valid IDs to the enrollment officer for verification.
3. Undergo ID photo and biometrics capture.
The enrollment officer will take your photo, fingerprints, and digital signature.
Review your encoded data in the UMID enrollment system, making sure that everything is complete and correct.
A UMID eCard Release Form will be given to you. Keep this form for claiming your UMID card.
4. Wait for a text or email confirmation of your UMID card release.
GSIS will notify you via text message when your card is available for pickup.
5. Claim your UMID eCard.
Go to the GSIS office where you filed your UMID application. Get a queue number at the eServices Unit / Information Center.
When your number is called, submit the following documents to the card releasing officer:
UMID eCard Release Form

Accomplished Bank Customer Information Record (available at the GSIS branch)

Original and photocopy of GSIS eCard, passport, or two valid government-issued IDs
Receive your UMID card and check if its information is correct and if the PIN mailer on the card is readable.
6. Activate your new card.
To fully enjoy the benefits of your UMID, activate the card once you receive it. Here's how:
a. Go to the nearest GSIS branch, provincial capitol, city hall, municipal hall, government office, or Robinsons Mall. Look for the GSIS Wireless Activated Processing System ([email protected]) kiosk.
b. Place your UMID card on the e-card reader.
c. Choose any of the pre-registered fingers by touching the screen.
d. Place your chosen finger very lightly on the fingerprint scanner.
e. Wait for the confirmation message. Your UMID will be activated within 72 hours.
Tips and Warnings.
1. Don't fall for fixers who offer rush UMID applications for a fee.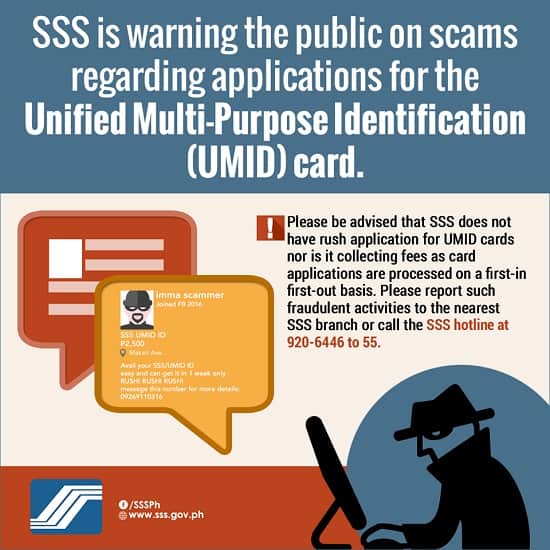 The SSS has no express or rush UMID processing.
Ignore and report any text message you receive that offers help in speeding up your UMID card release in exchange for Php 100 or any amount. This is obviously a scam that preys on people who desperately need to get their ID faster.
2. Wear appropriate clothing.
Sando, spaghetti top, and other sleeveless shirts are not allowed at the ID photo booth. If you're wearing eyeglasses, colored contact lenses, or dangling earrings, these should be removed before the photoshoot.
3. Provide your complete and correct address in your UMID application form.
Usually, UMID cards don't get to the intended recipients because the address can't be located.
Make it easy for the postman to find your place by indicating your complete and correct address. To find your zip code, visit the Zip Code Search page on the PHLPost website and select your province or city.
Your home address should also be formatted properly, as shown in this screenshot:

If you live in NCR, write down "METRO MANILA" under "Province/State."
4. Ensure someone is available to receive your UMID.
Postmen need to get the recipient's signature as proof of UMID delivery. If no one is home when the postman arrives, your UMID will be sent back to the post office.
So while waiting for your UMID delivery, assign someone at home to receive your ID while you're away. Leave an authorization letter and photocopy of your valid ID that your authorized representative will present to the postman.
5. Your old SSS ID is still valid, but it depends on when it was issued.
If your old SSS ID was issued from 1998 to 2010, it's still valid and accepted at SSS branches and self-service terminals.
You can still use the card if it's in good condition. No need to apply for a new UMID card.
However, if you got your SSS ID before 1998 (the one made of yellow cardboard), it doesn't have the security features that the newer ID cards have. In that case, get a UMID card.
6. You can obtain your UMID card PIN code when you activate it in the SSS Information Terminal at an SSS branch.
This PIN code is usually requested when you register your SSS account online. To get this PIN code, you must go to the SSS Information Terminal at select SSS branches and activate your card.
UMID card activation is required especially in the case of UMID-ATM cards that will allow you to withdraw your SSS benefits quickly instead of receiving them in the form of a check.
Related: How to Get UMID Card PIN Code: An Ultimate Guide
Frequently Asked Questions.
References.