Last Updated on
Everyone has a dream wedding.
It's an important milestone you've waited for all your life.
Whether it's a simple civil wedding or an extravagant church wedding, you can't wait to celebrate this day with your soulmate along with your loved ones.
But preparing for your wedding day is not all beers and skittles. You also need to know the legal documents and preparations required to ensure a hassle-free celebration.
If you're clueless about the things you need to know to get married here in the Philippines, no need to fret. We have scoured the Internet for the best information that every soon-to-be couples ought to know.
 Related Article: How to Plan a Church Wedding in the Philippines (with Free Printable Wedding Checklist)
How to Get Married in the Philippines in 3 Simple Steps. 
If you're planning to get married in the Philippines, there are few legal requirements you need to know first, especially if you or your would-be spouse is 25 years old or below. Here are some of them:
Marrying parties should be a male and a female, at least 18 years old.
If you or your partner is 25 years old or below, parental consent or advice is needed.
After confirming that both of you are qualified to get married, proceed to the next steps.
1. Get a marriage license.
The marriage license is the most important legal document you need to secure when preparing for your wedding. After all, you won't be allowed to have a church or civil wedding without this.
To apply for the license, both parties must go to the local civil registrar of the city, town, or municipality where either one of them habitually resides.
READ: How to Get a Marriage License in the Philippines: A Quick Guide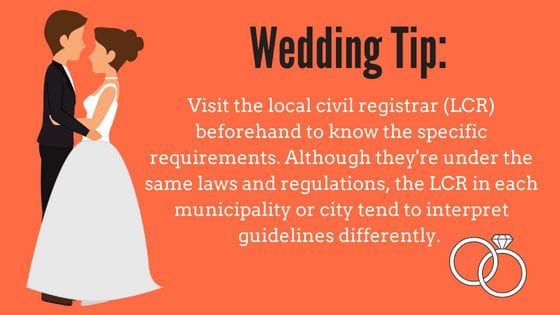 The marriage license is usually released 2 weeks (10 days) after you apply for it.
Local civil registrars tend to interpret the guidelines differently so depending on where you'll be applying, it may take either 10 consecutive days (including weekends) or 10 working days (excluding weekends) before the license is issued to you. However, the law is clear (Article 17 of the Family Code) that the waiting period for the marriage license should be 10 consecutive days.
Anyone of the applying parties can pick up the marriage license from the local civil registrar. No delivery option is available as of this writing.
Once issued, the marriage license can be used wherever you want to get married in the Philippines.
However, it is only valid within 120 days of issuance and "shall be deemed automatically canceled at the expiration of said period if the contracting parties have not made use of it."
Requirements for Marriage License Application.
a. Personal appearance of the applying parties.
b. The latest certified true copy of your and your partner's PSA birth certificates (original and photocopy).
You can obtain this from the Philippine Statistics Authority (formerly NSO) office or through online application via e-Census.
If no record of birth, the latest original copy of the baptismal certificate may also be accepted. Foreigners must obtain their birth certificates from their country of origin.
c. A notarized affidavit of parental consent or advice for applicants below 25 years old.
The legal age for marriage in the Philippines is 18.
For applicants between 18 and 21 years old, a  notarized parental consent is required (under Art. 14 of the Family Code of the Philippines). The father, mother, or guardian (in the order of mention) can either personally appear with valid ID (original and photocopy) or provide notarized consent.
Meanwhile, for applicants between 21 and 25 years old, notarized parental advice is necessary. The parents or guardian is likewise required to either show up with a valid ID (original and photocopy) or just provide a notarized written account expressing that they're aware of the couple's intent to marry as well as any other advice they wish to give.
Forms are usually available at the local civil registrar/city civil registry department where you'll file the application.
In case the parents refuse to provide notarized parental advice, you may submit a sworn statement telling the reason why they refused, after which the marriage license can only be issued 3 months after you filed the application.
For couples above 25 years old, the CENOMAR provides proof that neither of you was married before.
To secure a copy, please follow the same procedure in ordering birth certificate–either walk-in at the nearest Census Serbilis Center or apply online via PSA Helpline.
A copy of CENOMAR costs Php 210 (walk-in) or Php 430 (online).
READ: How to Get a CENOMAR in the Philippines: 4 Easy Ways
e. Certificate of Attendance in a pre-marriage counseling, family planning, and responsible parenthood seminar (if applicable).
Most local civil registrars only require couples to attend the seminar if they're 24 years old or younger.
Pre-Marriage counseling is usually conducted by the Church or the DSWD for civil marriages.
The family planning and responsible parenthood seminar, on the other hand, is held at the health department (specifically the Division of Maternal and Child Health) of your municipal/city hall.
In most areas, family planning and marriage counseling seminars are combined into one program and conducted at the same venue.
Be sure to check the schedules as some are conducted daily while others have a specific schedule within the week.
Note: Young couples are required by law to attend the seminar. In fact, bypassing the pre-marriage seminar is grounds for annulment.
f. At least 2 Valid IDs of the couple (original and photocopy).
The valid ID should show proof that one or both of you are resident/s of the city/town/municipality where you're applying for the marriage license. For example, if you're filing an application in Manila, the valid ID must show an address in Manila.
g. 2 pieces recent ID picture with white background.
This could be 2 x 2 or 1 x 1, depending on your local civil registrar. Most local civil registrars no longer require pictures but better be prepared just in case they request for it.
h. Community tax certificates or CEDULA.
You can obtain the CEDULA at the same city/municipal hall where you'll file the marriage license application.
i. Barangay Certificate.
j. Marriage license application form (issued by the LCR office).
k. Other requirements.
If annulled, Certificate of Finality of Annulment from the Court (1 original and 2 photocopies) and Certificate of Registration from the Local Civil Registrar (1 original and 2 photocopies).
If widowed, Death Certificate of the deceased spouse.
l. For foreigners.
Certificate of Legal Capacity to Marry (Affidavit or Affirmation of Marital Status for British applicants) issued by the Consular Office/Embassy of the foreigner's country.
If you're a US citizen, the Consulate is prohibited by law to make any certification about your eligibility for marriage in the Philippines. They can only provide an Affidavit in Lieu of Certificate of Legal Capacity to Marry which you can obtain by appointment from the US Embassy in Manila or through a walk-in application at the US Embassy in Cebu.
Naturalization paper (if naturalized)
Death Certificate of the deceased spouse (if widowed)
Divorce decree (if divorced)
Passport bio page
Copy of stamp on your latest arrival in the Philippines

How to Get a Marriage License in the Philippines: 5 Steps.
Now that you know the basic requirements to bring, here are the steps you need to follow in order to get the marriage license:
Get an application form (Form 90) from the local registry office.
Fill out the form. The left portion of the sheet should be filled out by the groom while the other half by the bride.
Submit the necessary documents (see the list of requirements above) together with the duly accomplished application form. To avoid hassles and long queues, go to the municipal office either in the morning or right after lunch.
Attend the pre-marriage counseling, family planning, and responsible parenthood seminar. Submit the certificate of attendance and return on the date indicated on the claim slip.
Wait for 10 days before the marriage license is released. Once issued, you can get married anywhere in the Philippines within 120 days from the date of issue.
2. Choose between a religious or civil wedding ceremony.
Depending on your budget or preference, you may choose between a religious wedding ceremony which is held in a church or civil wedding ceremony held in a municipal court, mayor's office, or even the Supreme Court of the Philippines.
For most Filipinos, a civil wedding is a cheaper, faster, and more convenient alternative to a church wedding.
It is usually conducted by a judge of the RTC court, but it can also be performed by the mayor of a city.
If you're short on cash or still saving up for your dream church wedding, this option is for you.
Civil Wedding Requirements.
Marriage license.
Possible requirement: Letter of Intent to Marry. As the name suggests, this letter should express your intent to marry and also includes your name and your fiancee's name, your signatures, and your suggested wedding dates.
How to Have a Civil Wedding in the Philippines: 6 Steps.
Go to your civil registrar's office to apply and pay the required fees for a marriage license. Beware of swindlers. Make sure you only deal with the staff of the Civil Registrar's office.
Proceed to the Mayor's office and submit the Letter of Intent to Marry (if applicable) together with the marriage license to the secretary.
Wait for the confirmation that your suggested wedding dates are available. Civil weddings are usually officiated by a judge or the mayor in a city hall court. If you have a preferred venue, seek the approval of your chosen officiant first.
Find at least two people within the legal age who will serve as your witnesses. If either you or your partner is below 18 years old, a parent or a guardian is required.
On your wedding day, you need to pay a filing fee which usually costs Php 100. This is to enable them to forward their own facsimile of the marriage contract to the local civil registrar. You will then get the facsimile of the marriage certificate from PSA (formerly NSO) after 1 to 2 months.
Proceed to the official civil wedding ceremony.
Update: We have written a definitive guide to a civil wedding in the Philippines which includes the requirements and all the essential steps to get married in a civil ceremony.
Every Filipina bride has a dream of tying the knot in the church and wearing that long, elegant wedding dress.
And because the majority of Filipinos are Catholics, it's no wonder why most prefer to get married in popular churches like Manila Cathedral, San Agustin Church, and the likes.
If you're one of those lucky few who has a budget for a church wedding, there are specific requirements aside from the marriage license that you need to fulfill a few months before your actual wedding.
This is because the documents listed below have different validity periods and it's your responsibility to ensure they don't expire before your scheduled wedding date.
READ: Wedding Checklist: Your Complete Guide to Philippine Church Wedding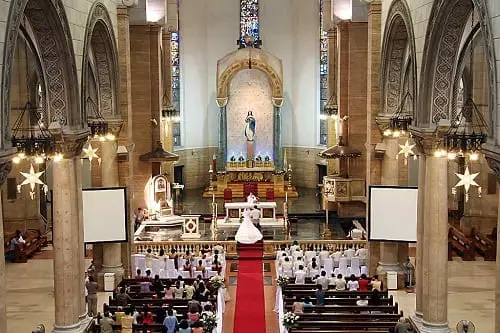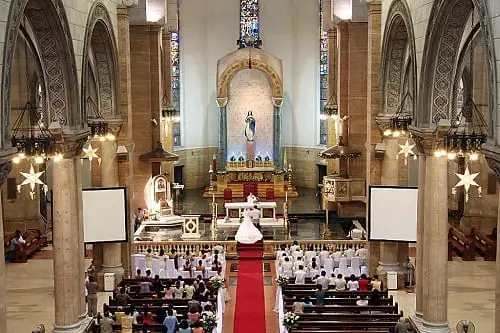 Church Wedding Requirements.
For your quick reference, we've listed down all the BASIC requirements you need to complete in order to get married in a church in the Philippines. In the next section following the bulleted list below, we'll explore each requirement (as well as any additional requirement you may need) in greater detail.
Marriage License
Baptismal and Confirmation certificates
PSA Birth Certificate
Certificate of No Marriage (CENOMAR)
Canonical Interview
Pre-Cana/Marriage Preparation Seminar
Marriage Banns
List of Principal Sponsors and Entourage Members
Wedding Permit (if applicable)
Confession
a. Marriage license.
The document must be valid and not expired. If you previously married in a civil wedding, you must submit a registered marriage contract.
b. Baptismal and confirmation certificates (6 months validity).
Because marriage is one of the church sacraments, you and your partner must submit proof that you have previously received the sacrament of baptism.
The copies that you'll submit must be new and with an annotation "For marriage purposes only." Depending on the church, you may be required to submit these upon application or 2 – 3 months before your wedding date.
Some parishes can't issue these documents instantly as they don't have digital records of these files yet. Make sure to process these papers as early as possible.
c. Latest Copy of PSA birth certificate and Certificate of No Record of Marriage (CENOMAR).
You can secure these documents either online (recommended for those based abroad) or by going to the PSA (formerly NSO) office.
Most churches accept birth certificates as long as they are still within 6 months from the date of issuance.
d.  Canonical interview.
This is when you and your partner will meet the parish priest (or his assistant) of your chosen church.
Request to the church coordinator to have the interview scheduled 1 to 2 months before your wedding.
The parish may also send you a list of questions before the interview to give you more time to prepare. During the interview, the priest will explore your decision to get married by asking questions about your family background, how long you have known each other, and so forth.
e. Pre-Cana/Marriage preparation seminar.
Because marriage is a lifelong commitment, this seminar is provided to help couples learn more about each other, resolve any issues prior to getting married, and gain insights about their future life together.
Topics may include parenting, sexuality, family planning, among others. Although most parish churches conduct the seminar every month, you should still ask the church coordinator about the schedules to make sure you won't miss it.
Some churches also recognize other independent organizations like Catholic Engaged Encounter (CEE), Center for Family Ministries (CEFAM), and Discovery Weekend Philippines (DW) which provide seminars or retreats for couples. If you attend seminars from any of these, you need to submit certificates of attendance as proof.
If either you or your partner is currently based abroad, a certificate of attendance from the local parish is enough.
f. Marriage Banns.
These are written wedding announcements that will be posted on the bulletin boards of the couple's respective parishes.
To obtain the marriage banns, both the bride and groom must know the specific name of their respective parish priest and the address of their parochial church.
After receiving this information, the wedding church will then prepare a letter requesting the marriage banns.
The banns will be posted in the couple's parishes for three consecutive weeks, which explains why you need to complete the wedding requirements at least a month before the event.
Afterward, you can now retrieve the letter from the parish office with a reply indicating that no impediments exist and that the wedding can push through.
g. List of principal sponsors and entourage members (a.k.a. "ninongs" and "ninangs").
The copy of the wedding invitation along with the official list of entourage members should be submitted to the parish church where you'll get married a week before your wedding date.
Make sure to ask the church for any restrictions or additional requirements before finalizing the list. Some churches only allow a maximum number of principal sponsors and you may get fined if you go overboard.
The Manila Cathedral, for example, only allows a maximum of eight pairs of sponsors to make sure the wedding ceremony won't exceed the allotted time.
Note that the names of the principal sponsors are important as they will be included in the marriage license.
h. Wedding or marriage permit.
Also known as Certificate of Freedom to Marry, this document may only be required for those who are based abroad.
While CENOMAR is required before you can obtain a marriage license, the Certificate of Freedom to Marry is a requirement of the church itself.
You need to obtain it from the parish where you usually attend. Requirements and fees may vary from one parish to another so contact your church abroad directly.
i. Confession.
Some churches require couples to attend confession days before the wedding. Through this event, they will be forgiven of their sins and receive the most out of the sacrament.
j. For those who have been previously married in a Catholic church, you also need to secure annulment clearance paper from your Archdiocese.
This annulment process is done to declare the previous church wedding as null and void. It's different from the civil rites annulment process that legally changes the status of your previous marriage as invalid.
k. For "mixed marriages" where the other party is a non-Catholic, you need to get Clearance from the Archdiocesan Chancery Office at the Archbishop's Office, 121 Arzobispo St., Intramuros, Manila.
To obtain this document, the non-Catholic bride or groom must submit Letter of Approval from the Pastor of the non-Catholic sect that not only approves the marriage but also declares the person has never been married before.
For foreigners, Legal Capacity to be Married issued by the embassy and Dispensation of Approval from the Parish Priest where the person currently resides is required.
For a complete list of requirement, contact the Archbishop's Office directly.
l. For widow or widower, bring a copy of the death certificate of the deceased spouse and present it to the parish church.
m. For renewal of vows, present a copy of the Catholic Marriage Contract. 
Other requirements:
ID pictures. Size, color, and the number will depend on your church's requirements.
List of songs, if applicable.
Permits for photographers and videographers, if applicable.
Note: If you have other questions, please contact your city hall or church directly. Know the exact date and time when all the requirements will be released so you can plan your wedding, hassle-free.
3. Obtain your marriage certificate.
A marriage certificate is an important document containing details of your marriage, signed by the couple and witnesses or all in attendance.
According to the Philippine Statistics Authority, a marriage certificate "is a document that shows social union or a legal contract between people that creates kinship. Such a union, often formalized via a wedding ceremony, may also be called matrimony."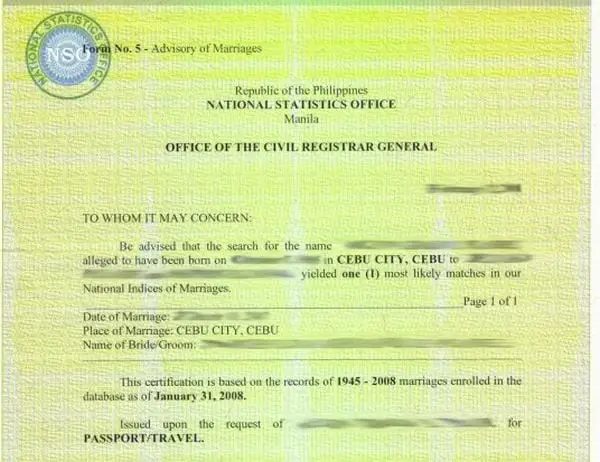 Fortunately, you can apply for a marriage certificate online and have it delivered anywhere in the Philippines or abroad in a few simple steps.
How to Get Marriage Certificate in the Philippines: 7 Steps.
1. Go to PSA online application website and select "Click here to request now."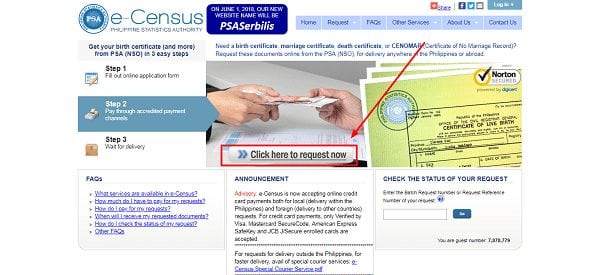 2. Read Terms and Conditions and click "I Accept."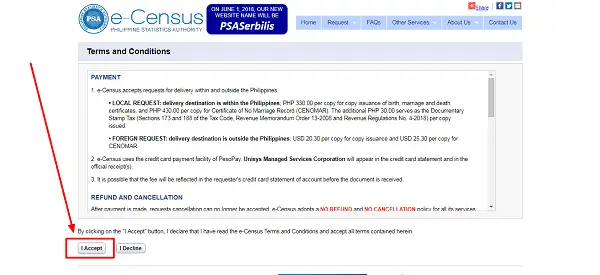 3. Enter your name and contact details to the "Contact and Delivery Information" form.
In the Delivery address, you can choose the specific country and address where you want the marriage certificate to be delivered.
Once you're done, click "Next." A box will then appear summarizing all the information you've just entered. If everything is accurate, click "Confirm."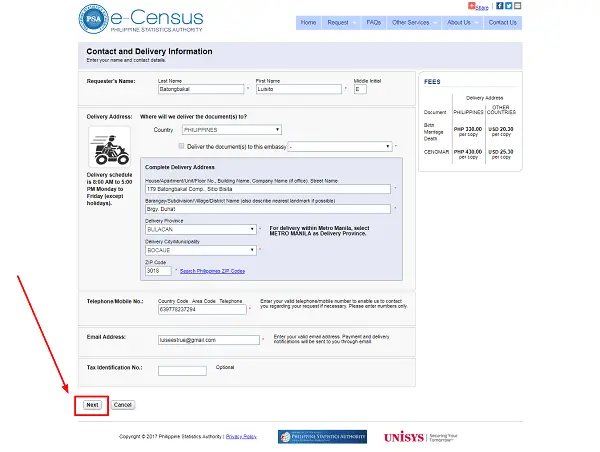 4. Add a request by clicking the button that corresponds to Marriage Certificate.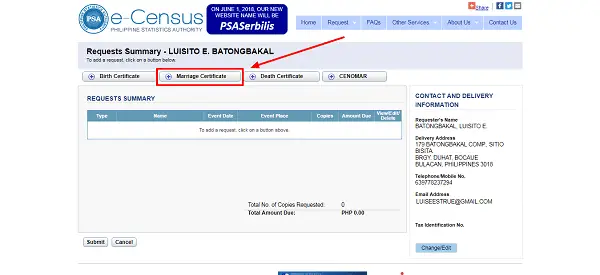 5. Enter all the requested information in the designated boxes. If you're requesting a marriage certificate, you need to provide the following information:
The number of copies requested.
Husband's name or wife's maiden name.
Place and date of marriage.
Purpose of the request.
Once you're done, click "Save."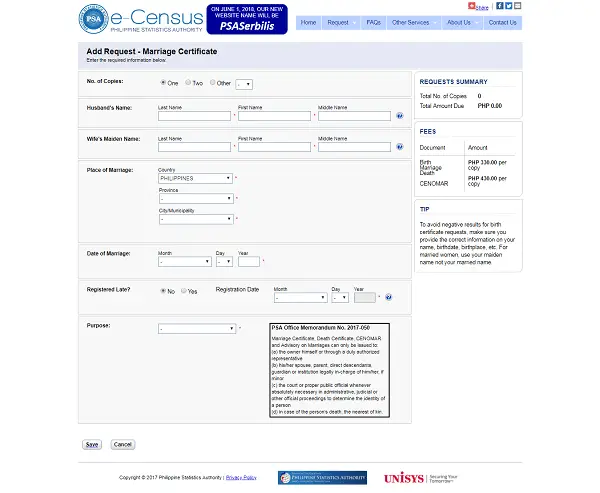 6. Upon completing the online application, you will be issued a Batch Request Number and a corresponding Batch Reference Number.
When paying for all requests in a batch, indicate the Batch Request Number. If you're only paying for a particular request only, specify the Batch Reference Number.
As of this writing, the marriage certificate costs Php 330 per copy which is inclusive of government taxes, processing, and delivery. If you're applying from another country, the cost is USD 20.30 per copy.
You may pay through the following accredited payment channels:
Delivery within the Philippines:
BDO Branches, Online Banking (BDO account holders only), and ATM (BDO account holders only).
Unionbank Branches, Online Banking (Unionbank account holders only), and ATM (Unionbank account holders only).
Bayad Center.
Delivery to other countries:
Credit card.
BDO Remit subsidiary offices and remittance partners abroad offering Kabayan Bills Bayad.
Foreign correspondent banks.
7. Wait for your marriage certificate to be delivered.
The following are the estimated delivery times according to delivery address:
Metro Manila – 3 to 5 working days after payment.
Cities or provinces within the Philippines – 4 to 9 working days after payment.
Other countries: 6 to 8 weeks after payment.
If you're in the Philippines and you want to receive the marriage certificate within 1 to 2 days, you may apply in person at the nearest Census Serbilis Center. For those in other countries, a special courier service offers faster delivery.
Frequently Asked Questions.
About the Author.
Luisito E. Batongbakal Jr. is the founder and chief content strategist of FilipiKnow, a leading online portal for free educational, Filipino-centric content. His curiosity and passion for learning have helped millions of Filipinos around the world get access to free insightful and practical information at the touch of their fingertips. With him at the helm, FilipiKnow has won numerous awards including the Top 10 Emerging Influential Blogs 2013, the 2015 Globe Tatt Awards, and the 2015 Philippine Bloggys Awards (nomination). Connect with him on Linkedin.