Newly engaged? Congratulations! You must be very excited to plan your wedding.
However, figuring out where and how to start can be overwhelming and confusing.
Adding to the stress of wedding planning is the pressure to make the event perfect while minimizing cost. After all, you can get married just once. There's no Take 2!
Good thing, you can prevent wedding preparation-related stress from building up and turning you into a bridezilla.
Start with a wedding checklist containing everything you need to accomplish months, weeks, and days leading up to your wedding day.
Keep reading to know the must-dos for a typical church wedding preparation in the Philippines.
Table of Contents
FREE Download: Church Wedding Checklist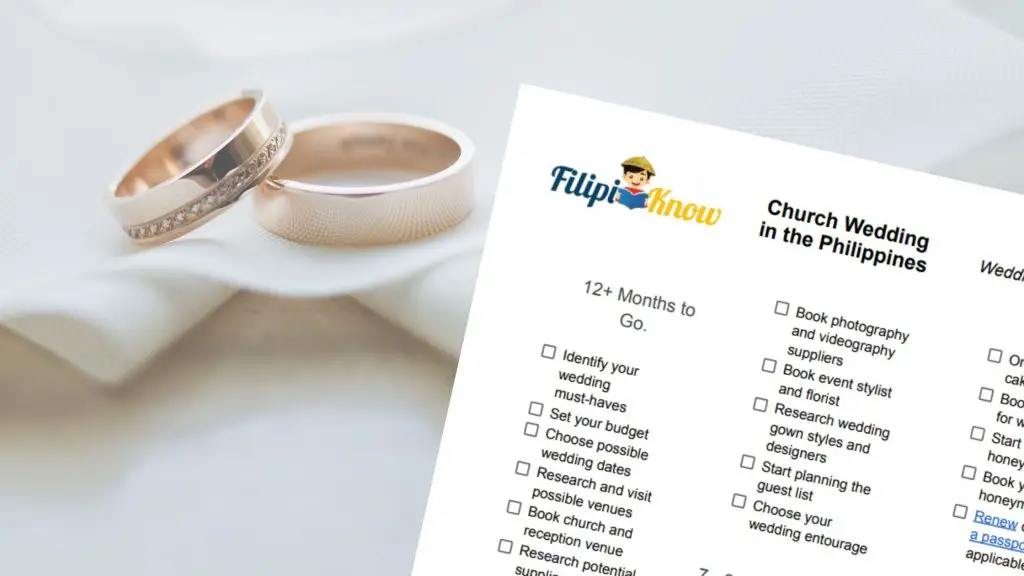 Too lazy to read? Simply download this free wedding checklist in PDF format to get an idea about the timeline of a typical church wedding preparation. Note that this only serves as a guide, and you can remove or add items to the checklist according to your liking. For more information about each item on the list, scroll down to the article below.
12+ Months To Go
1. Identify Your Wedding Must-Haves
Sit down with your partner to discuss how you visualize your ideal wedding. Together, list down your negotiables and non-negotiables when planning your big day.
Do you want a specific church for your ceremony? Or hold the reception during sunset? Is good food (and perhaps an open bar) important to you?
Whatever your priorities are, make sure you're on the same page.
2. Set Your Budget
Before you work out your budget, decide who will pay for the wedding. You may prefer to do it on your own as a couple. One or both of your families may want to contribute or fully pay for all expenses.
Based on what you've discussed in the previous step, set a budget range that you're comfortable spending on your wedding.
Create a table that breaks down your estimated costs. Better do it on a spreadsheet like Excel or Google Docs, so you can track and adjust your budget as you go along.
3. Choose Possible Wedding Dates
Have several dates as options because the final wedding date may change depending on the availability of your preferred venue and essential guests.
Your budget also affects the choice of your wedding date. For example, having it on a weekday instead of a weekend will reduce the number of guests attending. Consider also off-peak wedding months to further cut down costs.
4. Research and Visit Possible Venues
Search for a church for your ceremony, then look for reception venues near the church. Ideally, the venue for your reception is near the church, so you and your guests won't have to travel far after the ceremony.
5. Book Church and Reception Venue
Before you start finding suppliers, make a reservation with a church first. Everything else will follow.
If you wish to marry in a famous church like the Manila Cathedral, you must book it at least a year in advance.
Once you've secured your church, book the hotel or restaurant you chose for your reception.
6. Research Potential Suppliers
Create a list of wedding services you need. Most weddings in the Philippines require the services of these suppliers:
Wedding planner/coordinator

Event stylist and florist

Photographer and videographer

Cake supplier

Hairstylist and makeup artist

DJ/live band

Host/emcee

Wedding invitation supplier
Check out blogs and online forums to find possible suppliers for your wedding. Also, attend wedding fairs to canvas and compare rates of different suppliers. Ask for recommendations from your married friends, too.
Start contacting the suppliers on your list and asking for quotations and availability on your wedding date.
7. Book Wedding Planner/Coordinator
The planner or coordinator should be the first supplier you'll hire before everyone else.
You have two choices: a full-service wedding planner and an on-the-day (OTD) coordinator.
A full planning service assists in wedding planning, which is ideal for couples abroad. If you'd like to be hands-on with your wedding prep, an OTD coordinator is a more sensible choice.
8. Create and Send Save the Date Cards (Optional)
If you're having an overseas or destination wedding, give your guests an early heads-up by sending out save-the-dates once you've booked your venue.
10-11 Months To Go
1. Choose a Wedding Theme and Motif
Having a theme and color motif for your wedding makes it uniquely yours. Choose from classic, romantic, vintage, rustic, modern minimalist, Filipiniana, and more. You can use a theme inspired by your favorite movie, TV show, or novel.
As for the motif, you can find plenty of wedding color palettes online. Choose a color combination that you like and will look good in photos.
2. Book Photography and Videography Suppliers
Before you book photographers and videographers, make sure their style—classic, traditional, vintage, artistic, dramatic, or photojournalistic/documentary—match your preference.
Cost is also an important deciding factor. The services of professional wedding photographers and videographers in the Philippines aren't cheap, so choose a supplier that can provide the quality you're looking for within your budget.
3. Book Event Stylist and Florist
If your reception package doesn't include decors for the venue, you'll have to hire an event stylist. You also need a florist for the flower arrangements in your church and reception venue.
Did you know? Flowers are usually the most expensive during hot wedding months, specifically December and January. 
4. Research Wedding Gown Styles and Designers
Choose a style for your wedding dress before you start shopping for one. Give yourself enough time to find that perfect dress; otherwise, have it created by a designer. Also, give some time allowance for fittings and alterations.
Aside from your gown, research your options for the groom's suit and the entourage attire.
5. Start Planning the Guest List
Decide the number of people you'll invite based on your budget and how many guests your reception venue can accommodate.
Once you've determined the ideal number of guests, create a spreadsheet for RSVPs.
If you're cutting down costs, consider inviting only your closest family and friends and have separate post-wedding celebrations with other acquaintances.
6. Choose Your Wedding Entourage
List down the names of people you want to include in your entourage, which usually consists of the following:
Principal sponsors

Secondary sponsors

Maid of honor

Best man

Bridesmaids

Groomsmen

Flower girls

Ring, coin, and Bible bearers
This step is trickier than planning the guest list because you must pick the most important people to join your entourage. They could be the most influential people in your life. Or those who have witnessed or helped start your love story.
7-9 Months To Go
1. Refine the Guest List
Trim down your guest list further. You might also consider accommodating your parents' requests to invite distant relatives, family friends, and neighbors.
2. Book Lights and Sounds Supplier
If you'll hold your reception in the evening, ensure that the professional lights and sound supplier you'll hire can provide ample lighting to your venue.
3. Book DJ/Band
Whether to hire a DJ or live band to entertain your guests is completely up to you. Whatever you choose, be sure your supplier can provide music that suits your taste and the reception's ambiance.
4. Book Wedding Host
Wedding DJs and singers may also offer event hosting as an add-on service. But if you prefer to hire a separate host, book the person several months ahead. Or you may ask a talented friend to host your reception.
5. Book a Wedding Gown Designer
Making a wedding gown is a long and painstaking process that takes around five to eight months, from conceptualizing the design to its actual creation and alterations. So at this point, reserve your designer and schedule your gown fittings.
6. Choose Dresses for the Bridal Entourage
Your supplier for the female entourage dresses may be the same or different from the one who'll create your wedding gown. Regardless, decide on the color motif of their attire for a consistent look in your wedding photos.
7. Do Food Tastings With Possible Caterers
Be meticulous with your choice of catering service, just as you are with your wedding gown. Guests may forget the gorgeous styling of your reception venue, but they'll always remember enjoying delicious food at your event.
Schedule food tastings with the caterers on your shortlist to pick the one that can provide excellent food quality and service within your budget.
8. Book Caterer
As soon as you've decided on a catering service to hire, book that supplier and work with the team to devise a menu for your reception.
9. Order Wedding Cake
Wedding cake designers, especially the in-demand ones, get fully booked quickly. They also limit the number of orders they accept weekly or monthly. So order your wedding cake early.
Before you do, have a cake design in mind. It doesn't have to be grand. But because a cake serves as the reception venue's centerpiece, consider ordering one with a height of at least three layers.
10. Book Hotel Rooms for Wedding Preps
If your home doesn't have enough space or is far from the church, you should reserve hotel rooms for your wedding day preparations. Book one of the hotels near the church and reception venue to save time.
11. Start Planning Your Honeymoon
You may have a honeymoon right after your wedding or postpone it. Plan your location and activities if you have the time and money for a honeymoon.
12. Book Your Honeymoon
Book your flights and accommodations early to save money on your honeymoon expenses.
This is a must if you'll have your honeymoon abroad. If your passport is about to expire, have it renewed at the DFA. Your passport's validity should be at least six months on the day of your departure.
5-6 Months To Go
1. Book Hairstylist and Makeup Artist
Consider only professional hair and makeup artists (HMUA) to make you look your best on your special day. Check the portfolios of potential HMUAs on their website, Facebook page, and Instagram account.
Don't entrust your wedding look to your kikay friends unless they're professional HMUA.
Also, schedule a trial hair and makeup session when booking your HMUA.
2. Have a Trial Hair and Makeup Session
Many brides have their trial hair and makeup session on the day of their engagement or prenup shoot to save on costs. You may want to consider that, too.
3. Have a Prenup Shoot
Your prenup shoot must be done a few months before your wedding day to give your photographers and videographers ample time to process your photos and videos. You'll also use these materials for your invitations, wedding website, Facebook Events page, and displays during the reception.
4. Buy Wedding Shoes and Accessories
Shop for your shoes and undergarments early to use them on your gown fittings.
Other wedding day accessories you'll need to prepare:
Bridal veil and headpieces

Wedding cord and veil

Candles

Ring pillows

Arrhae (wedding tokens)

Church offertory

Missalette
5. Attend Gown Fittings
Bring your wedding shoes and undergarments as early as your first fitting to try them on with your gown. This way, the tailor can cut your gown to the right length and fit.
6. Book Bridal Car/Transportation Service
Find a good transportation service that can bring you, your entourage, and your stuff safely and without delay to and from the venue.
7. Order Birth Certificates and CENOMAR
Your birth certificates and CENOMAR are required to get a marriage license. The church requires them, too.
Get these papers at the Philippine Statistics Authority (formerly NSO) office. For convenience, order these legal documents online (though this is more expensive than securing your papers in person).
4 Months To Go
1. Apply for a Marriage License
The marriage license is a requirement for issuing your marriage certificate. It's valid for 120 days, so apply for it within four months before your wedding day.
Get it at the civil registry office of the city or municipality where you or your partner lives.
You'll also be required to attend a family planning seminar before claiming your marriage license. The seminar can take one hour to a day, depending on the city/municipal hall.
2. Buy/Rent Suits for Groom and Male Entourage
If your wedding gown package doesn't include attire for the groom and his entourage, you must buy or rent the suits separately.
Many couples have their male entourage wear suits and provide them neckties or bowties of the same color as the female entourage dresses.
3. Finalize the Guest List
Your guest list should be what both of you agree on. Once you've finalized the list, you can invite people to your wedding and ask them to RSVP.
4. Choose and Order Wedding Invitations
You can start working on your invitations now that your wedding details are mostly complete, including the guests. You can DIY them or order them from a supplier.
5. Prepare a Music Playlist for DJ/Band
List down your preferred song during each part of the ceremony and reception that needs music, such as the processional and recessional, your first dance as a couple, mother-son dance, father-daughter dance, etc.
6. Start Any DIY Project (Optional)
If you're into arts and crafts, save money by making decorations and other wedding-related items (welcome signage, place cards, giveaways, etc.).
7. Create a Wedding Hashtag (Optional)
Wedding hashtags are trendy because they allow soon-to-be-wed couples to personalize their event. If you have one, use it in your invitations and wedding website.
8. Create a Wedding Website (Optional)
Instead of printing wedding invitations, you can build your website using a free builder.
Include important details such as the date and time, location, directions to the venue, and accommodation options (for a destination wedding).
You may upload a spreadsheet for your guests to RSVP. Then send the link to your guests.
3 Months To Go
1. Get Baptismal and Confirmation Certificates
The church will allow you to get married only if you have proof that you and your soon-to-be spouse have received baptism and confirmation.
Get your baptismal and confirmation certificates (with six-month validity) from the churches where you're baptized and confirmed. These should have an annotation of "For marriage purposes only."
2. Organize the Reception Seating Arrangement/Table Plan
Divide your guests into groups (family, colleagues per company, high school friends, college friends, etc.) and assign each one a table.
Also, decide on the VIPs who will sit at the head table. Traditionally, they include the couple's parents, other elder members of the family, and the principal sponsors.
3. Order Wedding Souvenirs
Whether you'll DIY or order your wedding giveaways online, give yourself at least three months to prepare them.
4. Buy Wedding Rings
You'll wear these jewelry pieces for a long time, so take your time shopping for wedding rings. It gives you enough time to find the style, metal, and gem type you want and have your rings engraved and resized.
5. Finalize Readers and Readings
Inform your chosen family and friends about the readings you assign for the ceremony.
6. Finalize the Reception Menu
Work with your coordinator and caterer in choosing the food to be served at the reception, considering any dietary requirements of your guests.
7. Book a Photo Booth Supplier (Optional)
A photo booth keeps guests busy while waiting for the newlyweds to arrive for the reception. Consider getting one if you have the extra budget.
8. Finalize Honeymoon Plans
Ensure everything you need for your trip has been booked and prepared.
2 Months To Go
1. Attend the Canonical Interview
Meet the officiating priest or assistant on your scheduled canonical interview, typically a month or two before the wedding. The interview is done at the church where you'll get married and takes up to three hours.
2. Send Wedding Invitations
Distribute all the invites at the earliest time possible. Ask your guests to RSVP.
3. Start Writing Vows
Many couples write their vows as late as the eve of the wedding. But it's better to start drafting yours earlier so you have time to revise and clean it up.
4. Have the Final Gown Fitting
When to have your final fitting is your call. Some brides schedule it on the week of their wedding; others do it earlier. But the safest lead time is a month or two before the wedding, so you and the designer have elbow room should there be any problem with the gown.
5. Finalize Fittings for Entourage and Parents
Your parents and the members of your entourage should have their final fittings by this time.
6. Plan a Reception Program
Meet your wedding coordinator to discuss what you want for your reception program, how it will flow, who will give speeches and messages, and if you'll have games and other program elements.
7. Buy Gifts for Partner, Parents, and Sponsors (Optional)
Avoid doing it at the last minute—give a lot of thought to your presents for these special people.
1 Month To Go
1. Attend the Pre-Cana Seminar
Soon-to-be-wed couples must go to a pre-cana or marriage preparation seminar at the church where they'll get married. It helps them learn more about each other, better understand married life, and resolve any issues before getting hitched. The seminar usually lasts for a whole day or two.
2. Submit Marriage License and List of Principal Sponsors
Provide your church with a copy of your marriage license and a list of the full names and addresses of your ninongs and ninangs.
3. Get Marriage Banns
When you're done with the canonical interview and pre-cana seminar, provide your church with the name of the officiating priest and the address of his parochial church, especially if the priest is from a parish different from the church where you'll get wed.
Afterward, your church will prepare a letter requesting the marriage banns, which will be posted in your respective parishes for three weeks.
4. Confirm Event Details With Suppliers
Call all your suppliers to confirm the date, time, and location of your wedding and other important information they should know beforehand. If you have a full-service wedding planner, she/he should do this task on your behalf.
5. Finalize Vows
The last weeks leading up to your wedding day can get extremely busy. You might want to get your vows out of the way by finalizing them a month before you say, "I do."
6. Review the RSVP List and Follow Up With Guests
Keep track of guests who have and have not responded to your invitation. Follow up with those who have not confirmed their attendance yet.
7. Finalize and Send Song Playlist to DJ/Band
Go over your initial wedding playlist and make sure your other half approves it before sending it to your DJ or band.
8. Collect Entourage Dresses
Your bridal entourage should be done with their fittings and final alterations and have started picking up their dresses from the shop.
9. Confirm Honeymoon Reservations
Contact the hotel, travel agency, or tour provider to confirm your travel details.
10. Complete Any DIY Projects (Optional)
You should already do only the finishing touches to your DIY stuff a month before your wedding.
2 Weeks To Go
1. Final Follow-Up With Guests
Review your final RSVP list and contact any guests who have not confirmed yet.
2. Finalize Guest Headcount
You may remove those who still haven't RSVP'd from the guest list. Once your final guest list is ready, inform your coordinator, caterer, and reception venue supplier about the expected headcount.
3. Finalize Seating Arrangement/Table Plan
Now that you have a definite list of guests you're expecting to come, you can already finalize your reception table plan.
4. Get a Final Haircut and Salon Treatments
You'd want to nail your look on your big day, so include your hair treatments in your wedding preps schedule.
5. Pick Up the Wedding Dress
Ideally, your gown should be ready to pick up a few weeks before your wedding, so you'll have time to try it on and rehearse walking in it at home.
6. Create a Shot List
To get your desired results from your photography and videography team, give them a list of shots you want to be taken during your wedding. It should also include the people you'd want to be in your group photos.
1 Week To Go
1. Prepare Final Payments and Cash Tips for Suppliers
Review your remaining balances with suppliers and prepare cash envelopes for your final payments and tips.
While depositing your final payments in the bank (or making an online funds transfer) ahead of time is more convenient, it's better to pay in cash after each supplier has fulfilled its service on your wedding day.
2. Prepare a Wedding Day Emergency Kit
Major and minor emergencies can happen at any time during your wedding. It could be a stain on the gown, the bride passing out, the groom having an upset tummy, a bridesmaid's dress getting damaged, and so on.
For these possible inconveniences, prepare the items that can solve whatever needs fixing. Have these things ready for your wedding day emergency kit and put them in a bag:
Comfy shoes or slippers

Bobby pins and safety pins

Duct tape and double-adhesive tape

Medicines

Sewing kit
3. Create a Wedding Day Timetable
Your coordinator should give you your on-the-day preparation, ceremony, and reception timetable within the week of your wedding day. You must receive it several days ahead, so you can review it, give feedback, have it tweaked, and send it to your suppliers.
4. Give Readers Their Scripts
People assigned readings for the mass should receive their scripts within the week of the wedding day.
5. Pack an Overnight Bag
Before you check in to the hotel, bring the essentials for your big day, including the gown, suit, accessories, DIY decors, and other wedding-related stuff.
6. Do a Full Wedding Dress Rehearsal
Whether or not you believe in the classic Pinoy superstition about trying on a bridal gown, you must do it for one last time (along with your veil and undergarments) to make yourself more comfortable wearing it. Break in your new shoes as well.
7. Pack for the Honeymoon
Pack your bags for your trip if you're leaving within the week after your wedding.
8. Go to Confession at the Church (Optional)
Your officiating priest may require you to go to confession at the church where you'll get married (though any church is OK) at least a week before.
2-3 Days To Go
1. Reconfirm Final Details With Suppliers
Ensure all your suppliers know what to do and expect during your wedding day to avoid unpleasant surprises.
2. Have Beauty Treatments
You deserve that pampering on your remaining days as a single person!
Get your manicure, pedicure, massage, waxing, and all treatments you need to look fresh and glowing on your special day.
The Day Before
1. Reconfirm Details With Entourage Members
Remind your entourage when they're expected to come to the hotel for their hair, makeup, and photoshoot. Provide directions to the hotel so they won't get lost and arrive late.
2. Turn Over Wedding Day Items to the Coordinator
Drop off your table plan, table cards, place cards, DIY items, and other stuff to your coordinator.
3. Check-In at the Hotel
With your parents and immediate family, check in at the hotel you booked for your wedding day preparations.
4. Relax and Get a Good Night's Sleep!
You've completed everything you need for the wedding, so give yourself time to wind down before you get married.
Wedding Day
1. Eat a Good Breakfast
Don't skip breakfast no matter how busy, excited, and nervous you are. It will be a long and tiring day, so you need all the energy you can get.
2. Give the Wedding Rings to the Best Man
Don't forget to hand over your rings!
3. Enjoy the Moment!
This is the moment you've been waiting and working hard for. Relax and leave your worries behind. Smile and enjoy your wedding day!