Young adults between the ages of 21 and 25 are old enough to settle down. But it doesn't mean they're experienced enough to know what married life entails. In this guide, you'll learn about parental advice, how to get it, and the consequences of not obtaining one before marriage.
DISCLAIMER: This article has been written for general informational purposes only and is not legal advice or a substitute for legal counsel. You should contact your attorney to obtain advice with respect to any particular issue or problem. The use of the information contained herein does not create an attorney-client relationship between the author and the user/reader.
Table of Contents
What Is Parental Advice for Marriage?
Parental advice for marriage is a document in writing signed by the parents or guardian when either one or both parties to a marriage are between the ages of 21 and 25.
How To Get Parental Advice for Marriage in the Philippines
Parental advice is done in the following manner:
The contracting parties shall execute a sworn statement to the effect that parental advice has been sought.
The parents or guardian shall provide the written advice.
Both documents shall be submitted/attached to the application for a marriage license.
Affidavit of Parental Advice for Marriage Sample Template (Free Download)
Looking for parental advice for marriage sample? No worries. You can ask a lawyer to create one for you or use our free template. Download this template, fill it out, and proceed to the notary public to have it notarized.
Click here to download the free Affidavit of Parental Advice to Marriage template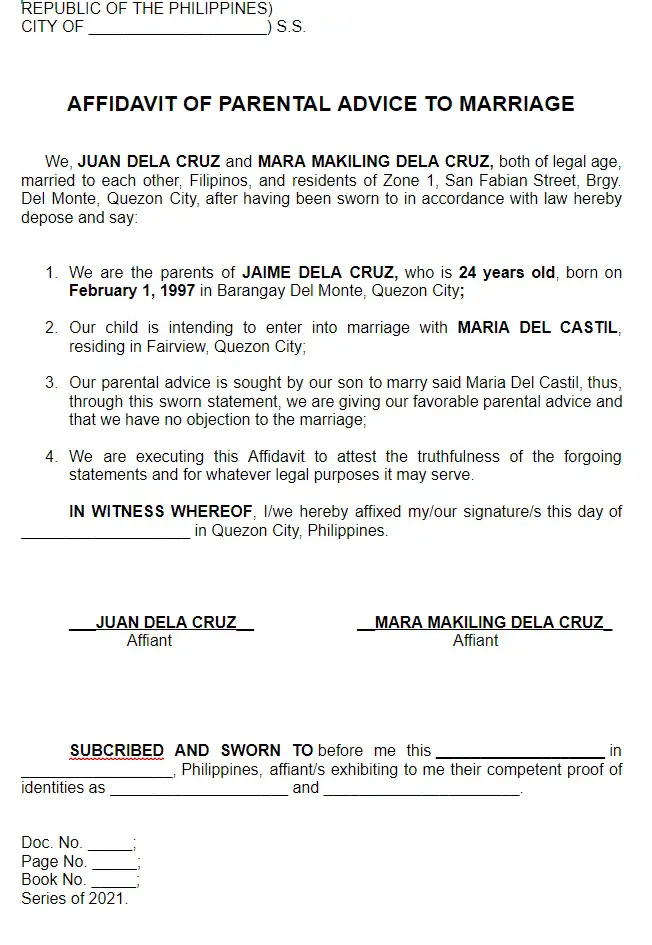 What Happens When the Contracting Parties Do Not Seek the Advice of the Parents or if the Parents or Guardians Refuse To Give the Advice? Can They Still Get Married?
Yes, they can still get married. However, the marriage license will be issued only after three months following the completion of the publication of the application. The refusal of the parents to give advice shall also be stated in the sworn application.
Go back to the main article: How to Get Married in the Philippines (Civil and Church Wedding Guide)