In a previous article, we have given you an idea of what benefits and privileges you can avail of as a senior citizen in the Philippines. For hassle-free transactions in establishments required to give you these discounts and benefits, it is important to get your senior citizen ID. Not to worry because getting one at the Office of the Senior Citizen's Affairs (OSCA) is fast and easy.
Related: How to Avail of PhilHealth Discount and Benefits for Senior Citizen
Who Are Eligible To Get a Senior Citizen ID?
For you to be eligible for the ID card, you must be a senior citizen, which means you must be:
Sixty (60) years old or over;
A citizen of the Philippines;
A resident of the city or municipality where you are applying for at least six (6) must prior to your application.
What Are the Requirements for the Senior Citizen ID Application?
Before going to the Office of the Senior Citizen's Affairs (OSCA), make sure you have with you the following requirements:
A recent 1×1 ID photograph;
Photocopy of any of the following documents:
Comelec Voter's ID;
Old residence certificate;
Any combination of identification documents confirming your name, date of birth and present address.
Related: The Ultimate List of Philippine Valid IDs
How To Apply for Senior Citizen ID: 5 Steps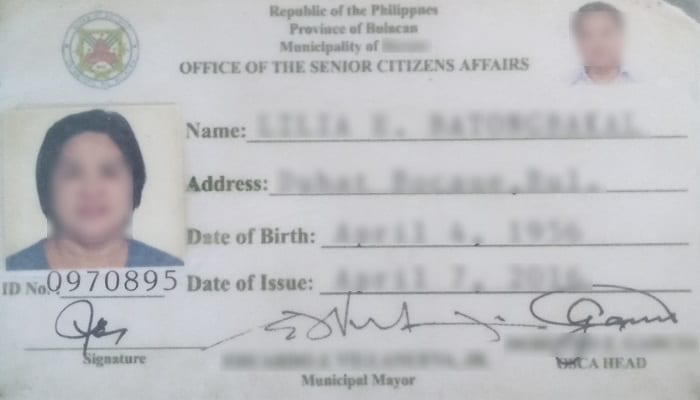 1. Visit the Senior Citizen's Affairs Office (OSCA) in the city or municipality where you reside
The office is usually found in the municipal or city hall of your town/city.
2. Approach personnel or a person in charge and ask for the application form
3. Fill out the details required in the form
Details required are usually:
District
Barangay
Complete name, age, sex, civil status,
Complete address
Date of birth and place of birth
Details of your spouse and children, if any
Signature
4. Submit the completed form along with all other required documents
5. Wait for the release of your card
The process depends on the municipality or city but you will usually get it in less than an hour.
Frequently Asked Questions
1. My senior citizen card was issued in the province. Can I use the same card in Metro Manila?
Yes, the senior citizen ID card is valid all throughout the country.
2. I forgot to bring my OSCA-issued senior citizen ID card when I went to a restaurant, can I still avail of the 20% discount even without the ID?
Yes, you still can. With the absence of your senior citizen card, you may present any of the following proof of identification instead:
Government-issued ID indicating your age or date of birth such as driver's license, voter's ID, SSS/GSIS ID, PRC Card, Postal ID;
Other valid documents that establish you are a citizen of the Philippines and at least sixty (60) years old.
3. How much is the senior citizen ID card?
It is free. However, some cities and municipalities charge a fee when you get a replacement card.
4. I lost my senior citizen ID card. What shall I do?
You can visit the OSCA in the city or municipality where you reside and obtain a replacement card. Documents required and the process are as follows:
Submit 2 copies of Affidavit of Loss.
Submit 2 copies of Police or Barangay Report.
Pay the ID replacement fee, if required.
Go back to the main article: A Complete Guide to Senior Citizen Discount and Benefits