NBI clearance. Yup, that dreaded government-issued piece of paper we are all compelled to get for the sake of our careers.
The thought of getting this mandatory document used to throw me in a bad mood, what with the long queues I had to endure for at least 3 hours just to submit the application form.
Fortunately, someone from the government realized the hell we were going through and introduced an online appointment system (thanks, technology!).
With a deeply ingrained idea of the NBI clearance application being a pain in the ass, I set out to prove whether this innovation could change my perception.
The result is a comprehensive guide to NBI clearance application and renewal for 2021 and beyond.
Renewing your old/expired NBI clearance? Read this: How to Renew NBI Clearance Online the Fastest and Easiest Way
Table of Contents
Watch Video: How To Get NBI Clearance Online
What Is an NBI Clearance?
NBI stands for the National Bureau of Investigation. It's the local counterpart of the United States FBI.
The purpose of the NBI clearance is to prove you're a citizen in good standing and that you never messed up with the law.
NBI clearance is also a critical document required whenever you're applying for a job (here or overseas), studying abroad, taking the civil service exam, or starting a business.
Perhaps you're wondering what is the difference between NBI clearance and police clearance.
Both government-issued documents have the same purpose (i.e., to check whether there have been criminal cases filed against you). And with the introduction of the National Police Clearance System by the PNP, both now have nationwide coverage.
However, they differ in terms of how quickly they process a "HIT" on an applicant's records and the content of the databases they're using. For more information, read this: What is the difference between NBI clearance and police clearance?
Getting an NBI clearance used to be painstakingly slow. Fortunately, things took a turn for the better.
In fact, in 2015, NBI announced that it no longer accepts walk-in registrations1. Hence, everyone must apply and make appointments online to get an NBI clearance.
Moreover, a 2017 memorandum has changed the format of the NBI clearance2. It's now a multi-purpose ID bearing the statement "Issued for whatever legal purpose," meaning you no longer have to specify the purpose (travel/employment; local/overseas) of using the NBI clearance.
How Long Is the Validity Period of NBI Clearance in the Philippines?
The NBI clearance has a validity period of only 1 year from the date of issuance.
NBI Clearance Requirements
For first-time applicants, including those who are for renewal but whose NBI clearances were issued before 2014 or whose previous clearances have a correction/error/changes in any field (even if the correction only involves a single letter), the following is required:
1. Any two (2) valid government-issued IDs
Here's a list of acceptable valid IDs for the NBI clearance application3:
UMID (SSS and GSIS)

Voter's ID or Certificate of Registration

Pag-IBIG ID (not the Loyalty Card)
Police Clearance issued by the police station with jurisdiction over the applicant's place of residence. Note: One of our readers warned about presenting police clearance as a valid ID. Although it's still included in the official list of valid IDs accepted for NBI clearance, the reader was told they don't accept police clearance anymore. To avoid wasting time, you can bring primary valid IDs or birth certificates instead.
Certification from the Local Civil Registrar
Certification from Malacanang in connection with indigenous groups, tribal membership, foundling
Solo Parent ID
Seaman's Book and SIRV
MARINA ID
Company ID (for government employees only)
School ID together with current registration card
Note: According to one of our readers who recently availed of the free NBI clearance at the main office on U.N. Avenue, first-time job seekers must present 2 valid IDs. The first one can either be PSA Birth Certificate or a Philippine passport, while the other one can be any of those listed above so long as it bears your photo and signature. You can't present both passport and birth certificate as they're technically considered the same by the NBI Clearance office.
2. Barangay Certification and Oath of Undertaking (for first-time job seekers only)
Barangay Certificate is only required for first-time job seekers who want free NBI clearance per the First Time Jobseekers Assistance Act4. This document is proof that you've been living in your place of residence for at least 6 months and that you're a first-time job seeker. It should come with an Oath of Undertaking duly accomplished by the applicant and executed in front of the Barangay Captain/Chairman.
If you have chosen to obtain the free NBI clearance at the main branch on U.N. Avenue (or at any branch for that matter), please be reminded that the office strictly requires applicants to use specific templates of both the Barangay Certification and Oath of Undertaking. Failure to follow the templates will result in the rejection of your application. To know more about these requirements and their templates, please check out this guide: How to Avail of the Free NBI Clearance for Fresh Graduates.
3. Reminders/Additional Information
When applying online, you'll be asked to enter the name of the two valid IDs you'll bring on the day of your appointment. In the first box, choose your primary ID from the drop-down list provided. The second box, meanwhile, is where you can indicate the other valid ID (whether included in the previous drop-down list or not) that you'll bring for verification purposes.
According to the NBI Clearance Help Desk, Company ID (unless you're a government employee), Barangay Clearance, and other non-government-issued IDs are NOT accepted.
An NBI personnel will check the validity and authenticity of valid IDs so make sure yours is government-issued, original (not photocopied), and in good condition (bearing legible texts and your recent, recognizable photo).
Renewal applicants whose NBI clearances were issued from 2014 onwards should bring 1 valid government-issued ID and a copy of their previous clearance.
How To Get NBI Clearance Online in the Philippines: 13 Steps
Getting your NBI clearance through the new online application system is pretty straightforward. It's like applying for your Philippine passport, but relatively easier.
Let's go through all the steps one by one: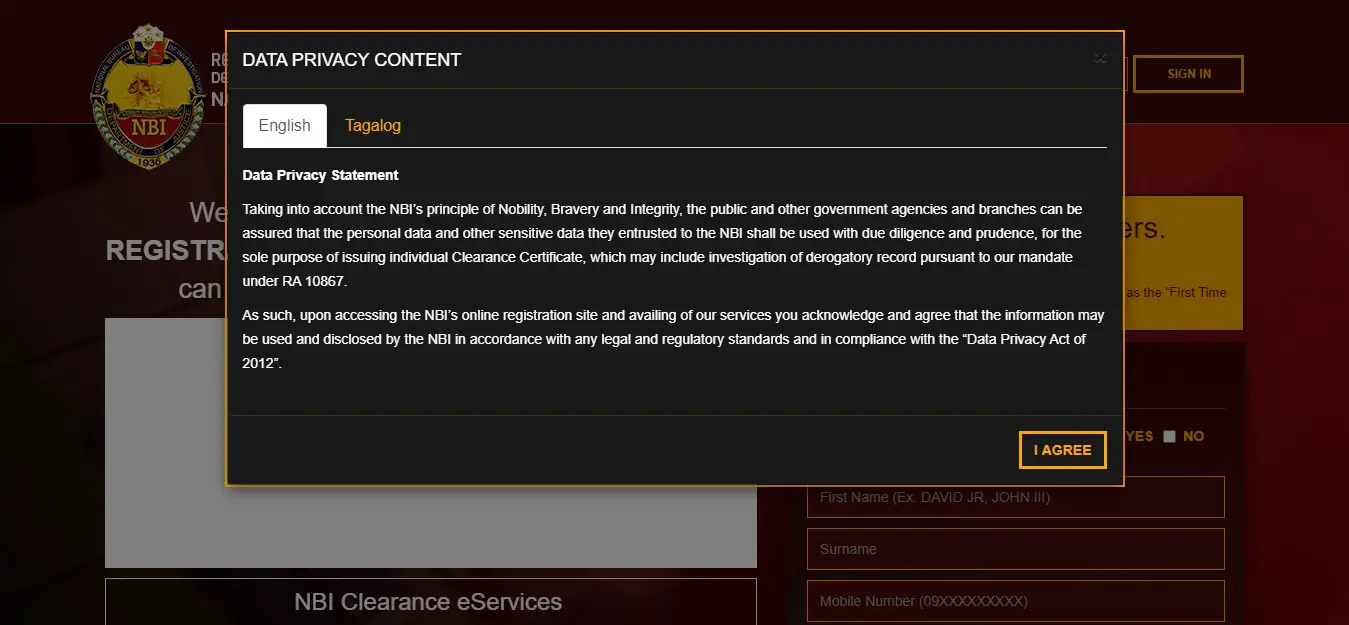 Read the Data Privacy Statement and click I Agree.
Read the additional reminders and then click Close.
2. Register to create an account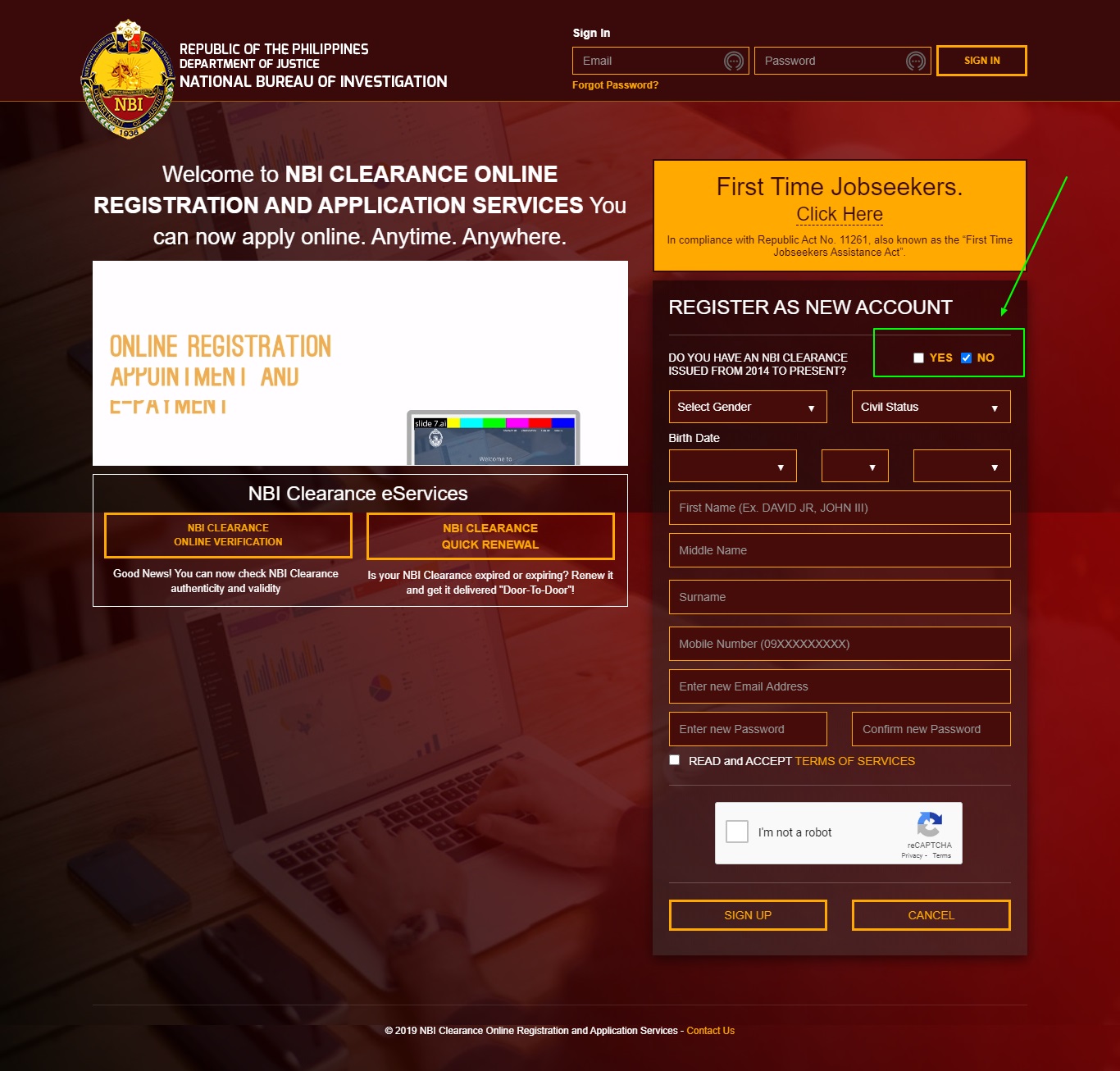 (If you're a first-time job seeker who wants to avail of the free NBI clearance, click the yellow box that says First Time Jobseekers to proceed with your application. Read more about it here. Otherwise, proceed with the regular application as discussed in the succeeding steps in this article)

Since you're applying for a new NBI clearance and not renewing an old one, tick the box that corresponds to NO next to the question DO YOU HAVE AN OLD NBI CLEARANCE ISSUED FROM 2014 TO PRESENT?
Fill out the registration form.
Take note that the system doesn't accept special characters. Hence, if you have a hyphenated first name or surname, leave out the hyphen during registration. Simply inform the personnel on the day of your appointment about the hyphen so it can be included before your NBI clearance is printed out.
Moreover, NBI strictly follows its "one email = one user" policy. It means you can only use one email when creating a new account.
Ensure that all personal details you've entered are complete and correct.
Tick the box that says Read and Accept Terms of Services. Then mark the box that says I'm not a robot to verify your identity.
Finally, click Sign Up.
3. Enter the One-time Password sent to your registered mobile number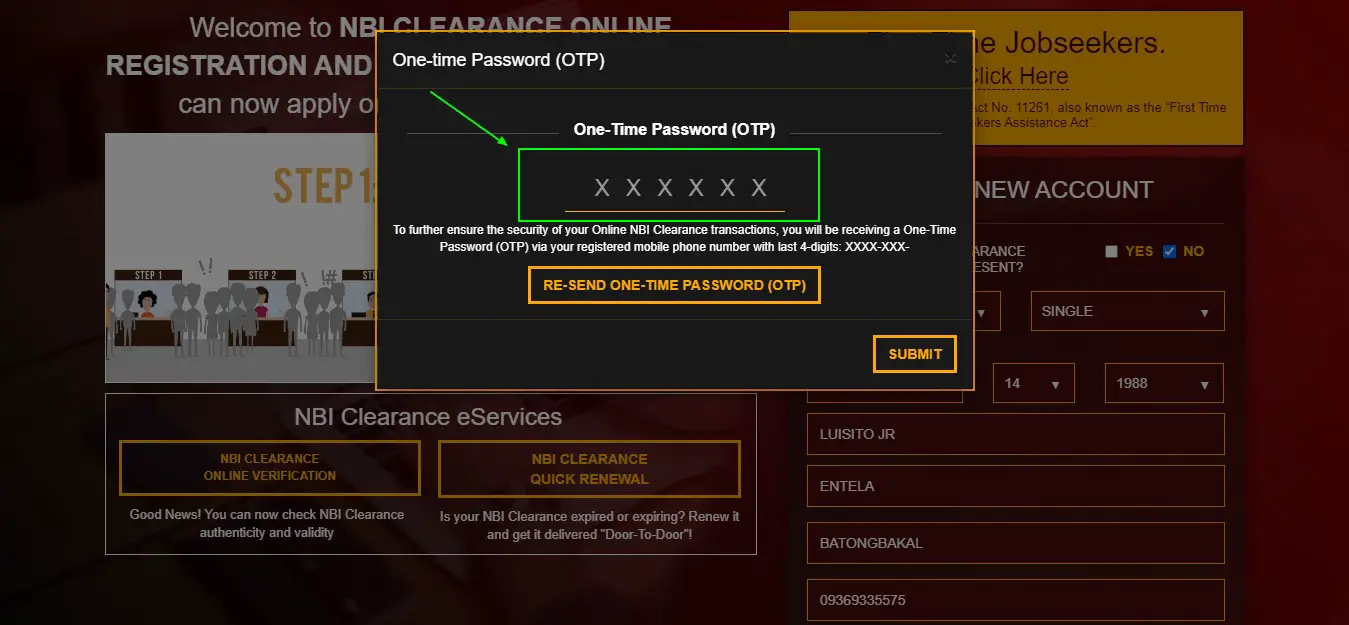 This One-time Password or OTP has been placed as an added layer of security for your online NBI clearance transactions. If you haven't received one, simply click RE-SEND ONE-TIME PASSWORD (OTP) to generate another OTP.
Aside from your mobile number, you can also check your registered email address for the OTP.
After entering the numbers, click Submit.
4. Log in to your account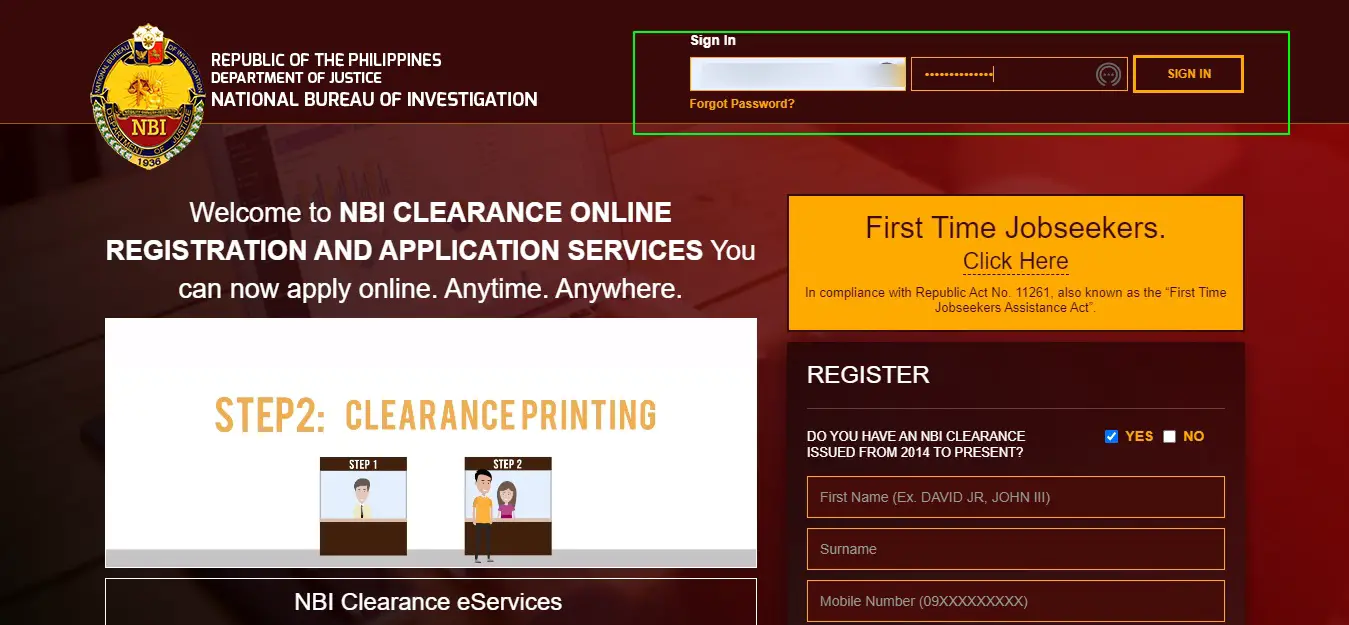 After the initial registration, sign in using the email and password you entered during registration.
5. Fill out the Applicant Information form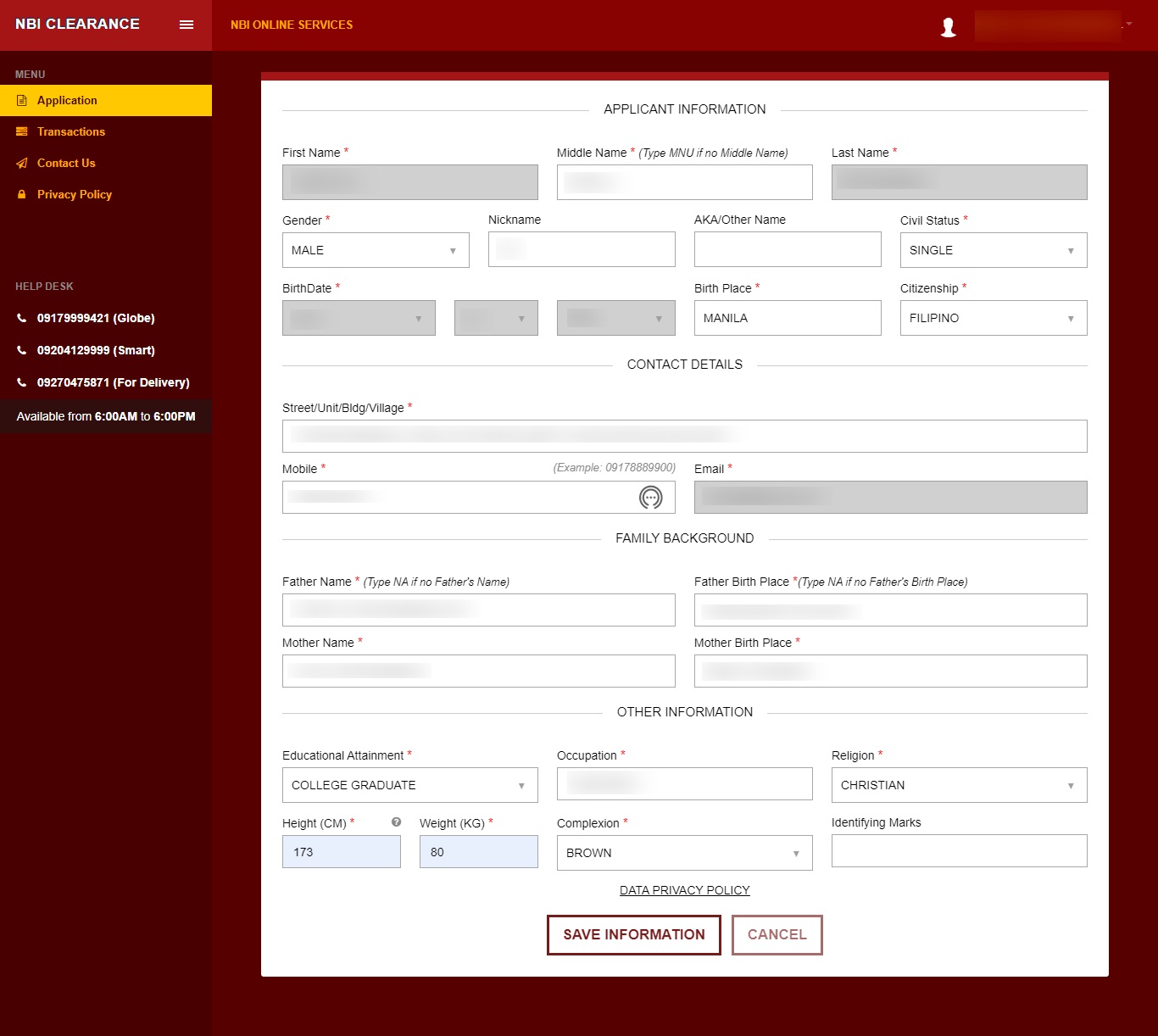 After signing in, you will be directed to the Applicant Information page where you'll be asked to enter additional personal details such as middle name, civil status, birthplace, address, etc. Those with a red asterisk are required information so don't leave them blank.
Provide all the requested information. The system only recognizes letters and spaces. Therefore, avoid using commas and periods when filling out the form.
Once you're done, click the Save Information button at the bottom of the page.

A box will then pop up asking you to review all the information you've just provided. If you're sure about their accuracy and completeness, click Submit.
6. Select Apply for Clearance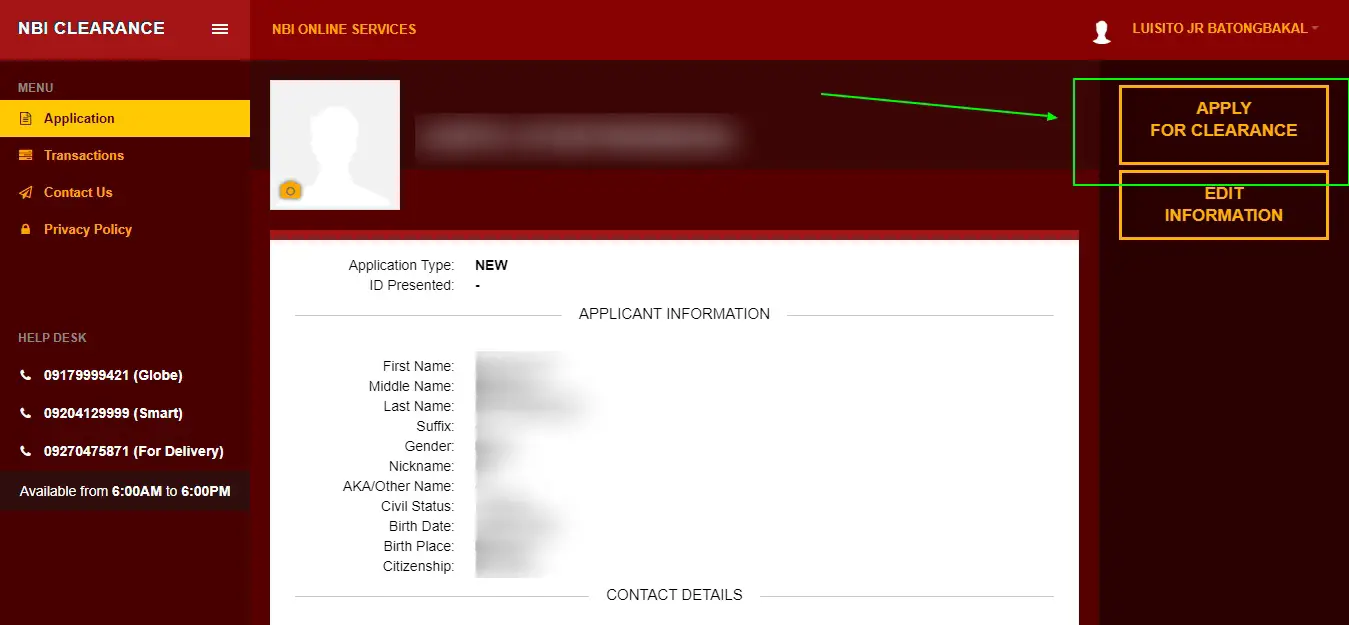 After saving your details, click the Apply for Clearance button at the top of the screen (if you're using a mobile phone) or the upper right corner of the page (for desktop or laptop users).
7. Provide the type of ID (and its ID number) that you'll bring on the day of your appointment for verification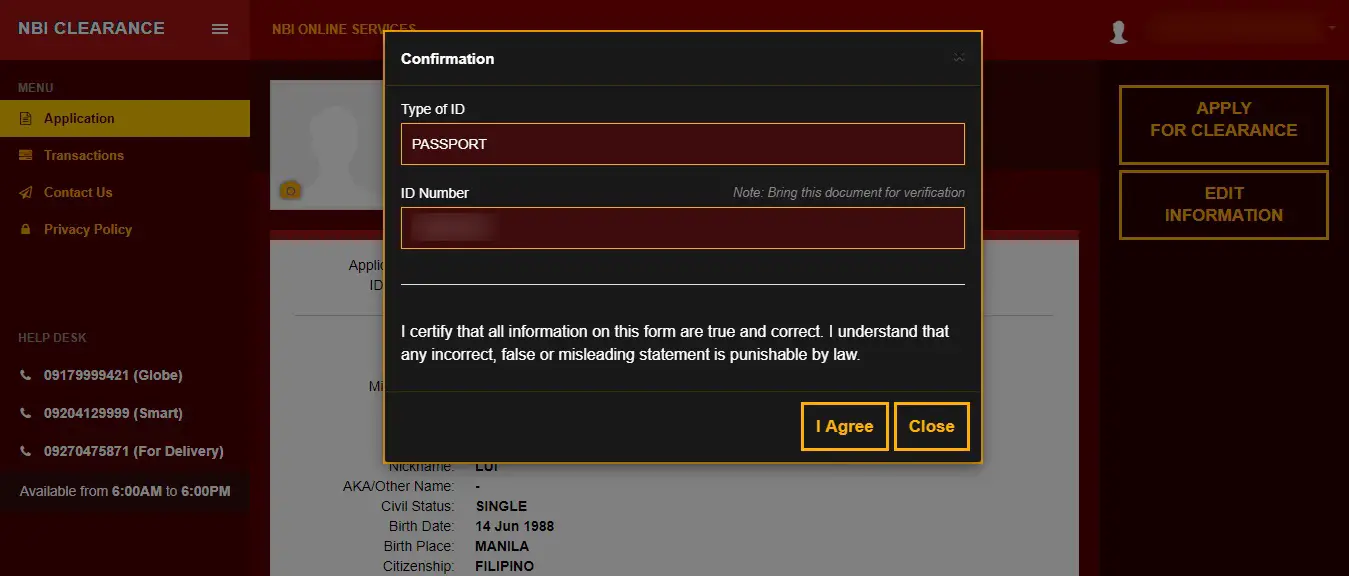 A pop-up box will appear asking you for the type of valid ID (and its ID number) you'll bring for verification. You must bring at least two valid IDs as supporting documents on the day of the appointment.
Click I Agree to proceed to the next page.
8. Choose your preferred NBI branch

You can select the main branch at UN Avenue, Manila, or any NBI branch near you. Fortunately, there are numerous branches located in Manila and all over the country so you'll never run out of choices.
In case you already paid the fee and you want to process your NBI clearance in another branch different from what you've originally chosen here, you will be required to call the original branch and request for your records to be transferred to the new NBI clearance branch of your choice. Without a proper endorsement, you can't proceed to any branch to process your application.
9. Select your preferred appointment schedule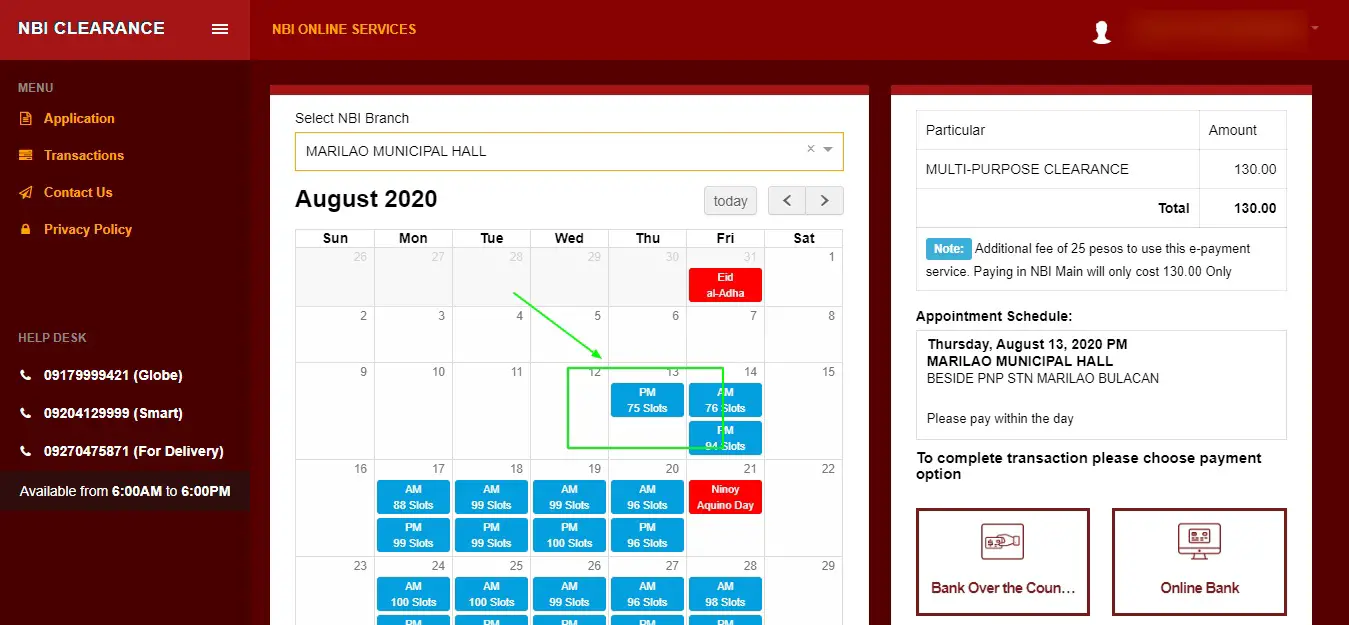 After choosing your preferred NBI branch from the drop-down list provided, select your appointment date and time (AM or PM). Boxes shaded with blue indicate vacant slots.
Please be careful when choosing your appointment date because you can no longer change or reschedule it once you have already paid the NBI clearance fee. If you've already paid and won't make it on your appointment date, NBI will still give you another 15 days to proceed to the NBI clearance branch of your choice and complete your application.
10. Choose a payment option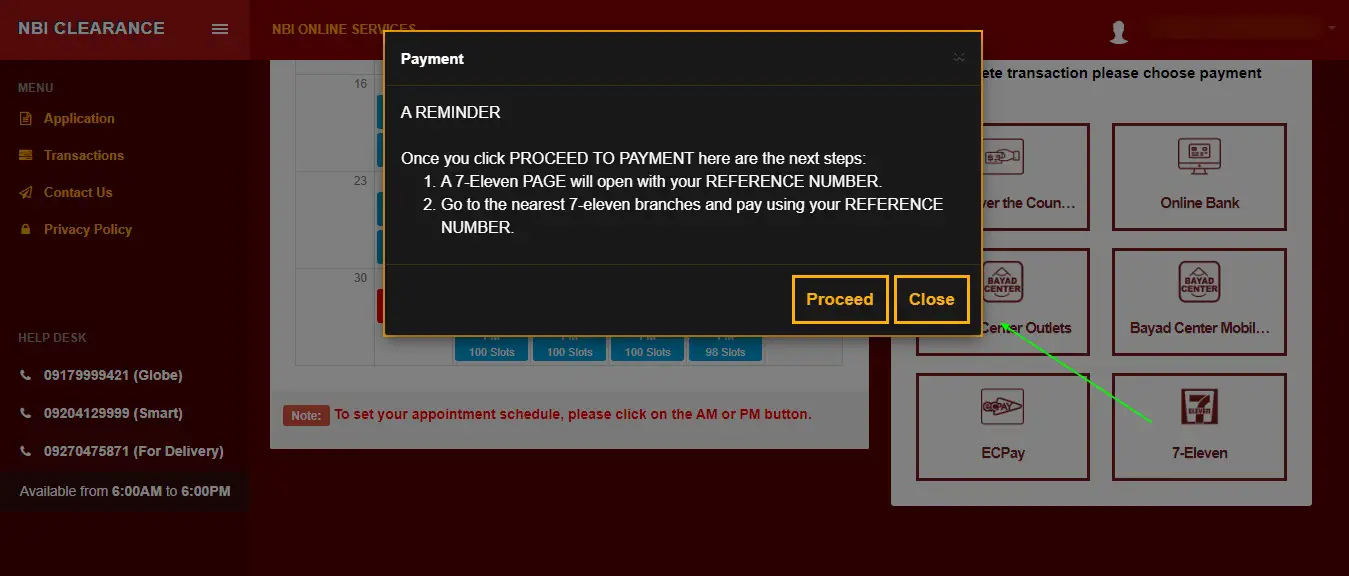 In summary, here are the available payment methods you can choose from:
Bank Over The Counter: Pay over the counter to any bank like BDO, Metrobank, Chinabank, Landbank, RCBC, Eastwest Bank, Union Bank, Security Bank, PNB, etc.
Online Bank: Pay the fees through online banking partners such as BDO Internet Banking, BPI Express Online, Unionbank EON, etc.
Bayad Center Outlets: Pay to any Bayad Center outlets or partner outlets like Cebuana Lhullier, LBC, Villarica Pawnshop, Waltermart, Robinsons, SM Savemore, etc.
Bayad Center Mobile: Pay using the Bayad Center app which you can download via the Google Play Store or the Appstore.
ECPay: Includes all ECPay partners like RD Pawnshop, Petron Corporation, Expresspay Inc., and many others.
7-Eleven: Make the payment by going to any 7-Eleven branch near you.
Visa/Mastercard: A new payment method that enables applicants to pay the NBI clearance fee using their debit/credit card powered by Visa or Mastercard.
GCash: Another newly introduced payment channel, GCash is a mobile wallet that you can install on your phone so you can easily complete payment transactions with just a few clicks. Learn how to create your GCash account here.
On the same page (see the previous step), select the payment option you prefer.
As soon as you choose a payment method, a pop-up box will appear to provide instructions on how to pay the fee through the payment channel you've selected.
Click Proceed to go to the next step.
11. Pay the NBI Clearance fee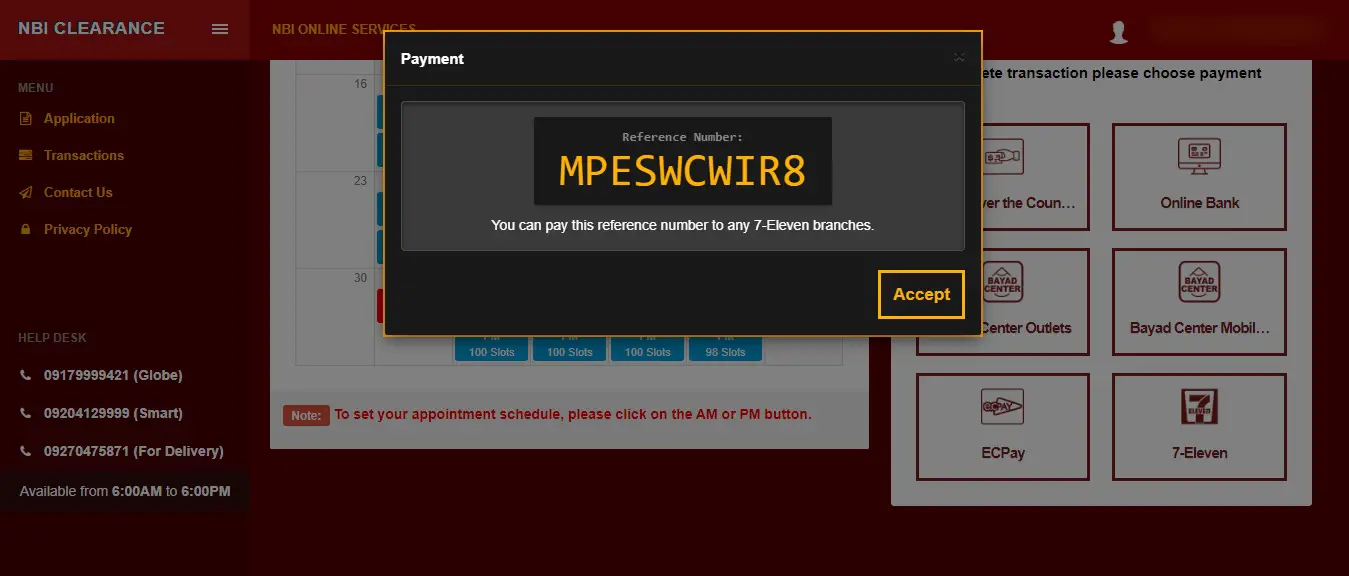 After the previous step, you will be shown a summary of your transaction, including the NBI clearance fee. As of this writing, a multi-purpose NBI clearance costs Php 130.  An additional Php 25 is added for the use of the e-payment service.
Depending on the payment channel you've chosen, clicking the Proceed to Payment button will either direct you to an online banking portal or to another pop-up box showing a set of alphanumeric characters that will serve as your reference number.
Don't forget to write down or take a screenshot of this reference number. You need this reference number when paying the NBI clearance fee. It will also serve as your gate pass when entering the NBI clearance center.
To check the status of your application, click on Transactions from the menu. It will lead you to a page showing your reference number and information on whether the payment has been successfully processed or not.
After paying the fees, check your email for payment confirmation. You can also go back to the Transactions page of the NBI Clearance website to see if the status of your application has been changed from "Pending" to "Paid."
Print the application form. If you're using a mobile phone, you won't see the button to print the application form unless you resize the browser window to the size of the phone screen.
Take note that printing the form is not mandatory.
If you don't have a printer at home, simply write down your reference number or take a screenshot of it using your mobile phone and present it to the NBI personnel on the day of your appointment.
Bring the application form (or a copy of your reference number) and your valid IDs on the day of the appointment. You're now ready to have your photo and fingerprint biometrics captured.
12. Proceed to the NBI Clearance center to have your photo and fingerprint biometrics captured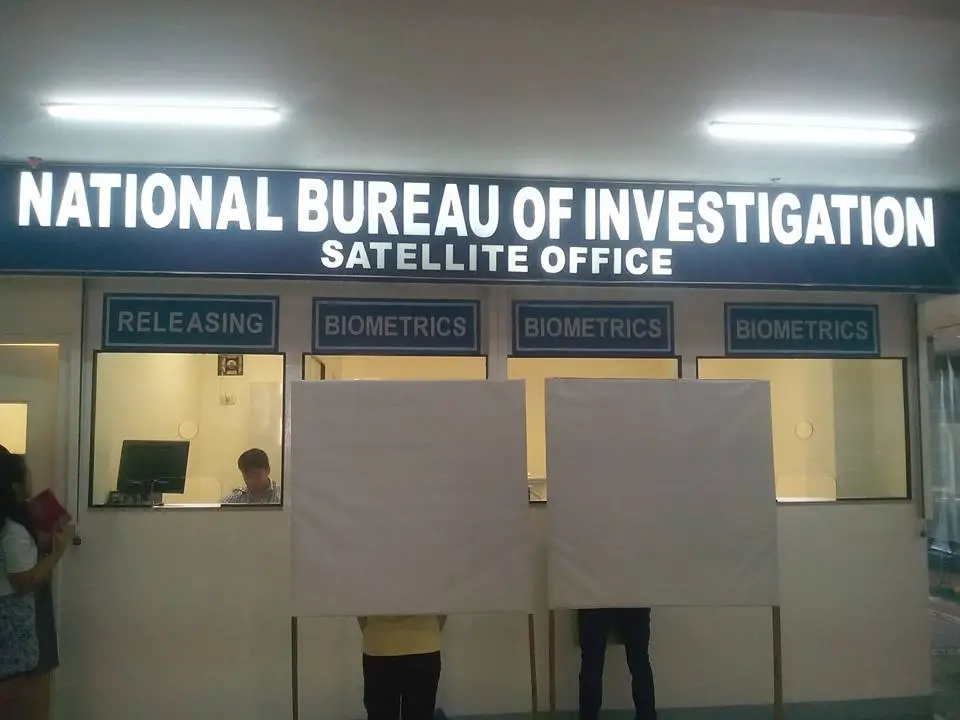 Go to your chosen NBI clearance center on the day of the appointment.
Don't forget to bring the requirements, most importantly the application form/reference number. A security guard or NBI personnel will be ready to assist you.
Since you're done with the application, you can go straight to the encoding station where your biometrics and photograph will be taken.
13. Claim your NBI clearance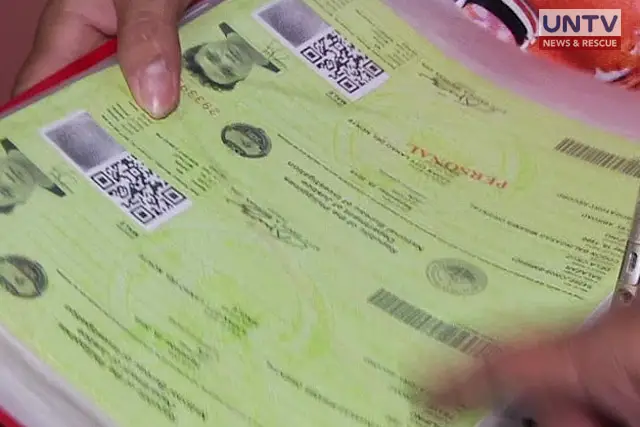 As long as there's no "hit" (meaning you don't have a namesake who is involved in some suspicious activity), your NBI clearance will be ready for release in just a few minutes.
Otherwise, you will be asked to return after a few days so they can clear any anomaly in your application.
Renewing your old/expired NBI clearance? Read this: How to Renew NBI Clearance Online
Tips and Warnings
NBI only accommodates applicants with a valid online appointment. Any person applying for an NBI clearance must secure an online appointment first, or they won't be accommodated.
Unless you're applying from abroad, you can't get an NBI clearance in the Philippines without a personal appearance. NBI can't also process your application through an authorized representative as your latest picture and biometrics are required for their database.
Never go to the NBI Clearance Center on the day of your appointment without bringing valid ID/s. NBI strictly implements a "No ID, No Clearance" policy.
The NBI clearance is not a valid ID for the Philippine passport application. It only serves as a supporting document you can present to the consular officer for further verification. For a list of valid government-issued IDs for the Philippine passport application, please refer to this guide.
Since the new NBI clearance is now "multi-purpose," the green NBI clearance for overseas employment or travel abroad no longer exists. The one currently issued can be used for all purposes, whether locally or abroad.
There is no age requirement for the NBI clearance application. This means all Filipinos or foreigners, regardless of age, can apply for it.
Fresh graduates, specifically first-time job applicants, can now apply for NBI clearance for free. This is thanks to the Republic Act No. 11261 (First Time Job Seekers Assistance Act) signed by President Rodrigo Duterte on April 10, 2019. The NBI Clearance website has been updated recently to accommodate fresh graduates or first-time job seekers who want to avail of the NBI clearance for free. Read our new and updated guide to learn how to apply. 
Jaywalkers who refuse to settle their penalties will get A "HIT" on their NBI clearance. As part of their effort to prevent the increasing cases of jaywalking that often result in road accidents, the Metropolitan Manila Development Agency (MMDA) revealed that the names of jaywalkers who disregard their tickets will be submitted to the NBI alarm list5, resulting in a "HIT" which prolongs the release of their NBI clearances should they apply for one. To avoid getting a "HIT," jaywalkers who have been apprehended by MMDA should EITHER pay the fine of Php 500 or render community service. Related: How to Get NBI Clearance if You Have a Pending Case
Never deal with fixers, whether online or outside the NBI clearance center premises, who sell "priority numbers" in exchange for an expediting fee. These unscrupulous individuals, who claim to be connected with the NBI, prey on naive applicants who eventually discover that such priority numbers don't exist6, wasting a lot of time and money in the process. Remember, only deal with NBI official or staff wearing their official ID and uniform inside the NBI clearance center premises. In case you've been victimized by one of these fixers, remember that their practices are violating the Republic Act No. 9485 or the Anti-Red Tape Act of 20077 and therefore punishable by law. The NBI encourages everyone to report such incidents to their office to prevent others from getting victimized.
Frequently Asked Questions
References