How to Renew NBI Clearance Online the Fastest and Easiest Way
Last Updated on
If you have an expired NBI clearance, you're probably wondering if you're supposed to go through the same process all over again.
I mean, who likes going back to square one?
The hassles of making an appointment online and going to the NBI clearance center just to renew a government-issued document is too much, especially for someone with a very busy schedule.
Fortunately, through the NBI Clearance Quick Renewal, you can now renew your clearance online and get it delivered to your doorsteps in a matter of days.
In this guide, we'll introduce you to this wonderful feature and provide answers to all the queries related to NBI clearance renewal.
Another way of renewing NBI clearance will also be discussed for those whose personal info like name, civil status, etc. needs to be updated/corrected/changed before they can proceed with the renewal process.
First-time applicant? Read this guide instead: How to Get NBI Clearance Online in the Philippines
Option 1: How to Renew NBI Clearance Using the Quick Renewal System.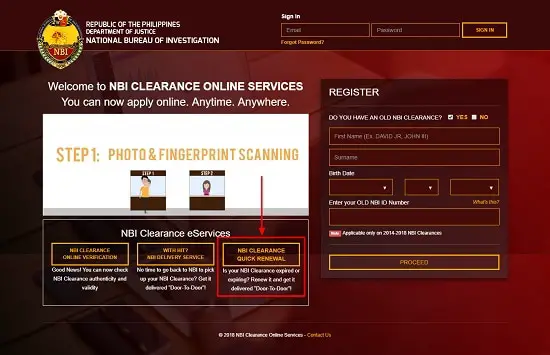 Unless you want to edit/make corrections on your name or other personal details, you don't have to register or log-in. Go straight to the "NBI Clearance Quick Renewal" located on the lower portion of the homepage and under the NBI Clearance eServices (see screenshot above).
Note: For applicants who want to update their name, civil status, or other personal details, jump to Option 2 of this article.
2. Enter the NBI ID Number from your old/expired clearance.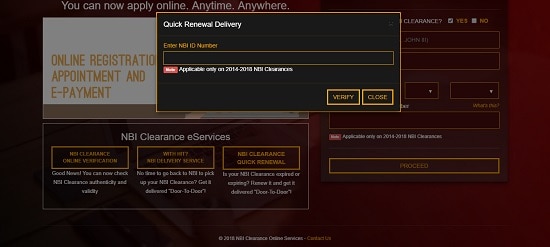 Upon clicking "NBI Clearance Quick Renewal," a pop-up box will appear and request for your NBI ID Number.
Since you're for NBI clearance renewal, I assume you have a copy of your expired NBI clearance. Without the NBI ID number, you can't renew your clearance.
The photo below shows where you can find the NBI ID Number on your old clearance. It contains alpha-numeric characters and located on the upper corner of the document.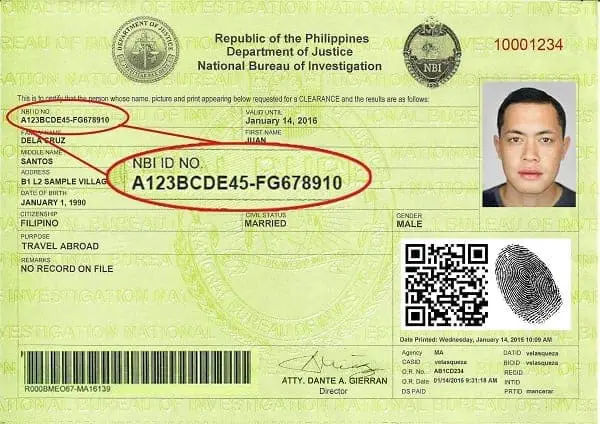 Take note that the online renewal system is only applicable to NBI clearances issued from 2014 to 2018. If your NBI clearance was released prior to 2014, it is considered invalid and you must go through the same process intended for new applicants.
After providing your NBI ID Number, click "Verify" to proceed to the next step.
3. Fill out the Quick Renewal Delivery form.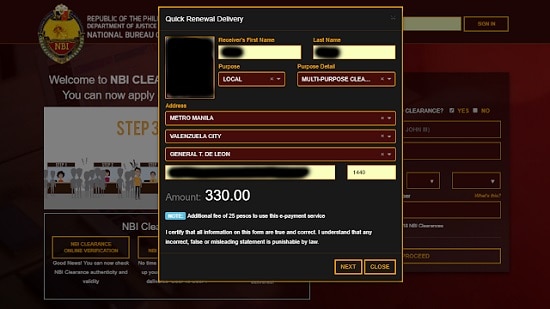 Using the NBI Clearance Quick Renewal option qualifies you to door-to-door delivery, meaning you don't have to set an appointment and personally visit the NBI office to get your new clearance.
To have your NBI clearance delivered to your doorsteps, provide all the details requested in the Quick Renewal Delivery form, most important of which is the delivery address.
Ensure that the address given is complete and accurate to avoid delays in delivery.
Since you're availing of express delivery, the total cost is a tad higher than when you renew your NBI clearance the traditional way.
Apart from the renewal fee of Php 330, a service fee of Php 25 will also be charged from you for the use of the e-payment service.
Once you're done, click "Next" to choose a payment option.
4. Choose your preferred mode of payment.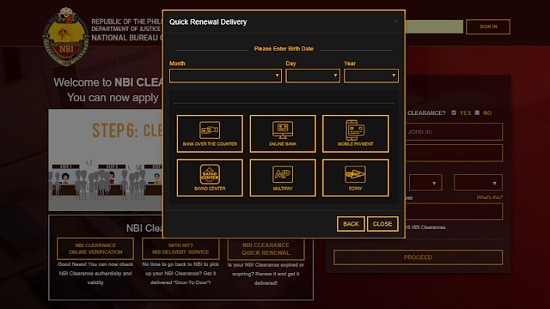 The next page will ask you to provide your birth date and allow you to choose the mode of payment you prefer to pay the NBI clearance renewal fee.
As of this writing, there are six payment methods to choose from:
Bank Over Counter – ideal for those who don't have a bank account, this enables you to pay the fee over the counter in any bank like BDO, Land Bank, Chinabank, etc.
Online Bank – is perfect for those who use online banking services of select banking partners like UnionBank EON, BPI Express Online, etc.
Mobile Payment – is for those who have an existing GCash account.
Bayad Center – if you want to pay the renewal fee at the nearest Bayad Center branches or through its online payment portal.
MultiPay – available to those with MultiPay account. If you have one and your MultiPay Wallet doesn't have money, you can load it through various MultiPay Payment outlets.
ECPay – includes all ECPay partners such as Petron Corporation, Expresspay Inc., and RD Pawnshop, among others.
5. Pay the NBI clearance renewal fee at selected payment channel.
After selecting your preferred mode of payment, a final pop up box will appear showing a reference number.
Write down or take a screenshot of this reference number because you need it when making the payment at your selected bank/payment outlet. If you choose a method that allows you to pay the fee online, simply follow the instructions on the screen to finalize the payment.
6. Wait for your new NBI clearance to be delivered.
Expect for the NBI clearance to be delivered to your doorsteps by the courier approximately 5 to 10 working days from the time of your payment.
Delivery time depends on the applicant's location so transit time varies.
If you want to follow up or in case you've failed to receive the document within that time frame, contact NBI ICTD Manila through the telephone number (02) 5228788 (local extension: 5523) or email address at ictd@nbi.gov.ph
Again, the NBI Clearance Quick Renewal is only applicable to those whose personal details/information remain unchanged since the old NBI clearance was issued.
If you need to update your marital status, change a spelling error in your name, or make changes in your Account Information, renew your NBI clearance the traditional way instead (see Option 2).
Option 2: How to Renew NBI Clearance the Traditional/Standard Way.
This section provides the traditional way of renewing your NBI clearance online.
Unlike Quick Renewal, this option requires the applicant to register online, secure an appointment with the NBI, and personally claim the new clearance at the NBI clearance center. 
It's ideal for those whose previous/old/expired NBI clearance has a piece of information they want to correct/change/update like name, civil status (from single to married), and other personal details. 
1. Online Registration.
Go to the NBI Clearance Online Services website.
If you didn't create an account before, you need to register first. This applies to those who managed to get an NBI clearance before the NBI Clearance Online Services went live. Otherwise, sign in with your old email and password which you used to apply the first time. 
For those who haven't registered yet, look for the "Register" section on the right side of the homepage.
Mark the appropriate answer to the question "Do You Have An Old NBI Clearance?" If you're for renewal, you obviously need to check the box that says "YES."
Fill out the form with your first name, surname, birth date, and your old NBI number.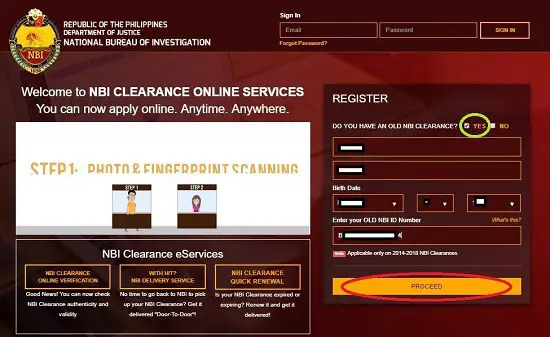 Click "Proceed" upon providing all the required details. You will then be asked to complete the registration.
Double check to ensure all the information you've entered is correct. If finished, mark the box that says "I Accept Terms of Service" and click "Sign Up."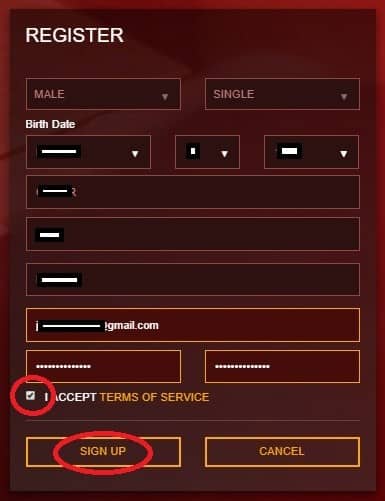 After the registration is complete, you will be redirected back to the homepage.
Sign in using the email address and password you've just provided during the registration.
Once logged in, your account information will show up. Review the applicant information and ensure that the application type has been updated to "RENEW."
If you need to make changes, simply click "Edit Information" on the upper right corner of the page. Otherwise, click "Apply for Clearance" to proceed with the renewal.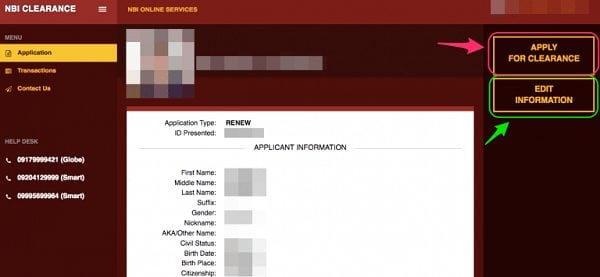 2. NBI Clearance Renewal Online Appointment.
At this point, the process is almost identical to what you'll usually go through when applying for an NBI clearance for the first time. For the sake of convenience, review Step 2 onwards of this guide.
A pop-up window will appear asking you to provide the valid ID you'll present on the day of the appointment.
Choose one from this list of valid government-issued IDs. Aside from a government ID, renewal applicants are also required to bring a copy of their previous NBI clearance on the day of the appointment. 
Enter the name of the ID on the designated box and click "I Agree" to continue.
Select your preferred appointment venue, date, and time. A drop-down box containing a list of NBI branches that process applications and renewals are provided.
When choosing the application date and time, take note that blue indicates available slots.
3. Payment of NBI Clearance Renewal Fee.
After setting an appointment, proceed to the lower right corner of the same page and select your preferred payment channel. Current options are the following:
Bank Over The Counter.

Online Bank.

Mobile Payment.

MultiPay.

ECPay.

7-Eleven
As of this writing, the cost of NBI clearance for both new application and renewal is Php 130. An additional Php 25 will be charged for the use of the e-payment service.
Another pop-up window will appear to summarize the total amount you'll be paying. Click "Proceed to Payment."
Choose your preferred payment channel, get the reference number, pay the fee using your card (for online banking) or proceed to the bank or outlet where you'll make the payment.
To check whether or not the payment has been successful, go back to the NBI clearance website and select "Transactions" from the main menu.
If you've already made the payment, click the "Confirm Payment" button to print your application form.
4. Image Capturing and Biometrics.
Proceed to your chosen NBI Clearance Renewal Center on the day of the appointment.
Bring your application form and at least 2 valid IDs.
Tell the security guard or any NBI personnel that your NBI clearance is for renewal.
Since you've already filled out your application form online and paid the fees, you can proceed to the designated "biometrics" section to have your photo and fingerprints taken.
5. NBI Clearance Issuance.
If everything goes well and you have no hits, your NBI clearance will be printed and issued to you within a few minutes.
Frequently Asked Questions.