If you have an expired NBI clearance, you're probably wondering if you're supposed to go through the same process again.
The hassles of making an appointment online and going to the NBI clearance center to renew a government-issued document are too much, especially for someone with a hectic schedule.
Fortunately, through the NBI Clearance Quick Renewal, you can renew your clearance online and get it delivered to your doorsteps in a matter of days.
In this guide, we'll introduce you to this beautiful feature and provide answers to all the queries related to NBI clearance renewal.
First-time applicant? Read this guide instead: How to Get NBI Clearance Online in the Philippines
Table of Contents
NBI Clearance Renewal Requirements
1. Copy of old/expired NBI clearance
Whether renewing your NBI clearance via the Quick Renewal System or through the standard procedure, you need the NBI ID number from your old/expired NBI clearance for the transaction to push through.
Otherwise, you must apply for a new NBI clearance like you would for the first time.
2. One (1) valid government-issued ID
If you renew your NBI clearance via the Quick Renewal System, you need a valid ID for verification purposes when receiving it from the courier.
As for those renewing through the standard/regular process, you only need to provide one valid ID when securing an online appointment. However, it's best to bring two valid IDs on the day of your appointment in case the NBI personnel requires additional verification.
Here's a list of acceptable valid IDs for the NBI clearance application:
Voter's ID or Certificate of Registration

Pag-IBIG ID (not the Loyalty Card)
Police Clearance issued by the police station with jurisdiction over the applicant's place of residence
Certification from the Local Civil Registrar
Certification from Malacanang in connection with indigenous groups, tribal membership, foundling
Solo Parent ID
Seaman's Book and SIRV
MARINA ID
Security License ID (for security guards)
Note that company IDs, student IDs, barangay clearances, and IDs the government didn't issue are NOT accepted.
Also, the IDs you'll present will be checked for their validity and authenticity. Therefore, ensure yours are issued by the government, original and not photocopied, and with legible text and your recent, recognizable photo.
What Are the Ways To Renew NBI Clearance in the Philippines?
If you're in a hurry and don't have any personal information that needs updating, you can choose the NBI Clearance Quick Renewal. This method allows you to renew your clearance online and receive it after a few days.
No online appointment is necessary, and you no longer need to visit an NBI Clearance Center to claim your new NBI clearance.
Alternatively, you can do the standard NBI clearance renewal for your biometrics, which requires an online appointment and personal appearance at the NBI Clearance office. This option is ideal for those who cannot use the Quick Renewal due to system maintenance or need to update/change/correct/edit their personal information (even if it only involves one letter or character).
We'll discuss these two methods in great detail.
How Much Does It Cost To Renew NBI Clearance?
As of this writing, the cost of NBI clearance for new applications and renewal is PHP 130. An additional PHP 25 will be charged for the e-payment service (total: PHP 155). On the other hand, getting an NBI clearance through the online renewal will cost you up to PHP 362 (inclusive of the NBI clearance fee and the delivery fee).
NBI Clearance Online Renewal (With Door-to-Door Delivery)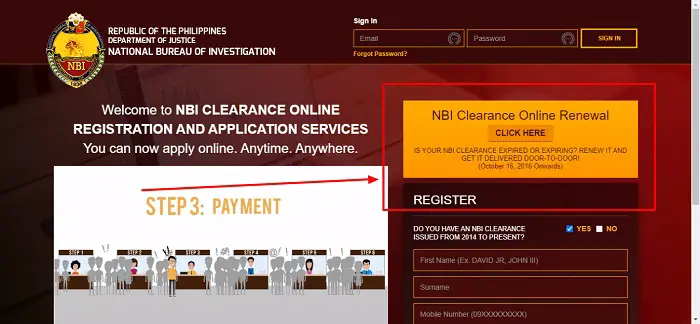 Do you want to renew and deliver your NBI clearance to your doorstep? With NBI Clearance Online Renewal, this is now possible.
Previously, door-to-door delivery was only available to Metro Manila residents. However, the pandemic prompted the NBI to work double-time to ensure a convenient renewal process is accessible to all Filipinos nationwide.
On June 17, 2021, the good news finally arrived. NBI announced that door-to-door delivery would now be available nationwide1. If your application doesn't get a HIT, your new NBI clearance can be delivered to your address in 3 to 7 working days (for Metro Manila and Luzon residents) or 7 to 10 (for Visayas and Mindanao residents).
There is still an option to pick up your new NBI clearance from the NBI office. You can also ask a representative to pick it up on your behalf if you are not available.
However, note that the online quick NBI clearance renewal only works for applicants whose clearances were issued from October 16, 2016, onwards.
To learn how to renew your NBI clearance online and avail of door-to-door delivery, follow these steps: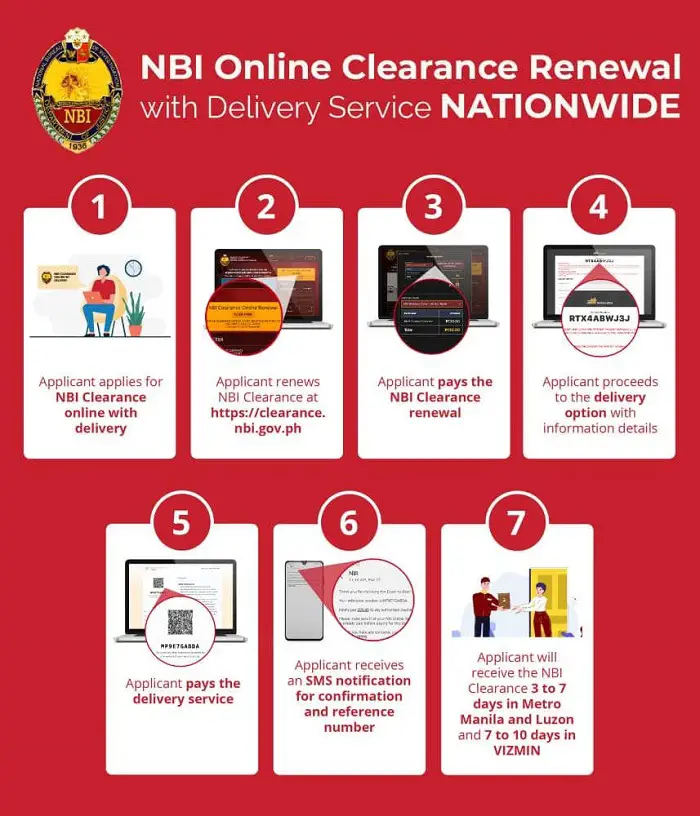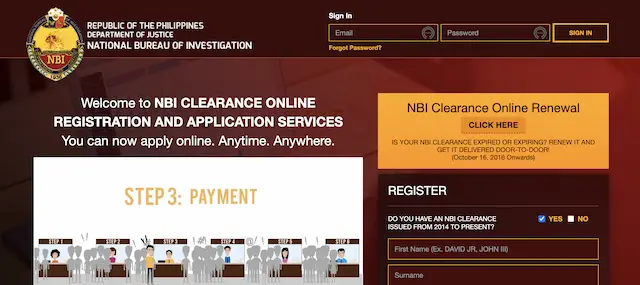 Click the CLICK HERE button inside the yellow box that says NBI Clearance Online Renewal
2. Fill Out the Online Renewal Form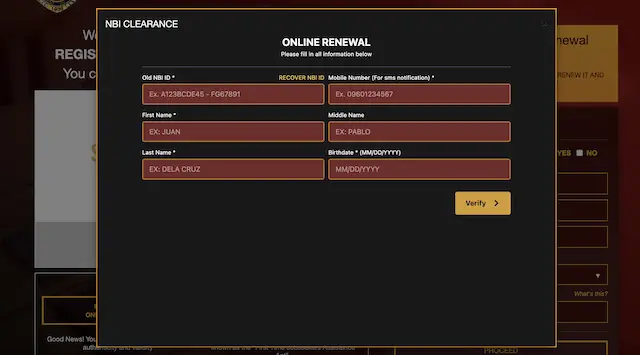 Input your old NBI ID number, mobile number, complete name, and birthdate in the dialog box that will appear. Only expired NBI clearances issued from October 16, 2016, are qualified for the online renewal.
Click Verify to proceed to the next step.
3. Verify Your Account By Choosing From the Three Available Verification Options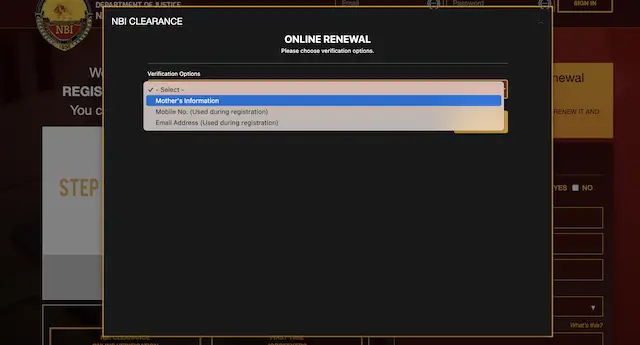 Before proceeding, you must verify your account to inform the system you're the account holder.
You can select from three verification options:
Mother's Information (or your complete mother's name)
Mobile Number (used during registration)
Email Address (used during registration)
4. Complete the Verification Process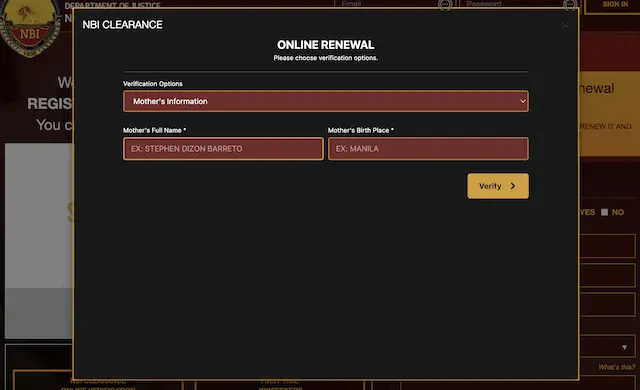 After selecting your preferred verification option, provide the requested information. For example, if you've chosen "Mother's Information," you'll be prompted to provide your mother's full name and birthplace.
Once done, click the Verify button to proceed to the next step.
5. Select Your Preferred Payment Option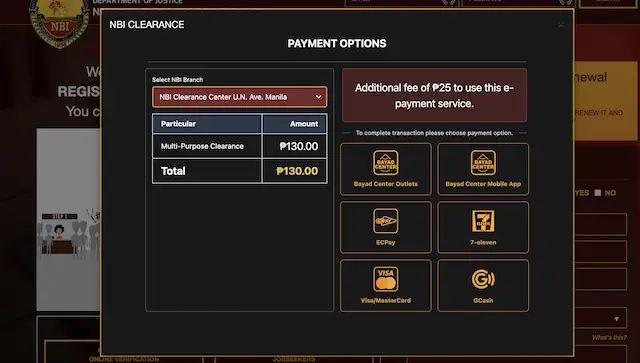 If you prefer to pick up your NBI clearance personally, click the drop-down arrow under "Select NBI Branch" and choose the NBI branch where you want to do the transaction. Usually, only one NBI branch is available and selected by default. If this is the case, leave it as is.
The NBI clearance fee will also be shown on the screen. In addition to the standard fee of PHP 130, there's also an additional fee of PHP 25 for using the e-payment service. As of this writing, you can pay the NBI clearance fee through the following payment options:
Bayad Center Outlets: Make over-the-counter payments at any Bayad Center outlet nationwide.
Bayad Center Mobile App: If you don't have time to leave the house, you can pay online via the Bayad Center mobile app.
ECPay: Includes all ECPay partners like RD Pawnshop, Petron Corporation, wExpress, and many others.
7-Eleven: Make the payment by going to any 7-Eleven branch near you.
Visa/Mastercard: A new payment method that enables applicants to pay the NBI clearance fee using their debit/credit card powered by Visa or Mastercard.
GCash: Another newly introduced payment channel, GCash is a mobile wallet that you can install on your phone to complete payment transactions with a few clicks effortlessly. Learn how to create your GCash account here.
Select your preferred payment option and wait for a new dialog box to appear (see screenshot below), reminding you that a reference number will be generated. You'll use this reference number to complete the payment. Once you've read the payment instruction, click Proceed to Payment.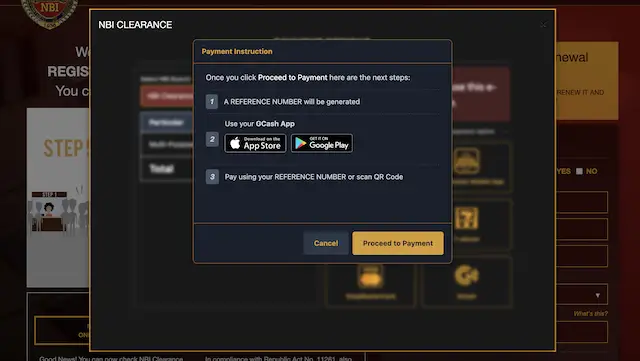 6. Pay the NBI Clearance Fee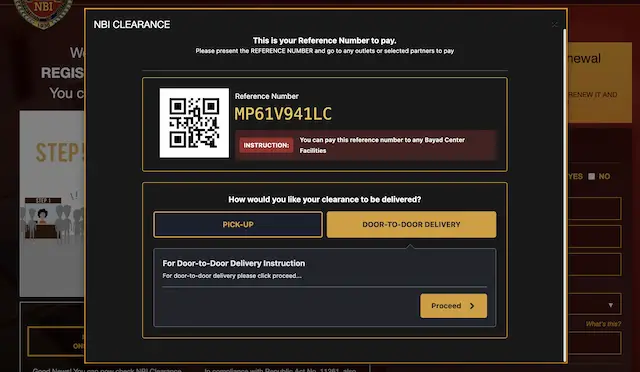 The following dialog box will provide the reference number or a QR code to complete the payment. You can scan the QR code or copy the reference number to pay the fee at any Bayad Center outlet or online through GCash and other virtual payment options.
You must complete this payment before requesting either the pick-up or door-to-door delivery. The delivery option also comes with a fee, but it's separate from the NBI clearance fee you should pay beforehand.
7. Choose How You'd Like Your NBI Clearance To Be Delivered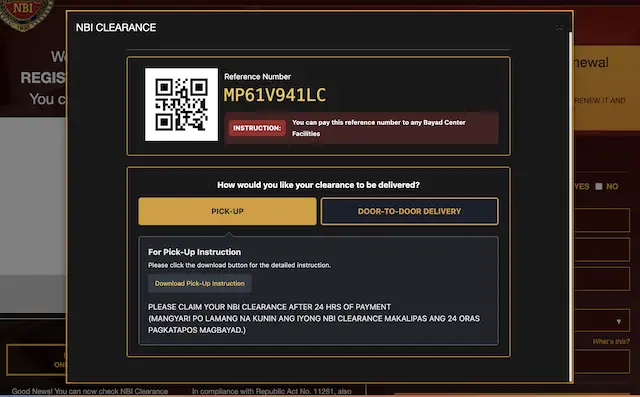 You have two options to get your new NBI clearance: Pick-Up or Door-to-Door Delivery.
Should you select Pick-Up, be reminded that you must claim your NBI clearance within 24 hours after completing the payment.
To verify if your clearance is already available for pick-up, you may either call the hotline number 8524-1277 or 8523-8231 local 5509 or send a text message with the format Reference Number<space>NBI (e.g., MNSBNJH NBI) to 09150656899 (for Globe subscribers) or 09478648747 (for SMART subscribers).
Once you've verified that your clearance is available for release, proceed to the NBI Clearance branch and claim the clearance personally by presenting a valid ID and the NBI Official Receipt (or the receipt issued by the electronic payment channel you used where the reference number is specified).
If you can't pick up the clearance in person, you can pay a courier service to receive it. However, you must first send an Authorization and Consent/Waiver to NBI. You can use the following template:
AUTHORIZATION AND CONSENT/WAIVER

I am authorizing the courier (specify the name of the courier service you engaged) to claim and receive my NBI Clearance Certificate, UNSEALED, on my behalf;
I hereby give my consent to the NBI to release my UNSEALED Clearance Certificate to my designated Courier; and
Lastly, I hereby release the NBI, its employees, contractors, and processors, from any liability under R.A. 10173, or the
Data Privacy Act of 2012.
Indicate your complete name
Don't forget to attach the proof of payment to the email. This can be a photo or a scanned copy of the NBI Official Receipt or the receipt issued by the electronic payment channel you used where the reference number is indicated.
Send the email to [email protected]
To use this option, your courier service must be able to provide proof that you've booked a service with them, with your name specified in the booking details. You should receive an email notification when the courier service receives your clearance.
On the other hand, if you select Door-To-Door Delivery, click the Proceed button to proceed with the transaction.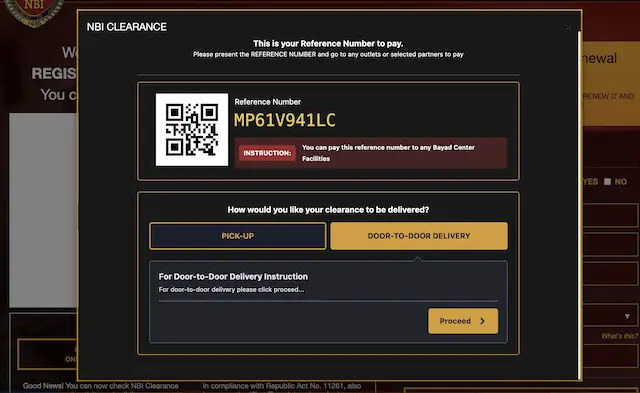 Read the Disclaimer Notice and click I Agree.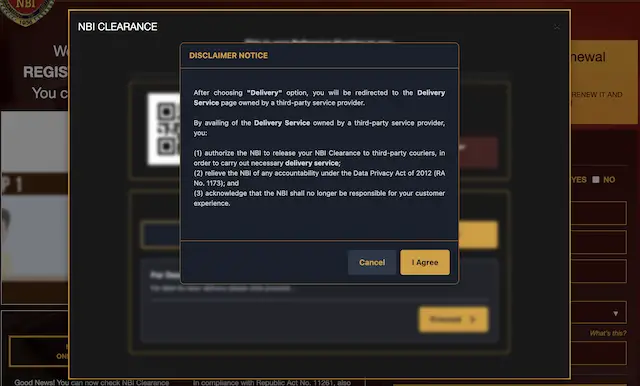 You'll be redirected to the delivery box website (the third-party courier service provider). Read their terms and conditions and Data Privacy notice. Afterward, select Agree to continue.
The delivery fees will be presented to you. PHP 200 delivery fee is charged for those in NCR, while PHP 350 is charged for those outside the NCR. Click Proceed to continue.
Complete your personal information and the receiver's name, mobile number, and address. Afterward, pin your delivery location on the website's map. You may search your location in the search bar to pin it automatically. 
Click Proceed to confirm your location. 
Select your preferred payment method. You may choose any of the following: Mastercard/Visa, Banks, Cash Payments, Paymaya, or other E-wallets (e.g., GCash, GrabPay, UnionPay). You'll receive an SMS from NBI confirming your payment.
Note that your NBI Clearance reference number differs from the delivery reference number.
8. Receive Your New NBI Clearance
If you opted for Pick-Up, note that renewed NBI clearances are issued at the Releasing Section, Ground Floor, NBI Clearance Annex Building, U.N. Avenue, Manila. The release schedule is from 8:00 AM to 5:00 PM, Monday to Friday.
If you chose the Door-To-Door Delivery option, expect the NBI clearance to be delivered to your doorsteps by the courier in approximately 3 to 7 days if you're in Metro Manila or Luzon or 7 to 10 days if you live in Visayas or Mindanao.
If you have any questions or concerns regarding the door-to-door delivery, you may send them through the following communication channels:
Globe: 09179999421
Smart: 09204129999
TM: 09551405330 / 09551405326
Email: [email protected]
Tips and Warnings
1. You can renew your NBI clearance even if it's not expired yet
According to the NBI Clearance Help Desk, there's no need to wait for your NBI clearance to expire before you can renew it. As long as you have a copy of your NBI clearance and it's about to expire in a few weeks or months, you can renew it through the NBI Clearance Online Services website.
2. No need to provide a photo when renewing via NBI Clearance Online Renewal
This is because the system automatically retrieves your information–including your photo–from the NBI clearance database.
Suppose you're unable to access the NBI Clearance Online Renewal. In that case, you're either not qualified to use this feature (e.g., your NBI clearance was issued before 2016), or the system is undergoing maintenance.
3. The online renewal system is only applicable to NBI clearances issued from October 16, 2016 onwards
If your NBI clearance was released before this date, it is considered invalid, and you must go through the same process intended for new applicants.
Frequently Asked Questions
1. I lost my NBI Clearance. Can I renew it even if I don't know my old NBI number?
NBI clearance renewal requires the NBI ID number, a set of alpha-numeric characters found on the expired/old NBI clearance. Therefore, applicants without personal copies of their old NBI clearance are not qualified for renewal. Instead, they should apply for the NBI clearance like they would for the first time.
2. How can I renew my NBI clearance if I'm abroad?
There are two ways to renew your NBI clearance abroad without flying back to your home country:
a. With an authorized representative – Especially if you're pressed for time, a relative or a friend in the Philippines can be the best person you can count on to do everything on your behalf. All you need to do is send that person a signed authorization letter and the other requirements.
b. Without an authorized representative – Only choose this route if you don't have anyone in the Philippines you can trust to make the application/renewal. This option involves going to the Philippine Embassy in your host country, securing all the requirements, and sending the documents to the main NBI clearance center at UN Avenue in Manila.
References
NBI Clearance Renewal is now online!. (2021). Retrieved 19 June 2021, from https://mb.com.ph/2021/06/17/nbi-clearance-renewal-is-now-online/