Last Updated on 05/29/2021 by FilipiKnow
Even if you secure an online appointment, there are instances when a personal appearance at the NBI clearance center is impossible.
We're talking about OFWs or Filipinos who have left the Philippines to work or live permanently in another country.
Perhaps you need NBI clearance for your impending residence visa application. Or maybe you're a foreign national who lived in the Philippines for a while and just returned to your home country.
Whatever your circumstances may be, it's possible to get NBI clearance even without your physical presence in the Philippines. This article will teach you how.
Who can get a Philippine NBI clearance abroad?
An NBI clearance is tangible proof that a person has no criminal convictions in the Philippines. It can be obtained by any applicant, Filipino or foreigner, for the purpose of citizenship, immigration/permanent residency, school enrollment, or employment, just to name a few.
Requirements in processing NBI clearance abroad.
For new applicants, here are the things you need:
1. Online appointment.
Due to the pandemic, most of the embassies abroad now require NBI clearance applicants to secure an online appointment with them before coming to the Consular office.
This is only applicable to you if you prefer to accomplish the NBI Form No. 5 (see next item) and have your fingerprint impressions taken at the Consulate. Otherwise, you can opt to have the form mailed to you so you don't have to personally go to the embassy.
Should you choose walk-in application, the embassy may also require you to secure other requirements like a Health Declaration form for safety reasons. For more information, please also check the official website of the Philippine Consulate General in your host country.
2. Two 2×2 passport-sized photos.
The colored photos must show a clear full front view of your face, with a white background, and taken within 3 months before the application.
In addition, the photos must not show you wearing sleeveless attire. Make sure the photos are high quality and not blurred otherwise they will be rejected.
Depending on the embassy you're transacting with, you may or may not be required to write your name and signature at the back of the photos.
3. Photocopy of passport data page and another valid ID.
Most embassies require applicants to present a minimum of 2 valid IDs and their photocopies. Acceptable valid IDs include, but not limited to, the following:
Voter's ID;
Alien registration card;
GSIS UMID;
School ID;
PhilHealth/health insurance card.
4. NBI Form No. 5.
Also known as fingerprint form, you can get this for free at the Philippine Embassy or Consulate in the country where you live. As stated in the previous section, however, you may be required to secure an online appointment in advance to ensure social distancing measures are observed in the Consular offices.
The advantage of personally applying at the Consular office is you can obtain the consularized/authenticated NBI form on the same day and at a lower cost.
Related Article: How to Authenticate Documents in DFA: New and Updated Guide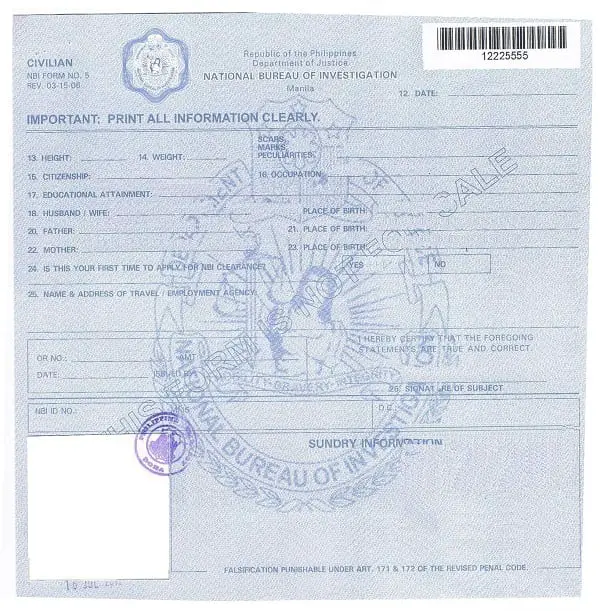 Alternatively, you can request to have a blank copy of the NBI Form No. 5 to be mailed to your address. All you need to do is send a letter of request and a self-addressed prepaid return envelope to the embassy. Take note that requirements for a mailed-in request may vary so make sure to check with the Consular office in your host country for the latest details.
After receiving the envelope containing the blank NBI Form No. 5, fill it out with the required details. If you're a married woman, please write your name in the following order:
Maiden surname (father's surname);
Husband's surname;
First or given name;
Maternal surname (mother's family name).
Next, proceed to the nearest police station to have rolled impressions of your fingerprint. The person who took your fingerprint impression must sign on the form.
You will then mail back to the Embassy the accomplished NBI form together with a photocopy of your passport data page, money order/bank draft payable to the Philippine Consulate General (the amount of which varies according to your host country), and self-addressed prepaid return envelope with a tracking number. Do not enclose cash.
Take note that if you still have the original copy of your old NBI clearance issued from 2015 onwards, you no longer have to submit the fingerprint form (NBI Form No. 5). The old clearance is enough to provide them with your biometrics, provided that there are no changes that have been made on your personal data.
Upon receiving your mailed-in application, the Consular office will process your document/s and have the authenticated NBI form sent back to you within 2 to 3 days.
You will need this to authorize your representative to file your NBI clearance application in the Philippines on your behalf.
How to Get NBI Clearance in the Philippines While Abroad: 2 Ways.
There are two ways to apply for NBI clearance abroad without flying back to your home country:
With an authorized representative – Especially if you're pressed for time, a relative or a friend in the Philippines can be the best person you can count on to do everything on your behalf. All you need to do is send that person a signed authorization letter along with the requirements.
Without an authorized representative – Only choose this route if you really don't have anyone in the Philippines whom you can trust to do the application/renewal for you. Basically, this option involves going to the Philippine Embassy in your host country, securing all the needed requirements, and sending the documents to the main NBI clearance center at UN Avenue in Manila.
The succeeding sections provide a rundown of the procedures you'd expect for each of these two options.
Option 1: Through an Authorized Representative/Relative.
Complete all the requirements as listed earlier.
Send the accomplished and authenticated NBI Form No. 5 together with the supporting documents as well as the notarized authorization letter to your chosen representative in the Philippines.
Secure an online appointment (or have your representative do it on your behalf) and choose the NBI Clearance Center, U.N. Avenue, Manila as the application venue. Only the NBI Clearance main office in U.N. Avenue processes applications from abroad. I repeat: secure an online appointment first before having your representative go to the NBI Clearance Center; walk-in applicants will not be entertained. When filling out the online registration form, the personal information of the applicant based abroad, not of the authorized representative, must be entered. Should you have any concerns, you or your representative in the Philippines may contact the NBI Helpdesk through any of these numbers: 09179999421 or 09204129999
Have your representative submit your requirements on the day of the appointment. After receiving your NBI clearance, have your representative send it to you via airmail.
Upon the receipt of your NBI clearance from the Philippines, check it meticulously and ensure that there's an embossed NBI dry seal at the lower left portion which is proof of authenticity. Affix your thumbprint on the appropriate space with the help of the local police in your area before submitting the document to the intended receiver.
Option 2: Without an Authorized Representative/Direct to the NBI.
Complete all the requirements as listed earlier.
Send the accomplished NBI form with fingerprint impressions together with the supporting documents (except the authorization letter since you're sending them directly) by mail. It should be addressed to:
Ms. Sandra Sobida
Mailed Clearance Section
3/F NBI Clearance Building
United Nations Avenue, Ermita
Manila, Philippines 1000
Contrary to the comment by one of our readers, the address of the Mailed Clearance Section above hasn't changed. The office address in Quezon City is only temporary. If you're someone overseas who is applying for the NBI clearance via mail, please send the documents to the address above.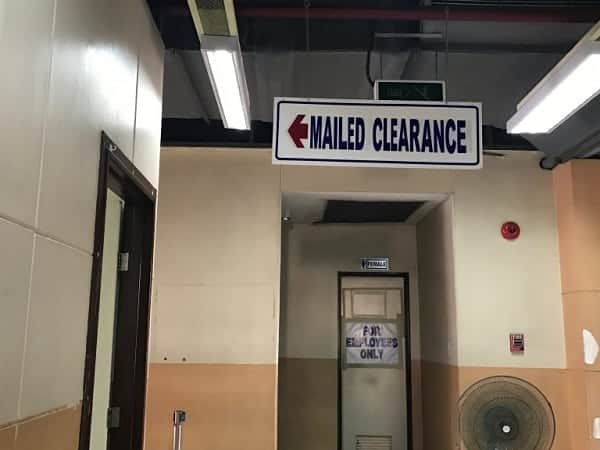 3. Include a note containing the name and contact number of your representative here in the Philippines. Since you can't send cash via courier, Ms. Sandra Sobida told us that they'll contact your representative as soon as they receive your documents to let him/her know how to pay the NBI Clearance fee.
After processing your submitted documents, the NBI will send you the clearance certificate by airmail.
If you have other questions related to your NBI clearance application via mail, you can call Ms. Sandra Sobida, the officer-in-charge, using one of her cellphone numbers.
As of March 2021, the following are Ms. Sandra Sobida's phone numbers:
+639156893113 (preferred)
+639267152001
Once received, check the embossed NBI dry seal at the lower left portion to ensure you're receiving a genuine NBI clearance. Go to the nearest police station to affix your thumbprint on the space provided before sending the clearance certificate to the intended receiver.
Go back to the main article: How to Get NBI Clearance Online in the Philippines
Frequently Asked Questions.
Since we have received the same questions over and over again, I've decided to answer them all in a separate FAQ section.
Take note that all the information written here came from Ms. Sandra Sobida, the officer-in-charge of the Mailed Clearance section.
A lot of our readers are complaining about other online guides–some published by the Embassies themselves–being outdated so we'll try our best to update this article every time there's a change in the application process.
1. I still have a copy of my old NBI clearance. Should I still get NBI Form No. 5 (fingerprint form)?
If your old NBI clearance was issued from 2015 to the recent year, and your personal information hasn't changed (i.e., you haven't changed your surname due to marriage), you don't have to secure the NBI Form No. 5. The NBI will simply use your existing records for your new NBI clearance. However, if your NBI clearance was released in 2014 or earlier, or there's a piece of information in your personal data that you need to update, then you are required to get the NBI Form No. 5.
No, you don't need to authenticate/Apostillize the authorization letter. But if you've already authenticated it before reading this article, then might as well submit it.
3. I will be applying for NBI clearance via mail. Is there a particular courier service I should use?
The NBI's Mailed Clearance section doesn't prefer any courier service. Therefore, you can send your documents through any courier/parcel/shipping service provider (e.g., DHL, FedEx, etc.) near you.
4. I'm renewing my NBI clearance but I'm based abroad. Can I just use the NBI Online Quick Renewal with a door-to-door delivery service instead?
No, you can't. Although convenient, the online quick renewal service is only available to Metro Manila residents. Applicants outside the Philippines can choose either one of two options discussed in the above article to obtain their new NBI clearances.