Last Updated on 12/05/2019 by FilipiKnow
In April 2019, President Rodrigo Duterte signed the Republic Act No. 11261 or the First Time Job Seekers Assistance Act, a law that basically waives the fees for government documents required for employment.
Although it was already signed, it took a while before the NBI received the official memo so the law wasn't in full swing until an official update appeared in the NBI clearance website announcing that the first-time jobseekers can now apply for free.
Aside from NBI clearance, the law also mentions other crucial government documents that first-time jobseekers can get at no cost. These include police clearance, birth certificate, barangay clearance, TIN, medical certificate, marriage certificate, and UMID, among others.
Take note, however, that applicants can only avail of this privilege ONCE. The NBI and other government agencies will keep a record of first time jobseekers who have already availed of this benefit to prevent fresh graduates from abusing the system.
NBI Clearance Requirements for Fresh Graduates Who Are Applying for Their First Jobs.
How to Get NBI Clearance for Free if You're a First Time Jobseeker: A Step-by-step Guide.
Look for the yellow section dedicated for first time jobseekers. Click the hyperlinked text that says "Click Here".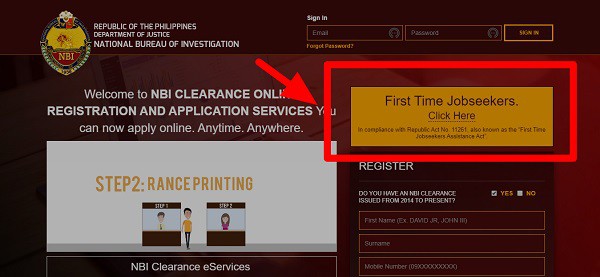 A notification box will appear on the screen to give you a reminder as well as the requirement/s needed to avail of the free NBI clearance:
You can only avail of this privilege ONCE and for only ONE copy of NBI clearance
First time jobseekers are required to present a valid Barangay Certificate (issued not more than a year prior to date of NBI clearance application). It should come from the applicant's place of residence and must state that he/she is a resident for at least 6 months and is a first time jobseeker
2. Register as a First Time Jobseeker.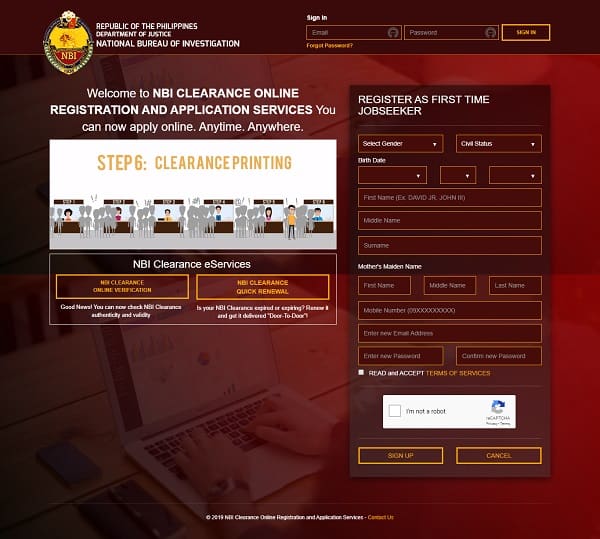 Fill out the registration form with your gender, civil status, birthday, complete name, email address, password, etc. Once you're done, read and accept the Terms of Services, tick the captcha box, and click "Sign Up".
You'll receive a 6-digit one-time password (OTP) via your registered mobile number. Fill out the field provided on the screen with this OTP. Click "Submit".
3. Sign in to complete the 'Applicant Information' form.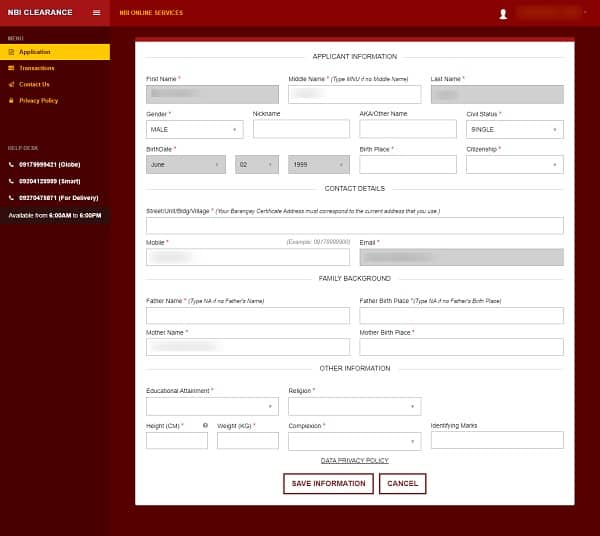 Sign in using the email address and password you provided during registration.
You'll then be directed to the Applicant Information page where you'll fill in all the missing information like your address, height, weight, educational attainment, religion, etc.
When you're done, click "Save Information".
Review all the information you've provided and check for spelling mistakes or any inaccuracy. If you're sure all the information are correct and complete, click "Submit".
4. Secure an appointment with the NBI.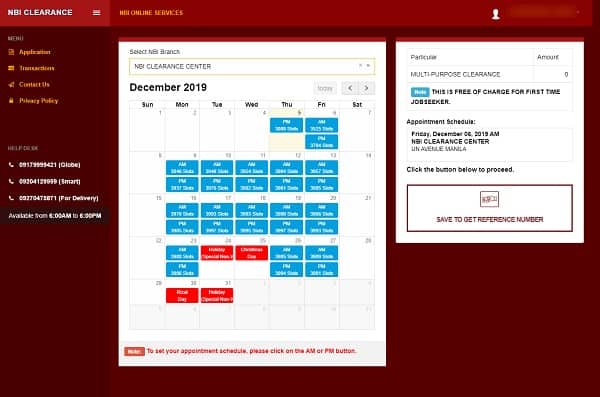 Click "Apply for Clearance" on the upper right corner of the screen (if you're using a computer) or top of the screen (if you're using mobile).
Enter the name and number of the valid ID you'll bring and present on the day of your appointment. Take note that this is separate from the Barangay Certificate which all first time jobseekers are required to bring for verification purposes.
Click "I Agree".
Select your preferred NBI clearance center that will process your application. There are several Manila and provincial branches as well as PHILPOST offices that you can choose from.
Then, select from the available slots the time and date you prefer to process and receive your NBI clearance. You can choose either AM or PM. The schedules/slots that are shaded in blue are available while those with red are already full.
Click "Save to Get Reference Number" to proceed.
5. Copy or save the Reference Number appearing on the screen.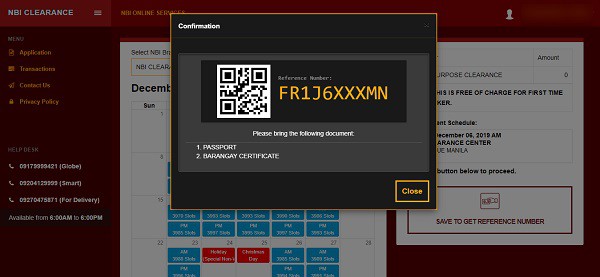 After securing your appointment, a confirmation box will appear on the screen containing the Reference Number which you need to save or copy.
The Reference Number will serve as your gate pass on the date of your appointment. Don't forget to bring it along with your valid ID and Barangay Certificate.
Since fresh graduates like you will be applying for free, the security personnels will be more strict when dealing with applicants like you with incomplete requirements. In other words, no or incomplete requirements means no entry.
Go back to the main article: How to Get NBI Clearance Online in the Philippines: An Ultimate Guide