You may have been asked to submit a medical certificate as a requirement for work, to claim certain benefits, or for other requests. 
If you've experienced being completely stumped on how to get one and the purposes of a medical certificate, read on. 
Table of Contents
What Is a Medical Certificate?
A medical certificate is documentation of the medical examination and assessment done by a physician or health care professional.
Simply put, a medical certificate is a document that contains pertinent information about your consultation, as well as the physician's assessment and recommendations. 
It has many purposes, as will be discussed in the next section. As such, a doctor should only sign the medical certificate if it contains accurate information that was gathered during the consultation with the patient.
Here is what a medical certificate usually looks like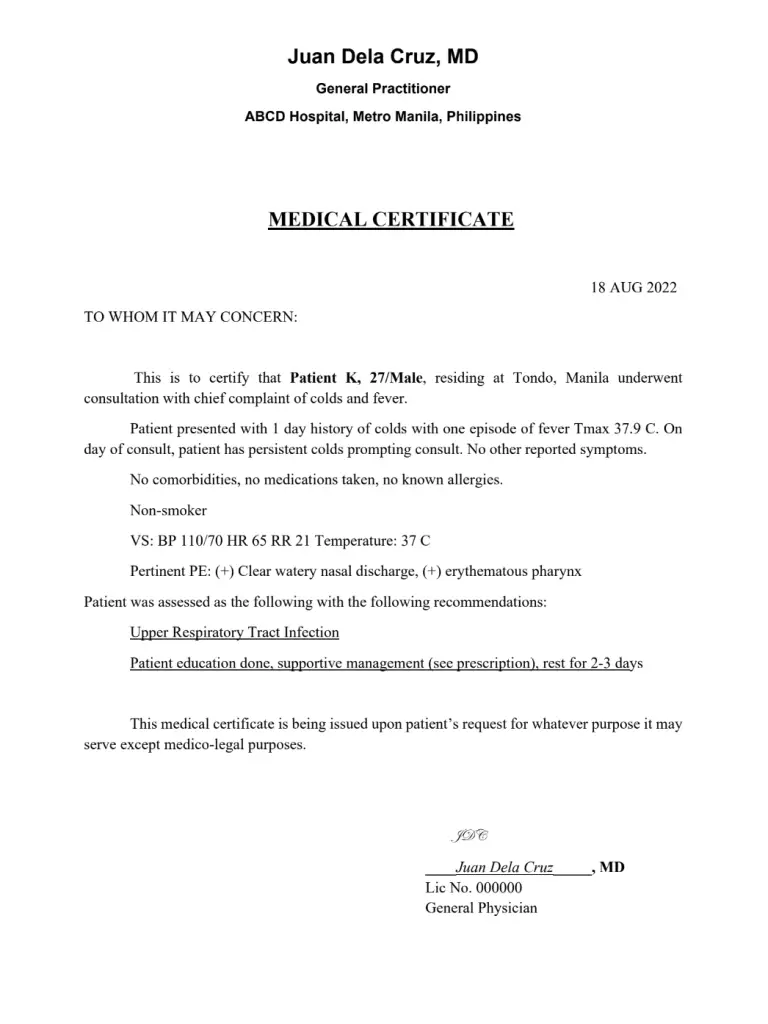 Download Medical Certificate Sample Template
What Information Should Be Included in the Medical Certificate?
As seen in the sample, a medical certificate usually contains the following parts: 
1. Patient Identification
Your name, age, and possibly, address or birthday will be asked by your physician. Ensure to provide accurate information in the interview, as this will be reflected in the medical certificate. Errors might cause complications later on, especially if the certificate will be used for government application purposes. 
2. Name, Location, Contact Details, and Credentials of the Physician
Physicians will also include in the certificate their details to certify that they did the examination. Their contact information, like clinic address, phone number, and email address, is usually placed in the medical certificate for verification purposes. 
3. Date of Consultation
As medical certificates usually have a validity period depending on the purpose of the document, the date of the consultation is also important. This serves as a reference to the medical status of the patient during the time of consultation. 
4. Patient Chief Complaint, Brief Medical History, Summary of Findings
The most important part of the certification. In this section, the physician puts in the reason for the consultation, a brief medical history, including the history of the present illness and its timeline, if applicable, relevant past medical and surgical history, and personal and social history. 
Any relevant conditions or observations of the doctor based on the information you provided will be summarized in this section. The doctor will also put a summary of the physical examination findings, again, with a focus on what is important to the patient's complaint. 
5. Physician Recommendations and Remarks
Based on the medical assessment, the physician will put in their recommendations. You may express clearly to the physician before the session the purpose of the medical certificate. 
Depending on the purpose and the physician's assessment, they will give honest recommendations for your case. Some examples you may see include recommendations to rest for a few days, a referral to a specialist or admission to a bigger hospital, and clearance for employment. You may also be prescribed and asked to take medications for a certain period. The physician also may include the date of your next follow-up. 
6. Physician Signature and License Number
A physician's signature and license number should be on the certificate for authenticity purposes.
Purposes of the Medical Certificate
A medical certificate is usually requested for the following purposes:
| | |
| --- | --- |
| Purpose | Highlights |
| Employment and Fit to Work | You may be asked to present a medical certificate as proof of fit to work status pre-employment. Make sure to inform your physician that you would like an assessment for pre-employment. |
| Sick Leave | As a requirement to file sick leave: Most HRs will require you to submit a medical certificate when you file for sick leave. Make sure to see a physician as early as possible (better if on the first or second day of illness) and not post-illness. Remember, a physician may only put in their assessment of the illness during consultation. If you did not seek consultation during illness, they could not backdate the certification.  |
| Clearance for Work Immersion | Sometimes before you participate in a work immersion or activity, especially one that may entail physical activity, you might be asked by HR to get a medical certificate for clearance purposes. Again, inform your physician before the consultation of the purpose of the consultation, the type of activities you expect from the immersion, and pertinent medical conditions that might affect you while doing the immersion.  |
| Medicolegal Purposes | Perhaps the most complex purpose of the medical certificate is to request one for medicolegal purposes. This is to document the medical assessment or status of a patient, usually after accidents, trauma, abuse, or physical injuries. As the name implies, this document has legal importance, usually used as documentation and evidence in legal cases and the court. As such, accurate and timely documentation is important for medicolegal documents.  |
| Insurance Claims/Health Benefit Claims | Life or Health Insurance companies may ask you to submit a medical certificate when you are filing for benefit claims. Some examples include filing for critical illness claims, HMO reimbursement, or accident and disability claims in insurance. As with the others, information should be complete, accurate, and updated to avoid problems.  |
| Documentation of Disability  | When applying as a PWD, you will be asked to submit a medical certificate or abstract documenting your disability.  |
| Medical Clearance | A medical certificate, in general, may be used as a document to check for medical clearance before any procedures, travels, or activities, especially ones that may involve a higher risk of injury or accident.  |
How To Get A Medical Certificate
1. Obtaining a Regular Medical Certificate (General Process)
Step 1: Schedule a Consultation With Your Physician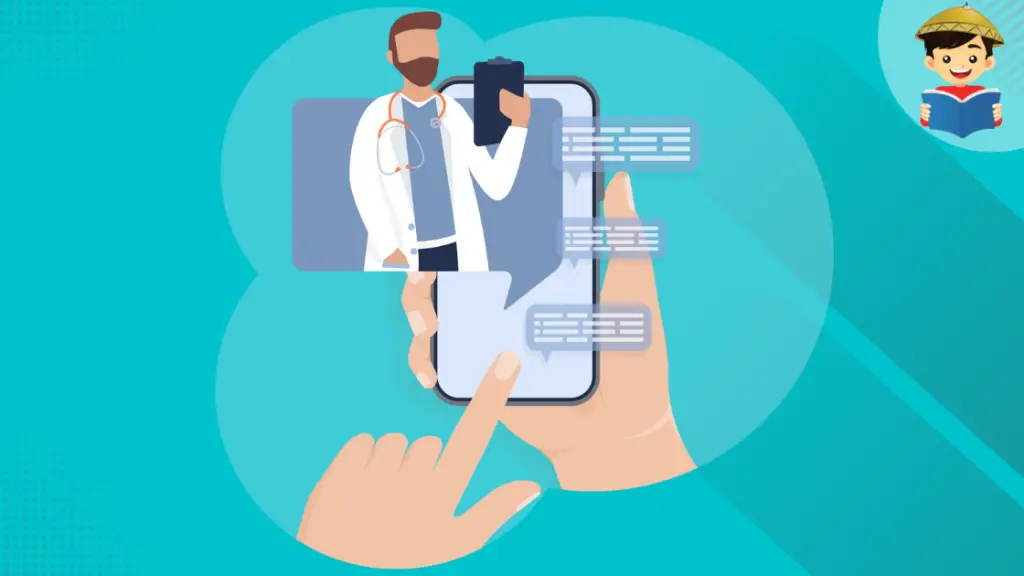 You cannot get a medical certificate without consultation with a physician. As discussed, the physician must get your medical history and perform the necessary examination and diagnostics. 
You can schedule an outpatient session by contacting the clinic of physician. Different hospitals and clinics post the schedule and availability of the physician through their website or social media accounts. 
Examples of these sites include the outpatient clinics of St. Luke's Medical Center Quezon City1 , Makati Medical Center2 , Keralty Outpatient Clinics3, and The Medical City Clinics4. 
If you already have a family physician or attending physician, it's better to look up their availability. Usually, if it's your regular physician, they are already aware of your past medical history and will make the consultation easier. 
If you have an HMO, check your HMO provider if they have primary care clinics that you can come in for a consultation or check their network of accredited clinics and physicians. 
Examples of HMO companies with primary care clinics you can go to for a general consultation and medical certification include Maxicare5, Medicard, and PhilCare6. 
Remember to call in advance to confirm the availability of the physician. 
Alternatively, you can also schedule a teleconsultation. A teleconsultation is a medical consult done through phone, video calls, or other online platforms. 
Some local government clinics and barangay health clinics can also issue a medical certificate after consultation with the assigned health officer or physician. Call in advance to confirm if you can come in for a consultation and if they will be able to issue a certificate.
Remember, though, that with LGU/barangay clinics, there might be a line and waiting time before you can be seen. If you also immediately need the certificate, it is subject to the availability of the health officer on duty. 
Step 2: Go to the Consultation and Inform your Physician of the Request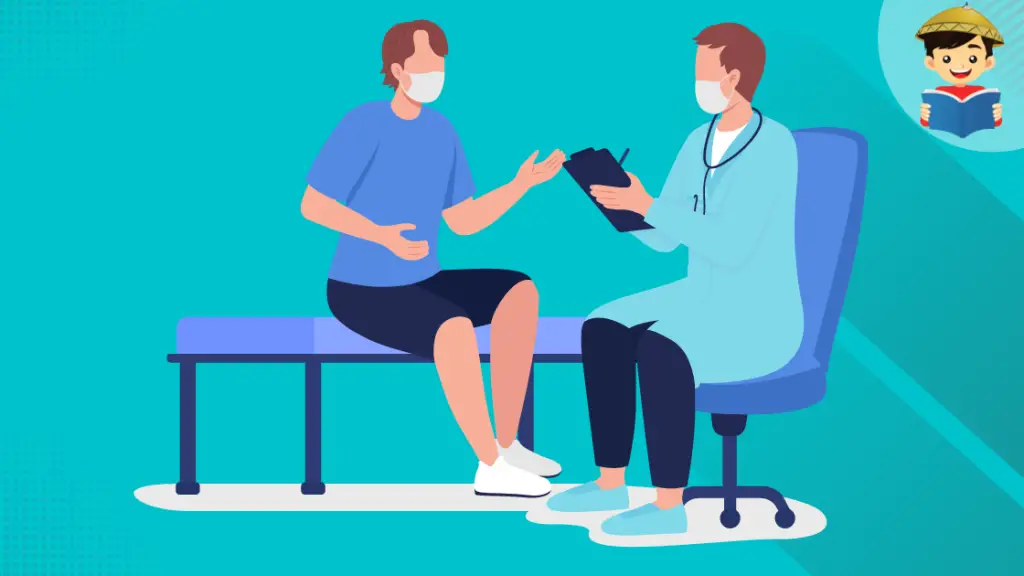 During the consultation, inform the clinic or physician of your request for a medical certificate and the purpose of such request.
Your physician will ask you questions about your medical history and do a physical examination if it's a face-to-face consult.
Depending on the physician's assessment and recommendations, you might be asked to do other laboratory or diagnostic procedures if necessary. You may also be referred to a hospital or a specialist if the assessment warrants it. 
The physician will document all findings and recommendations on the medical certificate. 
Step 3: Check Information Upon Receipt of Medical Certificate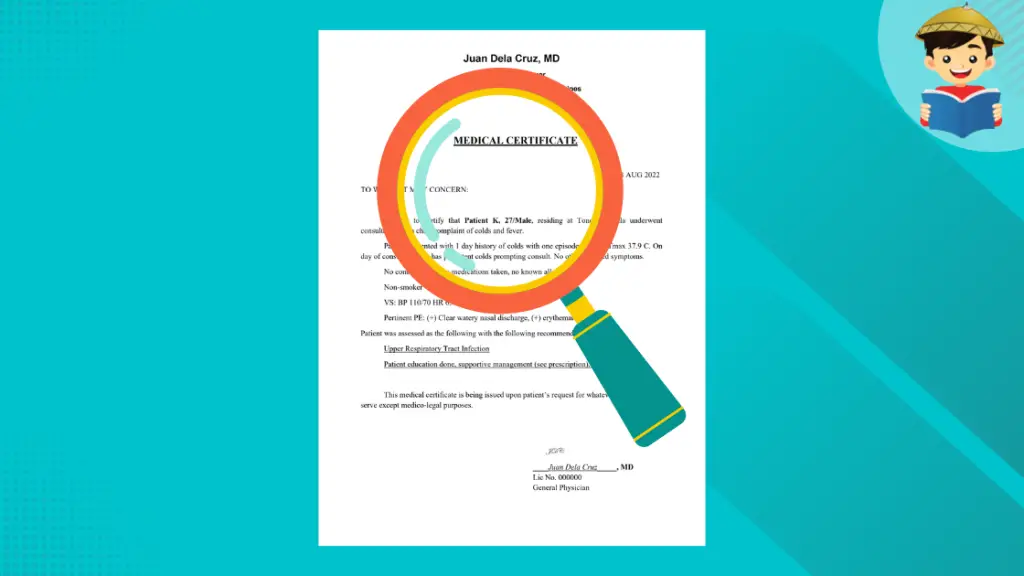 Before leaving the clinic, check if all the information in your medical certificate is correct. Ensure all important information you need has been included in the medical certificate. 
Check if your personal information is accurate and there are no typographical errors. 
2. Obtaining a Medico-Legal Certificate
A medico-legal certificate is a legal document that states medical findings during injury. Some examples include motor vehicular accidents, physical injury from crime such as assault or abuse, and injuries from rape or sexual assault, or attempted suicide, among others. It can be used as evidence and proof of your medical status during consultation. 
In theory, any registered hospital can issue a medicolegal certificate. However, in the Philippines, especially in the Emergency Department, you may encounter some issues when the patient is a medicolegal case. 
Hospitals may have different protocols in issuing medico-legal certificates. There may be difficulty, especially in private hospitals. In practice, patients are usually directed to Philippine government hospitals. 
The most important steps are the following:
Step 1: Go to the Hospital for Assessment Immediately After the Incident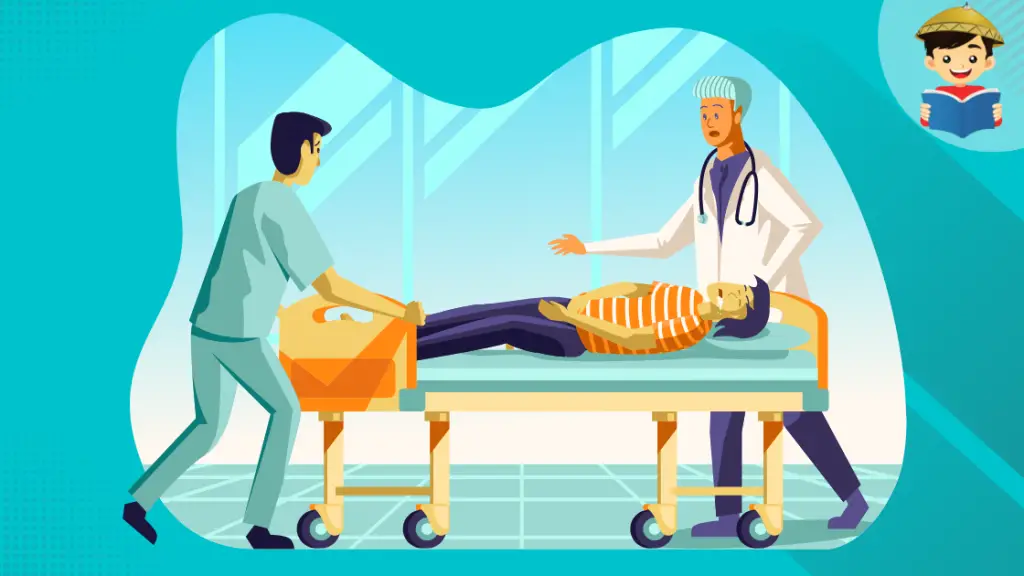 Being assessed immediately after the incident ensures that your immediate injuries are properly documented. In medicolegal cases, the location, size, age, and extent of injury are very important. The sooner these are documented, the more accurate.
From a medical perspective, going to the hospital for treatment immediately after the incident is safer for you so that appropriate treatment and further assessment can be done. 
During the consultation, laboratory examinations like imaging (X-ray, CT-Scan, MRI, Ultrasound) and blood tests may be done as needed.
Depending on the extent of injuries or threat to life, you may also be admitted to the hospital. 
Step 2: Request a Medico-Legal Certificate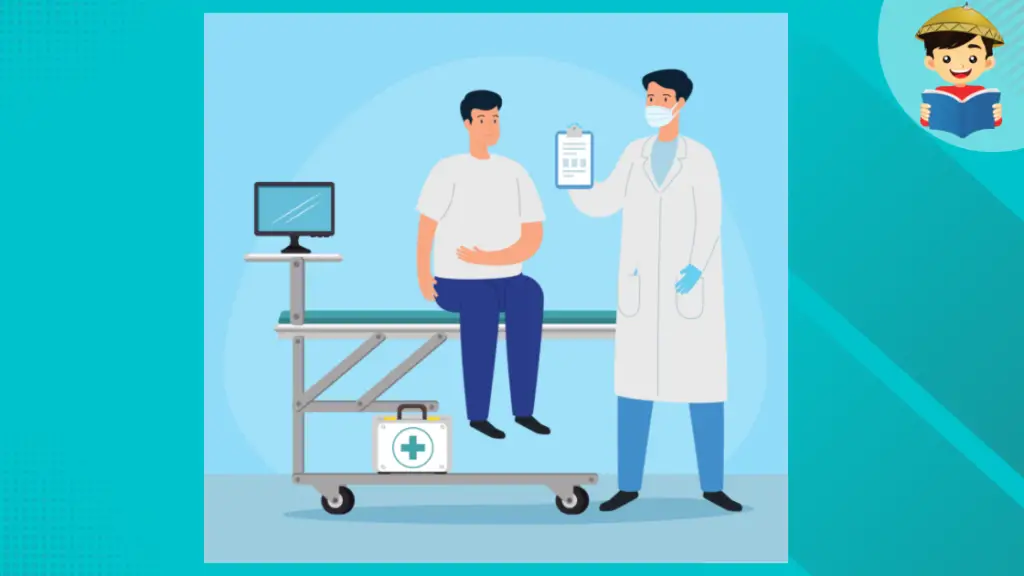 Inform the hospital of your request for a medico-legal certification. Usually, they will ask you to fill up a request form for this. Make sure that all personal information is accurate. 
Medico-legal certificates are usually issued on the same day of discharge if requested early or 1-3 days. Clarify with the hospital records section on the day of release. You will be asked to pay for it, with the price depending on the hospital. 
Step 3: Secure your Copy and Check the Information on the Certificate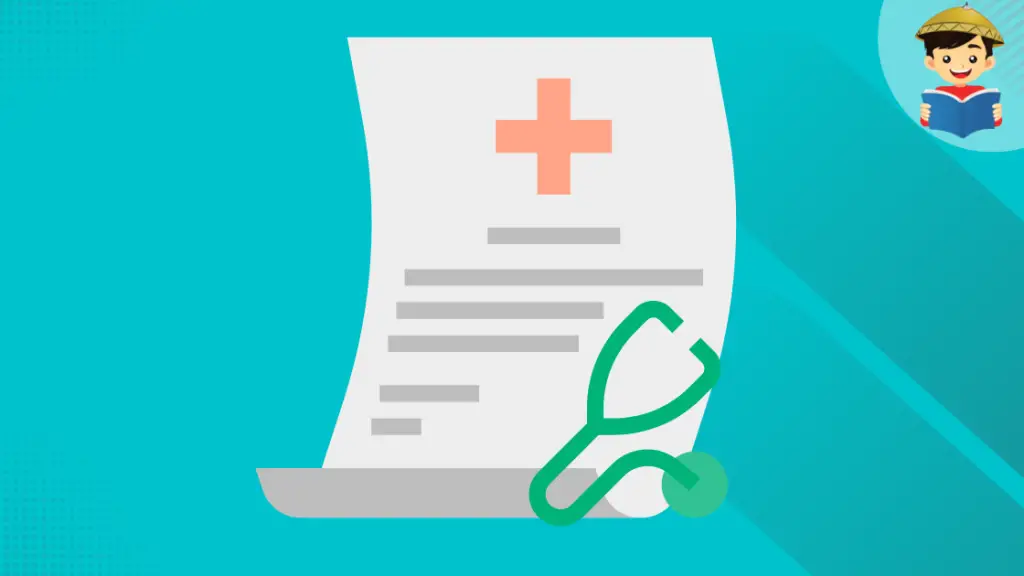 Again, before leaving, scan the copy and check for any errors in the information you have given. Be careful not to lose the copy. It is wise to make copies of the certificate for whatever purpose you may have use for it.  
Tips and Warnings
Falsification of medical certificates is a crime. Private citizens who issue false certificates are punishable by arresto mayor (one month and one day to six months)7. The person who knowingly used the false medical certificates can likewise be criminally liable for its use. 
Failure to seek consultation during illness and requesting a medical certificate afterward is not encouraged. Physicians cannot backdate medical certificates. They must issue a medical certificate and note their findings on the consultation day and not after the patient's recovery. They also cannot issue a medical certificate for patients they have never seen or had a consultation with. A medical certificate is not an automatic pass for sudden absences unrelated to illness. 
Inform and discuss with your doctor the purpose of the medical certificate. If you are using it for insurance claims, clarify with your provider the information they require so you can inform your physician and not miss anything. 
Frequently Asked Questions
1. Who is allowed to issue a medical certificate?
Licensed physicians/medical practitioners and the local health unit may issue medical certification. You may verify this in your certificate by checking the name and license number of the signatory. 
2. What are the requirements for a medical certificate??
Usually, you just have to undergo a medical consultation and assessment to be given a medical certificate. You may be asked to show your identification during the consultation. 
If you are having a consultation with an HMO-accredited physician, your HMO account number and card will be asked. 
3. Can I get a medical certificate from Barangay Health Center??
Yes. The local barangay health units may issue medical certificates provided that you came in for medical assessment and completed the process. 
The process might take longer than a private consultation because of the number of patients being catered to in the barangay health center. It also depends on the availability of the medical officer. 
4. How can I get a medical certificate online??
To get a certificate online, you have to book a teleconsultation session. See this article for a guide to booking your teleconsultation. 
There are limitations to a teleconsult. Most of the time, this may be alright for medical certificates for sick leave. However, medical clearance or a medical certificate for applying for benefits might require one that had a face-to-face consultation. Keep in mind that no physical examination can be done through teleconsultation. 
Most of the time, doctors will also indicate in the certificate that the consult was only done via call or online platforms or will just provide a consultation summary. Check carefully if the purpose for requesting the medical certificate can be addressed through teleconsultation. 
Various teleconsultation platforms and applications are available and issue e-medical certificates: 
5. How many days is a medical certificate valid??
This would depend on the purpose of the medical certificate and the agency where you will submit it. As a guide, for acute illness, a medical certificate may be acceptable within 3-7 days. Beyond that, the office might ask for a more updated assessment.
6. Can the medical certificate be handwritten?
As long as the patient information, medical information, and physician's recommendations, name, and credentials are legible and properly signed, the medical certificate can be accepted. 
However, this may depend on the office or agency where you will submit the document. Make sure the certificate has no erasures, has not been tampered and all pertinent information is written. 
7. Can a doctor refuse to give you a medical certificate?
Yes. If the doctor believes that you are giving false or inaccurate information, the use is not justified, you have not undergone proper medical assessment, or you request a backdated medical certificate, the physician may refuse to issue you one. 
8. Can I get a medical certificate for sick leave for stress?
Again, this will depend on the physician's assessment and recommendations after consultation. If there are underlying mental health causes, the physician might refer you to the appropriate professionals to address your condition and document it. 
9. How much is a medical certificate?
Some physicians may include this in the consultation fee. This depends on the physician, hospital, or clinic you went to. In general, medical certificates may cost anywhere from ₱100 to ₱250. 
References