Last Updated on 01/04/2021 by FilipiKnow

The process of PRC license renewal used to be complicated and time-consuming.
Thankfully, since 20181, the Professional Regulation Commission (PRC) has fully implemented the Online Renewal System (ORS) to all its regional and satellite offices, including the service centers for OFWs.
This means that all professionals who want to renew their licenses are now required to secure an appointment with the PRC and pay the renewal fee online.
In this guide, you'll learn all the important information and helpful tips to help you go through the process of renewing your PRC license without unnecessary hassles.
Applying for the board exam? Read this guide instead

. Just passed the board exam? Here's everything you need to know about initial registration and PRC ID/license application.
What is a PRC license?
A PRC license in the form of a PRC ID is issued to every passer of a board examination. It has a validity of three years and should be renewed from time to time in order to keep practicing a PRC ID owner's profession.
A PRC license is usually renewed on the birth month of the PRC ID owner.
Some of the professionals licensed under the PRC are dentists, engineers, guidance counselors, medical technologists, nurses, policemen, and teachers, among others.
Who should renew their PRC license?
Every professional licensed under PRC should renew his/her license before it expires. As long as you'll meet the requirements which vary according to the profession, you'll be able to successfully renew your PRC ID and continue practicing your profession in the country.
The Professional Regulation Commission or PRC now offers online services which make it easier for professionals to process different transactions. PRC's online system can be accessed 24 hours each day, 7 days a week.
The renewal process of PRC licenses now involves two stages: online application and personal appearance to claim the renewed ID at the PRC office.
These are the professions that can renew their licenses online:
Aeronautical Engineer

Agricultural and Biosystems Engineer

Agriculturist

Architect

Certified Mine Foreman

Certified Plant Mechanic

Certified Public Accountant

Certified Quarry Foreman

Chemical Engineer

Chemical Technician

Chemist

Civil Engineer

Criminologist

Customs Broker

Dental Hygienist

Dental Technologist

Dentist

Electronics Engineer

Electronics Technician

Environmental Planner

Fisheries Technologist

Foreign Medical Professional

Forester

Geodetic Engineer

Geologic Aide

Geologist

Guidance Counselor

Interior Designer

Landscape Architect

Librarian

Master Plumber

Mechanical Engineer

Medical Laboratory Technician

Medical Technologist

Metallurgical Engineer

Metallurgical Plant Foreman

Midwife

Mining Engineer

Naval Architect and Marine Engineer

Nurse

Nutritionist/Dietitian

Occupational Therapist and Occupational Therapist Technician

Ocular Pharmacologist

Optometrist

Pharmacist

Physical Therapist

Physician (Medical Doctor)

Professional Electrical Engineer

Professional Electronics Engineer

Professional Mechanical Engineer

Professional Teacher

Psychologist

Psychometrician

Radiologic Technologist

Real Estate Appraiser

Real Estate Broker

Real Estate Consultant

Registered Electrical Engineer

Registered Master Electrician

Respiratory Therapist

Sanitary Engineer

Social Worker

Veterinarian

X-Ray Technologist
Aside from license renewal, the following transactions can also be processed online through PRC's online service system: license verification of registered professionals

, replacement of lost PRC card, exam application

, verification of rating of successful passers

, and initial registration of new board exam passers

.
PRC Renewal Requirements in 2021.
Although the set of requirements needed to renew a PRC ID vary per profession, the following are the usual required documents:
Duly-accomplished Application for Professional Identification Card (PIC).

One passport-sized picture with white background and full name tag

Payment of renewal fee

Earned CPD units

2

Certificate of Good Standing (for some professions only, the list can be seen below)

Special Power of Attorney (SPA) and valid ID for the authorized representative (in case the applicant won't be able to renew the license personally)
Those who will renew their PRC licenses and fall under one of the professions listed below will be required to submit an updated Certificate of Good Standing from their respective Accredited Professional Organization (APO):
Aeronautical Engineers

Agricultural and Biosystems Engineers

Architects

Customs Brokers

Registered Electrical Engineers / Professional Electrical Engineer / Registered Master Electrician

Professional Electronics Engineers / Electronics Engineer / Electronics Technician

Geodetic Engineers

Guidance and Counseling

Environmental Planner

Interior Designers

Landscape Architects

Librarian

Psychologist / Psychometrician

Real Estate Services

Respiratory Therapist
If you're a dual citizen, you need to present the following additional documents:
Current and valid Philippine Passport or
Oath of Allegiance to the Republic of the Philippines or
Identification Certificate where the applicant is recognized as a Filipino citizen
Is it okay to renew PRC license without CPD units?
Yes, you can renew your PRC license even without or with incomplete Continuing Professional Development (CPD) units.
This has been the existing policy since the PRC amended parts of the Implementing Rules and Regulations (IRR) of the CPD Act of 2016 through the PRC Resolution No. 2019-11463.
In case you're wondering, the CPD or Continuing Professional Development Act of 2016 basically requires all professionals to earn a specific number of units (which varies according to your profession) before they're allowed to renew their licenses. These CPD units can be earned by attending development programs like online courses, seminars, and graduate studies.
In the new resolution, PRC stated that it will follow a transition period in order to comply with the Continuing Professional Development (CPD) Law. Due to the transition period4, professionals are now allowed to renew their PRC IDs even without fully complying with the required CPD units.
Originally, applications without or with incomplete required CPD units are supposed to be accepted only until December 2020. However, because the COVID-19 health crisis has prevented professionals from attending the seminars and learning activities (which apparently involve mass gatherings) needed to earn the required CPD units, the PRC recently extended the deadline until December 31, 20215, as already shown in the official LERIS website (see the screenshot below).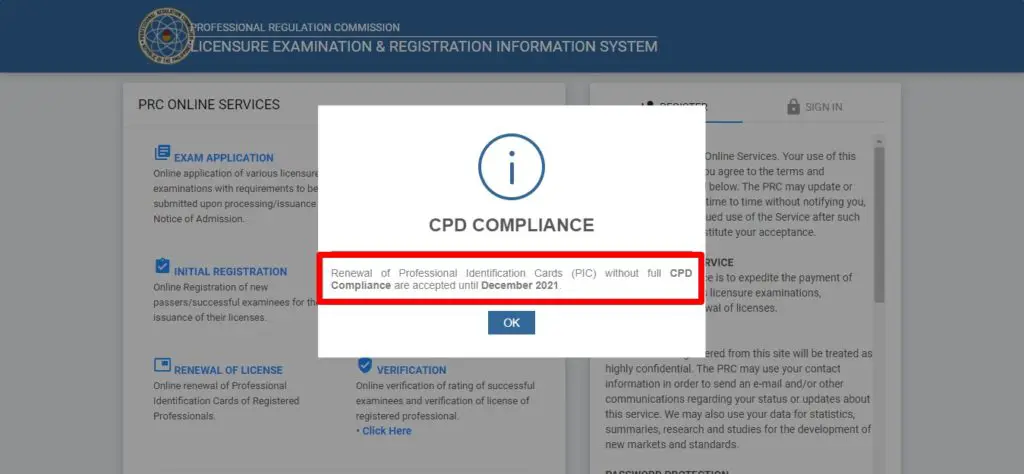 In other words, the PRC won't fully implement the CPD units requirement until December 31, 2021.
Despite the social distancing measures maintained in order to arrest the further spread of the virus, the PRC suggested the following ways professionals can still earn CPD credit units during the pandemic:
Informal learning. This covers learning activities you can do at home that can still contribute to a qualification. Examples are reading books and journals to learn leadership, management, and other skills; Learning VOIP (Voice Over Internet Protocol) and instant messaging through cloud-based video conferencing tools to meet with co-workers; etc.
Professional work experience. This refers to activities at your workplace (or at home) that are related to your profession like learning how to design modules for online teaching; reading books and other printed sources of information to specifically improve your professional knowledge and skills; providing consultancy services to clients; etc.
Self-directed learning. This includes all activities you personally took the initiative to learn either through "volunteer engagement" or "professional activity". The learning may be acquired through online training, seminar, and sponsored training programs that although didn't have CPD accreditation may still be awarded CPD units by the authorized CPD Council.
Earning CPD units through the self-directed learning was exemplified by the recent granting of up to 45 CPD credit units6 to all professionals who rendered essential services during the pandemic.
Through the PRC Resolution No. 1239, Series of 2020, PRC has granted a maximum of 45 CPD units to qualified professionals with active participation during the pandemic like health and emergency frontliners in government health facilities, private health workers, Philippine Red Cross volunteers, researchers and scientists who developed the COVID-19 test kits, and many more.
As for the other professionals who are not covered by this resolution, you may still renew your PRC license even with no or incomplete CPD units.
However, there's no need for you to submit a separate Affidavit of Undertaking to prove that you'll comply with the CPD requirements come January 2022. All you have to do is complete the online renewal application form which already has an "Undertaking" section provided specifically for this purpose.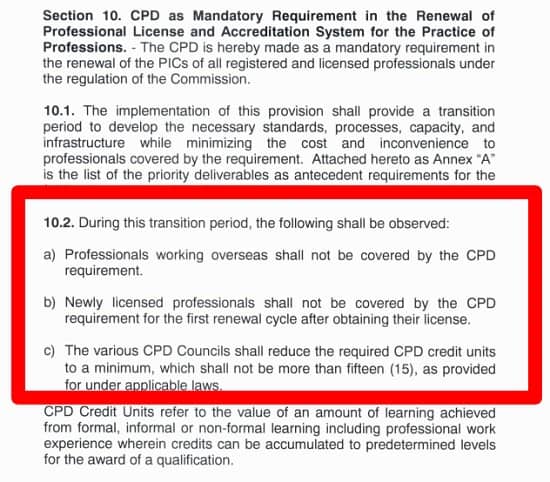 It must be noted that the following professionals are NOT required to comply with the CPD units requirement:
Professionals working overseas (OFWs). They can renew their licenses anytime without the need to earn the CPD units which are only required for Philippine-based professionals.
Newly-licensed professionals. For newly-licensed professionals, the requirements will only apply to them on their second renewal cycle.
Under the new guidelines, how many CPD units are required for the PRC license renewal?
In the old resolution, the minimum CPD requirement is 45 units. However, during the transition period (meaning after December 2021), the required CPD credit units shall be reduced to a minimum of 15 units (to be earned every 3 years).
There are exception to this relaxed provisions though. These are:
Professions that are required to earn a SPECIFIC number of CPD credit units for license renewal by their respective Professional Regulatory Laws. For example, social workers and real estate brokers are both required to acquire 45 CPD units prior to license renewal by specific laws governing their professions (Section 26 of RA 10847 for social workers and the RA 9646 or the Real Estate Service Act for the real estate brokers/real estate professionals).
Professionals who intend to practice their professions in countries covered by bilateral, regional, or international agreements like the ASEAN Mutual Recognition Agreements (MRAs). For example, although 15 is the minimum CPD units required for Philippine-based Certified Public Accountants (CPA), this will increase to 120 if they're going to apply for BOA accreditation to be recognized as a professional accountant abroad. This is the current CPD unit requirement of the International Federation of Accountants (IFAC) and because the Philippine is a member of this organization, all accountants who want to be recognized as a professional outside the country must comply with their requirements.
How much is the PRC license renewal fee?
The cost of renewing your PRC license does not come cheap since it will be valid for another three years.
These are the fees that professionals will pay when renewing their licenses:
For professions requiring a baccalaureate degree: Php 150 per year or a total of Php 450 (for 3 years)
For professions requiring a non-baccalaureate degree: Php 140 per year or a total of Php 420 (for 3 years)
If you'll renew your license 20 days after your birth month, the following additional fees will apply:
For professions requiring a baccalaureate degree: Php 30 surcharge
For professions requiring a non-baccalaureate degree: Php 28 surcharge
How to Renew Your PRC License Online: 10 Steps.
Time needed: 15 minutes.
Here's an updated guide to renewing your PRC license online.
Check if you have all the needed requirements.


Requirements vary per profession so before starting the online renewal application, make sure that you have all the requirements needed to renew your license. One of the most important requirements is your earned CPD units.

Go to PRC's official website to start your online renewal.


Go to the official website of PRC – LERIS  to start the online renewal application process.

If the website's down or under maintenance, you can just visit the site again at some other time. Alternatively, you may try to access mirror sites in this link and this link. 

Log in or create an account if you don't have one yet.


If you already have an account, go to the "Sign In" section of the homepage of the PRC – LERIS website. Enter your login details, verify your identity by marking the box that says "I'm not a robot", and then click the "Sign In" button to proceed with the renewal application.

It should be noted that if you have previously created an account with the old PRC website (prc-online.com), you have to create a new one again since your login details will no longer work on PRC's new website.

For those who don't have an account yet, go to the "Register" section of PRC's home page. Read the terms of service and click the "I Agree" button to proceed with the account creation.

You have to prepare the following when creating a new account:
*A working e-mail address (preferably Gmail)
*Current phone number
*ID photo
*Valid ID
*Personal info

Once you're in the Account Creation page, you'll be asked to provide the following details:
*First name
*Middle name
*Last name
*Suffix (if applicable, otherwise leave it blank)
*Gender
*Civil status
*Birthdate
*E-mail address
*Your desired password (It must be at least 6 characters and should be composed of letters, numbers, and special characters.)


Complete your profile by providing all the required details.


After successfully creating an account, sign in using the email address and password you've provided during registration. You need to complete your profile before proceeding with the PRC ID renewal.

When creating your profile, you'll be asked to provide the following additional personal information:

Personal Information.
-Citizenship
-Birthplace
-Whether or not you've been convicted by final judgment by any court of justice/military tribunal or administrative body

Contact Details.
-Permanent Mailing Address
-Mobile Number
-Alternate E-mail Address (optional)

Family Background.
-Father's full name
-Father's citizenship
-Mother's full name
-Mother's citizenship

Education.
-Name and address of the school you attended
-Degree/course related to the examination you're applying for/you've applied for
-Date of graduation

Employment.
-Whether or not you're currently practicing your profession

Valid ID
–Since you're for renewal, you must tick the box that says "Check if this is for PRC ID Renewal". No need to provide additional details as your old PRC license is already considered a valid ID. Any information entered in this section will be automatically removed when you mark the checkbox anyway.

Other Information
-If you're a Person with Disability, choose what kind of disability you have (e.g., visual, hearing, speech, etc.)
-Whether or not you want to receive  news and notifications via email

After completely filling out the profile creation page, click the "Save Information" button.

Upload your photo.


To upload your photo, click the "Camera" icon.

Follow these photo requirements:
*The photo should be in the 2 x 2 size.
*The photo should be in white background.
*The photo should be taken no more than 6 months from the upload date.
*You should be wearing professional attire with a collar.
*Don't wear glasses while having your photo taken.
*The photo should resemble the applicant.
*The ears should not be covered.
*The photo shouldn't have any shadows.

Read and follow all the photo requirements and guidelines.

Click the 'Proceed' button to start uploading your photo. From your computer's files, choose the photo that you want to upload. You have the option to either zoom in or zoom out your chosen photo.

Click the 'Upload Image' button to upload your chosen photo. 

Choose RENEWAL as the transaction type.


Click the 'Select Transaction' button on the upper right-hand corner of your profile page.

Choose 'Renewal' (third tab) from the available transaction options.

Select your profession from the drop-down menu provided. Enter your PRC License Number.

Click the 'Proceed' button to continue the transaction.

Select your preferred PRC office where you'll claim your PIC (Professional Identification Card).


Choose your preferred PRC Regional Office or Service Center where you'll claim your renewed ID. Your appointment date and time will be automatically generated.

Click the 'Proceed' button.

****In case you've changed your mind and you want to reschedule your appointment, you may do so but only once. To reschedule your appointment, click "Reschedule?" (see screenshot above), select your new appointment date, and provide your valid reason for the change of schedule.****

****PRC also has a "no same-day appointment" policy, meaning all appointments must be made in advance; you can't get an appointment with them on the same day you made your online transaction.****


Choose your preferred payment option.


As of this writing, you have five payment options: 

Credit or Debit Card – Powered by PayMaya – VISA, this convenient payment option automatically deducts from your account the total amount of the PRC renewal fee plus 1.25% convenience fee.

PayMaya – If you have a PayMaya wallet, you can choose it to quickly pay the PRC renewal fee plus a small convenience fee of Php 8.00

Land Bank – For those with a Land Bank account, you can select this option to pay the fee directly via the Land Bank ePayment portal. Through this portal, you can pay online using your Land Bank account, GCash wallet, or BancNet (for those with accounts with other banks). There's a convenience fee of Php 10 if you'll pay using your LBP account while a higher fee of Php 20 will be charged from those who will pay either via GCash or BancNet

UCPB – If you select this, you will be given a reference number on the screen which you need to take a photo or a screenshot of. Proceed to the nearest UCPB Branch, fill out the bills payment form, present a screenshot or printed copy of the PRC payment reference number, and complete the deposit transaction. A convenience fee of Php 30 will be charged for the transaction. Once payment is made, it will be validated within 2 to 3 working days

PRC-Cashier – Choose this if you prefer over-the-counter payment at PRC Regional Office or Service Center. No convenience fee will be charged for the transaction.

Confirm payment and print your documents.


Go to your profile page and click the 'Existing Transaction' tab.

Check the payment details and wait for the status to change into "Paid".

Once payment is successful, you can now print the document.
To print the document, click the 'Print Document' button

Present the printed documents at your preferred PRC office on your appointment date.

Claim your Professional Identification Card.


You can claim your renewed PRC ID on your appointment date.

The following documents should be submitted when claiming the renewed PRC ID:
*Original and photocopy of each certificate with earned CPD units
*Original and photocopy of the expiring PRC ID
*Printed Online Application for Professional ID Card
How to Renew PRC License Online and Have it Delivered to Your Home.
In response to the ongoing threat of the COVID-19 pandemic, the PRC has recently revamped the LERIS website to enable professionals to renew their licenses online and have their new PRC IDs delivered to their doorsteps.
This way, they won't have to personally visit the PRC offices just to claim their new licenses, effectively preventing further spread of the virus.
To learn how to renew PRC license online and avail of the home delivery, follow these steps:
Go to the LERIS website. If you haven't created an account yet, read the previous guide to learn how to register. Once registered, log in to your account using your email address and password.
Complete your profile by filling out the form provided with the requested information like your name, address, phone numbers, parents' details, degree earned, the school where you graduated, and date of graduation, just to name a few. Once you're done, click "Save Information".
Upload your photo, making sure it complies with the requirements listed in Step 5 of the previous how-to guide. In summary, your photo must be 2×2 in size, in jpg or jpeg format, with plain white background, taken no more than 6 months prior to the renewal, and must show the applicant without eyeglasses and wearing a decent attire with a collar. However, given the situation right now, you can still submit your photo even if it's older than 6 months provided that you look presentable.
Click "Select Transaction" on the upper right corner of the page and then choose the "Renewal" tab.
Choose your profession from the drop-down list provided. Input your PRC license number. Double-check the details provided. Once you're done, click "Proceed".
On the next page, select "YES" as the answer to the question "Do you want to avail of the shipping service?" Take note that the delivery service is only applicable to professionals who have opted to submit CPD undertaking.
Provide the shipping details which are basically the complete home address, contact number, and the name of the contact person. Click "Next".
Select your payment option. As of this writing, you can pay the shipping fee via Credit/Debit Card, PayMaya, LandBank, and Bancnet. Take note that you'll also be charged a convenience fee for the transaction, the amount of which varies depending on your chosen payment method. For example, if you'll pay via Credit/Debit Card, the total amount that will be deducted from your account is Php 480 inclusive of the convenience fee.
Read and review the "Declaration and Attestation" as well as the "Undertaking". Again, no CPD unit is required for now but the undertaking serves as an assurance to the PRC that you'll comply with the CPD unit requirements in the future. Finally, affix your signature by ticking the box provided beside your complete name. Thoroughly review all information you've provided to check for any misspellings or incorrect data. Once you've made sure everything is correct, click "Submit Application".
Pay the shipping fee. The renewal fee is different from the shipping fee. Since you've opted to have your new license to be delivered to your address, you need to pay both. After the successful payment of the renewal fee, a pop-up box will appear prompting you to pay the shipping fee. Click the link provided and you'll be redirected to the payment gateway of W Express, the company that will be responsible for shipping your license. Follow the instructions and pay the shipping fee of Php 160.
Wait for your PRC license to arrive. On average, the delivery lead time is around 5-8 working days but given our situation right now, don't be surprised if it gets delayed. Some applicants shared that it took as long as 20 days for their licenses to arrive due to the ever-changing quarantine protocols. As of this writing, the shipping service is only available to professionals living in the Philippines.
How to Update Your Name After Getting Married Before Renewing Your PRC License.
Female licensed professionals who recently got married and wish to change their marital status and use their husband's surname by license renewal can walk in at PRC's main office/Central Office or the nearest Regional Office for this transaction.
It must be noted that female professionals don't have to wait for their licenses to expire; it can be changed any time they want to as long as they already have their marriage certificate from PSA

.
The Petition for Change of Registered Name must be filed first before you can proceed with license renewal. Once the petition is approved, you can now follow the steps in the previous section to renew your PRC license.
Here's the step-by-step guide to filing a petition for change of registered name due to changes in marital status:
1. Complete the requirements.
Here's a list of the usual requirements when updating your name due to changes in marital status:
Original and photocopy of your PRC license or registration certificate to be authenticated with metered documentary stamps;
Duly accomplished Petition for Change of Registered Name Due to Marriage form. Fill out this petition form completely and accurately. These are some of the details that you'll be asked to provide: your full name, date of birth, place of birth, month and year when you passed your board exam, name of your husband, date of marriage, and place of marriage;

Original marriage certificate/contract (issued by PSA)

;
Official receipt.
2. Have your petition form notarized.
On the second floor of PRC's main building, you'll find the legal division where you can have your petition form notarized.
3. Pay the required fees.
Head to the cashier where you can pay the required amount of fees.
4. Get your metered documentary stamp.
On the ground floor of PRC's main building, you'll find the Customer Service section where you can get the metered documentary stamp. Ensure that the photocopies of the documentary requirements have metered documentary stamps.
5. Submit your petition form.
Go to the Regulations office and submit your completely filled out and notarized petition form, together with all the other required documents like your marriage certificate issued by PSA. Make sure to get your official receipt and claim stub.
6. Claim your documents as scheduled.
Refer to the claim slip issued to you for further instructions.
Tips and Warnings.
Same-day appointments are not allowed. No online applicants will be allowed to set the appointment date on the same day of application. All applicants should set an appointment in advance.
For technical concerns, you can reach PRC by sending an email to [email protected]
For payment concerns, you can reach PRC by calling their hotline at 405-7000 or sending an email to [email protected]
Professionals who are working abroad are no longer required to comply with the required CPD units for their profession before they can renew their licenses.
The required CPD units are reduced to no more than 15 CPD units required for each profession.
Newly-licensed professionals who will renew their PRC ID for the first time are exempted from the required CPD units. However, they have to comply with the required CPD units for their second renewal.
Frequently Asked Questions.
1. I want to update or correct my personal information before renewing my license. What should I do?

If you got married and want to update your registered name, or if you want to correct entries or data related to your personal information, you can file a Petition for Change of Registered Name due to Marriage

or a  Petition for Correction of Entries or Data

, respectively, at the PRC Central Office or the nearest PRC Regional Office7.

Upon receiving your completed documents, the PRC will need a maximum of 2 months or 60 days to process your request. Once the petition is approved, you can then proceed to the regular process of renewing your Professional Identification card online.
2. Is there any courtesy lane available for PRC license renewal? If so, who can avail of it?

Yes. On February 12, 2018, PRC released a memorandum order8 for the processing of PRC renewal for OFWs. All PRC Offices will provide a courtesy lane for OFWs also identified as Balik Manggagawa.

Aside from the required documents for PRC renewal, OFWs who wish to use the courtesy lane should also present a proof of their status as a Balik Manggagawa OFW in the form of OEC or Overseas Employment Certificate.



There is also a courtesy lane for senior citizens

, pregnant women, nursing mothers, and Persons with Disability (PWDs). OFWs may also use any of these lanes if there are no courtesy lanes for OFWs at their preferred PRC Office.

A member of the PRC staff will be assigned to process all renewal applications coming from the mentioned courtesy lanes.
3. Can I walk-in to a PRC office instead of applying for a renewal online?

No, walk-ins are no longer allowed since the renewal process now has two stages: submitting the renewal application online and then claiming the renewed ID from the selected office on the appointment date.

Professionals who'll renew a PRC ID will have to go through the online application process first before proceeding to the nearest PRC office.
4. What should I do if I forget my login details on the PRC website?

You can click "Forgot Password?" below the "Sign In" button. Enter your email address and click "Submit". Open your email address then click the link provided to reset your password. 

Alternatively, you can also send an email to [email protected] and provide details about your issue, whether it's a forgotten email address, password, or both. 
5. How can OFWs renew their PRC licenses?

OFWs can renew their license just like everyone else. First, they have to submit an online application at PRC's official website. They just need to ask a representative to claim their renewed ID on their behalf on the day of the appointment.

The representative must bring the following additional documents: Authorization Letter

or Special Power of Attorney

; and valid IDs of both the professional and the representative.
6. Can I renew my PRC license in advance?

Yes, you're allowed to renew your PRC ID in advance, and doing so will not result in losing a year of validity. According to the PRC, the advance renewal of the ID card is accepted exactly one year from the date of birth of the professional9. 

Therefore, if your PRC ID will expire on June 14, 2021, for example, you can renew it anytime from June 15, 2020, to June 14, 2021, without incurring any penalty.
7. I won't be able to make it to my scheduled appointment. Can an authorized representative claim my renewed PRC license on my behalf?

Yes, as long as the representative will present the required additional documents for verification.

If a representative will be claiming your renewed PRC card, and that representative is also a PRC-licensed professional, the following additional documents must be submitted:
-Valid PRC ID of the authorized representative
–Authorization letter

(should indicate that you're allowing your representative to claim your renewed PRC Card on your behalf)

If a representative will be claiming your renewed PRC card, and that representative is NOT a PRC-licensed professional, the following additional documents must be submitted:
-Valid ID of the authorized representative
-Your own valid ID
–Special Power of Attorney

(should indicate that you're allowing your representative to claim your renewed PRC Card on your behalf)
8. Can I renew my PRC license after it expires?

Yes, you can still renew your PRC ID even if it's past its expiration date. However, there will be applicable penalties to be incurred for late renewal, the total cost of which depends on how long your PRC license has been expired and the type of profession you're practicing.
9. I tried to set an appointment online to renew my PRC license but there are no available slots left. What should I do?

It only means there are no more slots available at the PRC office you selected. In order to secure an appointment online, you can either wait for your selected PRC office to offer a new set of slots at a later time or choose another PRC office near you.
10. Can I cancel my PRC appointment?

If you haven't paid the renewal fee yet, there's no need to request for cancellation as appointment slots that haven't been paid are not considered valid. It will be automatically invalidated by the system.

If you insist on canceling the unpaid appointment because you want to create a completely different transaction, you may do so by logging in to your account, clicking Existing Transaction, and clicking the red Cancel button assigned to that specific transaction.

However, appointment slots that are already paid can no longer be canceled as the renewal fee is non-refundable. Instead, you can reschedule your appointment date but you can only do this while you're in the process of securing the appointment.
References.