Last Updated on 12/28/2020 by FilipiKnow
Are you a returning OFW who still endure long lines at the POEA just to get an overseas employment certificate (OEC)?
Don't waste precious time you could've spent with your loved ones. Learn how to easily get an OEC, and you'll be sparing yourself the trouble and stress.
This guide will walk you through the process of applying for an OEC through BM Online.
Related: How to Apply for a BPI Credit Card as an OFW
What is BM Online?
Balik-Manggagawa Online Processing System, also called BM Online, is an internet-based service that allows vacationing or returning OFWs to get an OEC anytime without having to go to a POEA office. 
Why should OFWs use BM Online?
BM Online is the returning OFW's one-stop shop for OEC application.
From creating an account and filling out forms to issuing of OEC, everything (except for over-the-counter payment) is completed online.
This is why it's a lot faster to use the BM Online system than applying personally at the POEA office. Especially during Christmas season when OFWs usually come back home, securing an OEC takes longer at POEA branches.
Online OEC application is also cheaper—you don't have to spend money on commuting and food.
Even if you decide to apply at the POEA, you'll still have to use BM Online for booking an appointment. Only OFWs with an online appointment are allowed to get an OEC at the POEA.
Despite its imperfections (i.e., downtimes, navigational issues, etc.), the benefits of BM Online still outweigh its flaws.
Related: How to Apply for BDO Credit Card – A Guide for OFWs
Who can use the BM Online System?
The BM Online system caters to the following types of balik-manggagawas:
OFWs on leave

– Overseas workers who are in the Philippines for a vacation but still has an existing employment contract and will return to their employer.

Re-hires

– OFWs who returned home after their job contract ended but will work again with the same employer because of the contract renewal.
To get an OEC online, returning OFWs should have the following:
Work visa/work permit

A record in the POEA database, meaning any OFW who has been previously issued OEC by the POEA at any of its offices/centers including the POEA main office, extension units, regional offices, BM mall processing centers, and POLO offices abroad

Previously issued OEC under the same employer
However, if you don't meet these eligibility requirements for online OEC processing, you can still use BM Online to set an appointment for regular processing at your preferred schedule and POEA site.
How to get an Overseas Employment Certificate (OEC) through BM Online Processing System: 8 Steps.
1. Go to the BM Online Processing System.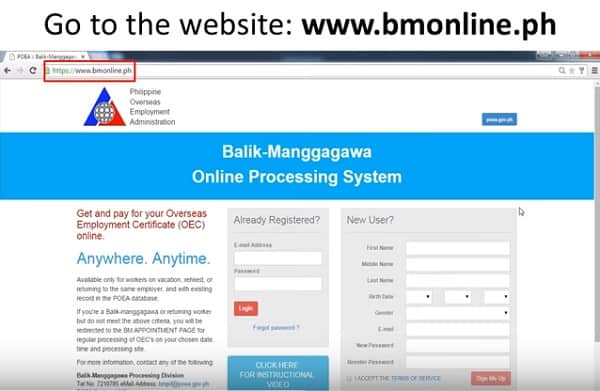 Click here to access the BM Online system. The address bar on your browser should show "https" (not "http") with a padlock icon so that your personal information is protected from hackers.
2. Create a BM Online account.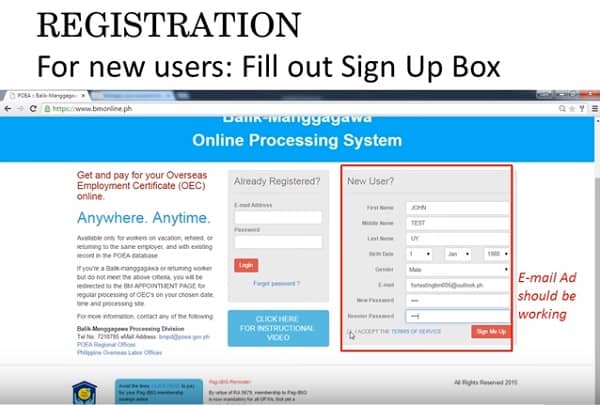 Here's what you should do to sign up for a BM Online account:
Enter all the required details under "New User?" Create a password with at least six characters and a combination of letters, numbers, punctuation marks, and uppercase and lowercase letters.

Click the box next to "I'm not a robot."

Click and accept the "Terms of Service."

Click the Sign Me Up button. A pop-up message will appear to confirm the successful creation of your account.

Check your email for a message from the POEA. Click the confirmation link to activate your account. A pop-up message will appear to confirm successful activation of your account. Click the Okay button.
3. Log in as an "Already Registered" user.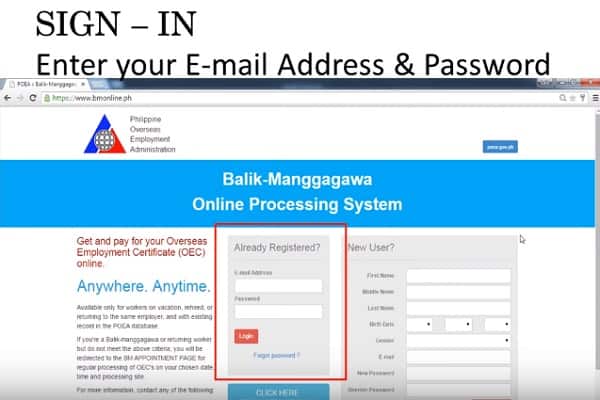 Type your registered email address and password Under "Already Registered?" Then click the Login button.
The OEC Number Verification pop-up will be displayed. Enter your last issued OEC number and click OK. The BM Online System needs this number (which is your most recent transaction record with the POEA) to retrieve your records and current employment information.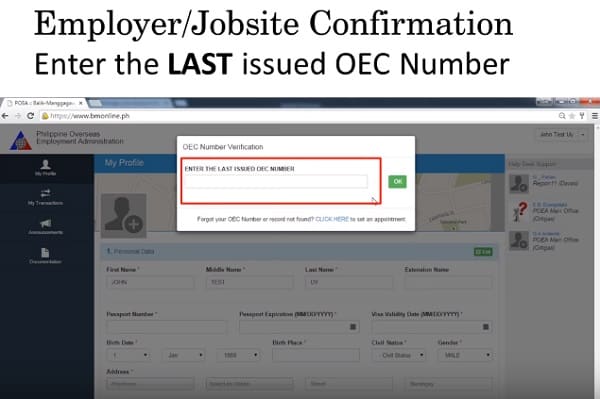 If you lost or forgot your latest OEC number, click on the link in the pop-up box for setting an appointment.
If the system shows "no record found," you'll be automatically redirected to the Appointment page. This means your personal appearance at the POEA is required for your OEC processing. Click here for the steps to set an OEC appointment.
If your latest OEC number matches your POEA record, the BM Online system will ask you if you're returning to the same employer and job site. Click Yes to confirm and proceed with your online OEC transaction.
However, if you have a new employer or job site, click No to set an online appointment for OEC processing.
4. Upload your photo.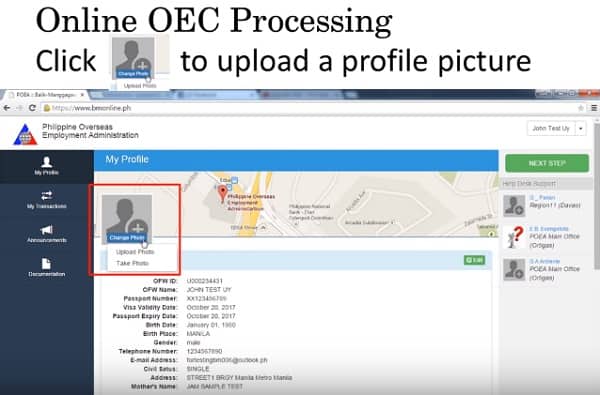 After confirming your return to the same employer and job site or clicking the link for appointment setting, you'll be taken to the My Profile page.
On the upper left corner, hover your mouse over "Change Photo" and click "Upload Photo."
You'll see a pop-up message about the appropriate photo to upload. After reading it, click the Upload Photo button.
Click the Choose a Local File button and select a picture from your computer folder or Facebook profile.
Choose your most recent photo showing your full face (like that of your passport photo) to avoid inconvenience at the Immigration. This photo will appear in the system and will be used by the Immigration officer to verify your identity during your departure day. 
If the file size is larger than 1MB, edit your photo using an online image size reducer, or look for another photo with a smaller size.
Click the Open button to upload your photo. You may crop the photo if needed. Lastly, click the Done button.
5. Fill out the online forms.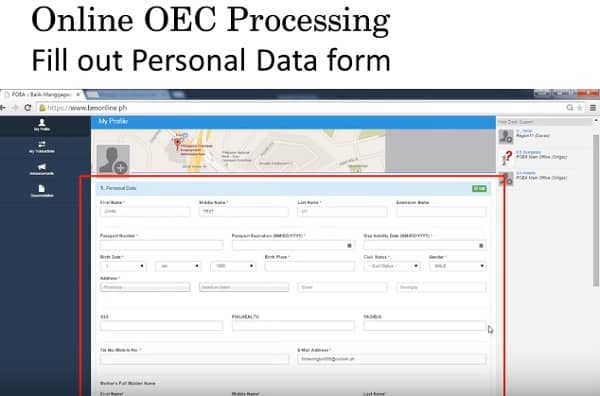 You need to complete three forms on the My Profile page: Personal Data, Contract Particulars, and Legal Beneficiaries. Fields with an asterisk (*) are required, so don't leave them blank.
First, accomplish the Personal Data form. When you're done, click the Save Changes button.
The system will display a summary of your personal details. Review them and make any necessary changes by clicking the Edit button.
Under the Personal Data summary, you'll find the Contract Particulars form. Provide your employment details. On the Salary field, enter just the numbers without a comma. When you're done, click the Save Changes button.
A summary of your employment information will appear. Review it and edit any incorrect detail, if needed.
Under the Contract Particulars summary, fill out the Legal Beneficiaries form. You can include more than one dependent by clicking the Add Beneficiary button. After adding each dependent, click the Save Changes button.
6. Provide your flight schedule.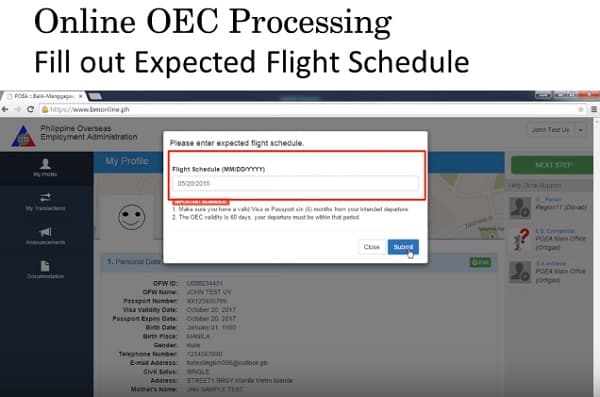 Click the Acquire OEC or Exemption button. Then enter your flight schedule (in MM/DD/YYYY format) when you'll return to your country of employment. Click the Submit button.
A pop-up will appear to ask you to confirm that you're returning to the same employer and job site. Click Yes.
Another confirmation pop-up will appear to ask you to certify the truth and accuracy of the information you provided. Click the Acquire OEC button. 
7. Pay the OEC fee.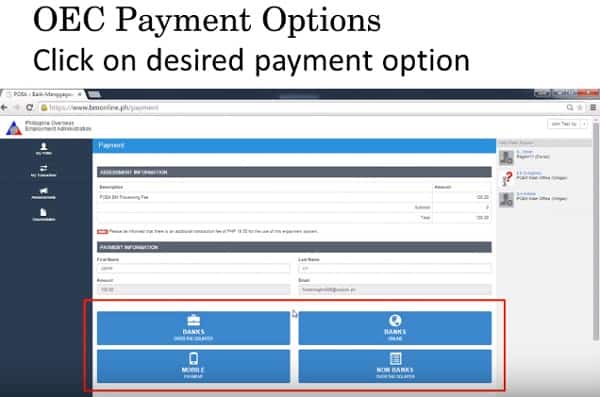 Click on your preferred payment method. You have four options:
Over-the-counter through banks 

Over-the-counter through non-banks

Online Banking

Mobile Payment (GCash)
A Payment Confirmation pop-up will appear. Click Yes.
If you chose Mobile Payment, simply type your 11-digit Globe number and click the Pay button.
If you chose another payment method, you'll be directed to a Dragonpay page. In the Source drop-down menu, click on your preferred bank or payment center from the list.
Here are the OEC payment channels to choose from:
Over-the-counter banking:
BDO

LANDBANK

Metrobank
Over-the-counter through payment centers:
7-Eleven

Bayad Center

Cebuana Lhuillier

ECPay

LBC

PeraPal

Robinsons Department Stores

SM Department Stores/Supermarkets/SaveMore
BDO Internet Banking (Fund Transfer)

BPI Express Online (Fund Transfer)

BPI Express Online (Bills Payment)

Chinabank Online

EastWestBanker

Metrobankdirect

RCBC AccessOne

Unionbank EON

Unionbank Internet Banking

UCPB Connect
Next, click the Select button. The reference number and amount to be paid (PHP 100 processing fee + PHP 19.50 service fee = PHP 119.50) will be shown. To receive the payment instructions, click the Send Instructions via Email button.
Check your email for the instructions from the BM Online system. Read and follow them carefully. Make your payment on or before the deadline stated on the instructions.
You may ask a family member or trusted friend in the Philippines to pay the OEC fee on your behalf. Just be sure to forward the payment instructions to your representative.
If you made an over-the-counter bank deposit, check the payment instructions again on your email within the same day and click on the link provided for validating your payment.
Your payment will then be processed. Wait for a confirmation email until the next banking day.
8. Print your OEC.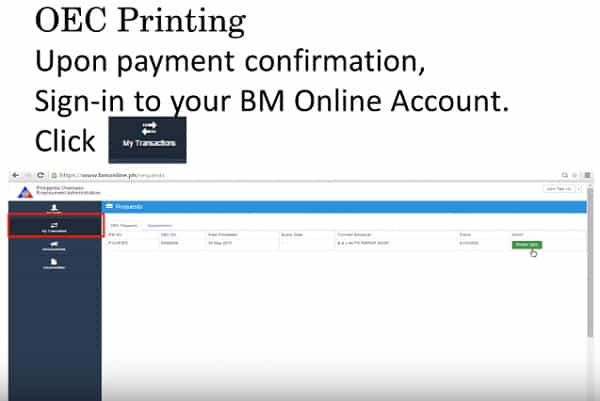 Once your OEC payment has been confirmed, log into your BM Online account. Click "My Transactions" on the left panel of the page and then the Print OEC button at the rightmost part.
Your OEC will be displayed. Click the Print Receipt button.
Print three copies of your OEC, which you'll submit to the Manila International Airport Authority (MIAA), Tourism Infrastructure and Enterprise Zone Authority (TIEZA), and Immigration counters during your departure day.
The OEC printout can be in black and white, as long as the copies are clear and readable.
Tips and Warnings.
1. Get an OEC not earlier than 60 days before your departure date.
An OEC is valid for 60 days from the issue date or until the OFW's work permit expires, whichever comes first. 
If you get your OEC too early—like more than two months before your scheduled flight back to your host country—it's already expired by the time you show it to the Immigration.
So plan your OEC application carefully, taking into consideration your flight schedule. Get your OEC less than 60 days before your departure date.
2. Use English characters only.
When filling out forms on BM Online, avoid typing non-English characters like Chinese, Korean, Japanese, Arabic, etc. This will cause a delay in your OEC processing. So make sure to enter English characters only.
3. Choose online banking or GCash to pay the OEC fee.
Paying for your OEC through the internet, like GCash or online banking, is more convenient and straightforward than over-the-counter channels. 
Many OFWs question the usefulness of BM Online, complaining about the hassle of going to a bank or payment center when there are faster methods available. Enrolling in GCash or your bank's online banking service won't cost you anything and won't take much of your time, so why not give it a try?
Related: How to Use GCash in the Philippines: An Ultimate Guide
4. For forgotten email address and/or password as well as other BM online concerns, contact the POEA.
Forgot your email address and password? Can't complete your online OEC application?
For any issue related to using BM Online, contact the POEA for assistance through any of these channels:
(02) 721-0785

(02) 721-9496

(02) 727-7778

(0917) 325-7397
Explain your concern and provide your full name and birthdate. If you'll send an email, attach an image of your passport and work permit or ID.
5. You can't get multiple OECs online.
You can get an OEC—whether through BM Online or at the POEA—only once each time you return to the Philippines. Getting more than one OEC simultaneously is not allowed.
Before you apply for another OEC, you have to use your existing OEC first.
6. You can't use your BM Online account if you don't confirm your email address.
Confirming your email address is necessary for activating your BM Online account. Doing so will prove to the POEA that you're the real owner of the email address.
If you don't confirm it, your account will become inactive. To activate your account, check your email for a message from the POEA and click the link that comes with it.
7. No need to go to a POEA office after getting an OEC online.
Once you secure an OEC online, no additional steps are needed. No need to submit any documents, too. 
On your departure day, just be sure to bring three copies of your OEC at the airport.
8. You can go straight to a POEA office to get an OEC personally instead of using BM Online.
POEA offices nationwide still process walk-in OEC applications. However, you still need to sign up for a BM Online account and set an appointment online before visiting a POEA branch.
Frequently Asked Questions.