The Bangko Sentral ng Pilipinas (BSP) has approved six digital banks1 to operate in the country. With no initial deposit and maintaining balance requirements, higher interest rates, and more convenient access to banking products, BSP expects these digital banks to onboard 70% of Filipino adults into the formal financial system and convert 50% of retail payments into digital form by 20232. Established banks not classified as digital banks by BSP are also innovating to include digital products in their portfolio. 
With the emergence of various digital products and services, how do you choose a banking provider that works for you? We analyzed the options and shortlisted the best digital banks in the Philippines according to your needs.
Table of Contents
At a Glance: Best Digital Banks in the Philippines
| | |
| --- | --- |
| Category | Digital Bank |
| Best Digital Bank to Grow Your Savings | Tonik |
| Best Digital Bank for Foreign Remittances | Overseas Filipino Bank (OFBank) |
| Best Digital Bank for Micro, Small, and Medium Enterprises (MSMEs) | Maya Bank |
| Best Digital Bank for Overall Functionality | CIMB |
| Best Digital Bank for the Mass Market | Diskartech |
| Best Digital Bank for Ease of Account Application and Verification | UnionDigital (UD) Bank |
| Best Digital Bank to Use With Shopee | SeaBank |
| Best Digital Bank for Personal Customer Service | GoTyme Bank |
| Best Digital Bank for Time Deposits | UNOBank |
What Is Digital Banking?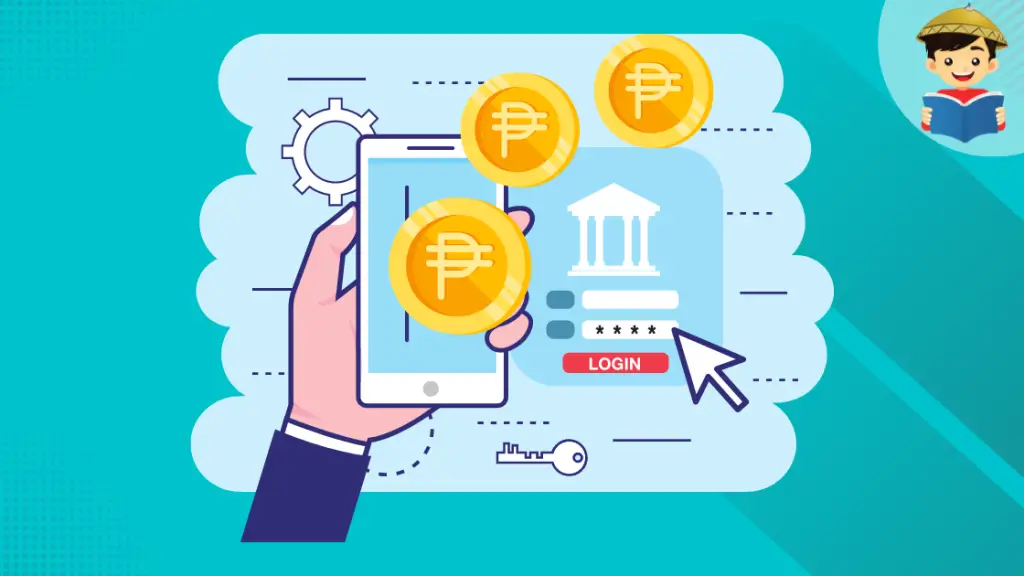 Digital banking automates banking processes and activities that allow customers to access and manage their accounts online. You can open a new account, pay bills, transfer funds, and apply for a loan within a few minutes using only your smartphone. This makes traditional banking services accessible anytime and anywhere. 
Digital Banks or Neo Banks are financial technology companies that may or may not be affiliated with existing commercial banks. They do not operate physical branches, and all transactions are done online. Without the overhead costs of operating multiple branches and employing a huge workforce, they can pass on the savings to consumers through generous interest rates and minimal transaction fees.
Digital Banking vs. Online Banking
Digital banking is the general term for any financial transaction over the internet using a computer, laptop, mobile phone, or other devices. It also refers to the back-end processes used to support the digital services offered to customers, automate data processing, and enable efficient business operations. It uses innovative technologies such as Artificial Intelligence, Blockchain, Machine Learning, and others.
Online banking can be considered a form of digital banking. Most commercial banks have an online banking feature that allows their existing customers to register and access their accounts online to check their balances, review transaction history, and transfer funds. However, other banking services, such as opening new accounts and personal information changes, are still done in person at their branch.
A full-fledged digital bank has digitized all of its services, so there is no need for a physical location. Customer support is also available online. It has transformed the banking experience by integrating banking functions, financial products, and customer service into a digital platform.
Are Digital Banks Safe?
Digital banks are regulated and monitored by the BSP, just like traditional banks. Likewise, all banks authorized to operate in the country are mandated to be a member of the Philippine Deposit Insurance Corporation (PDIC), which provides insurance coverage of up to ₱500,000 per depositor.
Most digital banks employ one or more of these security features to authenticate the identity of account holders and prevent fraudulent transactions:
Encrypted data
Multi-factor authentication
Knowledge-based identification
Know-your-customer procedure
Biometrics
Neo banks use and maintain a secure and resilient technology infrastructure to gain consumers' trust. However, even with online safety precautions in place, there are still cases of internet fraud, such as identity theft, phishing scams, and other hacking schemes. These can be avoided by following your bank's security guidelines and keeping your personal information confidential.
What Are the Pros and Cons of Using Digital Banks?
As with any innovation, digital banking technology has its benefits and limitations. 
Pros
Higher interest rates and lower fees than traditional banks
No initial deposit or maintaining balance required
Bank transactions are automated and processed quickly
Paperless banking and environment-friendly transactions
Accessible banking services 24/7
Can easily track transaction history and recognize suspicious activities
Cons
You cannot access your account without a reliable internet connection or when the bank server is down or undergoing system maintenance.
Cash deposits and withdrawals are coursed through partner banks or institutions, which may charge fees.
Cybersecurity threats such as phishing attacks, identity theft, and other scams.
It may be challenging for non-tech-savvy people to navigate a digital banking app.
Best Digital Banks for Your Needs
Highlighting their key features and functions, listed below are the best digital banks based on your financial goals.
Best Digital Bank to Grow Your Savings: Tonik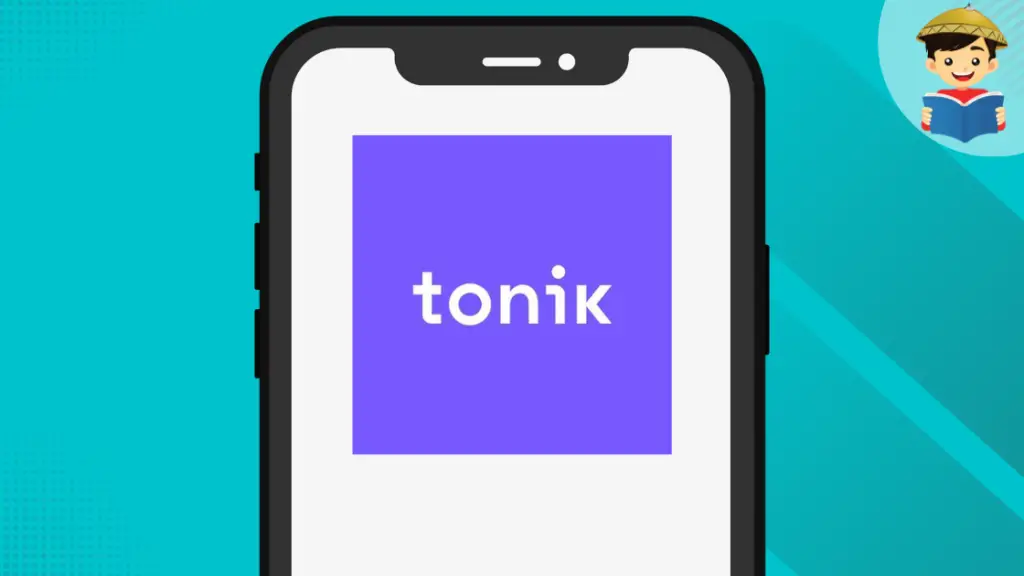 Tonik Digital Bank Inc. is a subsidiary of a fintech firm based in Singapore. It is the first to secure a digital banking license from the Bangko Sentral ng Pilipinas and has been operating as a fully digital platform since March 2021 through the Tonik app. It had garnered ₱1 billion in retail deposits within a month of launching3. 
Tonik offers one of the country's highest interest rates at 6% per annum for time deposit accounts. It also provides a portfolio of unique products like Stashes, where you can save on your own or as a group. With its "Save Big and Dream Bigger" campaign, Tonik bank provides a great opportunity to be a source of passive income and grow your savings.
Tonik's security systems4 comply with the Payment Card Industry Data Security Standard (PCI DSS) and are approved by the Certified Information Systems Auditor (CISA). These are international payment card security standards and leading IT security audit experts.
Key Features
A variety of deposit accounts yield high-interest rates of 1% up to 6% per annum.
No required initial deposit and maintaining balance for savings accounts.
Stashes serve as separate savings pockets where you can set aside money for your specific needs. 
You can create multiple stashes for different financial goals and add or withdraw funds anytime without any lock-in period.
A Group Stash allows multiple individuals to deposit in a common fund, similar to the Filipino group saving method of paluwagan but without the risk of losing money.
Time deposit terms of up to 24 months with an option of rolling it over for another period.
You can top-up your debit account up to ₱250,0005 while the maximum amount that can be invested in a time deposit account is ₱100,0006 (maximum ₱500,000 for consolidated time deposit accounts).
A virtual Debit Mastercard, which you can use immediately upon registration. A physical debit card may be requested for a fee.
Physical Mastercard is available upon in-app request that you can use in any ATM nationwide. Card ordering costs ₱300.
Option to temporarily lock and unlock the card through the mobile app.
Allows PESOnet and InstaPay interbank fund transfers.
Apply for a Quick Loan of ₱ 5,000 to ₱50,000 within 30 minutes and receive it on the same day. A higher Flex Loan is available where you can borrow up to ₱250,000 and receive it after 24-hour processing.
| | | | |
| --- | --- | --- | --- |
| Deposit Account | Interest rate per annum | Initial Deposit | Maximum # of accounts per person |
| Tonik Account7 | 1% | none | One |
| Solo Stash8 | 4% | none | Five |
| Group Stash9 | 4% to 4.5% (owner with at least 2 participants) | none | Five |
| Time Deposit10 | 4.5% to 6% | ₱ 5,000 | Five |
Account Opening Eligibility
Filipino
Must be 18 years old and above
Working email address, mobile number, and valid ID
Note: You can still register without uploading a valid ID. However, the account will have a lower balance limit (₱50,000) and a 12-month validity period, which will be upgraded once you upload a valid ID. After successfully uploading a valid government-issued ID, you may open up to five stashes and five-time deposits11. Otherwise, you can only open up to two stashes.
Phone Requirements
For iPhone users, at least iOS 10.0.0.
For Android users, at least OS version 7.00.
A smartphone with a front-facing camera and at least 3GB of RAM.
Account Opening Procedure
Download and install the Tonik app from the App Store or Google Play Store.
Open the app and enter your Philippine mobile number.
Read and agree with the terms and conditions.
Input the one-time password (OTP) sent to your registered phone number.
Perform a face identity scan through a selfie. Follow the guidelines for taking a selfie.
Scan your valid ID or input personal information if not uploading an ID.
Check if the information captured is correct. If not, get in touch with the contact center via in-app chat after onboarding.
Fill in additional information and email address.
Confirm that you do not have US citizenship.
Sign using a stylus or your fingertip.
Create a strong password.
 You are now officially onboarded to Tonik.
Best Digital Bank for Foreign Remittances: Overseas Filipino Bank (OFBank)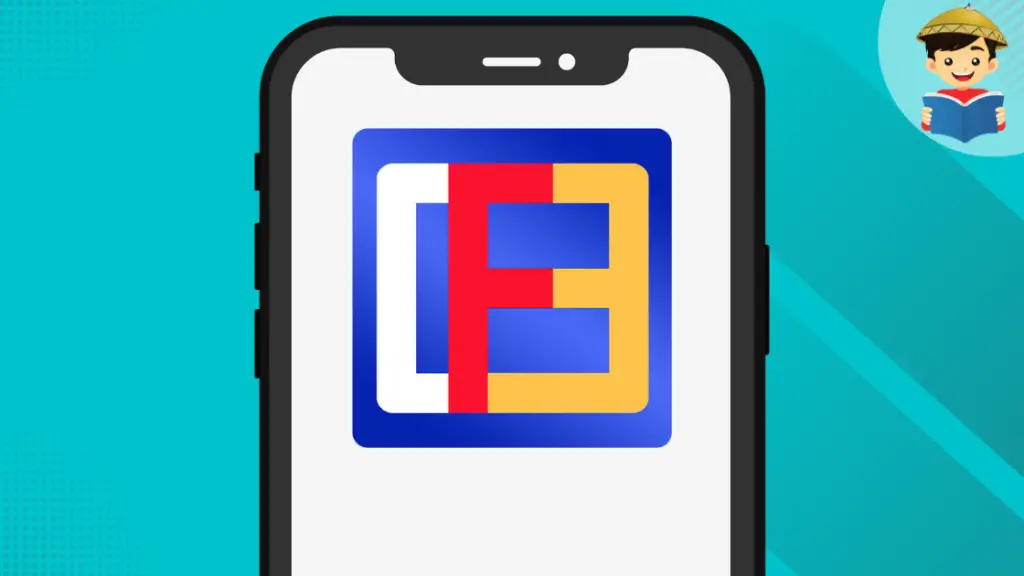 The Overseas Filipino Bank is the first branchless digital-only Philippine bank. It is a wholly-owned subsidiary of Landbank and was launched in June 2020. It was created pursuant to Executive Order No. 4412to serve the banking and financial needs of Overseas Filipinos (OF), Overseas Filipino Workers (OFW), and their beneficiaries. 
It offers three types of accounts13:
You can open these accounts online without going to a physical branch. Opening separate savings account for their minor beneficiaries allows OFs and OFWs to directly transfer funds to them for safekeeping without the pressure of depositing a large sum of money to earn interest or incur fees if not regularly funded.
One of OFBank's primary goals is to provide reliable and efficient remittance services for the millions of OFBayani across the globe. Available remittance partners14 are located in South Korea, United Arab Emirates, USA, Macau, Turkey, Saudi Arabia, Israel, United Kingdom, Italy, Hong Kong, Brunei, Indonesia, Korea, Cyprus, Malaysia, Singapore, Germany, Canada, Japan, Taiwan, Qatar, Kuwait, Bahrain, and Australia. One-time passwords are sent via text to foreign telco providers to secure banking transactions.
OFBank uses the Digital Onboarding System with Artificial Intelligence (DOBSAI)15 to process new account applications via the mobile app. Applicants are required to take a selfie which will be compared to the uploaded ID for verification. The information on their Facebook page is expressed in English and Filipino to cater to all OFBayani and their families.
Key Features
Interest-bearing Peso savings account for OFs, OFWs, and their beneficiaries.
A convenient way to send and receive remittances in real-time via Visa Direct or through remittance partner agencies worldwide. 
Free fund transfers between OFBank and Landbank.
No required initial deposit and maintaining balance.
No dormancy fees and service charges for falling below the minimum average daily balance (ADB).
Maximum daily withdrawal amount of ₱50,000 for all types of debit accounts.
Has e-banking channels for bill payment, government agency contributions, and online shopping.
Loans
| | | | |
| --- | --- | --- | --- |
| Deposit Account | Interest rate per annum | Required ADB to earn interest | Age Requirement |
| OFBank Visa Debit Card16 | 0.05% | ₱500 | 18 years old |
| OFBank Visa Debit Beneficiary Card17 | 0.05% | ₱500 | 18 years old |
| OFBank Regular Debit Card18 | 0.05% | ₱500 | 7 to 17 years old |
Account Opening Eligibility
Must be 18 years old
Able to read and write
Not suffering from any legal disability
Working email address, mobile number, and valid ID
Account Opening Procedure
Download the OFBank Mobile Banking app from the Apple App Store or Google Play Store.
Open the app and click Open an OFBank Account.
Select the appropriate description of the account holder: OFW, OF, or beneficiary.
Select the type of account you want to open and read the reminders.
Confirm that you do not have US citizenship.
Read and agree with the terms and conditions.
Fill out the Profile Details section.
Create a user ID and password.
Input the one-time passwords (OTPs) sent to your phone number and email address to verify your contact details.
Select and answer security questions.
Input your personal, financial, and account purposes information.
Upload your ID and take a selfie according to the guidelines.
Review all the information provided and click Confirm.
Wait for a confirmation email to verify that you have successfully opened an account with OFBank.
Best Digital Bank for Micro, Small, and Medium Enterprises (MSMEs): Maya Bank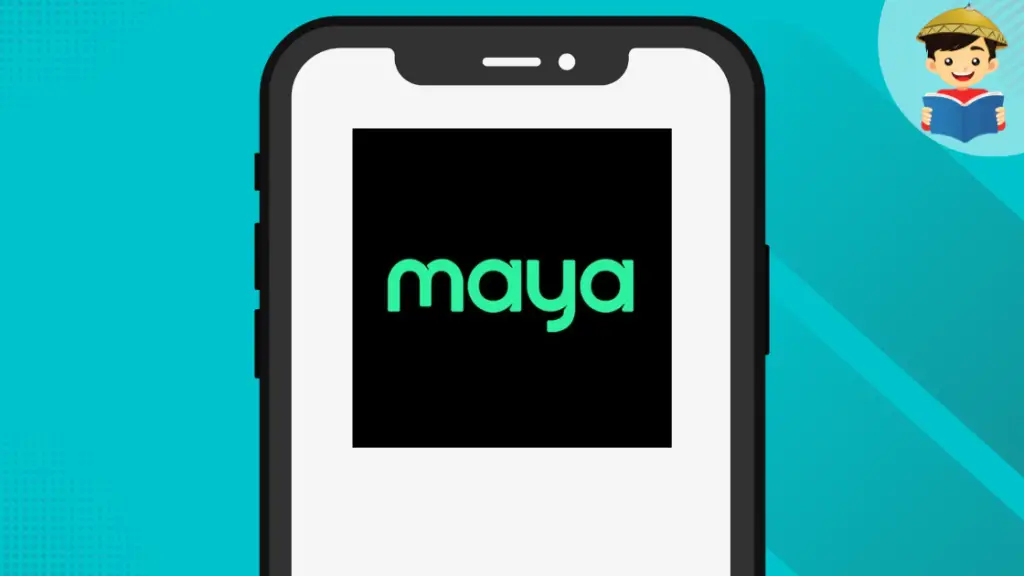 Maya Bank was created by Voyager Innovations19, a technology company and a wholly-owned subsidiary of PLDT. Voyager is behind the digital wallet PayMaya and the mobile remittance service Smart Padala. 
With its launch in April 2022, the new Maya app aims to transform Filipino consumers' and MSMEs' digital banking experience by seamlessly integrating all Maya products into an all-in-one money app. PayMaya was rebranded to Maya, PayMaya Negosyo to Maya Business, and Smart Padala to Maya Center. You can now shop, save, trade crypto, and send and grow your money using the new Maya app. 
If you are an existing PayMaya business partner, you can upgrade your account to enjoy the full benefits of the Maya Business, Maya Center, and Maya Bank. You can now offer remittance services through Maya Center, sell prepaid loads, process bill payment transactions, and accept secure contactless payments.
For e-commerce store owners, you can easily integrate different payment methods into your website or app through Maya Checkout20. Merchant partners can also use the QR PH person-to-merchant (P2M) payment facility21 to provide an easier and more convenient way for customers to purchase from your shop. Save and grow your revenues by opening a business account in Maya Bank. You can also apply for a Maya Credit to support or expand your business. All these features and more can be accessed through the revamped Maya app – it's truly everything and a bank.
Key Features
No required initial deposit and maintaining balance.
An all-in-one money app with access to the Maya family of products.
High-yield savings account with a 6% introductory interest rate.
Personal Goals for budgeting and organizing your money.
Quick and easy application for Maya Credit of up to ₱15,000.
Invest in cryptocurrency via Maya Crypto for as low as ₱1.
Get a free virtual Maya Visa Card with a minimum of ₱100 wallet balance.
Buy a physical Maya Visa or Mastercard that you can use for contactless payments or ATM withdrawals.
Allows PESOnet and InstaPay interbank fund transfers.
Apply for Maya Credit with up to ₱15,000 credit line after six months of active usage. If you're a merchant, you can activate Maya Credit as a convenient payment option for your customer without additional fees.
Available for IOS, Android, and Huawei users.
| | | | |
| --- | --- | --- | --- |
| Deposit Account | Interest rate per annum | Initial Deposit | Maximum # of accounts |
| Maya Savings22 | The initial minimum rate of 4% can be increased to 6% by using Maya for payments | none | One |
| Personal Goals23 | 6% | none | Five |
| Business24 | 1.5% | none | One |
Account Opening Eligibility
Filipino or foreign national
7 years old and above
One valid primary ID or two valid secondary IDs
Video selfie
Verified address and personal information
Account Opening Procedure
Download and install the Maya app from the Apple App Store, Google Play Store, or Huawei App Gallery.
Click Start an account. Enter the necessary personal information and email address.
Wait for the confirmation email and click the link to verify your email address.
Provide your Philippine mobile number and create a strong password.
Read and agree with the Terms and Conditions and the Data Privacy Policy.
Check for applicable data and information to personalize your Maya experience.
Wait for the verification SMS sent to your registered number and enter the OTP on the app. You now have a basic account with limited features. 
Click Upgrade now to upgrade your account and enjoy the features of Maya Bank and other services.
Select the applicable description of the account holder and click Next.
 Enter your ID details and click Next.
Take a photo of your ID according to the guidelines.
 Record the Liveness video by following the instructions.
 Enter your personal information. 
 Review your details, then click Submit.
 Your application will be evaluated for up to 48 hours.
Note: You can monitor the status of your application in the profile menu under Check Application Status. Once your upgrade application is approved, you will receive an SMS, email confirmation, and a green verified check mark beside your profile icon and your name.
Best Digital Bank for Overall Functionality: CIMB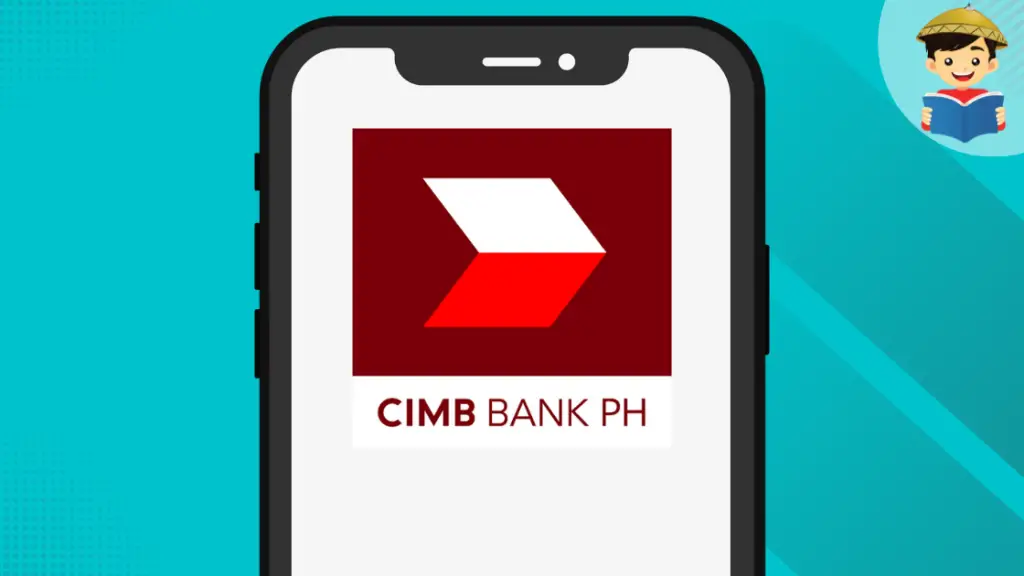 CIMB Bank PH25] is regulated by the BSP as a commercial bank. It is part of the CIMB Group26, a leading ASEAN universal bank based in Malaysia and a world leader in Islamic finance. Since its introduction in 2018, it has onboarded 5.6 million users (CIMBBank) through the CIMB Bank app.
CIMB Bank PH is an innovative and prominent player in the digital banking industry. It has received numerous international recognitions27, including the 2021 Best Digital Bank in the Philippines from various international award-giving bodies such as Global Banking and Finance Review28, The European29 World Business Outlook30, and Global Business Review Magazine31. 
Its partnership with Globe Telecom32 has produced the first-ever savings account, GSave, which can be opened and managed directly from the GCash app. CIMB Bank PH also powers GCredit, a revolving mobile credit line that you can use for paying bills and shopping online. It is available for qualified GCash users with a good GScore33, a credit rating computed based on your activities within GCash. This game-changer feature provides access to credit facilities, especially for Filipinos with no credit history.
The high-yield savings accounts, compatibility with GCash, loan and credit options, track record, and additional perks make it a great bank of choice for first-time customers or those looking for a versatile full-fledged digital bank.
Key Features
There is no required initial deposit, maintaining balance, transaction fees, or annual fees.
Several options for deposit and lending accounts.
Allows GCash users to open and manage a savings account and apply for a credit line using the GCash app.
Apply for a CIMB Bank personal loan using only one ID and one payslip.
Get interest rebates with the Loan Loyalty Program.
Transfer funds from CIMB Bank to other banks in the Philippines for free.
Transfer funds through your GCash wallet for free.
Block and unblock your debit card in real time through the app.
Available for IOS, Android, and Huawei users.
Allows PESOnet and InstaPay interbank fund transfers.
Deposit Account
Interest rate per annum
Minimum Deposit
Maximum # of accounts
Benefits
UpSave34
2.5%
none
Ten
Free Life Insurance coverage of up to 
₱250K with
minimum ADB of 
₱5K
GSave35
(via Gcash app)
2.6%
none
One
Free Life Insurance coverage of up to 
₱250K with
minimum ADB of 
₱5K
Fast Account / Fast Plus36
0.5% to 0.75%
none
One
Free debit card with an accumulated deposit of ₱100K with free first two withdrawals per month
Note:
A GSave account has 12-month validity with a maximum cumulative balance of ₱50,000. To extend its validity and remove the limit, you need to link your GSave account to the CIMB Bank PH and verify them.
A Fast account has 12-month validity only with a maximum cumulative balance of ₱100,000. You must upgrade your account to Fast Plus through the app to extend its validity, remove the limit, and enjoy a higher interest rate.
Lending
Loan Amount / Credit Line
Terms
Personal Loan37
₱30K to ₱1M (instant disbursement within 1 – 2 banking days)
Tenure of 12 to 60 months
GCredit38
(via GCash app)
₱10K – ₱30K
1% interest rate per month
Revi Credit39
₱250K
1% interest rate per month
Note:
Unused Revi Credit of up to 70% of the credit line can be converted to cash. Select customers may also convert their credit line to a term loan.
Account Opening Eligibility
Filipino
18 years old and above
Philippine mailing address 
Philippine mobile number
One valid Primary ID 
Phone requirements
For iPhone users, at least iOS 10.0.0.
For Android users, at least OS version 5.0.
Account Opening Procedure
Download and install the CIMB Bank PH app from the Apple App Store, Google Play Store, or Huawei App Gallery.
Click on Open an account. Check if you are eligible and prepare a valid ID. Click on Let's Start.
Answer the declarations and click on Confirm.
Enter your mobile number and email address. Click Continue.
Input OTP to verify your mobile number.
Create a username and press Continue.
Create your password and mobile PIN.
Best Digital Bank for the Mass Market: Diskartech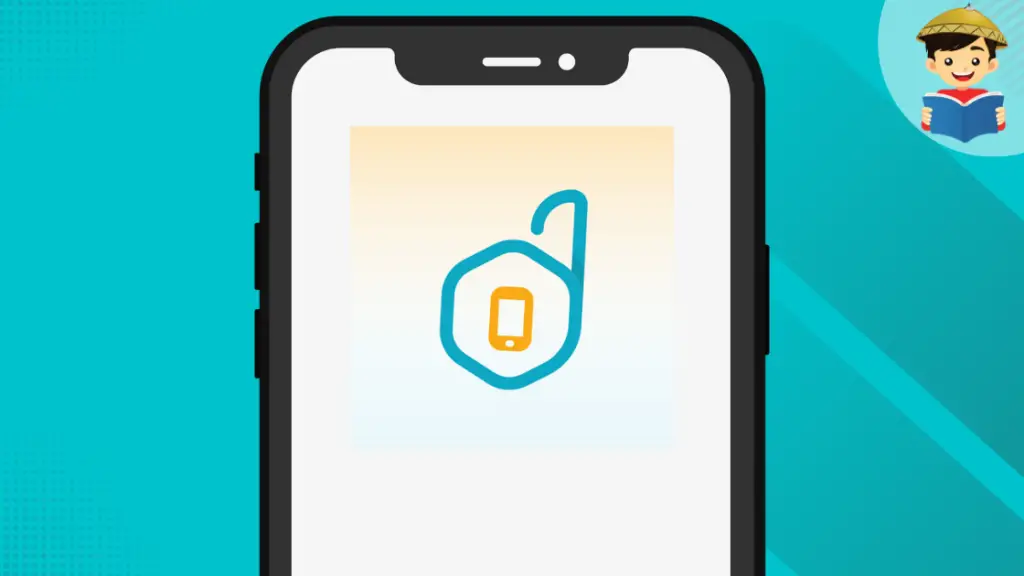 Diskartech is the first and only financial inclusion super app communicated in Taglish and has a version in Visayan. Its name combines the Filipino word diskarte, a slang word for resourcefulness, and technology. It emphasizes that the app aims to support ordinary Filipinos hustling daily to achieve their financial goals through technology. 
The mobile app allows you to open a high-yield basic deposit account, pay bills, buy prepaid loads, send money, apply for loans and insurance, use telemedicine, and receive disbursements. Diskartech has partnered with SMEs, Cooperatives, local utilities, rural banks, local government units, and other institutions to make a wide range of expanded financial services accessible to its customers.
Launched in July 2020 at the height of the pandemic, Diskartech has become the preferred disbursement platform40, especially for provincial communities. The Department of Social Welfare and Development (DSWD) and the Department of Labor and Employment (DOLE) distributed social aid to beneficiaries through the app. At the same time, the Social Security System (SSS) loan proceeds and benefits can be paid out directly to the member's Diskartech savings account.
Diskartech also provides additional income through the PAKIsuyo service41. Individuals or retail store owners with a Diskartech account can perform digital financial transactions for others, such as e-load, gaming pins purchase, fund transfer, and online payment, in exchange for a convenience fee.
Diskartech is a Rizal Commercial Banking Corporation (RCBC) product and was named the Best Digital Bank in the Philippines in 202142 by the Business Tabloid Awards in London. It was also awarded the Best Financial Inclusion Program43 by the Bank Marketing Association of the Philippines and the Best Digital Bank in PH for 202044and 202145 by AsiaMoney.
Diskartech has been breaking down barriers to reach the unbanked population who lack financial literacy and access to the formal financial system. As of March 2022, it recorded over ₱106 million in total deposits from its users, of which 69% reside in the provinces46.
By developing a user-friendly financial inclusion app with practical features, simple processes, and opportunities for earning and saving more, it hopes to entice the mass market and communities in far-flung areas to accept and connect to the digital finance system.
Key Features
No required initial deposit and maintaining balance.
Savings account with a high-interest rate of 3.25% per annum.
Ipon Goals for budgeting and organizing money.
Affordable micro insurance plans powered by Malayan Insurance.
Telemedicine to access online healthcare services. 
Buy prepaid load for phones, games, and apps.
A loans marketplace
| | | | |
| --- | --- | --- | --- |
| Deposit Account | Interest rate per annum | Minimum Deposit | Maximum Deposit |
| Savings (DiscarTech, 2022) | 3.25% | none | ₱48,000 |
Account Opening Eligibility
Filipino
18 years old and above
Philippine mailing address 
Philippine mobile number
One valid primary ID 
Account Opening Procedure
Download and install the DiskarTech app from the Apple App Store or Google Play Store.
Create a username for your account. 
Input your mobile number and verify it via OTP.
Create a strong password or set a four-digit passcode.
Set up a fingerprint login option if desired.
Verify your account by clicking I-verify ang DiskarTech account.
Provide your personal information.
Read and agree to the terms and conditions to continue.
Select the valid ID you will use, then tap Go, Ituloy na!
Take a photo of your valid ID and a selfie. Make sure to follow the instructions for faster processing.
Wait for your account to be verified. This usually takes a few minutes.
Criteria for Choosing the Best Digital Banks in the Philippines
We determined the best digital banks based on the consumer's needs, priorities, and lifestyle. The features, functionality, and purpose of the available neo-banks were evaluated to establish the perfect match.
1. Products and Services
The initial consideration in looking for the top digital bank is the products offered to customers. The more a digital bank's products and services are suited to the needs of consumers, the more likely they will open an account at that bank.
Existing account holders in traditional banks are probably looking for specific features lacking in their current ones. Sometimes, additional benefits such as higher interest rates, quick processing time, complimentary physical cards, or insurance packages become the deciding factors in choosing a neo-bank.
2. Convenience
Are the instructions for creating an account easy to follow? Digital banking platforms should have a user-friendly interface, as users do not get physical assistance navigating the mobile app. Otherwise, potential clients may be intimidated by the process and may not proceed with registration at all.
3. Accessibility
Being able to manage your finances from the comfort of your home is a welcome advantage of digital banks. More than that, customers prefer shorter and less system downtime so they can make a transaction anytime they need to. Another key factor in choosing a digital bank is reliable customer service that is responsive and can provide immediate assistance to issues and concerns raised.
4. Safety and Security
Knowing that your money is safe and secure in your account is a top consideration in choosing a bank. With the prevalence of scams and fraudulent schemes, it is important to ensure that your hard-earned money is kept safe. Additional security features to protect a consumer's identity and sensitive information are what customers look for in a neo-bank.
5. Compatibility with other Platforms
Digital banks forging partnerships with established companies gain additional points in attracting clients. Connecting other platforms to your digital bank seamlessly enables you to manage your finances more efficiently.
6. Feedback
Receiving awards and recognition from reputable groups indicates that a company is performing well. This builds credibility, which in turn gains the trust of consumers. Continuous growth in deposit size and the number of registered users also suggests that the digital bank is addressing the demands of its customers.
Other digital banks and products considered on the list were: Komo, HelloMoney, iSave, PBCOMobile, PSBank Mobile, SEABank, and EON Bank PH.
Other Recommended Digital Banks
1. Best Digital Bank for Ease of Account Application and Verification: UnionDigital (UD) Bank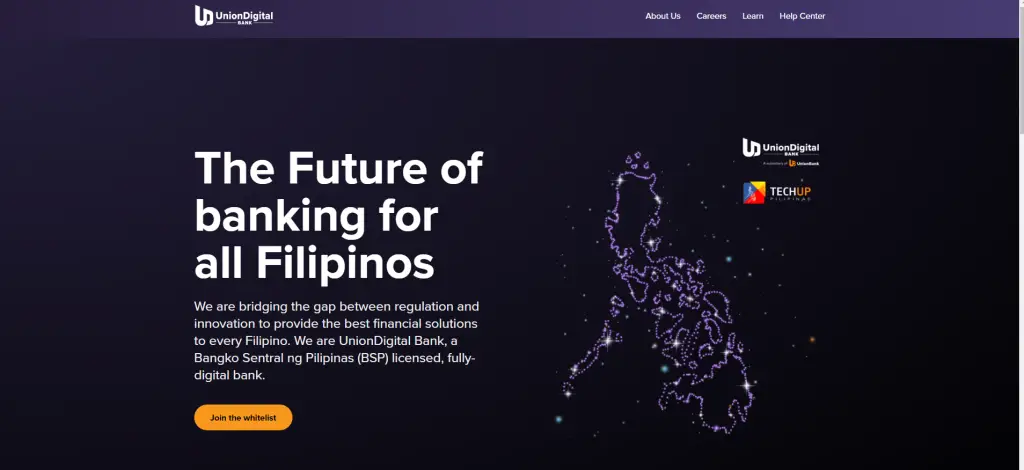 UnionDigital Bank is a digital bank subsidiary of the UnionBank of the Philippines licensed by the BSP and currently available to a select number of customers. UnionDigital Bank aspires to provide an inclusive digital banking economy for more Filipinos by enabling them to leverage new digital tools, including FinTech, Open Finance Technologies, and Blockchain. 
Just like the digital banks we covered earlier, deposits in UD are insured up to₱500,000 by the PDIC.
We consider UD Bank as the best in terms of ease of application because you can open an account online within minutes. Furthermore, it accepts a wide variety of valid IDs compared to other digital banks (i.e., passport, driver's license, SSS ID, PRC ID, Postal ID, Voter's ID, NBI Clearance, PhilHealth ID, and National ID)47. 
UD Bank's commercial launch is scheduled for around 2023. Still, you can be one of their first exclusive users by joining their whitelist.
Key Features
No minimum and maintaining balance in the Pitaka48 (deposit) account
Transfer from UD to UnionBank is free
Free PesoNET Transfer, ₱10 for InstaPay transfers
24/7 digital banking experience, including sending and receiving payments with no physical branches
The minimum required OS is Android 6.0 and iOS 13
No daily withdrawal limits
| | | | |
| --- | --- | --- | --- |
| Savings Account | Interest rate per annum | Minimum Deposit | Maximum Deposit |
| Pitaka savings account | 2.5% | none | none |
2. Best Digital Bank to Use With Shopee: SeaBank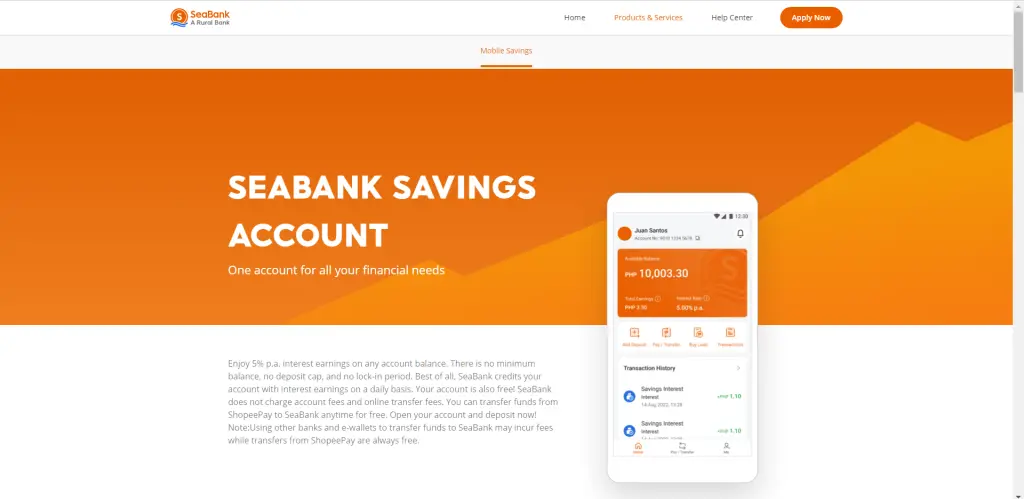 SeaBank is a neobank mobile application offered by the rural bank, SeaBank Philippines Inc. This digital bank is also part of Sea Limited, a Singaporean-based company, and is listed on New York Stock Exchange.
What's unique about SeaBank is its account linking feature with ShopeePay49. You can use the Shopee mobile app to access several SeaBank features. It also allows the free transfer of funds from your ShopeePay account to your SeaBank account and vice versa.
Key Features
Cardless withdrawal via bank transfer to other e-wallets or banks that offer ATM withdrawals
Open a savings account through your Shopee account
Maximum daily InstaPay and PESOnet transfers of ₱1,000,00050
| | | | |
| --- | --- | --- | --- |
| Savings Account | Interest rate per annum | Minimum Deposit | Maximum Deposit |
| SeaBank savings account | 5% | none | none |
3. Best Digital Bank for Personal Customer Service: GoTyme Bank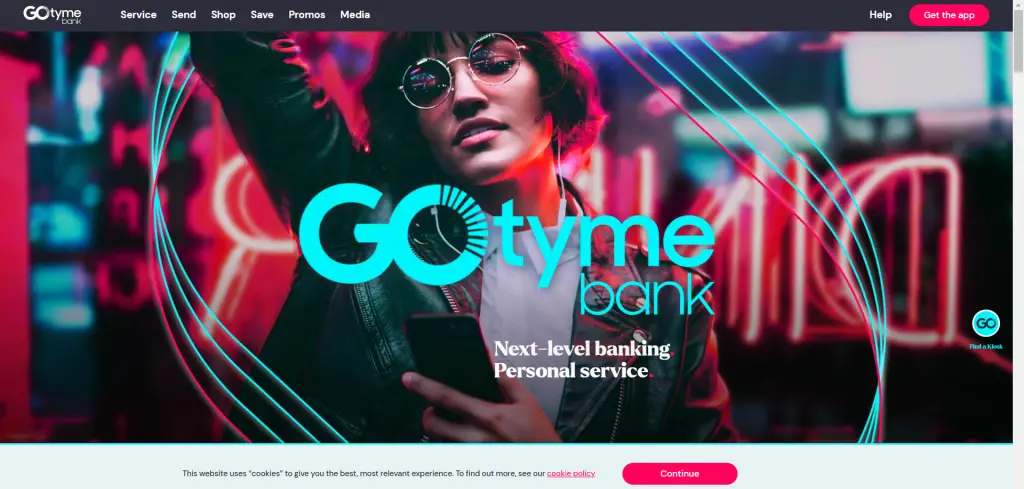 GoTyme is a digital bank born from the partnership of the Gokongwei Group and the Singapore-based digital group Tyme. GoTyme strives to provide a hassle-free digital banking experience for Filipinos through their real-time human personal customer service. Unlike other digital banks that rely on bots to address customers' concerns and inquiries, GoTyme has a 24/7 hotline and human bank ambassadors that will help you. 
Key Features:
Free cash in and cash out at any Robinsons Supermarket
Free ATM withdrawals with Robinsons Bank
₱10.00 InstaPay and PESOnet transfers (both for traditional banks and e-wallets)
Get a free GoTyme Visa debit card at GoTyme kiosks in select Robinsons Supermarkets
Earn Go Rewards points whenever you shop using your GoTyme debit card. Use your points to purchase in any GoTyme partner merchants or redeem them as cash.
| | | | |
| --- | --- | --- | --- |
| Savings Account | Interest rate per annum | Minimum Deposit | Maximum Deposit |
| Go Save Account | 3% | none | none |
4. Best Digital Bank for Time Deposits: UNOBank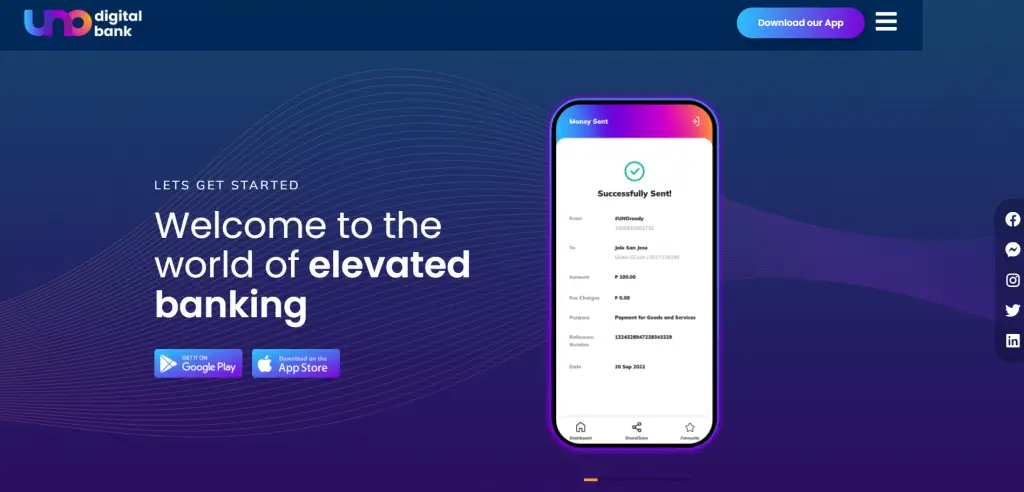 If you're looking for a secured, high-yield digital bank to store large amounts of money for at least a year, then UNOBank fits your needs. UNOBank Time Deposit accounts offer a competitive rate of 6.5%, the highest across Philippine digital banking platforms. 

UNOBank's #UNOearn provides a monthly payout at a rate of 6.5% per annum51. For instance, a 24-month deposit of ₱500,000 gives around 2,700 monthly payouts.
Key Features:
Automatic activation of UNO debit virtual Mastercard by depositing a minimum of ₱100 Free life insurance coverage of ₱50,000 on its savings account
Get ₱100 cashback52 upon opening an #UNOboost or #UNOearn time deposit account
Supported OS is iOS 14.0.0 for iPhone users and Android OS 6.0.0 for Android users
| | | | |
| --- | --- | --- | --- |
| Deposit Account | Interest rate per annum | Minimum Deposit | Maximum Deposit |
| #UNOready | 3.50% (for deposits lower than ₱5,000) to 4.25% (for deposits higher than ₱5,000) | none | none |
| #UNOboost | 6.5% | ₱5,000 | ₱500,000 |
| #UNOearn | 6.5% | ₱5,000 | ₱500,000 |
Tips and Warnings
The best digital bank for you is the product or service that will satisfy your financial needs.

If you want to save more, search for banks with the highest interest rates and low fees.
If you need a digital platform to receive remittances regularly from foreign countries, choose OFBank, which serves that purpose.
If you prefer to manage all your financial obligations online, look for a digital bank that offers an auto-debit arrangement, has low fees, and supports a wide range of billers and merchants.
If you want to support your business, choose a digital bank with higher transaction limits, affordable loans, less downtime, and a long list of partner institutions.

Digital banking features are not limited to the six digital banks approved by the BSP. Established banks are also expanding and developing their digital products and services to tap the unbanked and underbanked population.
Subscribe to newsletters or mailing lists of your digital bank to get updated on their latest products and be notified of exclusive promos. They also send information about fraudulent schemes reported to them and provide tips on protecting your account against these threats.
Learn about your digital bank's online channels for customer service. Join the social media pages, Viber group, or Telegram exclusive to their clients so you can quickly post a question and learn about other users' concerns. 
Take advantage of the upcoming digital banks' opening promos, as they usually offer higher interest rates for the first few months after launch to draw in deposits.
Pay your bills ahead of the due date to avoid late payments due to unavailable servers. Digital banks typically announce their scheduled system maintenance through multiple channels, but sometimes you can experience unexpected downtime
Frequently Asked Questions
1. What is the best digital bank for students?
OFBank and Maya Bank accept applications from users at least seven years old. Your bank of choice for students who are already adults should depend on your financial capabilities and goals.
2. How do I protect my account from cybersecurity threats?
– Create a strong password and update it regularly. Do not reuse passwords in other accounts.
– Do not share your password and OTPs with anyone. Remember, bank representatives will never ask for your password, OTP, and mobile PIN.
– Do not share your personal information, especially on social media.
– Do not accept deposits from unknown sources.
– Do not use public and unsecured wifi when performing financial transactions.
– Always log out after using your bank's app.
– Use additional security features such as face recognition, biometrics, mobile PIN, passcode, or two-factor authentication, if applicable.
3. What do I do if I become a victim of fraudulent activity?
Immediately report suspicious or fraudulent activities to your bank. 
4. How many digital banks should I maintain?
As long as you are eligible and have the complete requirements to open an account, there is no limit to the number of digital banks you can apply to or keep. Make sure you comply with each bank's terms and conditions to avoid incurring charges to your account.
5. What amount is safe to keep in a digital bank?
It depends on your risk appetite and how trustworthy your bank is. Digital banks are generally safe as they must adhere to strict security system requirements before being granted a license. However, account holders also play a part in protecting their accounts. 
A good rule of thumb is maintaining a maximum of ₱500,000 per account, as this is the same amount insured by the PDIC. You can also check the maximum limit that can earn a high interest depending on the type of account and bank. The amount over the limit can be placed in a new account or a different bank to maximize the growth of your savings.
References