GCredit is your personal credit line within the GCash app.
It's similar to a credit card but without the need to apply to and be approved by banks.
Considered as the country's first mobile, QR-based credit line, GCredit allows you to pay bills and buy from partner merchants using credit that starts at Php 1,000 but can grow to as high as Php 10,000.
Table of Contents
Who Can Use the GCredit?
As a GCash user, you can use GCredit if you meet the following qualifications1:
Your GCash account is fully-verified. Making your account fully verified gives you a lot of perks and one of these are being eligible for GCredit
You meet the required GScore for GCredit. The GScore is your trust score obtained by using GCash. It increases with each regular GCash transaction you perform such as buying load, paying through QR code, paying bills, investing, and more2. Only GCash users with high GScore will be eligible for GCredit. 
You must be a Filipino and at least 21 years old but not more than 65 years old.
You must meet the eligible credit requirements.
Once you have met the qualifications above, you're good to go to apply for GCredit.
How To Start Using GCredit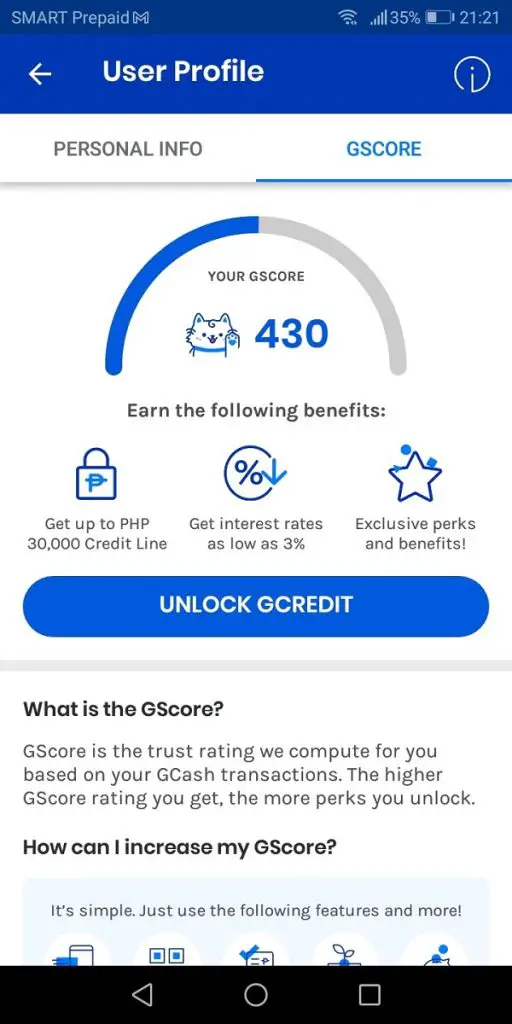 In order to use GCredit, you have to activate or unlock it first. Here are the steps you can follow to do so:
Open your GCash app in your mobile phone and log in using your MPIN.
On your dashboard, tap GCredit. If you are still not qualified for GCredit, a message will appear saying You're almost there!. Continue increasing your GScore to make it next time. On the other hand, if you're already qualified, click Unlock GCredit to proceed with the activation.
Verify the email address that is indicated. If it is already correct, tap the Next button.
Review your personal information, then tap the Next button.
Provide your other essential personal information in the required fields. These include your gender, civil status, other mobile number (if applicable), landline number (if applicable), and TIN Number (optional). Also, answer the question asking you whether you are a Politically Exposed Person (PEP) or not. Lastly, provide the details of the person that can be contacted in case of emergency. This person will be reached in case GCash cannot contact you. Once done, click the Next button.
Review your application. Make sure that everything is correct and accurate. Finally, click the Submit button below to send your application.
Once you have submitted your application, a message will appear confirming your application. Wait within 1 to 3 business days for an update regarding the approval of your application. 
How Much Can I Borrow Through GCredit?
For new GCredit users, there's a credit limit of Php 1,000 which can be increased to Php 10, 0003. The amount you borrow from GCredit will be subject to a 5% monthly interest.
It must be noted that the interest is based on the number of days that have passed since you borrowed from GCredit, with 5% as the maximum interest rate you'll be charged. 
Therefore, the earlier you pay, the smaller the fee you'll incur.
Here's how GCash computes your interest:
Interest Incurred = Principal Amount Borrowed x Interest Rate x [(Date Paid – Date borrowed) / 30]
This means that the interest that you have to pay is calculated by multiplying the amount you have borrowed by the interest rate (5%) and then multiplying the product by the number resulting from dividing the number of days between the date of borrowing and date of payment by 30.
Here's a sample computation using the formula above:
Suppose that on November 1, 2021, you borrowed Php 1,000 from GCredit. You paid the amount you have borrowed on November 18, 2021. Assuming the interest rate is 5%, the interest rate will be computed as follows: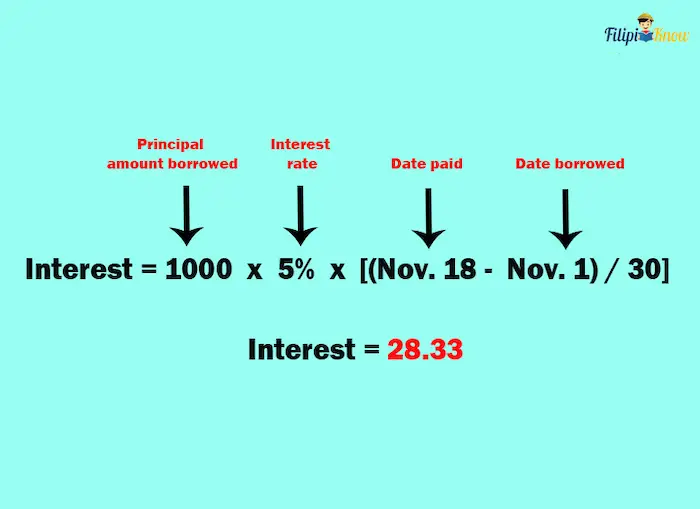 This means that the total amount you have to pay is Php 1,028.33 (Principal Amount Borrowed + Computed Interest).
Frequently completing the following transactions will increase your GScore, hence increasing your credit limit, too:
Cash In

Pay Bills

Pay QR
Shop Online
Glife
GSave
GInvest

Send Money

Buy Load

Other GCash transactions
To check your current credit limit, log in to your GCash app and select GCredit. On your GCredit dashboard, you'll be able to view your current credit limit. You will also receive an SMS notification once you have reached a higher credit limit.
How To Shop and Pay Items in GCash Partner Stores via QR Code Using GCredit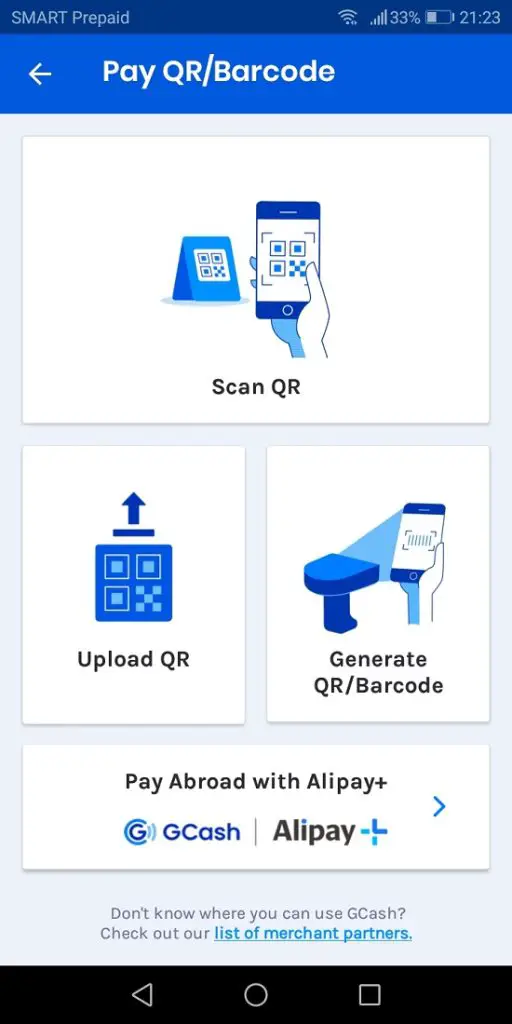 You can use GCredit to pay for your purchased items in any GCash Partner Store such as Robinsons Supermarket or Easymart and 7-Eleven.
Once you've confirmed that the GCash Partner Store has a QR code available to scan, follow these steps:
Log in to your GCash app using your four-digit MPIN and simply select Credit (instead of the default Balance) at the top of your screen.
Click Pay QR in your dashboard.
Select Scan QR to scan the GCash QR code available at the cashier.
Scan the QR code with your phone, enter the amount to be paid and then proceed with the transaction, making sure GCredit is the payment method selected to avoid deducting money from your regular GCash balance. 
On the other hand, if the GCash Partner Store has no QR code available to scan, you can generate a QR code which the cashier can scan.  Here are the steps to generate your own QR code:
Log in to your GCash app using your four-digit MPIN and simply select Credit (instead of the default Balance) at the top of your screen.
Click Pay QR in your dashboard.
Select Generate QR/Barcode.
Present the QR code you have generated to the cashier to complete the payment.
How To Use GCredit to Pay Bills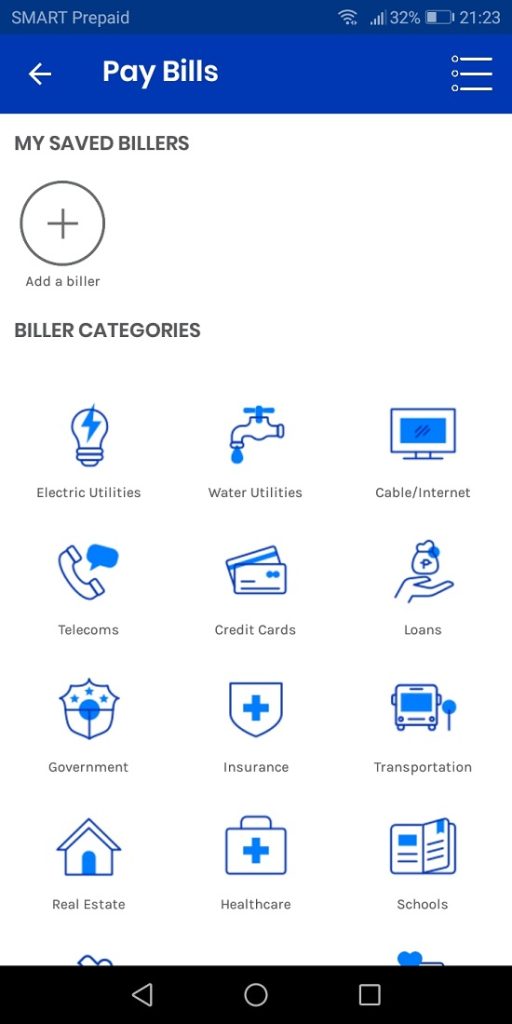 Here are the steps to pay your bills using GCredit:
Log in to your GCash app using your four-digit MPIN.
On the dashboard, select Pay Bills.
Select the category of the biller you want to pay using GCredit. For instance, if you want to pay your cable or internet bill, select Cable/Internet.
Choose the specific biller you want to pay. Make sure the biller accepts GCredit as mode of payment (it's usually indicated below the name of biller whether it accepts GCredit or not).
Provide the required details including your account name, account number, amount to pay, etc. Tap the Next button to continue.
Select GCredit as your preferred payment channel.
Verify the details you have provided. Once everything is good, confirm the transaction.
How To Use GCredit in Shopee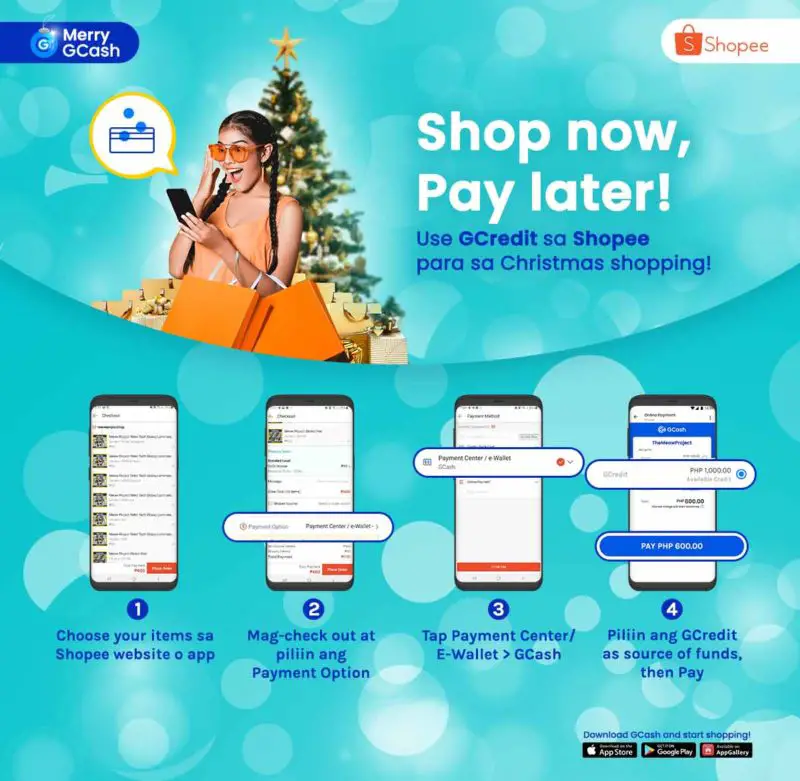 Although Shopee has been using GCash as a payment method since 2018, it only included GCredit as a payment method recently4. Now you can shop online even without any available cash and pay later whenever it's convenient to you.
Here's how to buy stuff in Shopee using GCredit:
Open the Shopee app or website and add the item you wish to buy to the cart.
Tick the box corresponding to the item and proceed to checkout.
Scroll down and look for the Payment Options. Choose Payment Center/e-wallet then GCash. Press the confirm button below. Upon clicking the confirm button, you will be directed to email verification page. Just click Pay at the lower right part of the screen. You will be connected to GCash after clicking this button.
Log in to your GCash account using your Gcash-registered account number. Then, select GCredit as your payment option. Afterward, click the Pay button below. After confirming your payment, you will be redirected to your Shopee account.
Frequently Asked Questions
1. Can I transfer GCredit to a bank account?
No, you cannot transfer your GCredit to a bank account since it is for online payment or purchase transactions only.
2. Can I cash out my GCredit?
No, GCredit has no available feature that will enable you to directly cash out the amount in your GCredit. 
3. Can I transfer GCredit to GCash?
As of this writing, there is no feature to transfer the amount you have in your GCredit to your regular GCash wallet account balance.
4. Can I use GCredit in Lazada?
As of this writing, Lazada does not accept payment through GCredit. You can only pay your purchased item/s in Lazada using your actual regular GCash wallet balance.
5. I have a concern about GCredit. What hotline can I call?
You can reach out to GCash customer support through hotline 2882 or submit a ticket to GCash Help Center.
6. Is GCash accepted in SM Supermarkets?
Yes, you can use GCredit in some SM Supermarkets or stores5. Aside from SM stores, you can also use GCredit in Puregold, Robinsons Supermarkets, and other GCredit Supermarket Merchants6.
7. How can I increase my credit limit on GCredit?
According to CIMB (the bank that manages GCredit), having a good payment history7 (i.e., paying your borrowed amount early) can increase your credit limit. You will be notified once your credit limit is increased.
8. I want to avail of GCredit. Do I need to submit some documents?
No, you don't have to submit any documents8 for a GCredit application, provided you already have a fully-verified GCash account. Just follow the instructions in the article above and you'll be able to activate and start using GCredit.
9. What are the GCredit Partner Merchants?
As of March 2021, some of the Partner Merchants of GCredit are the following:
Converge ICT
Sky broadband
Manulife Philippines
PLDT Landline, DSL, and Ultera
Philippine Airlines (PAL) 
Alfamart
Lawson
Ministop
Angkas
Air21
For an exhaustive list of GCredit Partner Merchants, kindly refer here.
Go back to the main article: How to Use GCash in the Philippines: An Ultimate Guide
References