Are you short on cash to pay bills, buy groceries, or avail trendy items?
No problem. GCash got you covered!  
With its GLoan, GGives, and GCredit features, borrowing money is now more accessible and affordable to anyone. 
Let us guide you through this article on how to loan in GCash. 
Table of Contents
At a Glance: All You Need To Know About GLoan, GGives, and GCredit
GCash Loan Products
Description
Loanable Amount
Monthly Interest rate and fee
GLoan
Personal loan that you can withdraw as cash
₱1,000 – ₱50,000

Can get as high as ₱125,0001 for eligible users
1.59% – 6.57%

One-time processing fee of 3% deducted from the loaned amount
GGives
"Buy Now, Pay Later" feature which you can repay in installments

Borrowed amount is directly paid to the partner merchant and cannot be withdrawn as cash
₱1,000 – ₱50,0002 (depending on GScore)
0% – 4.99%
GCredit
Personal credit line that can be used to pay online and in-store transactions with partner merchants

Cannot be withdrawn as cash
₱1,000 – ₱30,000
1% – 7%
Part I. GLoan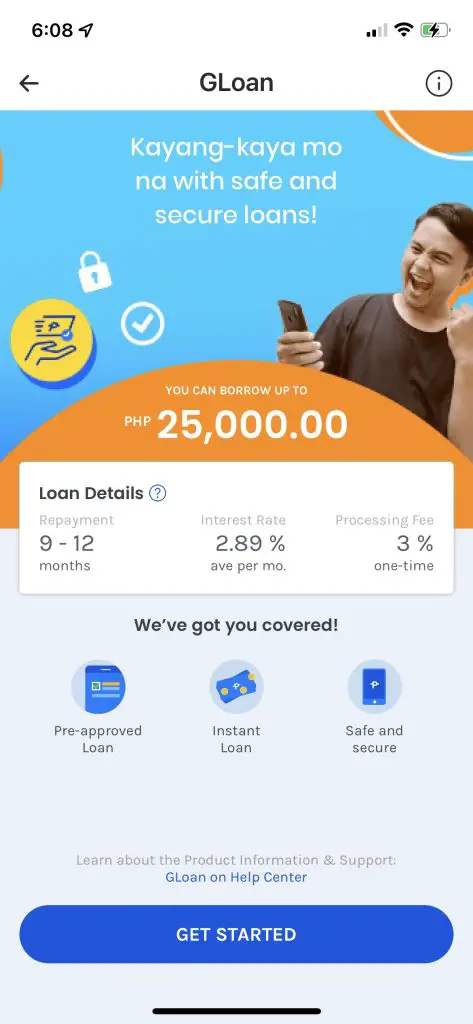 What Is GLoan?
GLoan is a personal cash loan straight from the GCash app. Your loaned amount will be directly deposited into your GCash wallet within 24 hours3. You can withdraw the loaned amount via GCash Mastercard, bank transfer, or over the counter at one of GCash official partners4. 
GLoan is a secured loan platform powered by Fuse Lending Inc., a lending company registered with the SEC. 
GLoan Interest Rate and Fees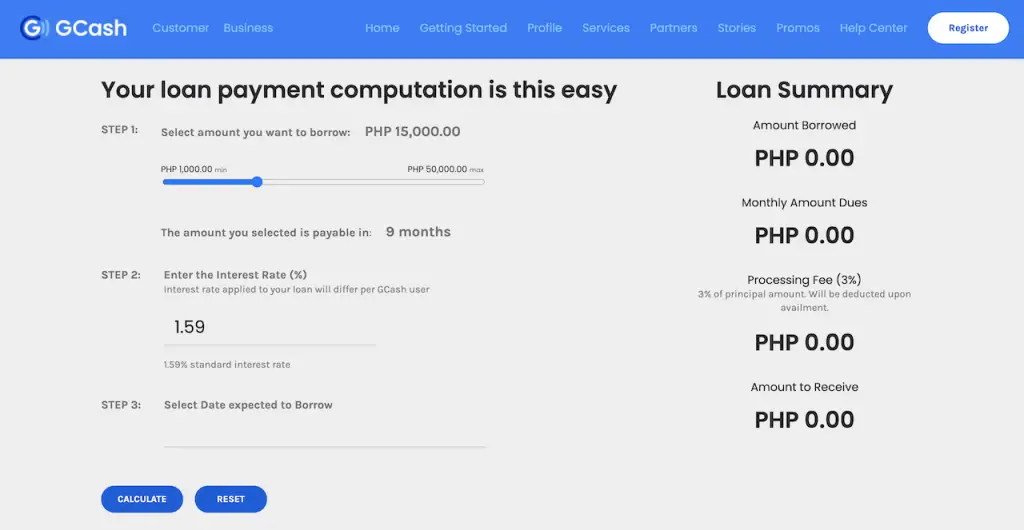 GLoan's monthly interest rate differs for each user but ranges from 1.59% to 6.57%5.  
Aside from the interest rate, there's a processing fee equivalent to 3% of the loaned amount. This will be automatically deducted from the amount you'll receive. For instance, if your loan of ₱5,000 is approved, ₱150 (5000 x 0.03) will be deducted from the loaned amount. This means that you'll only receive ₱4,850 in your GCash wallet.
A fixed fee of ₱100 is charged as a penalty for late payment. On top of this is a fixed amount equivalent to 0.15% of your outstanding principal balance for each day past due6. 
Who Is Eligible for GLoan?
You can avail of GLoan if you meet the following qualifications7:
Filipino citizens aged 21 – 65 years old
Fully-verified users
High GScore (GCash's trust rating that increases every time you use GCash's features)
Good credit record and no fraudulent records
How Much GScore Do I Need To Unlock GLoan?
There's no exact GScore level to unlock GLoan. 
Someone may unlock this feature once they hit a GScore of 500 – 6008. However, this is not always the case. There are those who were able to get as high as 600 – 700 but were still unable to unlock it. 
Although the required GScore may vary, the only thing we're sure of is that the higher your GScore is, the higher the chance of unlocking GLoan.  
How Much Can I Borrow From GLoan?
You can borrow ₱1,000 up to ₱50,000 (GCash, 2022). But recently, GLoan started offering as high as ₱125,000 loan to eligible users. 
The loan amount you can avail depends on your GScore. The higher your GScore, the higher the loan amount you'll be eligible for.
How To Loan in GCash via GLoan
Follow the steps below to avail of GLoan9:
Open the GCash app and log in to your account.
On the dashboard, select Borrow.
Choose GLoan. Upon clicking this, you'll see an overview of the applicable interest rate and processing fee. Tap Get Started to continue.
Use the slider to enter your loan amount. Afterward, choose your loan duration and "Purpose of Loan" using the drop-down menu. Click Get this Loan to continue.
Verify the loan details presented. Tap Continue to proceed.
Review your personal information and tick "Agree" to the Data Privacy Policy Agreement. If you wish to update your info, just tap "User Profile" at the bottom of the screen. Otherwise, click Next to continue.
Review the loan details that are flashed again on the screen.
Tick the checkboxes to agree to the Disclosure Statement and Loan's Terms and Conditions. Click Continue to proceed.
Tap Confirm once the app shows you the amount you'll receive. Upon doing this, you'll receive a six-digit authentication code via SMS.
 Enter the authentication code and tap Submit. A prompt will appear confirming your successful loan. You'll receive an SMS within 24 hours once the amount is sent to your GCash wallet.
How To Repay GLoan
If it's still not the due date of your loan, you can voluntarily repay your GLoan borrowed amount using your GCash e-wallet balance. Here are the steps to do so10:
Log in to your account
Tap Borrow on the dashboard
Tap GLoan
In the GLoan Dashboard, select Pay For GLoan
Enter the amount you want to repay and press Next
Review the details and select Pay. You'll receive a payment receipt of your GLoan.
If it's already the due date, GCash automatically deducts the amount from your e-wallet balance. 
Other Information
You can only avail of one loan at a time. You cannot use this feature unless you fully pay the borrowed amount.
If you've repaid your GLoan dues, but the payment did not reflect on your account, sending a ticket to GCash Help Center is advisable. 
Part II. GGives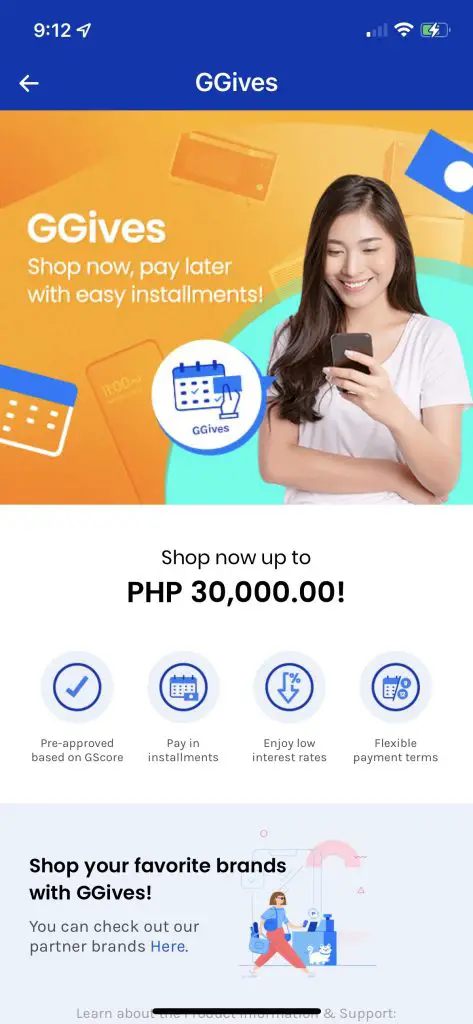 What Is GGives?
GGives allows you to buy from any GCash Partner Merchant and pay it in installments for 3, 6, 9, or 12 months. It's a "buy now, pay later" platform where you may not pay the loaned amount in a lump sum. Instead, you may repay it with interest in installments. 
Whether you'll be purchasing online, in supermarkets, convenience stores, gasoline stations, or pharmacies, you can use GGives as long as the business is a GGives Partner Merchant.
GGives has more than 85,000 partner merchants nationwide11, including Mercury Drug, Alfamart, Robinsons Supermarket, Petron, Shoppee, and SM Stores. 
Unlike GLoan, you cannot withdraw your GGives balance. The loaned amount will not be sent to your GCash wallet but will be directly paid to the partner merchant where you purchase the item. 
GGives Interest Rate and Fee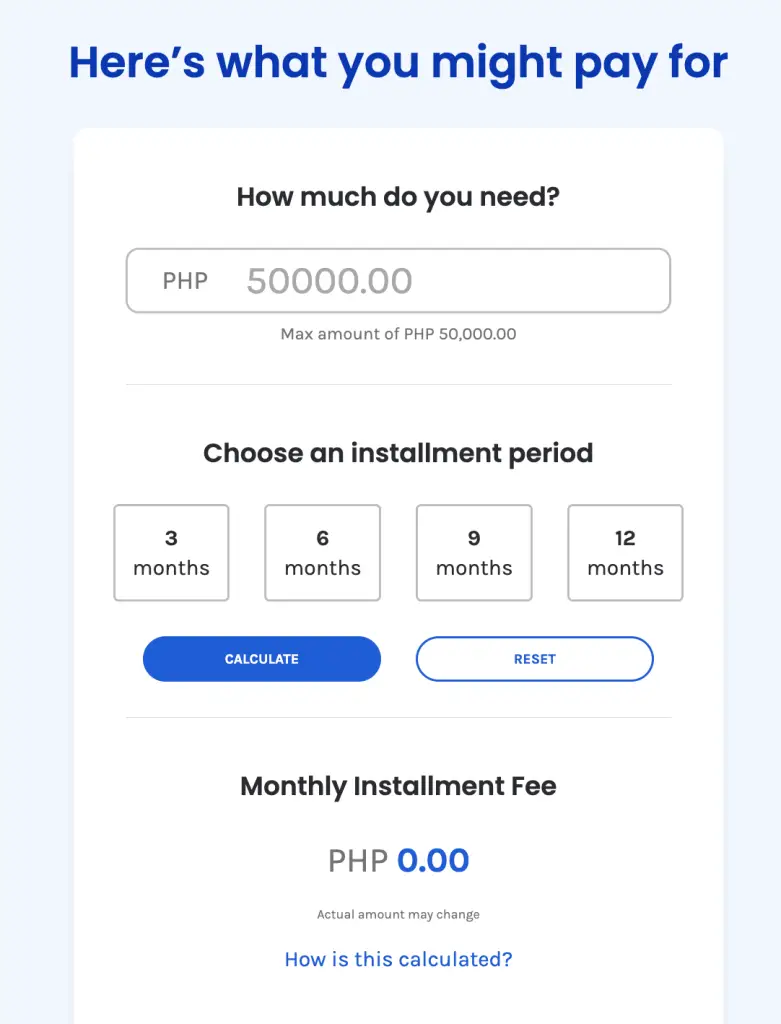 GGives interest rate ranges from 0% to 4.99%12, depending on the user's GScore and loan term. As of this writing, GGives has no processing fee13.
Who Is Eligible for GGives?
Any Filipino aged 21-65 with a fully-verified GCash account and high GScore can avail of GGives. They must also have good credit standing and no records of any fraudulent case.
The required GScore to avail of GGives may vary for every GCash user. Hence, there's no single GScore level that unlocks GGives.
How Much Can I Borrow From GGives?
The loanable amount is ₱1,000-₱50,000, which is directly paid to the GGives Partner Merchant.
Once registered to GGives, you can use it for your purchase anytime. 
How To Register to GGives
Before you can use GGives, you have to register first. Here are the steps you must follow14:
Open the GCash App and log in
On your dashboard, select Borrow
Tap GGives
Double-check the pre-filled personal information form. If everything is well, click Continue
Tick the checkboxes to agree to Fuse Lending Policies
Hit Activate my GGives button to finish
A prompt screen will appear to confirm your successful GGives application. 
How To Use GGives
How To Use GGives To Pay QR Purchases
On your GCash dashboard, select Pay QR (located at the bottom of the screen)
Scan the store's QR code
Enter the amount, then tap Next
Select GGives as your payment option and your preferred installment option
Tick the checkbox to agree to the Disclosure Statement and tap Pay
How To Use GGives To Pay for Online Purchases
Here are the steps to using GGives to pay for purchases made through an online shopping platform (e.g., Shopee/Lazada).
Check out the item you're purchasing on the online shopping platform
Choose GCash as your preferred payment option. 
The GCash mobile app will automatically launch. Enter your MPIN to log in.
Pick GGives as the payment option, then tap Next
Tick the checkbox to agree to the Disclosure Statement and tap Pay
How To Repay GGives
GCash automatically deducts the overdue GGives balance from your account.  
For advanced payments15, you can voluntarily pay your GGives dues through the app.
Log in to your account, then go to GGives.
Enter the amount you want to repay and then confirm your payment. 
Part III. GCredit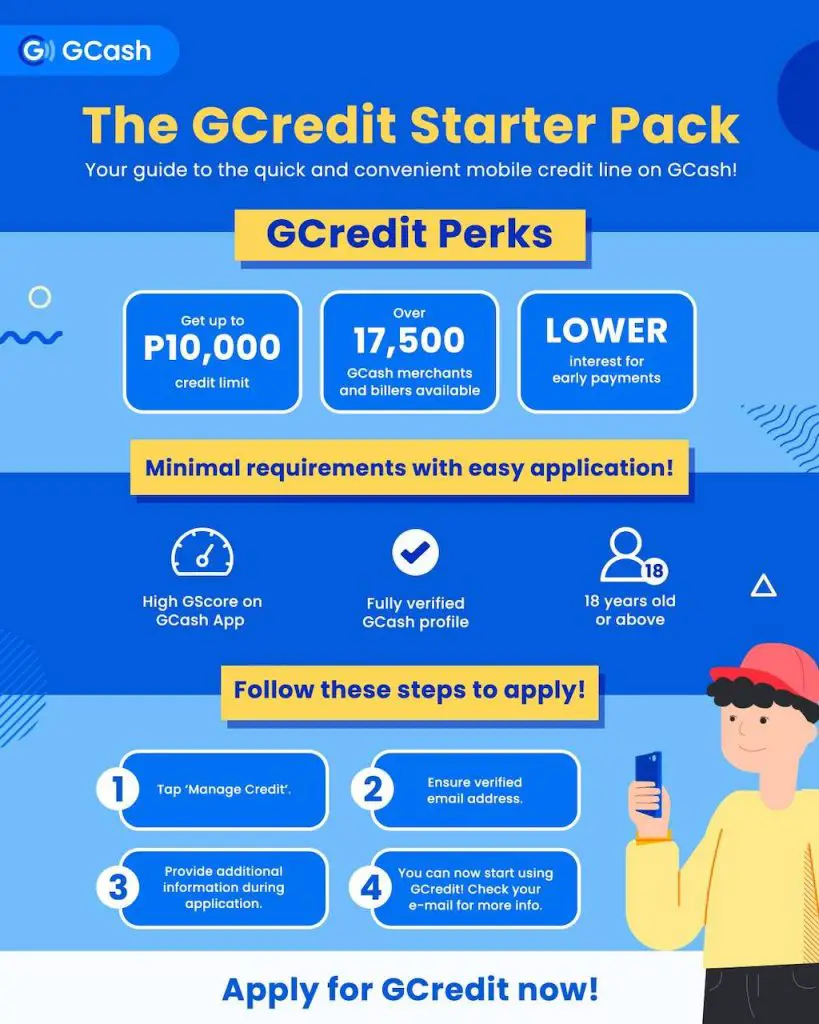 What Is GCredit?
GCredit is a credit line from GCash that you may use as a payment option for in-store and online transactions with more than 17,50016 GCredit Partner Merchants nationwide.
It works like a regular credit card that enables you to borrow money to pay for your transactions until you reach your credit limit. However, you don't need a physical credit card to use GCredit because you can easily access it through the GCash app.
No need to prepare any documents or go to the bank just to get approved for GCredit. With a few taps on your phone, you can start using this feature.
You can pay the GCredit borrowed amount until 45 days after the transaction.
GCredit Interest Rate and Fees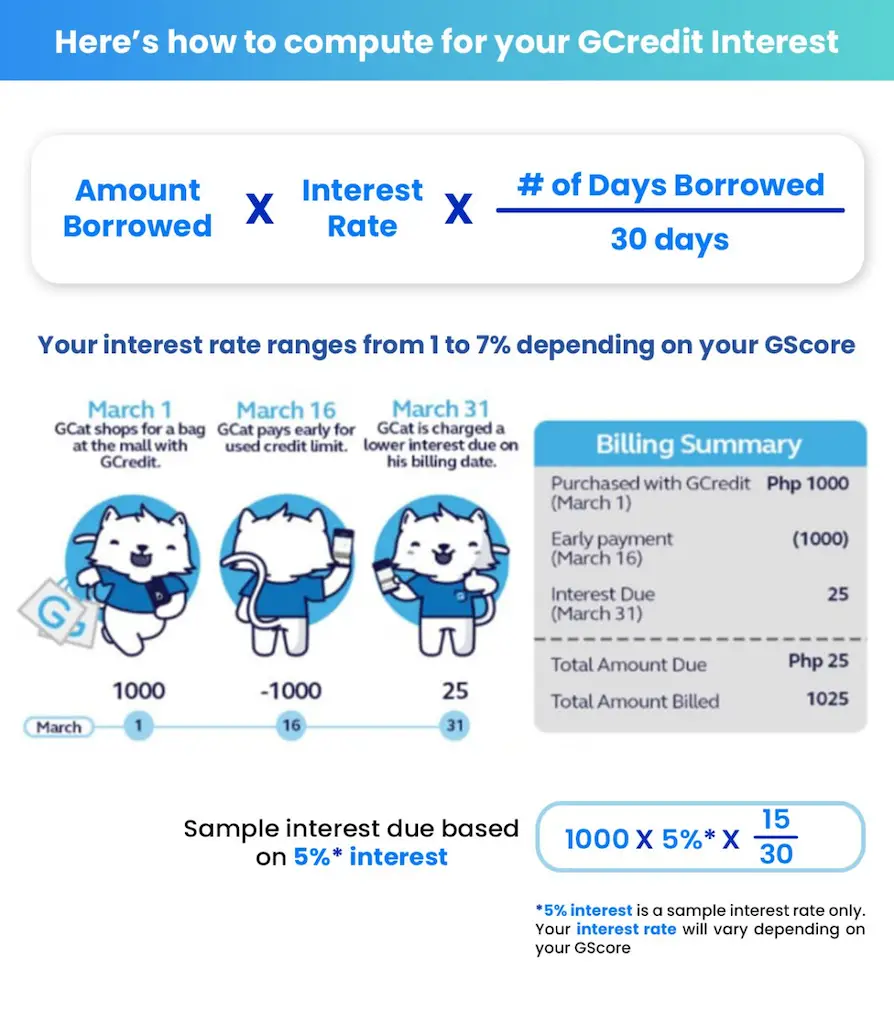 Your GCredit interest rate depends on your GScore, but the monthly rate ranges from 1% to 7%. You can see the effective rate on your GCredit Dashboard screen17.
We've provided a separate discussion on how to compute your GCredit Interest in this article.
As of this writing, GCredit has no processing fee, but it charges a penalty fee for days past due. For instance, if you pay the loaned amount 1 – 30 days late, then the penalty would be ₱20018. 
Who Is Eligible for GCredit?
You need to meet the following qualifications to use GCredit:
Filipino citizens 21 – 65 years old
With a fully-verified GCash account
Have high GScore
No fraudulent records
How Much Can I Borrow From GCredit?
The initial credit limit is ₱1,000, but it can get as high as ₱30,00019. 
How To Register to GCredit
In your dashboard, select "GCredit." You can unlock this feature if you're already qualified. Afterward, verify your email address and complete your info. Once you've submitted your application, you'll receive an update within 1-3 days via SMS or email. 
To know more about registering in GCredit, read our separate guide on how to use GCredit. 
Tips and Warnings
Get and maintain a high GScore to increase your chances of availing of a loan from GCash. Boost your GScore by regularly cashing in your e-wallet and frequently using GCash's features such as "Pay via QR," "Pay Bills," "Buy Load," GSave, and GInvest. 
You can use GLoan even if you have existing dues with other GCash loan products20. However, make sure to manage your finances well to avoid piling-up interest payments. 
You can partially pay your GCredit dues instead of the full amount. The partial amount you can pay without incurring penalties is your GCredit Minimum Amount Due (MAD)21. Once you've paid your MAD, at least 15% of your GCredit limit will be replenished. 
Frequently Asked Questions
1. Can I pay GLoan in advance?
Yes, you can pay your loan ahead of its due date. You will also get an interest cashback equivalent to the total interest amounts that are not yet incurred. 
For instance, if you've availed of a loan payable in 9 months and paid the borrowed amount on the fifth month, you'll get a cashback equivalent to the four months' worth of interest that is not yet incurred. Your GScore also improves for early repayment. 
2. How do I check my GLoan balance?
Follow these steps22:
Login to your GCash account
On the dashboard, tap Borrow
Select GLoan
You will now see a breakdown of your GLoan balance and amount dues.
3. Can I use GCredit to pay GLoan?
No, the only way to pay GLoan is through your e-wallet balance.
4. What happens if I don't pay my GCredit?
According to GCash, failure to pay GCredit will result in your credit line getting suspended23. You'll be charged with penalty fees as well. 
Fortunately, GCash will never pressure or humiliate you for not paying your dues. You will only receive automated SMS reminding you to pay the amount.
References