Personal finance is a growing concern in the Philippines, especially after the effect of the pandemic on the country's economy and people. According to US-based research firm Forrester, 70% of Filipinos find managing and taking on debt a challenging undertaking 1. But sometimes, it's just unavoidable.
The task becomes more challenging yearly for anyone dreaming of buying a home. In Q4 2021, real estate prices increased 4.9% year on year2. Coupled with increasing prices of food, gas, and other commodities, many Filipinos are expected to look at loan options to finance their big dreams and everyday life. 
Due to the enormous demand for more consumer financing options, various loan apps have begun providing their services in the Philippines. This guide will help you navigate the options available and determine which legit loan apps suit your needs.
Disclaimer: This article is just for educational purposes. FilipiKnow is not affiliated with any loan apps listed in the article below.
Table of Contents
At a Glance: Best Legit Loan Apps in the Philippines
| | |
| --- | --- |
| Category | Name of Application |
| Best Loan App for Reliability & Speed | Tala |
| Best Loan App for Long-Term High-Value Loans | My Home Credit |
| Best Loan App for a High Loan Limit for First-Time Users | UnaCash |
| Best Loan App for Installment Shopping | Cashalo |
| Best for Active GCash Users | GLoan by GCash |
| Best Loan App for Easy Registration Process | MoneyCat |
| Best Loan App with Low-Interest Rate | BillEase |
What Are Loan Apps?
Loan apps are lending platforms where you can get a loan from private lenders using their apps or website. Like a typical money lender, you still need to fill up a form and submit documents, but they usually have fewer requirements and do not require collateral. These loan apps also have a faster application and approval process than getting a loan from Pag-IBIG or a bank. Some loan apps even offer same-day approval. Once approved, you should receive the loan in your bank account or e-wallet in a day or just a few minutes.
However, they also have higher interest rates, lower loan limits, and shorter repayment periods because of the less stringent and faster process. Despite the limitations, they are a viable loan option depending on your immediate needs. Loan apps are best for people with a stable source of income but need cash fast due to an emergency or some other sudden need for money. However, if you need a loan for a business, you might want to look at alternatives instead because of the limitations of loan apps.
How Can You Tell if a Loan App Is Legit?
Of course, just like traditional lending companies, there are scammers in the loan app space. The Securities and Exchange Commission (SEC) is even working with Google3 to ensure that loan apps have proper documentation before showing up on the Play Store. 
However, bad players may still find loopholes. So, you also need to know how to protect yourself from loan app scams.
1. Check if the Loan App is Registered with the Government
A quick but reliable way to check if a loan app is legit is by checking the SEC's list of online lending platforms4 that have a Certificate of Authority to operate a lending company. This certificate is only issued to companies that have fulfilled all of the requirements set by the SEC. 
The list is arranged alphabetically, so it's easy to find the name of the loan app you are interested in. You can also use the "Find" function of your browser to search for the name of the loan app.  
Note that some loan apps may be named differently from their company name. So, you need to find out their corporate name from their website and use it to search the list. 
By doing this, you'll also discover if the same company owns different apps. For example, Digido Finance runs the Digido and UnaCash apps. Thus, bad credit history with one loan app will reflect in the other app. The SEC also maintains a list of lending companies that have had their certificate of authority suspended or revoked5.
2. Read the Reviews on the Loan App's Play Store or App Store Page
It's essential to check what other people say about the loan app. You can do this easily by reading the 3-star to 1-star reviews on the app's Google Play Store or Apple App Store page. 
Why is this necessary? A loan app may be legit, but it's still possible they do not deliver on its promises. For example, they may boast fast processing and loan release times, but the reviews say otherwise. If you need money urgently, this will likely be a deal-breaker.
3. Visit the Loan App's Website and Social Media Pages
People may also share their experience with the loan app on the official website or social media pages. Check the reviews and the recent comments on the loan app's posts. If there are any ongoing problems with the app,  you'll most likely learn from there.
Note that any loan app problems you'll read about do not automatically mean it's a scam. Like other kinds of software, they may also be experiencing technical difficulties.
4. Check YouTube Review Videos About the Loan App
YouTube videos are also a great source of information regarding loan apps. You can get honest, blunt reviews about other people's experiences with the app. Some videos even share the process from app registration to loan repayment, so you can get a clear picture of what you can expect.
How To Get a Loan From Loan Apps: 6-Step Guide
If you are thinking of getting a loan, you probably have an immediate need to be addressed. Remember that as you go through the steps of getting a loan from a loan app.
1. Check Eligibility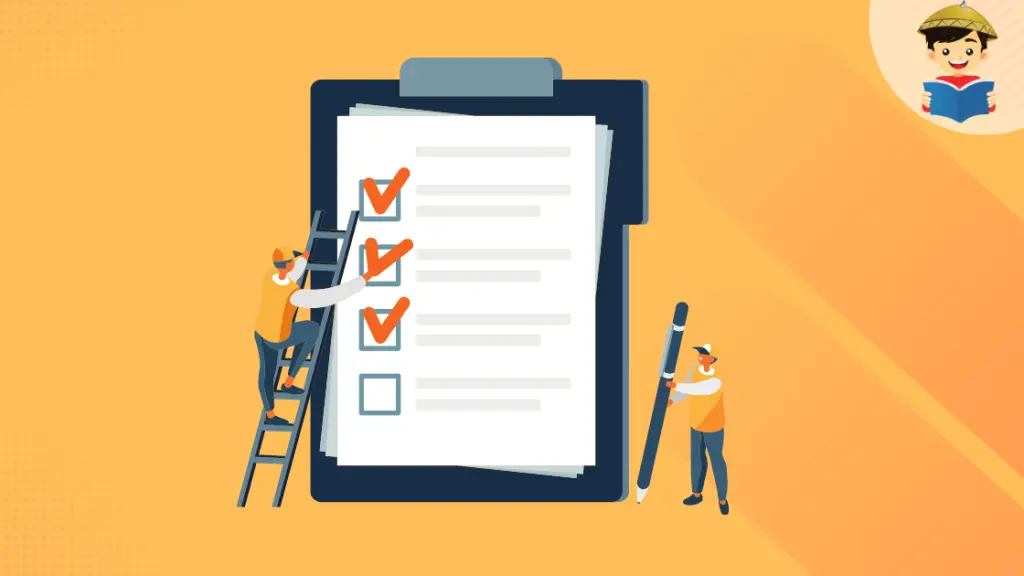 Most loan apps have the same eligibility requirements. These are: 
Must be residing in the Philippines 
Must be at least 18/22 years old
Must show proof of income as an employed, self-employed or professional 
Must have a valid government ID 
Must have an e-wallet or bank account 
Must have a valid mobile number and e-mail address 
If you do not meet the eligibility requirements, you might want to look at other loan options instead.
2. Choose a Legit Loan App That Suits Your Needs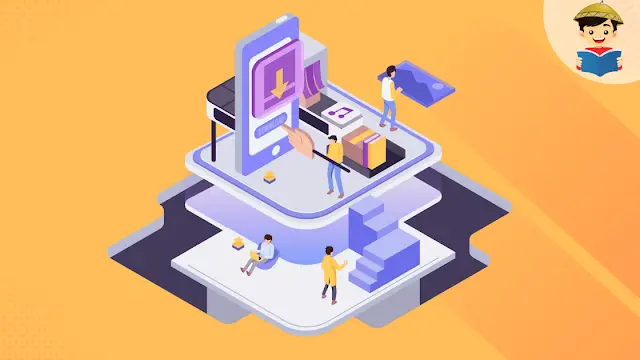 The next thing you must do is find a loan app matching your needs. Some apps have a high loan limit, while others are perfect for quickly borrowing money. Listed below are the recommended loan apps for various situations. They have been verified as a legit app through the SEC's list of online lending platforms. However, the status of these apps may change suddenly, so you must always verify it yourself before getting a loan.
a. Tala: Best Loan App for Reliability & Speed
Overview: Among loan apps available in the Philippines, Tala has the highest number of reviews and is also the highest-rated. Founded in 2011, Tala is headquartered in California, with offices in Manila, Mumbai, Nairobi, and other cities. You can look forward to a quality experience from the Tala app with the same reliability you'll see from different kinds of apps operating on a global scale. 
Company Name: Tala Financing Philippines Inc.
SEC Registration Number: CS2017105826.
Certificate of Authority Number: 1132
Amount: ₱1,000 – ₱15,000 (Higher loan limit is only available for people who have a history of paying on time through the Tala app) 
Terms/Rates: No interest rate, but charges a service fee 
Tenure: 7 to 120 days repayment period
Fees: Service fee (from 9.5% of the loan amount plus tax). Late penalties may apply. 
Speed: Approval in a few minutes, money disbursement speed based on chosen cash-out option
b. My Home Credit: Best Loan App for Long-Term High-Value Loans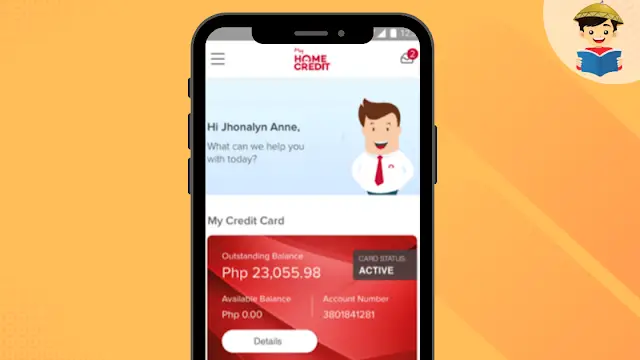 Overview: My Home Credit is also a global player in the loan app space. It has its headquarters in the Netherlands and is available in countries like the Philippines, China, and Vietnam. If you build a good credit history with them, you can access cash loans of up to ₱150,000 that you can use for your business or personal expenses. 
Company Name: HC Consumer Finance Philippines Inc.
SEC Registration Number: CS201301354 (Securities and Exchange Commission (SEC), 2021)
Certificate of Authority Number: 1071
Amount: ₱3,000 – ₱150,000 (Higher loan limit becomes available as you pay on time through the app) 
Terms/Rates: Around 2.5% to 5.5% monthly interest rate (depending on loan amount) 
Tenure: 3 to 30 months repayment period 
Fees: ₱500 processing fee. Late penalties may apply. 
Speed: Approval from 1 minute to 1 hour; get cash as fast as 5 minutes. For higher amounts, disbursement may take 1 to 3 business days.
c. UnaCash: Best Loan App for a High Loan Limit for First-Time Users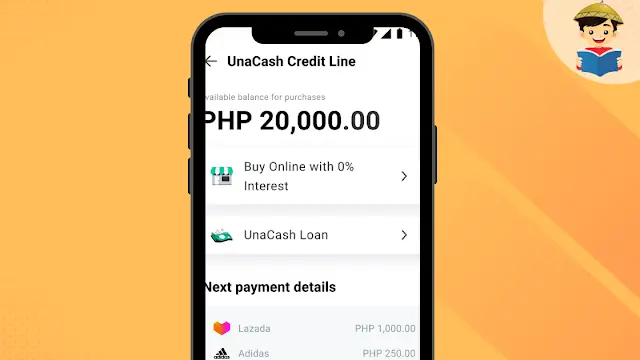 Overview: UnaCash is the cash loan app of Digido Finance Corp, which also operates Digido.ph and UnaPay. As of April 2022, they have the highest advertised loan limit of ₱50,000 for first-time users. No bank account is needed when applying for a loan with UnaCash since they can disburse it to an e-wallet or remittance center. 
Company Name: Digido Finance Corp.
SEC Registration Number: CS202003056 (SEC, 2021)
Certificate of Registration Number: 1272
Amount: ₱1,000 – ₱50,000 
Terms/Rates: 3% to 16% monthly interest rate 
Tenure: 2 to 6 months repayment period 
Fees: None upfront. Late penalties may apply. 
Speed: Up to 24 hours of approval time 
d. Cashalo: Best Loan App for Installment Shopping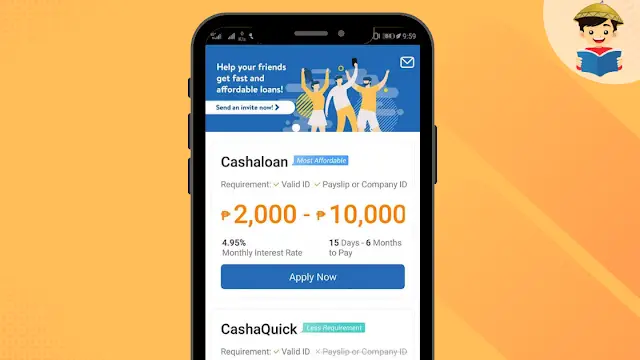 Overview: With over 1000 partner establishments nationwide, Cashalo is currently one of the best loan apps used to pay by installments for shopping purchases. So, it's a great alternative if you do not have a credit or debit card.  
Cashalo is also not limited to being a buy now, pay later app. They also have cash loans available through their app should you need money for things other than shopping. You might also want to check out its competitor, BillEase, which has a lower interest rate but fewer partner merchants. 
Company Name: Paloo Financing Inc.
SEC Registration Number: CS201800209
Certificate of Authority Number: 1162
Amount: ₱1,000 – ₱12,000 (Higher loan limit becomes available as you pay on time through the app) 
Terms/Rates: 0% to 5.99% monthly interest rate 
Tenure: 3 to 8 months repayment period 
Fees: 0% to 10% processing fee. Late penalties may apply. 
Speed: Less than 24 Hours of approval and disbursement time
e. GLoan by GCash: Best for Active GCash Users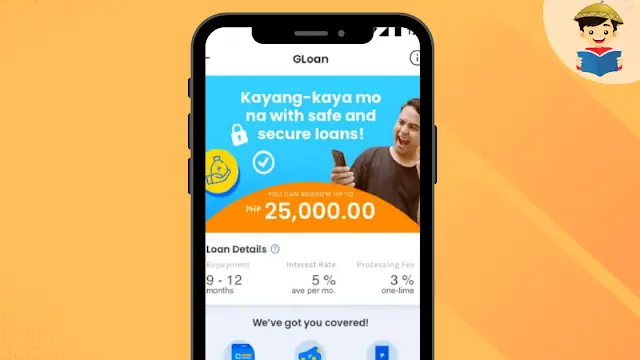 Overview: If you are an active GCash user, you don't have to look far for a legit loan app. GLoan by GCash is a fast and easy way to loan up to ₱25,000 that will be deposited directly to your GCash account.  
There are no requirements necessary as long as you have an excellent GScore. However, that is also its limitation. If you are not an active GCash user, your GScore may not be enough to get a loan. 
Company Name: Fuse Lending Inc. 
SEC Registration Number: CS201617622 (SEC, 2021)
Certificate of Authority Number: 1897
Amount: ₱5,000 – ₱25,000 
Terms/Rates: 2.89% standard monthly interest rate (May differ per GCash user) 
Tenure: 9 to 12 months repayment period 
Fees: 3% processing fee 
Speed: Instant 
f. MoneyCat: Best Loan App for Easy Registration Process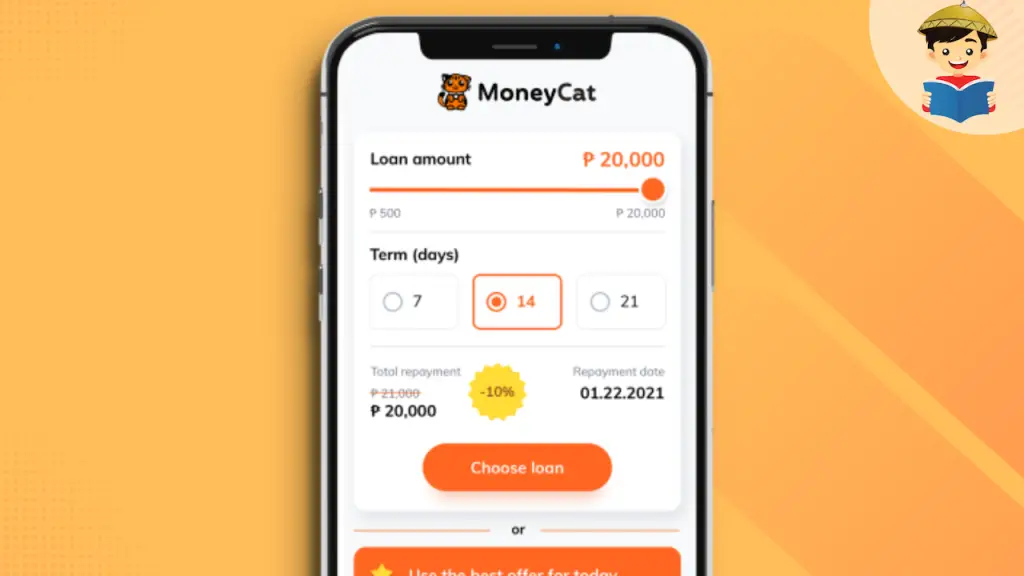 Overview: If you're looking for a convenient and swift loan application process, then MoneyCat Online is the best for you.
This loan app lets you borrow as low as ₱500. Although first-time borrowers can only avail of the minimum loanable amount, this will be significantly increased as soon as they settle the first loan on time or in advance.
For instance, when we tried using this app, we could only borrow ₱600 initially. After settling this within the day, we were approved for a ₱6,000 loanable amount during our second application.
Don't worry about any requirements since you only need one of these government IDs:
You only need to complete their short online application form to apply for a loan. You don't need to declare your monthly income, provide your Facebook profile, submit tax documents, provide references, or visit their office.
Afterward, you'll receive an SMS about your loan approval within 5 to 30 minutes. 
Loaned amount will be credited to your bank account. Currently, MoneyCat's disbursement channels are limited to select banks such as BDO, BPI, Unionbank, Landbank, Metrobank, etc. Payment of the loaned amount can be made online or through their payment centers. 
Company Name: Moneycat Financing Inc.
SEC Registration Number: CS201953073
Certificate of Registration Number: 1254
Amount: ₱500 – ₱20,000
Terms/Rates: 11.9% per month (For the first loan, the rate is 0%)
Tenure: 3 – 6 months
Speed: Instant
g. BillEase: Best Loan App with Low-Interest Rate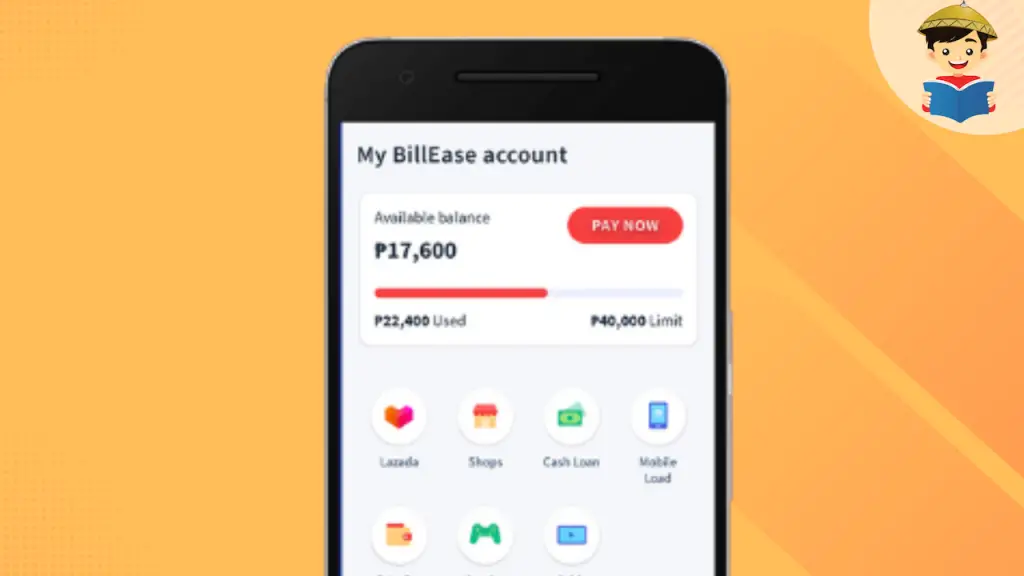 Company Name: First Digital Finance Corporation
SEC Registration Number: CS201516347
Certificate of Authority Number: 1101
Overview: Starting as a "buy now, pay later" app for online purchases, BillEase offers cash loans through its "Cash Disbursal" feature, which enables you to withdraw your BillEase credit limits as cash.
With a standard fixed 3.49% monthly rate (regardless of amount), BillEase is the lending app with the lowest interest rate and no hidden fees.
Some loan apps, such as Tala and MoneyCat, offer a 0% interest rate, making them potential contenders for this title. However, there's a catch with these zero-interest loans. For instance, Tala lends small amounts only (₱1,000 – ₱15,000) to regular borrowers. On the other hand, MoneyCat's zero-interest feature applies to your first loan only. After that, your succeeding loans become insanely expensive because of the 11.9% monthly rate.
Amount: ₱500 – ₱40,0007.
Tenure: 30 days – 12 months
Speed: Instant
h. Other Legit Loan Apps
The SEC lists over 100 online lending platforms. Some are website-only, while some are app-only. Here are a few other SEC-listed loan app options that have at least a thousand reviews on their Google Play or App Store page:
Cash Loan Apps
Buy Now, Pay Later Apps
Some apps are newly released, and some still have technical issues. So, read the reviews to avoid having a bad experience.
3. Download the Loan App & Register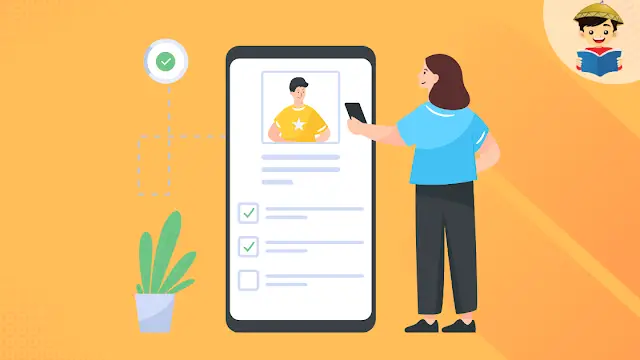 Download and install the loan app of your choice through the Google Play Store or Apple App Store. Once you run the app, you'll be asked to register. Each app may have different registration processes but listed below are what's commonly required:
a. Your Phone Number & Personal Details
Make sure to fill up your details correctly since they need this for making a loan agreement, which is a document that they will send to you after your loan request has been approved. They will use the mobile number to send you a One-Time Password (OTP) code later. 
Just a warning, sharing your phone number with a loan app may lead to frequent calls or texts about loan offers. This isn't true for all loan apps, but some will try to contact you frequently.
b. Valid Email
Based on Republic Act No 94748, loan apps must send you a copy of the loan agreement. Some loan apps will send you this through your email, so give only a valid email that you regularly use.
c. Bank Account or e-Wallet Details
The loan app will also require you to provide your bank account information. This will be where they'll send the money to you. Make sure that: 
The number is correct. 
It's a bank account number, not a credit or cash card number. 
The account is active. 
The account is not for salary transfers. 
Some loan apps can also disburse money to e-wallets or money remittance centers. You may need to enter additional details if you choose them as your cash-out option.
d. Photo of Valid Government ID & Selfie
You'll also be asked to take a photo of your valid government ID. So, ensure it is ready before you begin the sign-up process. The loan app will need your ID to comply with the Anti-Money Laundering Law (Republic Act No. 9160)9. You'll also be asked to take a selfie with your ID.
e. Contact Details of Spouse, Relatives & Emergency Contact
When the loan app company can't contact you, they will get the numbers you've entered here. 
f. Geolocation
Some loan apps ask you to share your geolocation through your phone's GPS. This is used to confirm that you are currently in the Philippines.
4. Enter Your Desired Loan Terms & Upload Any Required Documents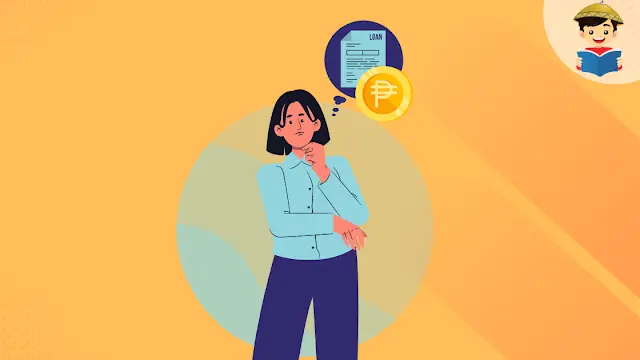 After registering successfully, you'll usually be taken to the loan app's main interface. You can choose among the available loan options, manage your profile, and read announcements. 
Choose an available loan option from the interface and follow the app's instructions. This part of the process will be different depending on the app you are using. But here is a list of things that they may ask you:
a. Loan Details
The loan app will ask you about your preferred loan arrangements. This includes how much you want to loan, how long it will take to pay the loan, and how many installments it will take before you pay back the loan in full.
b. Loan Purpose
The loan app may ask you where you will use the loan. It could be for personal or business purposes. They may ask for a detailed answer, so answer as clearly and honestly as possible. 
c. Employment History
The loan app will need to determine if you can repay the loan. So, they will ask for details about your employment. These may include questions about the type of work you do, which company you work for, how long you have been with the company, and how much you are paid. 
d. Proof of Income
You may need to upload a document that proves how much you earn monthly. These can be in the form of pay slips, bank statements, or a certificate of employment. Professionals or self-employed people could be asked to provide a copy of their Income Tax Return (ITR). 
e. Additional Income Sources
Not everyone who needs a loan has a job or a business. So, the loan app may also ask if you have any additional income sources. These include international remittances, rental income, pensions, and other passive income streams. 
f. Preferred Cash out Option
You'll also be asked where you want to receive your loan. Loan apps can transfer money to a bank, an e-wallet, or a remittance center. Just choose the one with the lowest fees and the most convenient.
5. Wait for Your Loan to Be Approved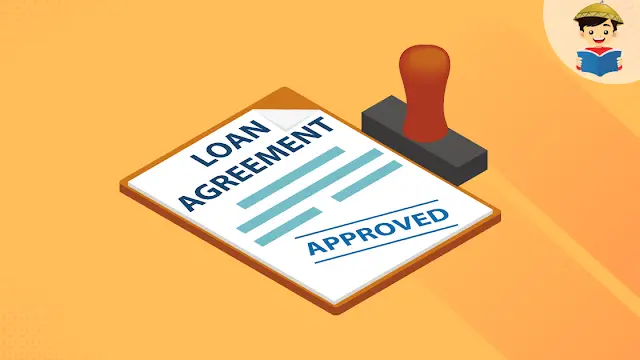 After completing the requirements, your application will be reviewed automatically or by an employee from the loan app company. Follow any additional instructions from the loan app, if there are any. 
You should expect a call or text message from them for additional verification or loan approval confirmation, usually within the day.  
Your loan application may be rejected if you cannot accept their call. So, if the loan is crucial, you should keep your phone ready and with the volume high. 
Once approved, the loan app may give you additional instructions and documents to sign or agree to.
IMPORTANT: Read the loan agreement and terms carefully before signing or agreeing. Always check the documents sent to you, including the loan terms and conditions, disclosure statement, promissory note, and amortization schedule. 
Some loan apps have misleading advertisements that make you think you are getting a low-interest rate. However, the loan agreement's interest rate or loan terms could be more burdensome than you expected.  
It's also always better to do the computations yourself rather than use the loan app's calculator.
6. Wait for the Money to Be Released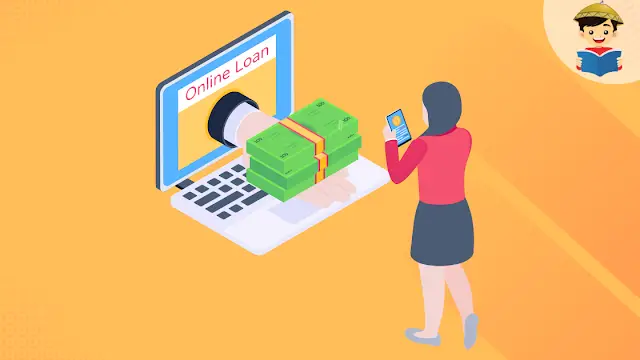 After confirming your acceptance of the loan terms, your money will take a little more time to release. Depending on the loan app and your chosen cash-out option, it can take a few minutes or days. 
It's usually faster to receive money through an e-wallet like GCash or Coins.ph than your bank account or a money remittance center. Once you accept the cash, double-check that it's the correct amount. 
After that, you can now use the money for your purposes. Just make sure to pay your loans on time to avoid any penalties.
Tips & Warnings
1. If you have any doubts about applying through a loan app, find another way instead
This is also true if you don't know how you'll be able to pay for the loan. There may be cheaper and safer methods to get the money you need. For example, applying for an SSS salary loan might be better if you pay your social security contributions regularly.
2. Plan how you will pay for the loan so that you can avoid heavy penalties
Before applying for a loan, you should know how to pay for it. That way, you can adjust your loan application as necessary. 
Most loans from these apps have a short repayment period. If you need to wait another month to receive your salary, you shouldn't choose a repayment period that's less than a month.
Loan apps also have several payment channels, such as e-wallets or banks. Choose those with no transfer fees so you can pay back the loan without additional expenses.
3. Use the loan strictly for the purposed you loaned it for
Using the money for other necessities might be tempting, but that will make it harder for you to pay the principal and interest back. If you need money again, getting another loan with a new repayment period might be better. 
4. Always pay on time to maintain a good credit history
Good credit history makes getting loans from lending institutions such as loan apps and banks easier. Loan apps may even allow you to have a higher loan limit. Conversely, if you have a bad credit history, the lending institution may require collateral from you or deny your loan application.
5. Document all your loan transactions and communications with loan app companies
This will help you any time there are disputes with your loan.
6. If you fall victim to an illegal loan app, you can file a complaint with the SEC.
The SEC has been fighting a continuous battle against illegal loan apps10appearing left and right.
The SEC will formally process your complaint if the loan app has a Certificate of Authority. They may revoke the certificate of the erring loan app if they are found guilty of an illegal practice.  
However, if the loan app does not have a Certificate of Authority, your only option is to contact the SEC's Enforcement and Investor Protection Department. You can email [email protected] but don't forget to attach all the evidence you collected.
Frequently Asked Questions
1. Can I get a loan from a loan app if I have a bad credit history?
Loan apps are usually less strict with their requirements. They may not bother checking your credit history if you can prove you can pay the loan on time.
Just be careful of loan apps that don't even ask for your employment details or proof of income. They may trick you into agreeing to loan terms that are too demanding.
2. Can I reapply to the loan app if my application is rejected?
Each loan app has a reapplication period of around 1 to 6 months. If your application is rejected, you must wait for that period to expire before reapplying. Alternatively, you can apply to other loan apps with similar terms.
3. Can I pay my loan earlier than the agreed-upon date with the loan app?
Yes, you can repay your loan earlier than the agreed-upon repayment period. However, you still have to pay the same interest rate. So, it's probably better to follow the repayment schedule.
4. What happens if I don't pay my loan from a loan app?
Not being able to pay your loan means you are in default. Different scenarios can happen when you default on your loan, including: 
The loan app may call you to ask about your circumstances. If the company understands enough, they may offer a loan repayment period extension with additional interest or fees.
The loan app may hire a collection agency to recover your loan amount and impose additional fees. Some shady loan apps are known to publicly shame you for not paying your debt by messaging your phone's contacts.
Your credit history will have a negative record. This will make it harder for you to get loans from the same company. Lending companies may also share credit history with other financial institutions, which can affect your loan application with another company. 
It's important to remember that you cannot be jailed for defaulting on a loan. However, if you issued checks for loan payments while knowing you have insufficient funds, you may be criminally liable for violating Batas Pambansa Blg. 2211.
References