Have you ever experienced confidently applying for a loan or credit card and complied with all the requirements but still got rejected? 
You felt discouraged. It seems that achieving your dream house, expanding your business venture, or paying off piled-up bills suddenly seems out of reach. 
The reason for being denied new credit may have something to do with your credit score. It is an indicator of your ability to pay an obligation. This helps financial institutions make an informed decision on whether to approve or decline new credit.
In this article, you will learn how to check your credit score to prepare for the future and achieve your financial goals.
Table of Contents
What Is a Credit Score?
A credit score measures a borrower's creditworthiness based on his or her past financial transactions. It ranges from 300 to 850, where having a higher score means you are likely to pay debts on time and increases your chances of being granted a loan with the best interest rates.
In the Philippines, banks usually ask for hard assets as a basis for collateral when applying for loans. Credit scores are now becoming accepted as a means to acquire financing regardless of collateral. It is now possible to borrow money easily by having a good debt payment history and financial track record. This is a game-changer for the credit industry as it tries to change the lending landscape from asset-based to risk-based1, and help Filipinos have better access to credit.
What Factors Affect Credit Score?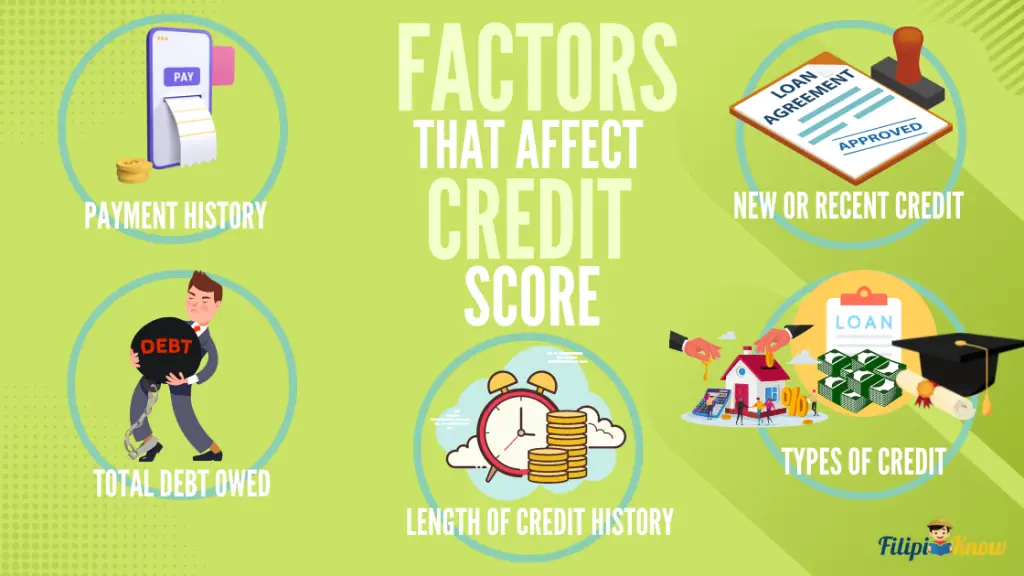 Several factors contribute to the computation of your credit score2:
Credit Payment History – how much debt you have, how regularly you pay for it, and if it is on time and in full.
Total Debt Owed or Credit Utilization Ratio – the total amount you currently owe across all financial institutions including your credit cards.
Length of Credit History – the duration of your loan and the average age of your credit card accounts.
Credit Mix – shows the variety of financial products you have availed, such as credit cards, loans, mortgages, etc.
New Credit – the number of credit applications you make and how often you open new accounts.
Lending institutions have their versions of computing for credit scores. It might include other information not on the list above or have different weights for each of the factors.
What Factors Do Not Affect the Credit Score?
It is equally important to take note of the following factors that do not impact your credit score3:
Income – the amount and changes in your income do not affect your credit score per se but can still be part of the bank's consideration in approving loans.
Non-credit bank accounts (checking, savings, investment, debit accounts)
Personal information (education level, age, gender, religion, political party, marital status)
Credit history of spouse – credit scores are computed based on an individual's credit history and will not be combined with a spouse when married. 
Payment for utilities, telco, and small businesses – if these companies are not submitting entities approved by the credit registry, then credit transactions with them are not recorded in your credit report and therefore do not affect your credit score.
Checking your credit reports – requesting your credit report regularly and multiple times will not affect your credit score.
Additional authorized user to your credit card – the user's credit standing will not affect your credit score as long as you can make your monthly payments.
Credit Report vs. Credit Score vs. Credit History
A credit score is a number that indicates the statistical probability of a borrower being able to pay back debt. It is referred to as a "snapshot of a credit report" as it only reflects one's financial rating at a specific time. A credit score changes as new information in a credit report comes in.
A credit report is a document that shows in-depth information on the past and present financial transactions of an individual or firm. It gives insight into what accounted for the credit score as it details the credit accounts, payment history, and personal or business information4. 
A credit history represents how a person managed past credit accounts5. It shows the number of credit lines owned, the date when these were opened, loan amounts, and the timeliness of payment. It also includes any records of negative information such as missed payments, filing for bankruptcy, and defaulting on a loan. These details are included in the credit report. 
These items are used by lenders to approve a new line of credit and set the terms of a loan.
Why Is It Important To Check Your Credit Score
As a borrower, it is beneficial to know your credit score to keep track of your financial standing from the point of view of lenders. Being mindful of what areas you need to improve on would help you better your credit score and prepare for plans to availing a loan or credit.
Checking your credit score means examining your credit report closely and looking for any inaccurate information that might have affected your credit score. It is a way to detect suspicious activities and protect yourself from possible identity theft.
You can correct, update, and raise concerns regarding your credit information by filing a dispute online6 through the Credit Information Corporation (CIC).
Credit Reporting and Scoring: How Does It Work?
The Credit Information Corporation acts as the public credit registry and repository of credit information in the Philippines. It shares credit reports to its accredited credit bureaus and official accessing entities such as financial institutions. 
Credit Reporting
Here is a summary of how credit reporting is done in the Philippines7:
Banks and other credit facilities are mandated under the Credit Information System Act (CISA) to submit to CIC all credit data of their borrowers in their database.
CIC receives and consolidates the credit information of borrowers into comprehensive credit reports.
CIC shares the credit reports with their accredited credit bureaus and authorized accessing entities.
These accessing entities base their decision to lend money or not on the information found in credit reports.
Credit Scoring
There is no standard method for the computation of credit scores. Lending institutions use a variety of scoring models depending on the type of loan or financial service requested by the borrower. Usually, credit payment history and amount of debt owed are the biggest contributors when computing the credit score8. 
How To Check Your Credit Score
The Accredited Credit Bureaus or Special Accessing Entities (SAEs) are private corporations authorized to access CIC's credit data and provide credit information services such as providing credit reports and generating credit scores.
These are:
CIBI Information, Inc.
CRIF Philippines
TransUnion Philippines
Only CIBI Information, Inc. issues a credit report with a credit score. In 2020, it launched the CIBI App9 where individuals can register and create an account online through their desktops or mobile phones.

CIBIApp uses the CIC Credit Report to compute a borrower's credit score based on a defined ranking system, generated in collaboration with Fair Isaac Corporation (FICO), a world leader in analytics solutions.
Step-by-Step Guide on How To Check Your Credit Score via CIBI App
Take note that only the person can request his or her credit report. A character verification process confirms your identity before releasing the credit report. 
Here is a step-by-step guide on how to use the CIBIApp:
For mobile users, you may download and install the CIBI App via Google PlayStore or Apple App Store. For desktop users, you may access the web version of the app at this link.
Register and create an account by providing a username and password. You need to enter your personal and contact information, as well as upload a photo of one (1) primary ID and one (1) secondary ID. You also need to upload your digital signature.
Schedule an appointment in the app (Mondays to Fridays, 8:00 AM to 6:00 PM) for a video call to verify your identity. Wait for the confirmation email from CIBI.
On your scheduled appointment, a Know-Your-Client process is conducted to verify that you are requesting your credit report. This is done via a video call on Google Meet. Wait for a verifier from CIBI to initiate the call.
Pay the mandatory fee for a credit report with a credit score. Multiple payment channels are provided by CIBI.
Once character verification is successful and payment is settled, CIBI will send your credit report with a credit score to your registered email address.
Important Reminder: the CIBI App is temporarily unavailable due to the integration of the app's Know-Your-Customer (KYC) feature. You may still request your credit report with a credit score through the web app version10.
Accessing your credit report and credit score is now made easy and convenient. Start checking your credit score to build a good credit standing early and maximize the benefits of borrowing. 
Tips and Warnings
Build good credit as early as you can. The first step is to check your credit score and review your credit report.
Improve and maintain a good credit score by doing the following:

Be responsible with your financial duties; pay off balances in full and on time.
Correct or update inaccurate info on your credit report that may affect your credit score.
Refrain from acquiring more debt. 
It is better not to close a credit card account even if you are not using it, as it might ramp up your credit utilization rate.
Request an increase in the credit limit on your credit card, but do not spend the whole amount. This allows you to maintain a lower credit utilization rate.

Benefits of a good credit score

Faster approval of loan and credit card applications
Higher loan amount, credit card limit, and lower interest rates
Lower monthly payments or premiums
Lower security deposits for leasing arrangements
Lower insurance rates
Access to a wider selection of financial products or services
Enjoy premium credit cards with better rewards and incentives
Capacity to re-negotiate terms of loans
Present a good reputation for employers who look into credit reports as part of their background checks for potential employees. 

Different banks and lending institutions have their scoring models and requirements. Getting rejected on one application does not guarantee that another credit facility will not approve you.
Avoid having your unpaid bills sent to collection agencies. Even if these bills are not initially part of your credit report, once a collection agency handles these, they will now be reported and affect your credit score.
Frequently Asked Questions
1. Is it possible to have no credit score?
Yes. No credit score can be generated if you do not have any credit or loan transactions in your credit report within the last two years.
2. What is considered a good credit score?
Based on the average FICO range, a good credit score is between 670 to 739.
Excellent: 800 to 850
Very Good: 740 to 799
Good: 670 to 739
Fair: 580 to 669
Poor: 300 to 579
3. How often is the credit score updated?
The credit score is calculated at the time of request or inquiry, based on the current information presented in the credit report. Participating entities must submit regular updates on their borrowers' credit data within 30 days of being available.
4. Can OFWs and migrant workers access the CIBIApp?
Yes. The CIBI App can be accessed anytime and anywhere via mobile or desktop.
5. How much does it cost to request a credit report with a credit score?
CIBI charges ₱235 for the credit report with a credit score.
6. What do I need to prepare for my online interview appointment?
You must present the IDs uploaded in the registration form through the CIBI App.
7. What are the primary and secondary IDs accepted in creating an account in CIBIApp?
Primary IDs: 
Secondary IDs
Passport
SSS ID
GSIS E-Card
PRC ID
IBP ID
OWWA ID
Voter's ID
Digitized Postal ID
References