Sari-sari stores are an integral part of every Philippine neighborhood. For many Filipinos, sari-sari stores are not only a source of groceries and home supplies but also a great place to meet their neighbors.
According to Philippine tech start-up GrowSari1, there are more than 1.1 million sari-sari stores in the Philippines. Thus, they are important parts of the product distribution network in the country.
If you want to start a sari-sari store business yourself, you have to know how you can compete in this highly populated space. This guide will help you decide if a sari-sari store business is for you and teach you how you can earn a profit from running one.
Related: Best Business Ideas in the Philippines [Pandemic-Proof]
Table of Contents
Sari-Sari Store: The Basics
1. Overview
A sari-sari store is basically a small retail store, often family-owned and run, that carries a variety of basic goods, hence the name "sari-sari" which means "an assortment". 
They carry anything that they think their community would buy, from candies to beer. And as Filipinos become more reliant on technology, sari-sari stores also begin to sell other necessities such as phone load or e-credits. 
Their primary customers are the people who live nearby, their neighbors. Thus, convenience is the main reason people buy from them.
2. Capital Requirement
Typically, sari-sari stores are set up in a family's home through a small room with a window, usually with railings, that faces the road. 
So, the biggest cost is just stocking up on the products to sell. This can range anywhere from ₱2,000 to ₱30,000 depending on the variety and amount of products. If you are building a dedicated space for your sari-sari store, then the capital you need will increase by a lot.
Your other expenses include government registration, which ranges from  ₱1,890 to ₱6,590 depending on how much a business permit costs in your city or municipality.
3. Competitors
The competitors of sari-sari stores include convenience stores, groceries, and other sari-sari stores. 
4. Earnings
Sari-sari stores typically add a 10 to 20% markup on their products as their main source of revenue. Though owners usually don't want to deal with centavos, so they round it up to the nearest peso. 
Differences Between a Sari-Sari Store and a Convenience Store or Grocery
Convenience stores and groceries are bigger in size and carry a larger amount of products than sari-sari stores. It's also rare for sari-sari stores to have a frozen or refrigerated food section, aside from a few cold drinks. 
Sari-sari stores usually have cheaper prices than modern convenience stores. This is because convenience stores have air-conditioning and salary costs that are especially high when they are open 24/7. Meanwhile, groceries are usually cheaper than sari-sari stores since they buy in bulk and sell a larger volume. 
Convenience stores and groceries are usually only located on maid roads where there is a lot of traffic. Sari-sari stores can be found in almost any location including side streets or even inside subdivisions. 
What Qualities Are Ideal for People Who Want To Run a Sari-Sari Store?
Certain qualities will help you start and manage a sari-sari store much more smoothly. If you have any of the following traits, then you might see success easier than others. 
1. Time To Run & Manage It Yourself
Because of low margins, people or families who have the time to run the sari-sari stores themselves will be able to save on hiring an employee. Lowering your costs as much as you can also mean you can keep your prices competitive. 
2. Solid Community Ties
People and families who have or can build a good relationship with their neighbors and community have an advantage since they can help drive traffic and sales to the store. 
3. Strict & Organized
Again, because of the low margins, people who are strict in managing their inventory and writing down records are more likely to succeed. It's equally important to strictly never sell on credit as well. One bad stock or debt and a day's worth of profits can be wiped out immediately. 
Advantages & Disadvantages of a Sari-Sari Store Business
1. Advantages
Compared to other kinds of businesses, the sari-sari store has unique advantages, especially for a newbie entrepreneur. These include: 
Easy to start. With a low capital requirement and a simple setup, the sari-sari store is a business that you can begin in just a few days. It's also a good starting point for people who want to experience running a business, and if successful, grow into a bigger retail store. 
Save on rent and salary. If you run a sari-sari store in your home by yourself or with help from your family, then you can save on costly rent and salary expenses. 
Strengthen relationship with community. Being the friendly neighborhood sari-sari store means you are the go-to place of the nearby families for their daily necessities. This helps you build stronger relationships with your neighbors. 
2. Disadvantages
However, due to its nature of being easy to set up, it also has its own share of disadvantages. These include: 
High competition. Since almost anyone can start a sari-sari store, it means that there is stiff competition. Not to mention that you also have to compete with convenience stores and groceries. You have to learn how to keep your clients coming back to your store. 
Low margin, low sales volume. Because convenience is the main selling point of sari-sari stores, they only add a small markup to their prices to remain competitive. They also don't sell in bulk so they need to have as many repeat customers as they can. 
Reputation of poor-quality products. There is a negative reputation that sari-sari stores carry poorer quality products. This is likely due to some owners not taking care of their inventory well by exposing them to the sun or air or letting products expire. This can be solved through proper storage and inventory management. 
How To Start and Manage a Sari-Sari Store Business: A Step-by-Step Guide
This guide is divided into 4 different phases. At the end of each phase, you will have to make a crucial decision. This is to emphasize that while sari-sari stores are easy to set up, it's not easy to succeed. 
Phase 1: Training & Research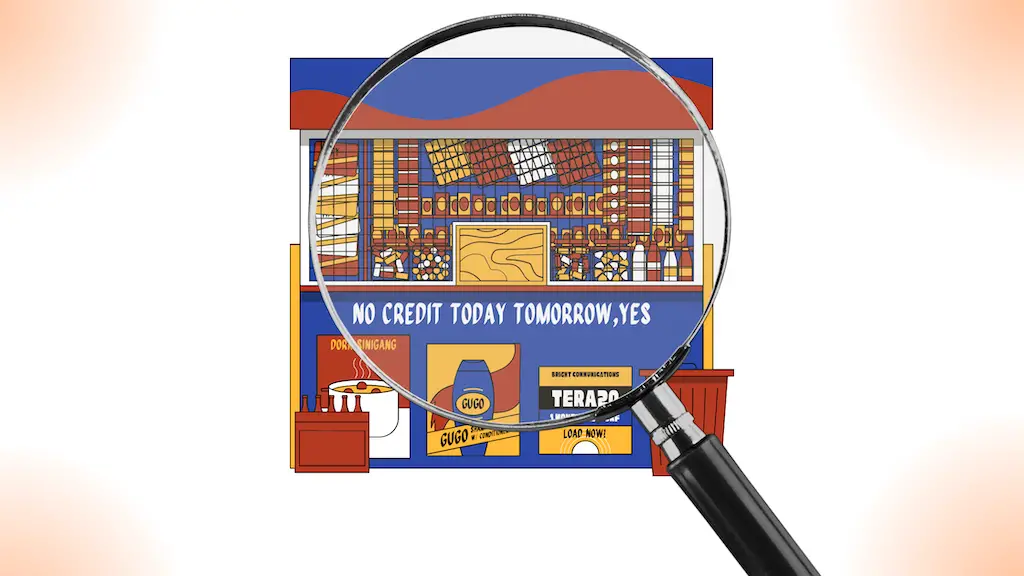 In this phase, your goal is to learn the basics of business so that you can determine if running a sari-sari store is a good fit for your situation. 
A. Join Business Training Programs Online or in Your Area
You have to learn a bit more about the basics of running your own business before you can properly evaluate if running a sari-sari store is for you. Many organizations, private and government, provide free business training programs and seminars. Here're are some examples: 
The Department of Trade and Industry (DTI) partnered with the Philippine Trade Training Center (PTTC) to provide seminars and training programs2, both locally and online. You should ask your local DTI branch or LGU if they currently have a program for you. They also have an online resource3 for MSMEs regarding how to make a business plan. 
Go Negosyo, by the non-profit organization Philippine Center for Entrepreneurship (PCE), provides free one-on-one mentorship around the country through their KAPATID Mentor ME program4. You can follow their Facebook page for updates. 
TESDA has an e-learning program called "Start and Improve Your Business" that teaches the basics for people who want to start their own small business. 
Hapinoy is a social enterprise that teaches sari-sari store owners the best practices of running their own store. They are not present in all Philippine provinces yet but you can follow their Facebook page for updates. 
Take note, however, that some programs are only available on a per-schedule basis. So, while waiting, you may want to read up in advance through the various videos and resources available online.
Regardless if you start a sari-sari store or not, what you learn can still be useful when starting other kinds of businesses. 
B. Learn About Your Customers
A sari-sari store's main customers will be the people nearest to them, meaning your neighbors and community. There're a few things you should find out about them to get an idea if they'll shop at your sari-sari store or not. These include: 
When and where do they buy their food and home goods? 
What kinds and brands of products do they buy? 
How much do they spend on a shopping trip? 
What is their daily commute like? Will they pass by the location you want for your store? 
You can do this very informally while just chatting with your neighbors. This information will help you decide if a sari-sari store can fit your customers' shopping habits or not.
For example, some people like to buy in bulk so that they can save money. If most of your neighbors are like this, then a sari-sari store may not be the best fit in your area.
However, there's still an opportunity if there are products that your neighbors prefer to buy in "tingi" or small amounts. For example, they may purchase food in bulk but only buy non-essential goods, such as cigarettes or beer, per piece. 
C. Study Your Competitors
If there is a competitor in your area, then you'll be fighting over the limited number of customers that you can reach. You should pay a visit to their store and find out: 
What are the brands or products that your competitors are selling? 
What are the prices of their most popular products? 
What are their opening and closing times? 
If there's a product that your neighbors want but is not available from your competitors, then that's an opportunity for you. 
For sari-sari stores, convenience is the main reason people will buy from your store over others. So, when studying your competition, you need to find out what is inconvenient about the other options available. If you make it more convenient to shop with you, then you'll get more customers. 
D. Decision Time: Is a Sari-Sari Store a Good Fit for Your Situation?
Using what you learned from your training, as well as what you researched about your customers and competitors, you should now have a better idea if a sari-sari store will work or not. 
Will I have any potential customers? 
Are there products that my potential customers will buy frequently? 
Are my potential customers unsatisfied with the competitors? 
If your answers to the questions above are a 'No' then don't get hung up on the idea of starting a sari-sari store. You can use what you've learned and researched so far to start another business instead. Click here to get business ideas.
If you think there is an opportunity for your sari-sari store to succeed, then it's time to begin planning how your store will do just that. 
Phase 2: Planning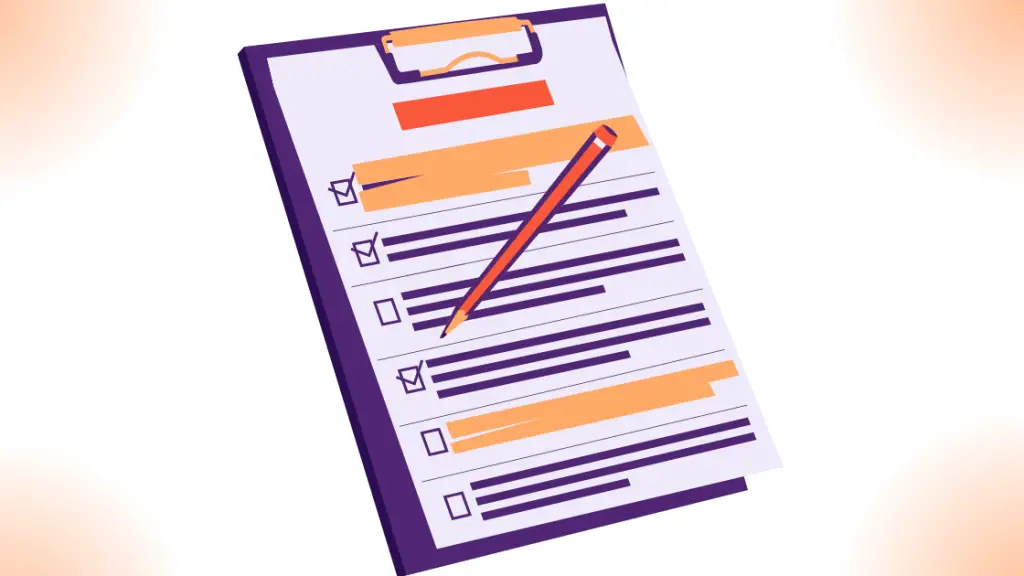 In this phase, your goal is to back up your decision to run a sari-sari store with actual numbers. By doing this, you can check if it will become profitable and if it is worth the effort. 
Tip: The steps you go through in this phase are all part of making a sari-sari store business plan. It's not a requirement, but if you ever need a sari-sari store business plan for getting a loan or an investment, then all you need to do is create a formal document covering the details of each step in this phase.
A. Set a Goal for Your Sari-Sari Store
The first thing you need to do is to set a goal that your business, the sari-sari store, must meet. Most of the time this is a monetary goal. An example would be "I want to earn ₱10,000 a month through the sari-sari store." 
When setting a goal, just remember a few things: 
Make it personal. This way, it's important for you that the goal is achieved. 
Make it realistic. If you have a big goal, break it down into smaller goals. So, you can keep yourself motivated as you make progress. 
Set a deadline. This will force you to work hard and smart. 
Your goal will also be an important factor in deciding if you'll run a sari-sari store or not. So, write it down and don't forget it. 
B. Choose a Location for Your Sari-Sari Store
Using your research earlier about your customers, you have to choose a location where it's convenient for them to buy from you.  
Most sari-sari stores are run in the owner's home to save on rent and to keep prices low. However, if your home is located in an out-of-the-way area, then your customers may not frequent you. 
To find out if your home is enough, then you need to: 
Know what the foot traffic is like in the area. Is the number of people passing by a lot? What time do they pass by? 
Learn what kinds of people are passing by. Are they students or office workers? Depending on the type of person, the products they buy will be different. 
Find out if your store will be visible to the people passing by. If not, then you might need to add a large signage or another visible landmark. 
Check the locations of your competitors. Are you near a mall, convenience store, or supermarket? You want some distance from them since it's difficult to directly compete with these business establishments.
While renting a space in a more favorable location is an option, it's not really recommended for beginners. With a sari-sari store's low margins, it may be difficult to earn enough to cover rent expenses. 
C. Create a Product List
Based on what you learned about your customers, you now have to create a list of products that you will sell in your sari-sari store.  
It may sound difficult to do, but if you just focus on what kind of customers you'll have, you'll be able to create a list much more easily. 
For example, if you are located inside a subdivision, your customers are mostly households. So, food and home essentials are perfect products for your market. 
Meanwhile, if you are near an office, then your customers could be people who are taking a break from work. So, you can stock up on merienda items, such as coffee or instant noodles. If there are a lot of smokers, then sell cigarettes. 
If you are near a school, then it's a good idea to stock up on what students like or need. These include candies, snacks, and school supplies. 
When you are creating your product list, remember to: 
Be conscious of your customers' budget. Don't sell expensive brands if you don't think they can afford them. 
When you carry popular brands, make sure to check the prices of the competition. You should aim to have the same or lower price unless the competition is inconvenient to visit. In those cases, you can add a little premium to your prices. 
Avoid choosing problematic products, such as those with a short expiry date or those that spoil due to heat. One product going bad can wipe out your whole day's earnings. 
If you really have no idea where to start, then you can check DTI's list of basic necessities and prime commodities5. However, just choose the ones that you think your customers would need or like. 
Your product list does not have to be perfect. You can always adjust what you stock after you have opened and received feedback from your customers. 
D. Find the Right Suppliers
Now that you have a product list, it's time to find a place where you can stock up on your products. Here are some ideas on where you can find products to sell: 
Wholesalers. These are stores that normally sell their products in bulk so you can get your stock at a cheaper price. Puregold is an example of a nationally known wholesaler. However, there are many other wholesalers across the Philippines. You'll probably know better the name of the one that is nearest to you. 
Supermarkets. This is not the ideal place to get your products. They typically sell at higher prices than wholesalers, so you'll have lower margins. However, if you just need to restock quickly to meet a customer demand then you can use it as an alternative. 
Direct from Manufacturer. You can contact a manufacturer or the distributor in your area to see if they are willing to sell their products to you at prices cheaper than a wholesaler. Although, once your sari-sari store is more established, it's not uncommon to get a visit from a salesperson offering you good deals as well. 
Sari-Sari Store Apps. There are also dedicated apps, such as GrowSari, for the sari-sari store owner. Each app would have different features. GrowSari, in particular, promises to sell products to sari-sari store owners at distributorship prices. However, their app is not available in all Philippine provinces yet. 
Online Marketplaces. If you want to add some uniqueness to the products in your sari-sari store, then you can add some from online marketplaces such as Shopee or Lazada. However, you have to know exactly what your customers would want so you don't waste the delivery fee. 
Feel free to take your time and explore your supplier options. This is where most of your capital will go, and it will affect every crucial part of your sari-sari store. 
You don't have to buy your products just yet. You can just take note of the prices so that you can properly compute if you can make a profit or not. 
Here are a few tips on selecting a supplier: 
You should already have information about the prices of your competitors. The suppliers you choose should make it possible for you to compete with a reasonable 10% to 20% markup, otherwise, you should look for other options. 
Don't forget to treat transportation costs as part of the cost of your products. Ideally, your suppliers should be nearby, so you don't have to spend too much on transportation. However, if you buy products in bulk then you can spread out the cost across the different products you carry. 
Lastly, choose suppliers that have a solid reputation and a reasonable return policy. Bad suppliers may attempt to trick you into purchasing expired or poor-quality goods. Due to low margins, you don't much room for errors. 
E. Do the Math
At this point, you should have enough information to see if you can make a profit from starting a sari-sari store or not. 
To do that, you need to do a computation like the one below. You can make it as detailed as you want, but here is a basic example: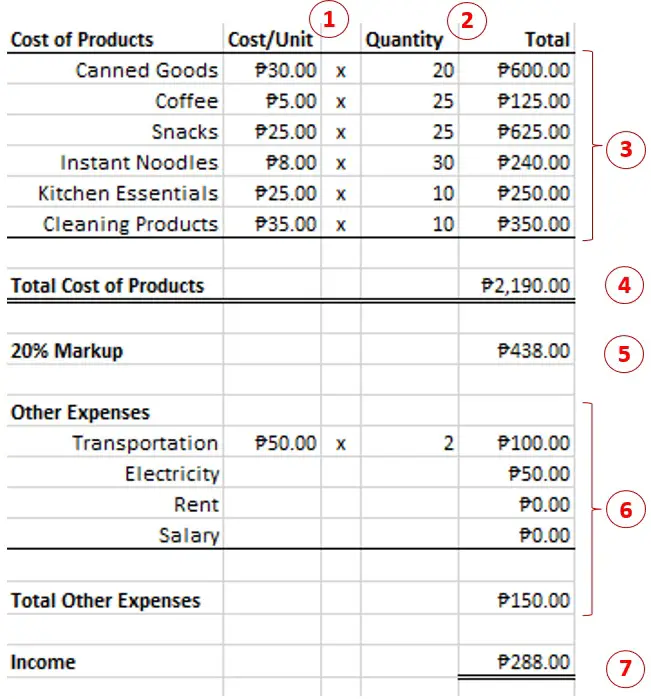 In this example, let's assume that you don't want to stock up on too many items, so you choose only a small amount of the essentials. 
Step 1: List down the cost per unit of each of the products you want to stock. You can make it more detailed than the one in the example above by listing each item or brand. 
Step 2: Write down the quantity of each of the products you want to stock. 
Step 3: Multiply the cost per unit and quantity to get the total cost of each brand or type of product you want to stock. 
Step 4: Add up all the costs of your products to get the total. 
Step 5: Multiply the total costs of your products by the markup or "patong" you want to add to your products. In this example, a 20% markup was used. 
Step 6: List down an estimate of your other expenses. These may include transportation, rent, salary, electricity, and water. In this example, the sari-sari store owner is not paying rent or salary. Note that you may encounter other expenses later, such as taxes. 
Step 7: Subtract the total of your other expenses from your markup. The number you end up with is your income if you sold all of the products. 
F. Decision Time: Can You Make a Sari-Sari Store Work in Your Location?
After doing your computations, you now have to make another crucial decision based on the information you have. Answer the questions below to see if a sari-sari store makes sense or not. 
Can you beat your competitors? 
Can you sell the whole quantity of goods that you plan to stock in a reasonable amount of time? 
Did the potential income make sense based on the goal you want to reach? If the income will not help you reach your goal, you might want to explore other ways of earning income instead. 
It's not easy to answer these questions, so you might want to do a trial run first. This should help you build confidence that you are making the right decision. 
Once you decide that this is really something you can do, then you have to be committed to it for the long run. The next steps will take a lot of effort and incur additional expenses. 
Phase 3: Business Registration and Launch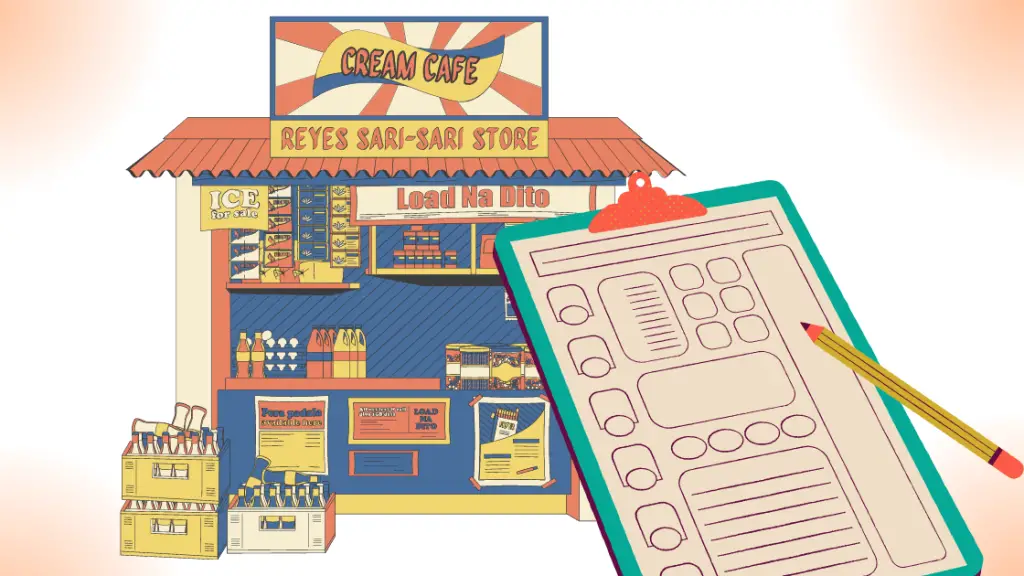 At this point, it's about time to turn your plans into a reality. To do that, you have to start your business right and work hard every day to earn enough to at least cover your business's expenses. 
A. Register Your Sari-Sari Store's Business Name
To start your business right, you have to register with the required government authorities. By registering properly, you can legalize your business and take advantage of government programs for micro and small businesses. 
Usually, the first step in the process is to register your business name. However, for sari-sari stores, this step is optional6 if you will just use your given name. 
However, if you want to use a business name, then you need to register with the government. You can just keep the business name simple such as combining "your name" with "sari-sari store". For example, "Lydia Bautista's Sari-Sari Store". 
For a sari-sari store, it's recommended to register as a sole proprietorship with the DTI. You can do this easily by visiting a local DTI office or one-stop shop. DTI registration is also available online. 
Please note that the fees you have to pay will depend on the business scope that you will choose. For sari-sari stores, you can just choose "Barangay" as the scope, so you only have to pay ₱200 plus a documentary stamp fee to register. 
B. Register With the BIR
Next, you have to register with the BIR by visiting the revenue district office (RDO) with jurisdiction over the city or municipality where your store will be located, or by using their online registration system. Note that you can do this at the same time as getting your business permit7 from your city or municipal office. 
Since you are a sole proprietorship, you have to fill up BIR form 1901. You can check your RDO code at our updated list. 
You can ask the BIR staff if there are tax exemptions for sari-sari store owners. If there are none, you can expect to pay the following: 
Annual registration fee (ARF): ₱500  
Documentary stamp tax: ₱15  
Certification fee: ₱15 
Registration of books of accounts: ₱800 
Sales Invoice: ₱30 
In total, you have to pay ₱1,360 to complete your registration with the BIR.  
Under the TRAIN law, you are exempt from paying taxes as long as your sari-sari store is not earning more than ₱250,000 annually8. However, you still have to file your papers monthly, quarterly and annually to comply with the required procedures. 
C. Get a Business Permit for Your Sari-Sari Store
Does a sari-sari store need a business permit? Yes. Sari-sari stores are considered micro-business and you will need to get a business permit as part of the government registration requirements. 
You can ask the staff at your local city or municipal hall if there are any exemptions for a sari-sari store business. However, if there are none, then you need to go through the regular procedures. 
Business Permit Requirements for a Sari-Sari Store
Barangay Business Clearance – you can get this from the barangay hall with jurisdiction over the place where your sari-sari store will be located. 
Community Tax Certificate (CTC) or cedula – you can get this from your city, municipal, or barangay hall. 
Photos of the exterior of your sari-sari store – applicants need to submit printed copies of these photos.  
Sketch or vicinity map of your store's location – you can also use a screenshot from Google Maps.
Original and a copy of your DTI Business Name Registration Certificate.
Copy of your contract of lease (if you are renting the location). 
How To Get a Business Permit for a Sari-Sari Store
Go to the municipal or city hall with jurisdiction over your place of business and obtain the official checklist of requirements for business permit application. You may use the above list as a reference but keep in mind that requirements may change without further notice, hence the need to verify it with the personnel at the city or municipal hall.
Get a copy of the business permit application form from the city or municipal hall. You may also get a copy of it online, if available.
Notarize your business permit application form. 
Submit the business permit application form along with the other requirements. 
Pay the assessment fee. 
Once everything is in order, the staff will tell you when you can claim the business permit for your sari-sari store. Just go back on the scheduled date. 
How Much Does a Business Permit for a Sari-Sari Store Cost?
It depends on the city or municipality. It varies wildly as it can cost anywhere from ₱300 to ₱5,000.  
Please note that the business permit is something that you have to pay for either quarterly or annually. So, make sure to consider that cost as part of what you need to cover with your sari-sari store's income. 
D. Set Up and Stock Your Sari-Sari Store
Once your government registrations are done, the next step is to actually set up your sari-sari store. It's also the time to buy the items on your product list so you can begin selling them to your customers. 
It's up to you if you want to spend money on construction to make your store look more appealing. However, you can always do it slowly and spend as you earn. 
There are a number of things you should do to optimize your sari-sari store's setup. These include: 
Ensure that the most popular brands and products are easy to see from far away. One trick you can use is by lining up the same or similar products like how they do it in a supermarket. This will improve the visibility of these products and will attract customers to your store. 
Ask your suppliers for posters, signs, and other things you can use to promote products. Place them where they can be easily seen. This will also help let your customers know that you are carrying those brands. 
Make it clean and organized. It's tempting to just place your posters and stock wherever there is space; however, people who are walking by won't know where to look if it looks cluttered from the outside. 
When organizing your sari-sari store's products, you should make it easy for you to get the earliest stock. The way you organize your products should follow the "First In, First Out"(FIFO) system. This means that you should always sell the stock that you bought earlier or has the nearest expiry date. 
Check with your local city or municipal office if you can get a license to sell regulated products, such as cigarettes and alcoholic drinks. 
You can also set up your store as a gathering place for people in your community by adding chairs or tables. This can be beneficial in attracting customers. However, you should be careful that it doesn't attract a bad crowd, such as drunkards, that could scare off your other customers. 
E. Open and Run Your Store
After setting up your store, you can now open it and start selling your stock. Don't expect to be successful overnight. There's still a lot more work to do to make your sari-sari store profitable, including: 
You should decide on what your opening and closing times are according to the foot traffic in your sari-sari store's location. 
Remember, a customer with a good experience has a higher likelihood of coming back to your store. So, try to build a good relationship with your customers as much as you can. 
During times when there aren't many customers, you can keep yourself productive by doing online marketing, organizing your stock, or updating your records. 
For now, just do things slowly so you don't overwhelm yourself. After you get a feel for running the sari-sari store, the next thing you should aim for is to reach your sari-sari store's breakeven point. 
The breakeven point is when "You are selling enough to cover your business's expenses". This should be your very first monetary goal. You should cover everything that you've spent so far, including the government registration fees. 
In order to do this, you have to work hard in the next steps. 
F. Maintain a Strict Record of Your Inventory and Sales
One of the most common reasons that sari-sari stores close is because of bad inventory management. Just one product that expires, becomes damaged, or gets lost can lead to a day's worth of income disappearing.  
This is why you should be very very strict in managing your inventory. 
For a sari-sari store business, proper inventory management involves the following:
Make sure to record everything, from the inventory to the cash, coming in and out of your sari-sari store. You can use a computer, phone apps, or a ledger for this. 
With a proper record, you can see which products are selling faster than the others. This way, you can plan and stock your store accordingly. Your goal is to avoid any "out of stock" issues when your customers drop by to shop. 
Always keep track of expiry dates. As mentioned before, when selling your stock, make sure to sell the ones you bought earlier or have the nearest expiry date first. 
Store your products properly. You want to keep them away from excessive heat, pests, and theft. 
Never get any product from the sari-sari store without paying for it. It's true that you own the stock, but you should separate the sari-sari store's finances from personal use. Make sure your family also abides by this rule. 
Never sell on credit. "Palista" is the enemy of small businesses like the sari-sari store. Debts can not only wipe out your income but also lead to the closure of your business. 
Below is a sample inventory and sales record. We've also created a FREE inventory and sales record template that you can download to make your own. 

It might look complicated at first but once you get the hang of it, it becomes much easier. Let's break it down into smaller parts.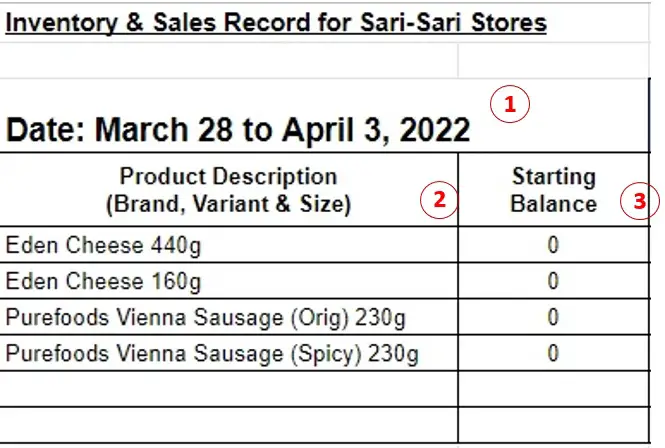 Step 1: Write down the period of time that the inventory and sales record will cover. It can be daily, weekly, or monthly depending on your needs. Since you are just starting out and don't have much sales volume yet, "weekly" is a good starting point. You can do "daily" once your sales have increased significantly. 
Step 2: List down all of the products that you will have for sale. Make sure to include details such as their brand, variant/flavor, and size. If you are selling items in "tingi", then what you will write is the size in "tingi". 
Step 3: Write down the starting quantity of your products. Since you just opened, the starting quantity for all your products is zero. After the week is finished, create a new record where your starting quantity is how much of each product you have at the end of the week.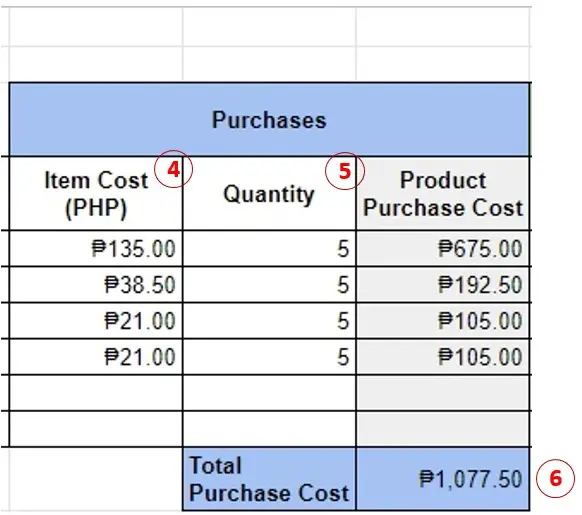 Step 4: List down the cost of each product that you stocked. If you are selling it in "tingi", you write how much it cost you per piece. 
Step 5: Write the quantity of each product you stocked. 
Step 6: The template will automatically compute how much was spent on each type of product. This is the quantity multiplied by the item cost. At the bottom, you'll see the total purchase cost. This should be equal to the amount shown on the receipt from your shopping trip.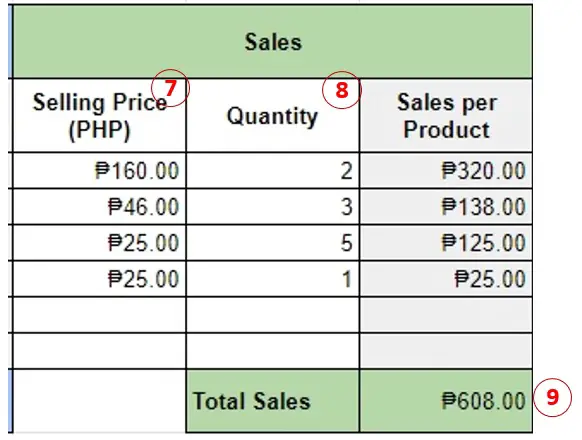 Step 7: List down the selling price for each item you have. 
Step 8: As you run your store, you can write down how much you've sold of each item in this column. If you find it difficult to update while running your store, you can always just write it down on paper first and transfer it to the template at the end of each day. 
Step 9: As you update your sales, the template will also automatically update how much your sales are for each item. You'll find the total sales for the period at the bottom.

Step 10: In 'Bad Stock', input how many of each type of product got damaged, went unpaid, or got lost. 
Step 11: This part is automatically updated as you input the quantity of your sales and bad stock. Here you'll see how much of each product that you should still have on hand. Make sure to check every day if your records match the real-life scenario in your store. 

Step 12: Once the week has ended, you just need to copy what you've made so far and change the date for the next week. You can copy the product description, item cost, and selling price. However, you need to remove the quantity to have a clean record for the week. If you are purchasing a new product, simply add a new row to the product description. 
Step 13: Lastly, you need to copy the 'Current Stock on Hand' from the previous week and make it your new starting balance. 
As you've seen from the example above, it takes a lot of effort to strictly maintain your inventory and sales record. However, seeing the numbers makes you understand the value of each of the products you sell. That's why everything in your inventory should be taken care of properly. 
G. Promote Your Store Locally & Through Your Network
Once you are open, you can freely promote your business. There are many ways to do this, and you can be as creative as you can. 
Here are some ideas: 
Visit your neighbors and share the news. If you did your research properly, you should already know what products they would be interested in. Tell them that you have those products available if they ever need them. Don't give out free stuff though, they might take it for granted. 
Join social media groups or chats for your subdivision or area. You'll usually find these on Facebook. You can announce that your store is now open, and you can also post updates like telling them about any new products that you carry. 
Ask your barangay hall if there are any local events coming up. You might be able to find an opportunity to promote your sari-sari store there if they will also allow you to sell your stock during the event. 
It might be hard to find time to do promotions especially when you are running the store at the same time. However, during times when there aren't many customers, you can use the time to promote yourself online. 
H. Decision Time: What Should You Change To Make Your Sari-Sari Store Profitable?
After a few months of running your sari-sari store, you should be able to determine if your plan is working or not. If the plan isn't working, it's time to take a moment and evaluate what you are doing. 
Check your numbers. Are there areas in your sari-sari store's operation that you should adjust? 
If you think that your margins are too low, you can raise your prices. But if that isn't an option due to the competition, then you can try lowering your costs by finding new suppliers or buying in bulk. 
Are your products selling slowly? You should check if the products you are carrying fit the needs of your customers. You can also promote yourself more or check if your opening time matches the time when there is high foot traffic. 
Do you have any products that go bad or get lost? You should be stricter in your inventory management. 
Are customers coming back to your store? If not, then you should find out why and solve that problem before it's too late. 
Here's an example of an adjustment you can learn by checking your numbers: 

In this example, the original flavor of the Vienna sausage is outselling the spicy flavor. It's quite possible that your customers prefer the original flavor. If that's the case, then the adjustment you should make is to stock less of the spicy variant. 
However, maybe the reason is that they don't see the spicy variant on your shelves and that's why they don't purchase it. If that's the reason, then you need to make sure that the spicy variant is visible in your sari-sari store. 
Here's another example. 

Above, you can see that the records show one bad stock of a high-value item that costs ₱135. Since you can no longer sell that product, it's a huge loss for your sari-sari store, especially with your low margins. Find out why it happened and make sure to learn from your mistakes. 
These are just some examples of what you can encounter. There are many other scenarios where the numbers will show problems in your store that you can make adjustments to. 
Remember, your first goal for this phase is to sell enough to cover your expenses, from the cost of products to the government fees. Once you reach that goal, then you can start expanding and thinking about increasing your profits. 
Phase 4: Growing Your Sari-Sari Store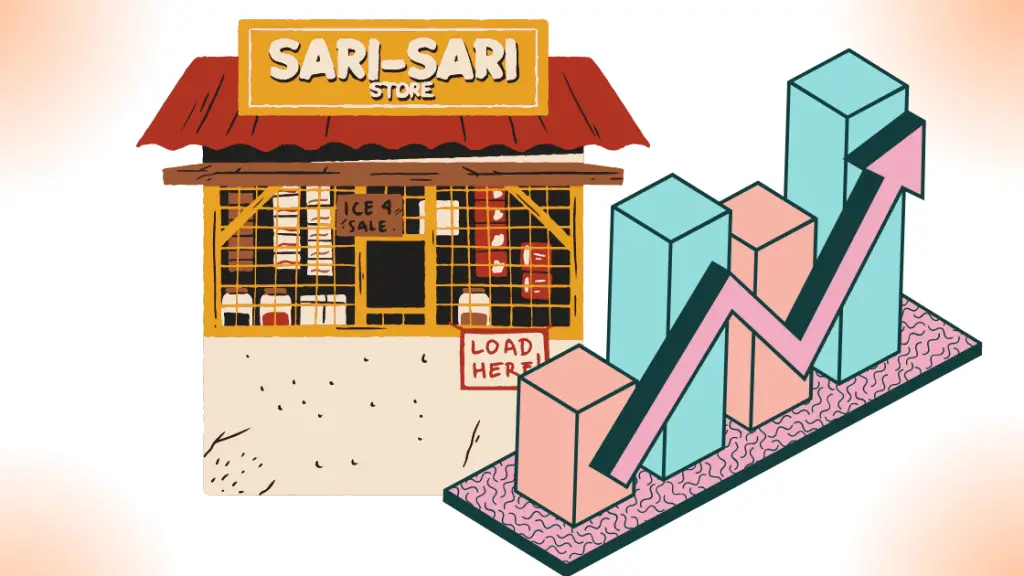 After reaching the breakeven point in the previous phase, it's now time to grow your sari-sari store and earn larger profits. 
Once you're in this phase, you'll probably have a better idea of what works or what doesn't work in your community. In phase 4, you need to use everything you've learned to reach the goal you've set from the very start. 
A. Break Down Your Goal Into Smaller Goals
If you have just reached the breakeven point, it's hard to believe that the goal of "I want to earn ₱10,000 a month through the sari-sari store" will ever come true. 
That's why it's a good idea to break down your big goal into smaller goals. For example, a ₱10,000 a month goal can be broken down into: 
₱2,500 after 3 months 
₱5,000 after 6 months 
₱7,500 after 9 months 
₱10,000 after 12 months 
It's up to you how you break down your goal. However, make it realistic by using the data from your records. Once you have your smaller goals listed down, you can continue to make the adjustments you've learned from the previous phase to make your store more profitable. 
B. Expand Your Sari-Sari Store
To get closer to your goals, you may want to start exploring ways how to expand your sari-sari store. You can get as creative as you want, as long as you think of your customers first. 
Here are some ideas: 
Expand your product range if you think there are products that your customers would buy that you do not carry yet. For example, if there is a substantial increase in the number of babies in your community, you might want to start carrying diapers. 
Expand the size of your store if your customers are doing most of their grocery shopping with you rather than going to supermarkets. Just be careful not to overstock. 
Expand the reach of your store by offering delivery to customers who live farther away. Only offer this if you can make time for it. Set a clear set of rules so your customers' expectations match your capabilities. 
Consider adding a "pabili" or personal shopper service. If you have customers in your area who are always busy and don't have time to shop for groceries themselves, then they might be interested in a "pabili" service. You can just charge a premium for it and do it at the same time you buy stock for your sari-sari store. 
Just a word of warning. Sometimes you can get too excited about trying out new ideas that you push to do them without considering the cost. Whenever you have an idea, sit down first and write down its advantages and disadvantages. This way, you can make an informed decision. 
C. What Success Looks Like for a Sari-Sari Store
It is up to you to say what success looks like for you based on the goal you've set at the start. If you think the profit you are earning is worth the time and effort that you've put into the sari-sari store then continue to work hard to grow it. 
Based on the examples we've used so far in this guide, success looks something like what's shown below: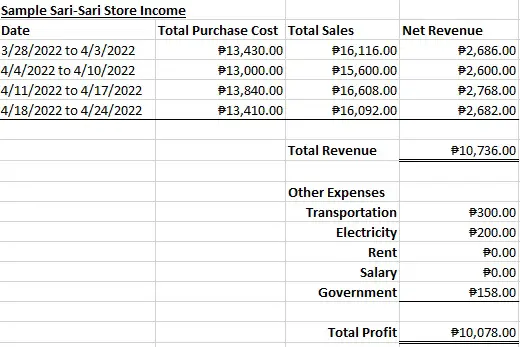 Their total profit for one month meets their ₱10,000 a month goal. 
Their sales amount to about ₱16,000 per week which is about ₱2,286 per day. With a 20% margin, this amounts to around ₱2,600 net revenue per week or ₱372 net revenue per day. 
After subtracting the other expenses, then they are left with a ₱10,078 profit for the month. They can then use this profit to grow their store further or withdraw it for personal use. 
For you, the number might be different, but as long as it's a goal that you came up with carefully, then you should consider it a success once you've reached it. 
D. Decision Time: Should You Continue Running Your Sari-Sari Store?
If you are successful, then definitely. If something has changed in your life, then you might want to make adjustments. For example, if you don't have as much time as before, then you can either hire a part-time employee or change your opening times. 
If you can't make your sari-sari store profitable, don't give up too soon. Exhaust every option that you can to make it work. 
However, if you've rechecked and adjusted everything that you can about your sari-sari store's operations and you still can't find any way to make it work, then there's no shame in cutting your losses and closing it down. 
Take a break and take care of yourself. The effort you've put into your sari-sari store wasn't a waste. Everything you've learned and experienced so far will be something you can use for a future business. 
Tips and Warnings
1. Separate your sari-sari store money from personal use
This also means that if you need an item from the sari-sari store then you also need to pay the store for it, even if you own it. It might be tempting to get what you need for the store at any time, but this is a bad habit that can lead to your store losing money. 
2. Remember: Never sell on credit
Since you are selling to people you know, such as your neighbors, they might be tempted to pay through "palista" or credit. However, with a sari-sari store's low margins, one bad debt may mean you lose a day or even a week's worth of profits. 
3. For sari-sari stores, success is making your customers feel that it is convenient to shop with you.
In cases where you don't have a product that a customer is looking for, never say "we don't have it", just say it's "out of stock". Then, assure your customers that you will have it on the next stocking day.  
4. Salesmen will sometimes visit you to push you into carrying their products in your store. Try to negotiate a good deal for your store.
Ask for discounts, posters, equipment, and other things that can help sell their products. If their products need to be kept in refrigerators, make sure to take electricity costs into account. You can always decline to carry a product if you don't think you are getting a good deal. 
5. Don't stop trying to find more ways to reach more customers.
Since a sari-sari store is a low-margin business, you have to increase your sales volume as much as you can. 
Frequently Asked Questions
1. Is running a sari-sari store still profitable?
Yes, a sari-sari store can still be profitable. However, because the margins are so tight it doesn't leave much room for error.  
Success is different from person to person. So, it's up to you what level of profit can be considered enough for your needs. If you have a goal that can't be met by a sari-sari store's income, then it might not be worth it for you to run a sari-sari store business at all. 
Related: 100+ Best Franchise Business Opportunities For Every Budget
2. How much does it cost to start a sari-sari store?
Sari-sari stores cost differently depending on how much inventory you want to carry, if you plan to rent and build a space, and if you hire employees. It can cost as little as ₱3,940 and can go up to six digits depending on how much you invest in it. 
Here's a list of costs that you can expect: 
Inventory Costs: ₱2,000 to ₱30,000+ 
Transportation: ₱50 to ₱300+ 
Rent: ₱0 to ₱10,000+
Construction:  ₱0 to ₱30,000+
Salary: ₱0 to ₱10,000+ 
DTI Registration: ₱230 
BIR Registration: ₱1,360 
Business Permit: ₱300 to ₱5,000 
Note that this does not yet include any operational costs that you might have, such as electricity or water utilities.
References