Last Updated on
OFWs with OEC exemption are not required to get an OEC and pay the POEA processing fee.
If you get this exemption, the processing of your OFW documents at the airport before your departure will be faster.
Related: How to Get Overseas Employment Certificate (OEC) Through BM Online
Who can get OEC exemption?
Only balik-manggagawas who meet ALL the following requirements can be exempted from securing an OEC:
Has a valid work visa/work permit
Returning to the same employer and job site
Has a record in the POEA database (has been issued an OEC before)
Hired through the POEA Government Placement Branch and satisfy all the three criteria above
How to get an OEC exemption number.
To avoid inconvenience at the airport during departure, exempted balik-manggagawas are still required to get an exemption number from BM Online. This allows the POEA to validate if the OFW is really exempted from getting an OEC.
If you're qualified for OEC exemption, here are the steps to get a Balik-Manggagawa Exemption Number.
1. Log into the BM Online System.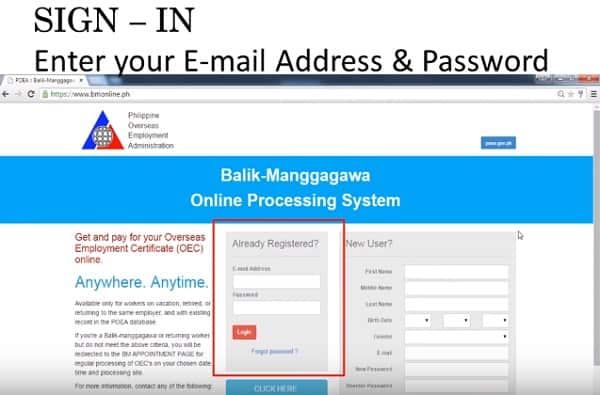 On the Already Registered box, enter your email address and password. If you are not registered yet, click here for the instructions on creating a BM Online account.
After logging in, enter your last issued OEC number. If the system finds no record in the POEA database (which means you're not exempted), you'll have to set an online appointment for regular OEC processing. Click here for the steps to set an OEC appointment.
2. Update your profile.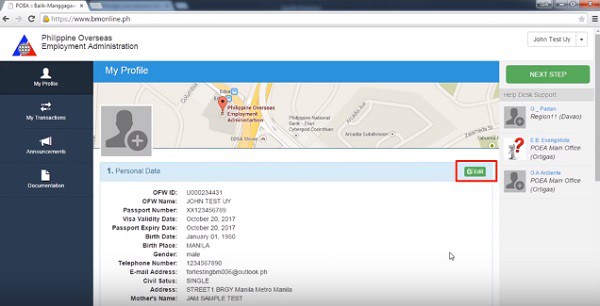 If your record is found, you'll be directed to the My Profile page. Update your personal data, job contract information, and beneficiaries.
The BM Online system will transmit your records to the Bureau of Immigration, which the Immigration officer will refer to when validating your OEC exemption during your departure.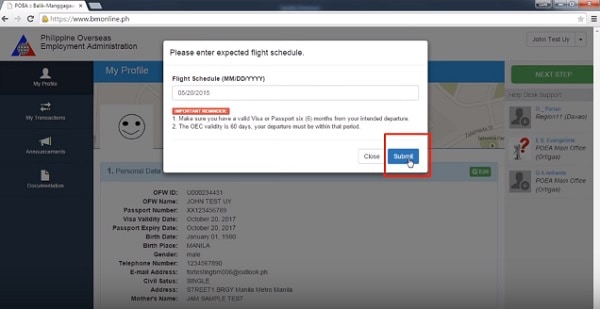 Enter your flight date (in MM/DD/YYYY format) and confirm if you're returning to the same employer and job site.
4. View your BM Exemption Number.
A message confirming your OEC exemption with a BM Exemption Number will appear. Your exemption number is transmitted to the Bureau of Immigration, proving that you're exempted from getting an OEC.
On your departure date, just go directly to the airline counter at the airport to check-in.
Then proceed to the Immigration counter and present your passport and work visa/work permit. No need to go to the POEA Labor Assistance Center at the airport for revalidation of your OEC exemption.
If your work visa doesn't have your employer's name, present a valid employment contract/certificate/ID or latest payslip that states the employer name.
Go back to the main article: BM Online System: An OFW's Complete Guide to Getting OEC
Frequently Asked Questions.
About the Author.
Venus Zoleta is an experienced writer and editor for nearly 15 years, covering topics on personal finance, travel, government services, and digital marketing. Her background is in journalism and public relations. In her early 20s, she started investing and purchased a home. Now, she advocates financial literacy for Filipinos and shares her knowledge online. When she's not working, Venus bonds with her pet cats and plans her next travel adventure.