If you're not qualified for online OEC processing and exemption, you must use POEA's online appointment system.
People who are not qualified for online OEC processing include:
OFWs who changed their employer
OFWs who changed their job site
OFWs without existing BM Online or POPS-BaM records
OFWs without a valid work visa/permit
In the online appointment system, you choose your preferred date, time, and location to do your regular OEC processing with the help of a government worker at a POEA branch or the Philippine Overseas Labor Office (POLO).
Table of Contents
How To Set an OEC Appointment Through POPS-BaM
POEA Online Processing System for Balik Manggagawa or POPS-BaM is POEA's new system that will replace BM Online. It has the same functionalities but has been rebuilt from the ground up to have fewer bugs and errors. 
If you have an existing BM Online account, you can transfer it to POPS-BaM using this guide. To set an OEC appointment through POPS-BaM, follow these steps: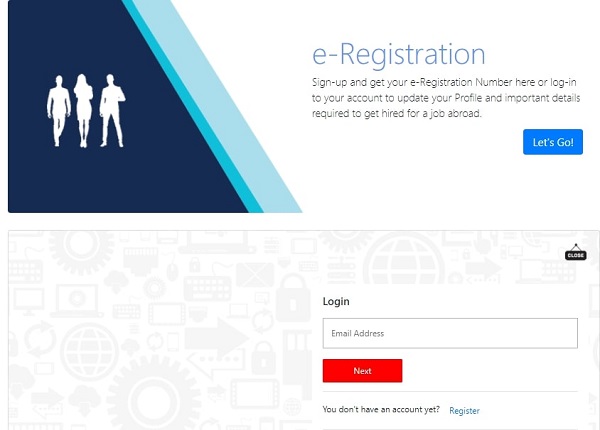 If you don't have an existing account yet, you can follow this guide on registering.
2. Make sure all of your details are updated on your My Profile page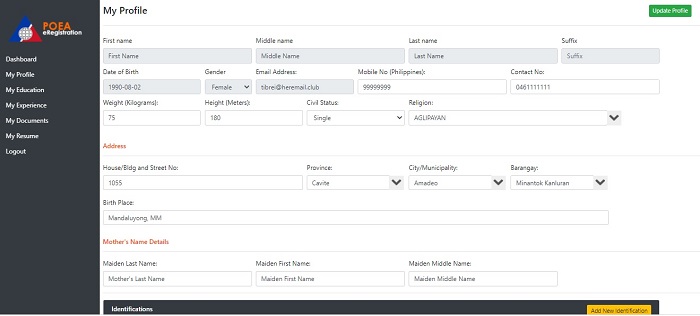 This includes your details, passport details, and beneficiary details.
3. Go back to the dashboard and upload your professional profile photo and passport photo according to the guidelines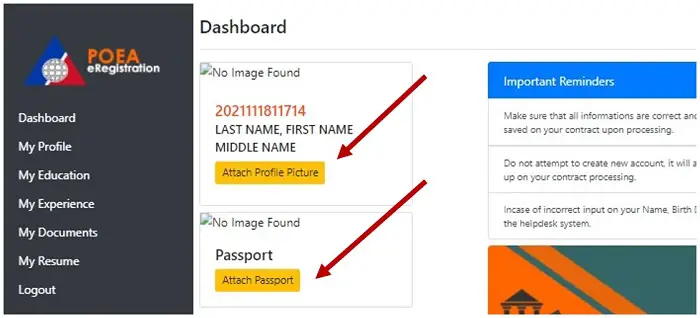 4. Click on the 'Balik Manggagawa' link on your dashboard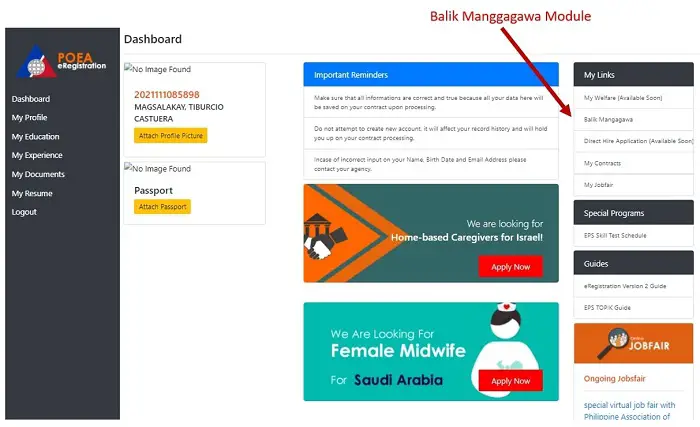 If your details are complete, you should get four green thumbs-ups (see the image below).

Click on the Next button to proceed.
5. On the next page, enter your flight date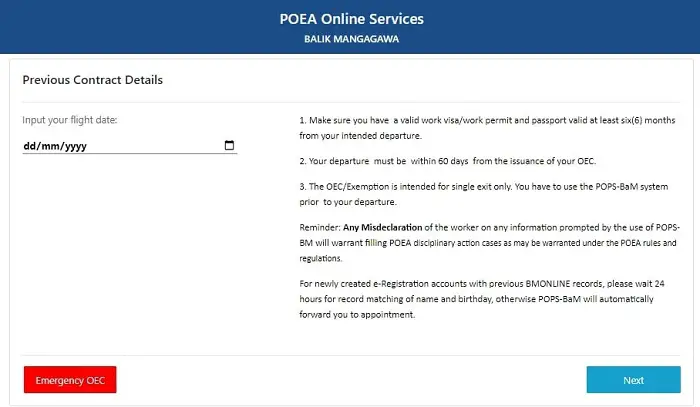 Don't forget to read the reminders before clicking on the Next button.
6. On the contract details page, enter the details of your arrangement with your foreign employer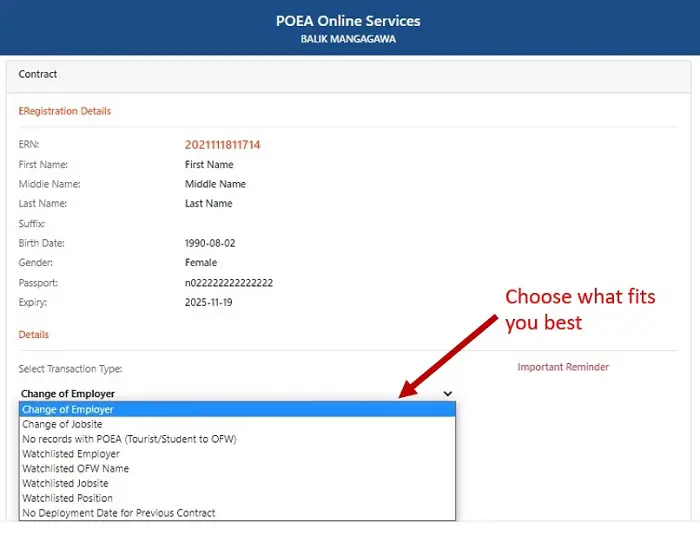 People who need to set an online appointment are typically OFWs who have
No existing POEA records;
Changed employers; or
Changed job sites.
Choose the transaction type that fits best with your situation.
After providing the details of your contract, click on the Submit button.
7. Choose the nearest location for your appointment on the drop-down menu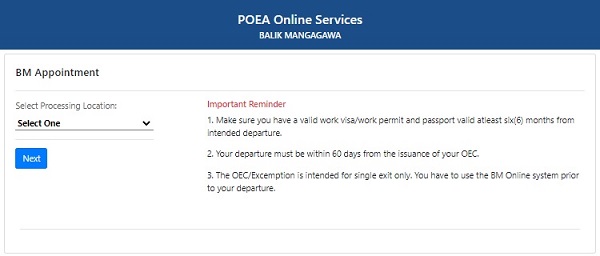 Make sure to read the reminders before proceeding to the next section.
8. Select your appointment date and time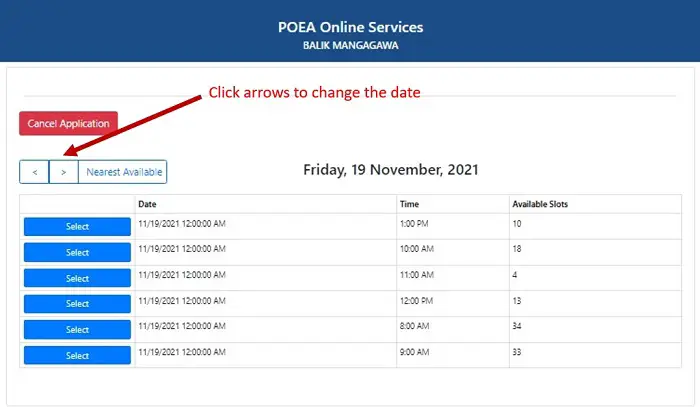 You can change the date by clicking on the arrows. Note that there are no appointment dates on weekends.
Make sure to choose a date and time that you are sure you can attend. To proceed, click the Select button on the same row as your chosen date and time.
9. Review the details of your appointment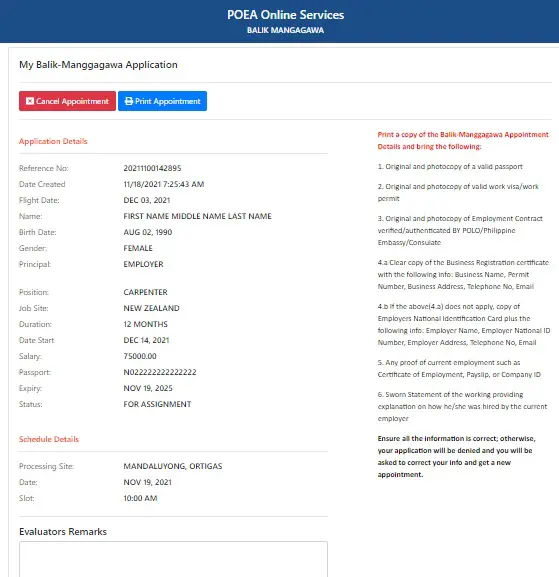 If you find incorrect information, click Cancel Appointment and repeat the steps.
If everything is correct, you should click Print Appointment to print a copy of your appointment details, which you will bring on the day.
How To Set an OEC Appointment Through BM Online
UPDATE: As of June 30, 20216, if you don't already have an existing BM online account, you must use the POPS-BaM system to schedule your appointment. Proceed to the next section of this page for a guide on how to schedule an appointment through POPS-BaM.
Here's how to set an appointment through BM Online:

Access the BM Online system.
Under "Already Registered," enter your email address and password. Click the Login button.

At the bottom of the OEC Number Verification pop-up, click the link for the appointment setting

.

Upload your latest photo

.

Fill out the My Profile page with the required information.

Click the Acquire OEC or Exemption button.
Enter your expected flight schedule (in MM/DD/YYYY format). Click the Submit button.
You'll be taken to the Select Locations page. Click the drop-down menus to choose your preferred POEA or POLO location and branch for OEC processing. Click the Next button.

A calendar will be displayed where you can view available slots in your chosen location. Click on your preferred date and time.

A Schedule Details pop-up will show. If you're okay with the schedule, click the Set Appointment button.
 Click My Transactions on the left side. Under the Appointments tab, you'll see your confirmed appointment schedule.
 Click the Print Info Sheet button. This will take you to your Online Appointment Information Sheet.
 Click the Print Appointment button to print your appointment form.

 Put your printed name and signature at the bottom of your printed appointment form.
Related: How to Get OEC Exemption Online: An Ultimate Guide for OFWs
OEC Appointment Requirements: What To Prepare for Your Scheduled Appointment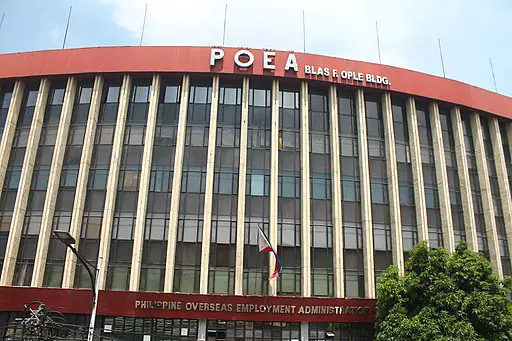 When you visit your chosen POLO or POEA office on your appointment schedule, proceed to the OFW Green lanes and submit the following OEC requirements:
Printed BM Online or POPS-BaM appointment sheet 
Original and photocopy of passport valid for six months from the departure date
Original and photocopy of valid work visa, work permit, alien resident certificate, or any equivalent document
Original and photocopy of valid employment contract verified/authenticated by the POLO/Philippine Embassy/Consulate
Clear copy of your employer's business registration certificate with the following info: business name, permit number, business address, telephone number, and email
If the employer has no business registration certificate, a copy of the employer's National Identification Card plus the following info: employer name, employer national ID number, employer address, telephone number, and email
A sworn statement explaining how your foreign employer hired you
For OFWs returning to the same employer: Proof that you're returning to the same employer (e.g., valid company ID, latest payslip, or current certificate of employment)
For OFWs with existing POEA records and returning to the same employer but a different country: Letter from the employer confirming the transfer of job site
For OFWs who are not yet registered with the POEA or who changed their employer on-site: Sworn statement/Affidavit explaining how you're hired by your current employer (Check sample affidavit here)
Tips and Warnings
Schedule your OEC appointment less than 60 days before your departure date. An OEC is only valid for 60 days and can only be used once. Your OEC may expire before your flight if you get it too early.
Make sure your profile photo is updated. It may have been a while since you came home to the Philippines. You should update your profile photo to prevent inconveniences during your OEC appointment day.
You don't have to set an appointment if you're qualified to get an online OEC. Qualified OFWs are those who: a) have a valid work visa/permit, b) will be returning to the same employer and job site, and c) have existing POEA records. If you meet all these qualification requirements, the system will give you a printable version of your online OEC instead of asking you to set up an appointment.
Frequently Asked Questions
Go back to the main article: An OFW's Complete Guide to Getting an OEC through BM Online or POPS-BaM
References