Transacting in an SSS office is like traversing EDSA during a rush-hour—waiting takes forever. Although the actual transaction gets done in just a few minutes, standing in long lines usually takes longer than an hour.
Unless you have an endless supply of patience and a lot of time to waste, please take advantage of the online services through the My.SSS portal to transact with the SSS within minutes. To access this portal, you must register your SSS account online first.
Here's how to register SSS online to help make the account creation process smooth and hassle-free.
READ: How to Compute and Check Your SSS Contribution Online: An Ultimate Guide
Table of Contents
What Is My.SSS Portal?
My.SSS is an online service portal3 that enables members and regular/household employers to access their records and perform various transactions with the SSS.
Through this portal, members can easily set an appointment with their SSS servicing branch, apply simple corrections to their membership data, and generate their Statement of Account (SOA), which contains the PRN needed to pay contributions or loans. Employers can likewise access their My.SSS accounts to generate the Contributions Collection List containing the PRN required to pay their employees' contributions.
To access My.SSS, however, members and employers must first register and create their User ID and password, which we'll discuss later in this guide.
Here's a brief timeline of how the My.SSS portal has changed over the recent years:
In August 2018, the SSS released an updated version called the My.SSS Beta Portal or SSS Member Portal. The new portal has nearly the same features as the old one, but it has an improved mobile-friendly design so that users can access their accounts on smartphones and tablets.

Despite having a new portal, the SSS still kept the old one. Members used to have the option to use whichever they preferred. You could use the same username and password for either of the two. 

As of 2020, however, the two SSS portals have been merged to avoid confusion and to streamline all SSS online activities. You can now access the new and improved My.SSS through the official SSS website. The new My.SSS portal is compatible with various browsers (Google Chrome, Safari, Mozilla Firefox, Opera Mini, etc.), unlike the old portal that supports only Internet Explorer version 11.
Who Can Register at My.SSS?
1. SSS members
Employees (including kasambahay), self-employed, voluntary, OFW, and non-working spouse members who meet the following requirements can create an online SSS account:
At least one-month posted contribution

Valid SSS number

Valid date of coverage (the month and year when the SSS coverage started,

i.e., when the employer reported the employee for coverage or when the member first contributed

as a self-employed/non-working spouse/OFW member)
Note: Employed members who recently separated from their employers but haven't paid any contribution as voluntary or self-employed members must follow the last update on their SSS membership. In other words, they will register as an employed member and input the Employer ID of the previous employer who reported them for coverage. They can only update their membership category to voluntary upon payment of their first contribution.
2. Business/Regular employers
Companies and non-profit organizations can get an SSS online employer account if they're registered in the SSS as an employer member.
3. Household employers
Household employers who hire at least one house helper can register online if they meet the following requirements:
Valid SSS number

Reported for coverage either as an employed, self-employed, voluntary, non-working spouse or OFW member

At least one-month posted contribution
Why Register for an Online SSS Account?
Simple: it's for your convenience.
An online account saves you much time and effort when transacting with the SSS. No need to take a leave to spend an entire day at the SSS office. No more enduring the long queues for hours on end. No more endless dialing on the phone as you try to get through the busy SSS hotline.
You can quickly transact with the SSS anytime and anywhere, as long as you have a computer or handheld device and internet access.
To access the My.SSS portal, however, members and employers must register and create their accounts first. Registration ensures that their information will be secured and protected from identity theft. Members can designate their User ID and then set their preferred password upon successfully registering and activating their accounts. On the other hand, employers can also designate their User ID but not their password. Instead, a user-generated password will be sent to their email after a successful registration.
1. SSS online services for members
SSS members can do the following using the new SSS online Member Portal:
View SSS membership details (SSS number, date of coverage, coverage status, etc.)

Check SSS contributions and employment history

Request records such as Personal Record (Form E-1), Member Data Change Request (Form E-4), Self-Employed Data Record (RS-1), Non-Working Spouse Record (Form NW-1), and Overseas Worker Record (Form OW-1)

Set an appointment with an SSS branch for transactions that can't be done online (UMID card application, update membership details, etc.)

Apply for retirement benefits

View loan information and status

Submit maternity notification (Available only to self-employed, voluntary, OFW, and non-working spouse members. For employees, their employers must file it online.)

Update your contact details and mailing address
2. SSS online services for employers
It's easy to complete the following tasks online if you have a My.SSS employer account:
Check your SSS membership records, paid contributions, remitted loan repayments for your employees, and sickness and maternity reimbursement claims

Submit your employment report form (Form R-1A), contribution-collection list (Form R-3), and loan collection list (Form ML-2)

Submit maternity notifications for your employees

Certify your employees' salary loan applications
How To Register With SSS Online as a Member
Whereas the SSS online registration under the old system could be done either through the old or new portal, the same process can now be completed through a single portal–the new and improved SSS website. The two portals have been merged to avoid confusion and to streamline all SSS online activities.
This guide will teach members how to register online via the new My.SSS portal.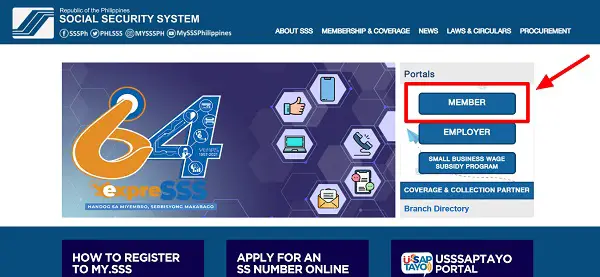 Upon landing on the page, you will have three portals: Member, Employer, and Small Business Wage Subsidy Program.

Since you're only a regular-paying member who doesn't own a registered business, select Member.
2. Click the registration link on the SSS Member Login page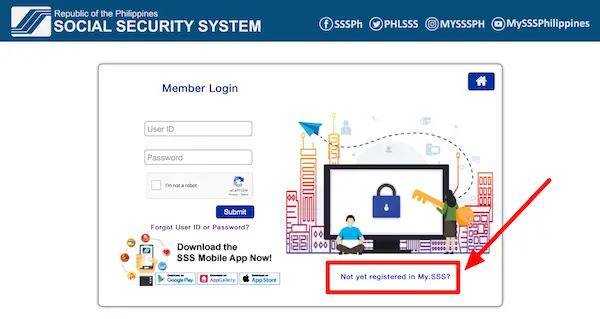 If you haven't registered your SSS account online yet, find the link that says Not yet registered in My.SSS? at the bottom of the SSS Member Login page.
Click the said link to proceed with the online registration.
3. Fill out the SSS Online Member User ID Registration form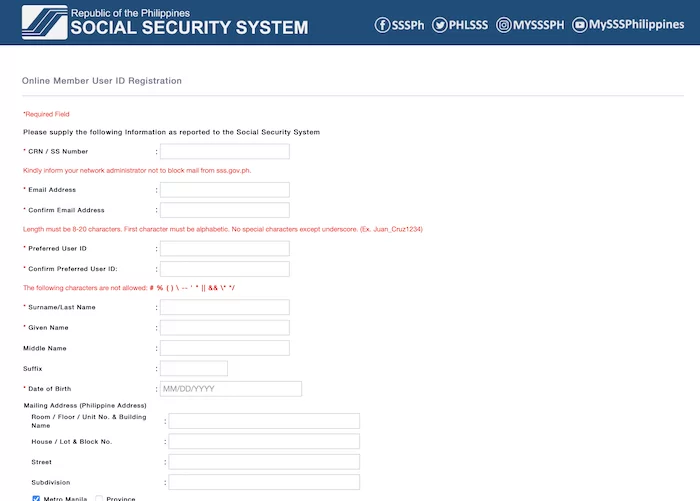 Provide the following information completely and correctly:
CRN/SS Number. The 12-digit CRN is the Common Reference Number found on your UMID card. If you don't have this ID card yet, enter your 10-digit SSS number found in the upper right corner of your Personal Record form (E-1)—with no space or hyphen (-).
Email address. Provide an active and valid email address you've never used to register at My.SSS. Re-enter your email address in the following field, Confirm Email Address. If the system doesn't accept it, provide a different email address, or create a new one. Enter an email address created via yahoo.com, gmail.com, or hotmail.com. If you're using an email address from another provider, make sure to inform the network administrator to whitelist or not block any email from sss.gov.ph
User ID. You'll use the User ID to access your SSS online account. It should have 8 to 20 alphanumeric characters (a combination of alphabets and numbers), with the first character being an alphabet. Special characters are not allowed, except for underscores (_). Re-enter your user ID on the next field to confirm it.
Complete name. The fields designated for your name don't allow the following special characters: # % ( ) \ — ' " || && \* */. As for the middle name, you can leave it blank if you don't have one.
Date of birth. Your birthdate should follow the MM/DD/YYYY format (e.g., 08/09/1992). Choose it from the drop-down menu instead of manually typing it.
Mailing address (Philippine address). If a particular field is not applicable (i.e., you don't live in a subdivision or condominium), leave it blank. Depending on where you reside, you can tick the box corresponding to either Metro Manila or Province. If you select Metro Manila, you'll then be asked to choose your city/municipality and barangay from the drop-down lists provided. If you select Province, you'll be asked to choose the name of your province, city/municipality, and barangay from the drop-down lists provided. There is no need to input your postal code, as it will be automatically generated after selecting your province, city/municipality, and barangay.
Foreign mailing address (if applicable). If you're currently based abroad, you can also opt to provide your foreign mailing address. Enter your address, city, ZIP code, and current country of residence.
Registration Preference. Choose one personal information you reported to SSS to proceed with the online registration. You'll be asked to choose from eight options. Click the one familiar to you to which you can provide the requested information. Here's a summary of the available options:

Savings Account Number – This applies to SSS pensioners. Enter the bank account number (must be registered in the SSS) you're using to receive your monthly pension. It can be a Citibank cash card, UnionBank SSS Quick Card, or UMID-ATM savings account number.
Mobile Number Registered in SSS – The cellphone number you registered in the SSS (not necessarily your current mobile number). Find it on your E-1 form or the latest Member Data Change Request form (if you've updated your member records).
UMID Card – Provide either your PIN code (which you got when you activated your UMID card in the SSS Information Terminal at an SSS branch) or your mother's maiden name (as indicated on your birth certificate).
Employer ID Number / Household Employer ID Number – If you can contact one of your previous employers, ask HR for the SSS employer ID number. Meanwhile, if you're a kasambahay, you may enter your boss's employer ID number instead.
Paid Payment Reference Number / SBR No. / Payment Receipt Transaction Number – Get this info from the latest official receipt when you paid your SSS contribution as a self-employed, voluntary, non-working spouse, or OFW member. Alternatively, you can provide any receipt number on the special bank receipt or the Contributions Payment Return (Form RS-5) paid within the past six months.
Date of Loan with Existing Loan Balance – If you have an existing SSS loan, indicate the exact date of the loan in this format: MM/DD/YYYY.
Transaction Number shown in your Personal Record/Unified Multi-Purpose ID (UMID) Application (E-1/E-6) – You can provide this information if you applied for an SSS number online from December 10, 2020, onwards.
Check Number – If you're a member receiving your monthly retirement or disability pension benefit through a check, you can find this information on the check itself.
Review all details and make any necessary corrections. When you're done, tick the boxes next to I'm not a robot and I accept the Terms of Service at the bottom of the page.
Finally, click Submit.
4. Check your email for the notification from SSS, then click on the activation link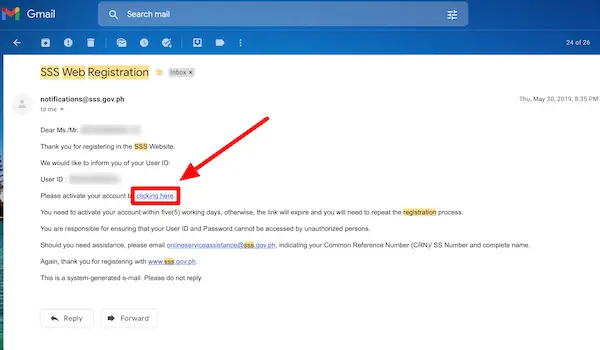 Check your inbox within 30 minutes after your registration.

You should receive a message with the subject line SSS Web Registration from [email protected]. If the message doesn't arrive, look for it in your Spam or Trash folder.

Once you receive the message, activate your SSS online account using the link.

To activate, click the hyperlinked word clicking here below your user ID.
The activation link will expire after five working days. If you activate too late, you'll have to start over.

Take note that only your user ID will be emailed to you. You'll have to set your password on your own by clicking the activation link from the SSS.
5. Create your password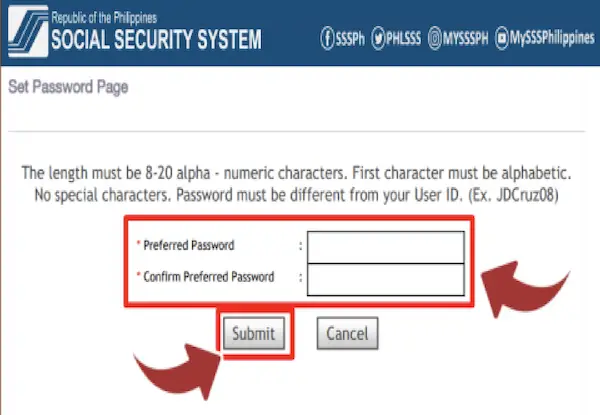 You'll be directed to Set Password Page upon clicking the activation link.
Before setting your preferred password, you'll be asked to enter the last six digits of your CRN or SSS number. This additional layer of security ensures no unauthorized user can set your password and gain access to your account.
Click Submit.
You can now set your preferred password that meets the following requirements:
Eight (8) to twenty (20) characters consisting of alphabets and numbers
It starts with an alphabet
No special characters (asterisk, exclamation point, percent, etc.)
It must be different from the user ID
Enter your password and type it again in the following field to confirm it.
When you're done, click the Submit button.
6. Proceed to SSS Member Login
Go to the SSS Member Portal and log in with your user ID and password.

You can now explore the various features on the portal, such as your membership information and contributions.
Related: How to Reset Password in SSS if Forgotten or Lost (Member Account)
How To Register With SSS Online as an Employer
The SSS online registration procedure for employers is different from individual members. Here are the steps to create an online account if you're an employer: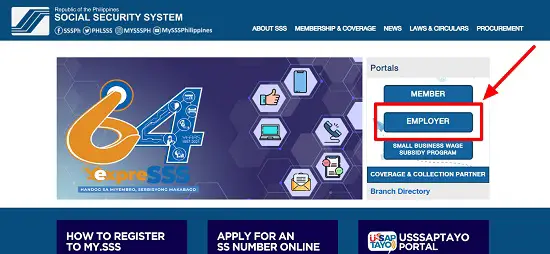 Since you'll register as an employer, click on the Employer portal.
2. Click on the registration link that corresponds to your employer category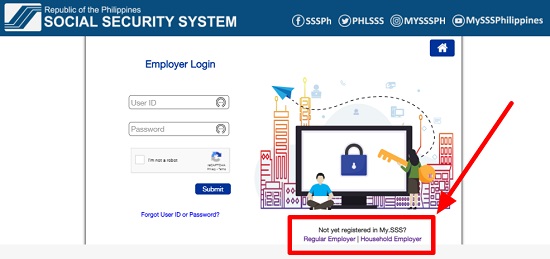 You can find the registration links at the bottom of the Employer Login page, just below the text that says Not yet registered in My.SSS?
Choose between Regular Employer and Household Employer. Regular employers are those who run registered businesses, while household employers, as the name suggests, are employers who have hired a kasambahay to take care of household chores.
3. Fill out the registration form
Upon clicking the appropriate registration link, you'll be directed to either of these registration forms: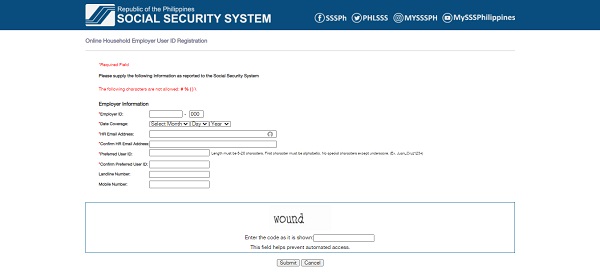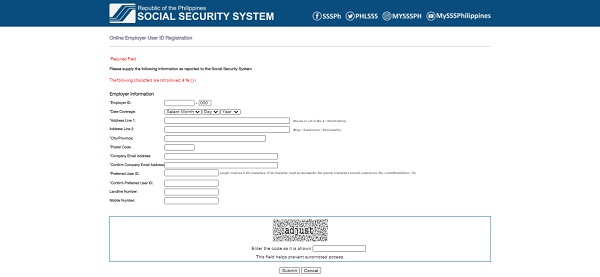 Fill out the registration form with the requested details.
The fields with a red asterisk are required—don't leave them blank. If you already have a My.SSS account as an individual member, the information you enter in your employer account registration must be similar to your member account.
Pay close attention to the following information:
Employer ID

– Enter your 10-digit employer number with no space or hyphen (-). Find it in your Employer Registration form (Form R-1), Employer Registration Plate, or SSS Certificate of Registration.

Employer Branch Code

– The last three zeros in the Employer ID field refer to your branch code. Don't change it if you have no branch office. If you have one, input your branch code.

Date of Coverage – The month and year you hired your first employee/s. Find it in your Form R-1 or Registration Plate. To indicate your date of coverage, choose the month, day (set the default day at 1), and year from the drop-down menu.
Postal Code – Enter the correct 4-digit postal code assigned to the employer's current address. The postal code will serve as a basis for determining the SSS servicing branch.
Company email address

– Provide a valid and active email address you use

for business, not your

email.

Preferred User ID

– It must have 8 to 20 alphanumeric characters, starting with an alphabet. You can't use any special character except for underscores (_). Re-enter your user ID in the following field to confirm it.
When you're done, double-check your information, type in the code shown on the page, and click the Submit button.
4. Activate your online account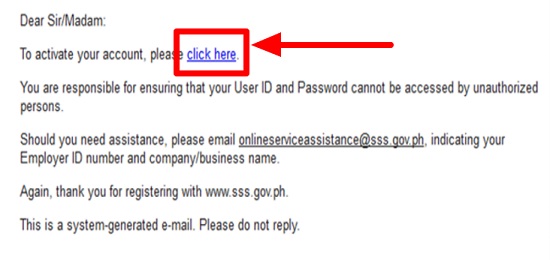 Check your inbox and spam folder for a message from the SSS.
Click the provided link for your My.SSS account activation. This will take you to an online form where you'll provide your authorized signatory's SSS number, complete name, and email address.
The employer-authorized signatory is the company representative (such as an HR or admin head) authorized to certify and sign SSS documents on the employer's behalf.
If you're a single proprietor, you are the sole signatory (Be sure to check the Single Proprietor box), which means you should enter your data.
If you own a corporation or cooperative with an authorized signatory, provide your signatory details.
I accept the Terms of the Service box and then click the Submit button.
You'll see a notification that your registration application has been sent to the SSS for validation and that you'll receive an email regarding the validation results.
5. Check your company email for a validation message
Your SSS servicing branch will verify if your authorized signatory is included in your company's Specimen Signature Card (Form L-501).
Once the SSS approves your authorized signatory, it will send you a message through email with your company user ID and a system-generated password.
6. Access your online employer account
Enter your user ID and password in the Employer Login tab on the My.SSS portal. You can now use your employer account to transact with the SSS online.
Related: How to Reset Password in SSS if Forgotten or Lost (Employer Account)
Tips and Warnings
1. Access the SSS portal during off-peak periods
Like any government website, the SSS portal is painfully slow when many people use it simultaneously. Worse, it's inaccessible when the SSS website is under maintenance.
If the My.SSS portal takes forever to load, try using it at a less busy time, like on a late weeknight or weekend when fewer people access the site.
2. Download the SSS mobile app
Some members like the SSS mobile app because it's user-friendly and convenient. Others experience issues using the app, so they use their desktop browser instead.
Still, the SSS mobile app is worth a try. It shares the same features as the new SSS Member Portal so you can transact with the SSS on the go.
The mobile app is free and compatible with Android (4.4 Kitkat or higher) and Apple (iOS 8.0 or higher) devices. You can download it from the Apple App Store or Google Play Store.
Once you've installed the app, access your account using your user ID and password.
3. Keep a copy of your user ID and password
It's inconvenient to ask for help from the SSS when you forget your user ID and/or password. Save yourself the stress by writing down your login credentials during your SSS online registration, so you have a copy to refer to when you can't remember your login details.
Keep this copy secure, and never share your login details with anyone.
4. Change your password every 90 days
The password expires after 90 days for your account's security. Thus, you must change your password regularly and update your copy of the login credentials as needed.
To change your password on the new SSS Member portal, follow these steps:
Log in to your My.SSS account.
Hover your mouse over the Member Info menu.
Click on Change Password.

Enter your current password and new password.

Re-enter the new password to confirm it.

Click the Change button.
5. Members and small employers who don't have a personal computer, Internet access, or both can also register and access their My.SSS accounts at any SSS branch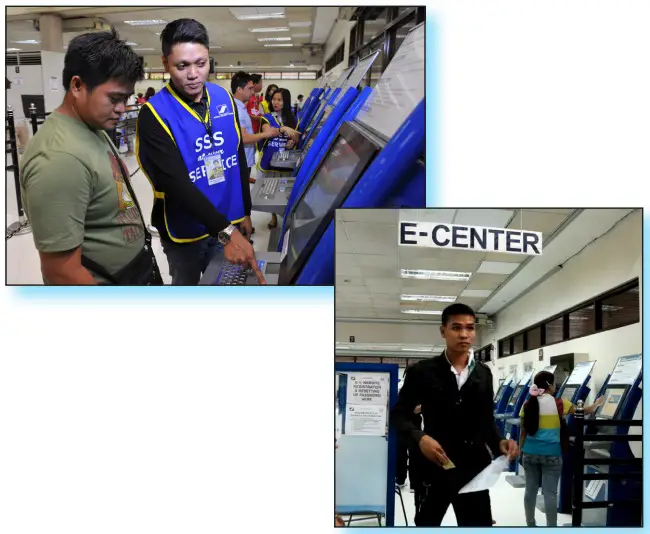 All SSS branches have a designated e-Center containing several web-connected PCs. You can use any of these computers to access the SSS website, register your account, and access your records through the My.SSS portal.
Each e-Center also has SSS member service representatives who are always ready to assist those who aren't computer literate or need technical assistance.
If you or someone you know don't have any means to connect to the Internet and aren't adept with computers, proceed to the e-Center of any SSS branch to check how many SSS contributions you've paid so far, apply for SSS loans/benefits, and avail of other online services.
6. SSS now implements a 'no web registration, no salary loan' policy
Online registration of the SSS account is now one of the requirements when applying for a salary loan. This is because starting November 11, 2019, all salary loan applications must now be filed online4. 
Other loan types from SSS, like Calamity, Educational Assistance, and Emergency, will still have to be filed at SSS branches for the documentary requirements.
Learn More: How to Apply for SSS Salary Loan Online: An Ultimate Guide
7. Never deal with fixers or scammers who are offering assistance with your SSS online registration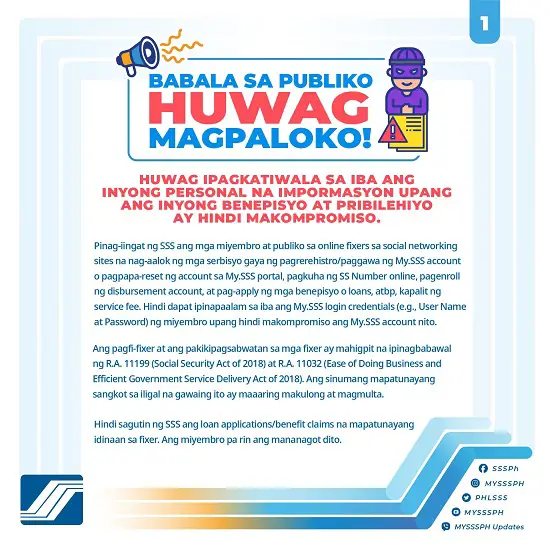 Entrusting your personal information and My.SSS login credentials to a stranger will result in your account getting compromised. Not only are you paying exorbitant fees for something you can easily do on your own, but you're also giving away vital information to someone who can run away and use the same knowledge against you.
Worse, you may even pay the penalty or get behind bars as illegal activities of fixers, and anyone conniving with these fixers is punishable by law5, as per R.A. 11199 (Social Security Act of 2018) and R.A. 11032 (Ease of Doing Business and Efficient Government Service Delivery Act of 2018).
If you need assistance with SSS online registration, you may get it from the following legit and official SSS channels:
In case you have come across a fixer or any illegal transaction with SSS, don't hesitate to report it at the nearest SSS branch or to the Special Investigation Department of the SSS by emailing [email protected], calling telephone numbers 8920-6401 locals 5313 to 5316, or sending mail to 4th Floor, SSS Main Office, East Avenue, Diliman, Quezon City.
Frequently Asked Questions
1. Is SSS online registration mandatory?
No law requires all members to register online and create their own My.SSS accounts. However, SSS encourages everyone, as almost all transactions are online. For instance, SSS no longer issues checks, so applications for SSS salary loans must now be filed online. Without a My.SSS account members will not be able to enroll their disbursement/bank accounts, thereby preventing them from applying for a salary loan or receiving other SSS cash benefits.
2. Is My.SSS secure?
Yes. Multiple steps are needed to complete SSS online registration to ensure that only the registered members/employers themselves will be authorized to access their accounts. Moreover, all the transactions you complete within your My.SSS portal will be confidential, thanks to SSL or Secure Sockets Layer (represented by the padlock symbol when you check the website URL) that protects all communication between your web browser and My.SSS.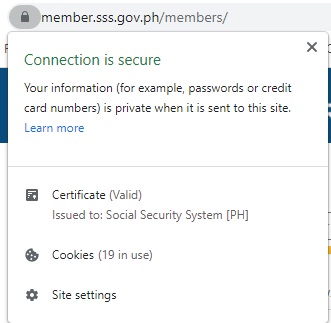 Lastly, no one else, not even your employer, can access your SSS records unless you voluntarily give away your User ID and password. Hence, SSS reminds members to be wary of fixers who assist with SSS online registration and account recovery in exchange for a fee.
3. Can the employer access the SSS records of its employees through My.SSS?
No. Employers are not allowed by law to access the individual records of their employees, which are considered confidential. This complies with the provisions of the Republic Act No. 8282 (Social Security Act of 1997)6, which states that records submitted to the SSS shall be kept confidential "except in compliance with a subpoena duces tecum issued by the Courts, shall not be divulged without the consent of the SSS President or any official of the SSS duly authorized by him.." and the Republic Act No. 8792 (Electronic Commerce Act of 2000)7 which states that "Access to an electronic file or an electronic signature of an electronic data message or electronic document shall only be authorized and enforced in favor of an individual or entity having the legal right to the possession or the use of the plaintext, electronic signature or file and solely for the authorized purposes."
4. I can't register my account. Instead, I see an error message that says, "CRN/SSS Number has already been registered." What should I do?
You may ask for assistance with your SSS online registration by going to the nearest SSS branch, calling the SSS hotline at 1455, or sending an email inquiry to [email protected]. Alternatively, you can comment on one of the recent posts on the Philippine Social Security System Facebook Page.
5. I can't register because I'm getting an error message that reads "User ID already exists" or "Email address already exists." What should I do?
The error message you're getting indicates the information you're trying to submit is not unique or something that already exists in the SSS database. To continue with your registration, try to enter a different user ID or email address.
6. I can't find the email notification from SSS that contains the activation link. What should I do?
First, check if the message got stuck in your SPAM or Trash folder. If there's nothing in either of these folders, perhaps you haven't waited long enough. It's not unusual for the notifications from SSS to take anywhere between 30 minutes to an hour before arriving in your inbox.
If you still haven't received the message after waiting that long, ensure that your network administrator isn't blocking messages from sss.gov.ph, especially if you're using an email that is not yahoo.com, gmail.com, or hotmail.com.
Suppose all the suggestions mentioned above don't work. In that case, you should request technical assistance by emailing [email protected] (Don't forget to include details of your problem, your details such as complete name and SSS number and attached copies of your UMID or two valid IDs).
7. I want to change my designated User ID. How?
Your User ID becomes official and permanent once your SSS online registration is approved. However, SSS may grant some users' requests to reset or change their User IDs, provided they have a compelling reason to make such requests. If you think it's essential (e.g., the User ID is vulgar, incredibly confusing, etc.) to change your designated User ID, you may send a formal letter to the nearest SSS branch or [email protected], stating the reason for the request, and together with scanned copies of either your UMID card or any two (2) valid IDs showing your photo and signature.
8. The company email address registered in the Employer account has changed/The designated authorized signatory has been separated from the company, and it's My.SSS account can't be accessed anymore. What should be done?
You may send an online change request via email to [email protected]
Along with your message, don't forget to include and attach scanned copies of the following documents:
a. A formal Letter of Request for the change of User ID, company email address, or authorized signatory. In the letter, indicate the complete name, SSS number, and personal email address of the designated authorized signatory (if the request is for updating the authorized signatory). The person granting authority must sign the letter appearing on Specimen Signature Card (SS Form L-501).
b. UMID card or two (2) valid IDs of the designated authorized signatory.
c. Valid SS Form L-501 (with one-year validity from the receipt date of SSS branch). It must be received and stamped by your SSS servicing branch. Also, it must include the name of the designated authorized signatory/-ies.
9. The system says my SSS number is invalid. What does it mean, and what should I do?
It could be one of the following reasons:
a. You mistyped your SSS number. Repeat the online registration process. Make sure to provide your 10-digit number in the proper format.
b. You already have an SSS online account. You probably registered for a My.SSS account before. Request an online account reset by emailing online[email protected] or visiting the nearest SSS branch.
c. There's an issue with your SSS records. If you provided your correct SSS number, but it's still "invalid," email the SSS or visit its branch to verify your membership status.
10. What should I do if my online registration is unsuccessful?
Check the SSS email stating the reason/s for your unsuccessful registration.
For example, if the name and/or birthdate you provided doesn't match your SSS records, repeat the  SSS online registration steps and input your correct info this time.
Try using another registration option, too. For example, if you used Mobile Number to register at My.SSS, you may choose another option, like UMID Card or any other available information.
If these suggestions don't work, contact the SSS Member Electronic Services Department at (02) 920-6401 local 5971 / 5966 / 6449 / 5240 / 6092 / 5968. Or send an email to [email protected] with the following:
*Details of the concern/request
*Complete name
*10-digit SSS number
*Clear screenshot of the error message
*Image of your UMID card or any valid ID
If you can't get through the line or don't get an email reply, follow up by posting a comment on the SSS Facebook page. In your post, mention the date the email request was sent and your email address. SSS Facebook admins usually respond within an hour or a day.
As your last resort, visit the nearest SSS branch to ask for online registration assistance.
References